Circular saws go hand-in-hand with woodworking and are one of the most popular power tools used to make incredibly accurate cuts quickly. Crosscuts or rips, timber or plywood – circular saws are not limited to just one function and their multifunctional nature makes them go-to tools for any woodworker. Though they perhaps lack in straight cuts in comparison to table saws, their portable, lightweight nature and powerful motor make up for that and as a beginner woodworker it is a must-have power tool. 

As the variety of circular saws and their important features is rather extensive, our guide is here to help you figure out which circular saw fits the best for your woodworking projects. From circular saw styles and key components to circular saw blade types and a few specific suggestions – here are the things you should keep in mind when buying a circular saw.
The 3 Best Circular Saws for Woodworking:
Different Types Of Circular Saws
There are two main circular saw styles: sidewinder and worm drive. Choosing between these two should be your first decision point as both of these styles have a specific application where they fit better than the other. If you know the type of projects you will be using your circular saw on, it will be easy to decide.

Sidewinders or as commonly called "inline saws" are most popular circular saws. As the name refers, the motor of the saw sits alongside the blade. Sidewinders are also relatively affordable and more lightweight, making them a good companion for a beginner woodworker. Thanks to a compact body, they are easy to handle and fit well for using them on most woodworking projects.

Worm drive saw motor is in line with the blade, using gears to increase the torque and enabling cutting through even wet lumber or stronger materials, therefore worm drive circular saws are used most commonly for heavy-duty work. Worm drive saws are also usually longer and less compact but if you are looking for a powerful tool for renovation jobs or general building, worm drive is the one to go for.

Another point of decision is to figure out if you need a cordless or a corded saw. Cordless saws fit well for general smaller woodworking projects as they are limited to the battery lifetime, yet if you don't want to mess with extension cords and don't have a heavy-duty work on your shoulders, a cordless circular saw is the best solution. Corded circular saws don't rely on batteries and therefore you have no limits – you can cut through tough materials whole day long without having to worry about the battery. They are not as small and handy as cordless saws (which are usually sidewinders) but if you don't mind extension cords, then this is easily the best choice!
The Most Important Features Of A Circular Saw
After you've 3 the style fitting your needs, it's time to break down the features. While there is no perfect model that has every possible feature, there are still some key points you should consider – from safety to reliability. These are the main features to look for in a circular saw:
Cut line indicator / laser guide – this tiny feature is almost one of the most essential parts, helping you line up the blade with the cut line so you can follow the line accurately and be sure the result is exactly what you expected. If you haven't used circular saws much, then this is the first feature you should look for.
Blade and bevel capacity – blade capacity determines the maximum wood thickness your saw can chew through. 7.25 inches is the most common diameter. Of course the smaller the blade is, the easier it is to control it so in case you don't need to cut lumber and use the saw more for carving, a smaller diameter is good for you. Bevel capacity shows the maximum bevel cut. If you need to use the circular saw for detailing, bevel functions is the main thing to seek. 
Shoe style – Circular saw baseblates are usually made of either cast aluminium or steel. The general law of using circular saws is that you will without a doubt drop your saw at least once, no matter how careful you are so the shoe material is actually far more important than you can imagine. Though cast metal shoes don't bend easily, it is likely after dropping the saw it might get cracked and there is no way to fix it. Aluminium baseplates are usually bendy and even if they bend a little after a drop, they can easily be bent back to shape. Another alternative is to go for a fiber-reinforced plastic baseplate but nothing beats a decent aluminium or magnesium baseplate so if possible, go for those.
Easy adjustments – The main points to check are larger lever locks and knobs that can be reached easily so you won't be having hard time changing the depth of the cuts or adjusting bevel settings. Rubber-covered levers are the handiest as well as engraved number on the depth scale since plain stickers will fade with time. Spindle locks/shaft locks are also essential for making it easier to change the blades.
Safety blade guard – Blade guard protects the blade when you are not using it and will reduce the possibility of the blade running into something else than what you had in mind. Check if you can easily raise the blade guard manually as well but keep in mind that you should never remove the safety guard from your saw!
SKIL 5280-01 Review
Though the cheapest of the bunch, it's nowhere near of being low-quality. In fact, this small circular saw does the work of a heavy-duty saw thanks to its massive 5300 rpm motor. Besides that, it's equipped with a laser beam and a sawdust blower to ensure accurate cuts. However, it's still like a little brother to other saws of the category as its' capacity is nothing spectacular. It's a decent tool, doing what it's meant to as well as it possibly can, but it is a saw for hobbyists. If you are looking for a lightweight and affordable circular saw, then this is the one that will continue mesmerizing you even after years of using it!
DEWALT DCS391B Review
This Dewalt circular saw model is a "classic" Dewalt product you can rely on – sturdy magnesium baseplate, carbide tipped blade and a powerful motor. There is only one outstanding downside: the saw comes without a battery and a charger, meaning you need to spend some extra in order to get the best out of your saw. Though a 1.25Ah battery might do, when going full-speed it will drain fast and you won't get much done with the tool so sooner or later you are going to have to upgrade to a 4Ah or 5Ah battery, which might easily cost you over $100. The 5250 rpm motor will make up for it, making it still one of the most powerful cordless circular saws out there. 
Makita 5104 Review
Makita 5104 has everything you need from a decent circular saw: strong safety features, large bevel capacity, adjustable top guide. The main asset is the cutting capacity which many other can't compete with: 3.75 inches at 90 degrees. As it is a corded circular saw, you won't have the worries with battery life time either. It's not as powerful as other two, having 3800 rpm motor, but that's where the high bevel capacity comes to play. It's not the heaviest either, weighing 20lb. If you are looking to bring your work to the next level, then this Makita beauty is the one!
Circular Saw Blades For Woodworking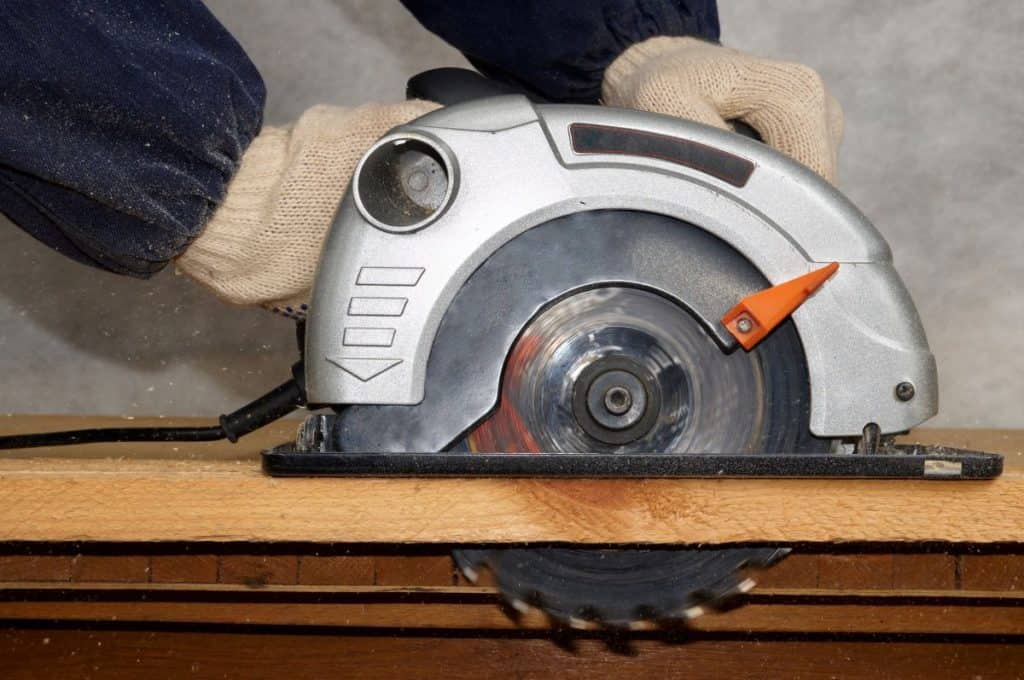 Before buying a circular saw you should check out the types of blades fitting for your saw as every saw requires a specific blade diameter. There are many different types of blades with various teeth design and number which determine their application. The number of teeth indicates the speed and finish of the final cut: the more teeth, the slower the blade is yet the result is finer while fewer teeth guarantee a faster cut but not so refined. The gullets between the teeth help to remove chips on its' way so the cut is cleaner.

Generally there are 4 types of teeth:
Flat top – suits for ripping, both hard and soft woods
Alternate top bevel – teeth are alternated between both right and left handed bevel. Such teeth are fitting for smoother cuts of natural wood and veneered plywood.
Combination tooth – good for crosscutting and ripping
High alternate top bevel – super-fine crosscutting 
The variety of blade types is also wide, depending on the application. These are the most common circular saw blades for woodworking: 
Plywood blades – As the name suggests, this type of blade is suitable for plywood thanks to the fine teeth which enable the saw to run smoothly through plywood.
Ripping blades – These blades have larger gullet, fitting for parallel cuts to the wood grain.
Crosscutting blades – Suits well for cutting across the grain, thanks to many teeth and small gullet.
Fine-tooth blades – These blades have extra-many teeth, allowing to make fine cuts.
Hollow ground blades – Hollow ground blades are good for making smooth cuts across the grain.
Dado blades – These are used for making grooves and dadoes. 
Thin kerf blades – Blades designed specifically for cutting dimensional lumber.
Paneling blades – Multifunctional blades, cutting through veneer, plywood and even plastic.
Circular saws are relatively easy to use and handy tools thanks to their multifunctional nature. The best way to decide which saw fits you the best, is to know exactly what you are going to use the circular saw for as the styles and features are designed specifically to fit certain applications. The rest is easy! A fine circular saw is a long-term investment and will most certainly earn its' keep over the years.