More and more people are choosing to utilize platforms such as YouTube to assist them in completing all manner of DIY projects. However, if your project requires a table saw you may have some questions so let's address them in this article. 
The 3 Best Table Saw
---
Best Portable Table Saw – Dewalt Dwe7485
Quick Stats:
Amps: 15.0 Amps
No load speed: 4800 rpm
Blade diameter: 10 inches
Depth of cut at 90 degrees: 3-1/8 inch
Weight: 48 pounds
Based on all of our portable table saw reviews, this great option from Dewalt came out on top by being better than the next best saws in almost every regard.
In particular, the fence is truly outstanding and blows the fences on comparable saws out of the water. It's also lighter than the next best option, and has a great rip capacity.
Dewalt have really done something special with this product, and in this price range the competition aren't even close!
Pros
Reliable dust collection
Accurate and easy to use fence
Lightweight and easy to carry
Great ripping capacity
Cons
Could be improved when it comes to the blade
Cheapest version doesn't come with a stand, so you'll need to pay a bit extra
Why We Chose the Dewalt Dwe7485
Quite simply, the Dewalt DWE7485 is better than the next best saw in almost every important regard. Dewalt is a real star not only in this category – you can also find Dewalt as one of our top picks for the best circular saw and the best miter saw.
Portable table saws often struggle to offer quality, since the design is so portability-focused. And that's why the DWE7485 is so impressive – it manages to offer quality features, while also being lightweight and portable.
We have another section below to help you choose the best jobsite table saw, so in this section we considered "portable" to just mean benchtop saws.
In choosing the Dewalt Dwe7485 as our number one portable saw, we took into consideration all the usual features that you might expect – motor, ripping capacity, the fence, and so on.
Given that we're talking about portable saws here, we also considered things like tool weight, size, and general portability.
The Limit of a Portable Table Saw
Full size table saws are huge, if you didn't know. They're these massive complex tools that can weigh several hundred pounds or more.
And portable saws are trying to replicate that same functionality in a saw that's light and compact, and easy to move around, setup, and store.
With that in mind, you shouldn't expect the Dewalt Dwe7485 (or any benchtop or jobsite saw) to perform at the same level as full size stationary options.
These saws need to be compact, so the rip capacity isn't going to be as large as stationary. The same goes for the motor, fence, and other features – they're designed to be portable, and while they certainly do a great job at what they're designed for, they're never going to square up to a stationary version.
Who It's For
The Dwe7485 (and portable table saws in general) is designed to not only make accurate cuts, but to also be highly portable, small and neat, and affordable.
It's a great choice for beginner woodworkers, or any sort of hobbyist or home owner. It'll sit nicely on top of any bench space or surface you have available and is very easy to store when not in use.
There's also an option to get a stand with this saw (although it'll cost you extra), which means it may be attractive to some contractors or professionals. Although with that said, you'd probably be better to go for a jobsite saw. You can see our thoughts and suggestions on those, later in this article.
Equipped with a good blade this is a very capable saw indeed. It'll easily take care of a variety of standard cuts, accurately ripping and cross cutting lumber and other materials.
If what you need is a lightweight table saw capable of accurate cuts on standard pieces of lumber – then you'll be very happy with the Dewalt DWE7485!
If you want to know more about the Dewalt DWE7485 read our full review here:
Fun fact: I could bench press FOUR of the Dewalt DWE7485 at the same time… That's not because I'm super buff (this …
---
Best Jobsite Table Saw – Bosch 4100XC-10
Quick Stats:
​No load RPM: 3,650 rpm
Weight: 124.2 pounds
Voltage: 120 volts
25-inch rip capacity
The Bosch 4100XC-10 comes out as the top choice after all our jobsite table saw reviews – but with that said, it isn't perfect.
It has some shortcomings, but it really comes through in the features that matter. A jobsite saw needs to be lightweight, easy to transport, and still effective at it's job.
That's what we're looking for in our choice – a jobsite saw that has the best combination of portability and functionality.
Pros
Extremely lightweight and features Bosch's gravity-rise stand for premium portability
Powerful 4-hp motor
Easy to use tool-free blade guard and riving knife
Cons
Ripping capacity could be improved
Fence might get stuck often and needs careful adjusting
Why We Chose the Bosch 4100XC-10
When all important factors are considered, we feel that it's the best choice overall. But it loses out to other comparable saws in some regards – for example, the fence isn't great, and is certainly nowhere close to the awesome fence on the Dewalt DWE7491RS (our runner up).
On the other hand, the Bosch wins out in other categories that are likely more important in a jobsite saw – it's very lightweight, and it has an insanely good "gravity-rise" stand.
This is not to say that the other features of the Bosch are bad. The 4100XC-10 is a powerful option with great cutting power, safety feautres, and portability – it's exactly what we're looking for, a great balance of portability and functionality.
If you're in the market for a jobsite saw but portability isn't your main concern, then there could be a good case made for the Dewalt DWE7491RS. For a table saw, it has an amazing fence. It also beats the 4100XC-10 with a greater ripping capacity.
But once again, overall, the Bosch 4100XC-10 is our winner!
The Tough Life Of A Jobsite Table Saw
Jobsite table saws will most commonly be used by contractors or other professionals who move around a lot.
No two jobs are the same, and your tools need to be able to keep up. Being packed into a truck or stored away, then setup, and then folded down over and over again.
These saws need to take constant abuse day in and day out, and yet still be both easily transportable and capable of making precise cuts.
The Dewalt DWE7491RS was our runner up because of superior ripping capacity and fence – but for an all round jobsite saw, it really doesn't come close to the Bosch.
The bosch weighs only 60lbs (compared to the Dewalts 90lbs), and has a stand so easy to setup and fold that your grandma could do it without batting an eye. This portability, combined with the powerful 4hp motor and great safety features, makes it an easy winner.
Who It's For
If you move around from jobsite to jobsite regularly, then the Bosch 4100XC-10 could be for you.
The portability is simply stellar, and combined with the ability to make precision cuts reliably, it's a clear best choice for contractors or prfessionals who move around a lot.
The Dewalt DWE7491RS is heavier, and the stand can't hold a candle to that of the Bosch. But, it also has a greater cutting capacity and the legendary rack and pinion fence which is also found on some other Dewalt portable table saws.
So if you move around a lot and need a reliable saw that can keep up, you'll love the Bosch.
If you're not as concerned with portability and would like a little extra functionality, then perhaps consider the Dewalt.
---
Best Budget Table Saw – Skil TS6307-00
Quick Stats:
​No Load RPM: 5,000
Amperage: 15 amps
Bevel: 2-47 Degrees
Max Cut Depth at 90 Degrees: 3.5-Inches
Weight: 67 pounds
We took our time in choosing the best cheap table saw because there really are a lot of contenders – but overall, the Skil TS6307-00 wins easily. It's the one affordable option in this category that still feels like it has some quality to it.
Other comparable options, such as the "little green monster" (the Ryobi RTS21G) have glaring issues that make them almost unusable, but the TS6307-00 from Skil manages to perfectly combine an affordable price tag with powerful functionality.
If you're in the market for a budget table saw and aren't concerned with the bells and whistles, you'll love the Skil TS6307-00. It's a powerful and sturdy option that'll precisely make all the standard cuts you need, and all for a great price.
Pros
Friendly price
Sturdy and durable
Powerful 5,000 RPM motor
Lightweight
Cons
Blade height and bevel adjustment are controlled by a single handle
No dust management whatsoever
Fence could be better
Riving knife is not adjustable around the blade
Click here to read our SKIL 3410-02 review.
Why We Chose Skil TS6307-00
What we were really looking for in this category was the best value table saw. Or in other words, what gets most bang for your buck. And for this, the Skil TS6307-00 stands out head and shoulders above the other options.
When searching for a budget table saw, one of the most important factors to your decision is obviously the price. But even with price in mind, the saw still needs to be functional and effective.
What's the point in an affordable price tag, if the saw itself just can't do what you need?
Thankfully, the Skil can do what you need. It's a powerful and capable saw that can make precise cuts as needed – some of the other options struggle to do even that.
For the price, you get a low of saw with theh Skil TS6307-00 – it easily dominates this category as the best choice.
What To Expect From The Best Cheap Table Saw
So let's just put it out there – the Skil TS6307-00 (and all comparable products) isn't all rosey. It has some issues.
But minor issues and inconveniences are to be expected in any "budget" power tool category. They're cheap for a reason – they're designed to cut out as many bells and whistles as possible, and bring that price tag down as low as possible.
With budget table saws, don't expect the fence to glide easily like it would on a stationary version.
Be ready for dust collection to be poor, and safety features to be just a little awkard to use.
These saws have the power and accuracy to deliver workable cuts – but you'll need to "baby" them a bit.
You're trading some functionality and ease of use for a lower price tag with these cheap versions.
The Skil TS6307-00 is the best table saw for the money… But just be aware that you shouldn't expect too much from this or other similar options.
Who It's For
Again, if price is your main priority, then this is the one for you.
In this price range, there's simply nothing else that comes close to the value you get from Skil in this neat yet powerful saw.
This is for hobbyists – woodworkers, makers, or any other sort of hobbyist who needs a simple table saw from time to time to do some small wood projects.
I wouldn't recommend this for contractors or professionals of any sort – they will definitely want to consider jobsite saws (or possibly benchtop saws).
Speaking of benchtop and jobsite saws – these are also a great choice for hobbyists, and they're not that much more expensive than the Skil and other budget options.
In summary if what you need is a powerful and precise saw for the lowest price, you'll love the Skil TS6307-00.
---
Best Hybrid Table Saw – Shop Fox W1837
Quick Stats:
​Arbor speed: 4300 RPM
Max. depth of cut at 90-degrees: 3-1/8 inches
Motor: 3 HP, 220V, single-phase, 12.8A
Max. rip capacity: 29-1/2 inches
Hybrid table saws have been growing in popularity, and with good reason – there's some great value for money with one of these saws when compared to both contractor and cabinet saws.
These fill the gap between contractor and cabinet saws. They include great features that you'd normally only get with a cabinet saw, but for a much lower price.
They're in the same price range as high end contractor saws – but with better features.
The closed in cabinet on the W1837 and the powerful 3hp motor are good examples. The more powerful motor of course adds more ability for cutting thicker woods and other matierals, and the closed cabinet turns dust collection from nightmare to dream.
Overall, hybrid table saws give a great "bang for your buck". Slightly more expensive than contractor saws, but you get so much more functionality.
Pros
Fairly quiet and powerful motor
Easily adjustable and smooth fence
Efficient dust collection
Sturdy and reliable blade height and bevel adjustment handles
Cons
It draws 220v which means you can't plug it straight into a standard outlet
Newer manufacturer, not so known yet
Click here to read our Shop Fox W1819 review for another similar option.
Why we Chose the Shop Fox W1837
As mentioned, there actually isn't a great deal of selection when it comes to hybrid table saws at the moment.
But, that's not to say that the Shop Fox W1837 isn't excellent. I'm not saying it's the best of a bad bunch – this option stands out on it's own as an excellent piece of kit, on the backdrop of rather poor alternatives.
There are some alternatives that have their strengths and weaknesses, but there's very few that are actually the whole package.
Some lack power, others don't have a full cabinet (as the Shop Fox W1837 has), others are let down by poor build quality, and so on.
The Shop Fox W1837 comes out on top because it ticks all the boxes. Some other choices may be superior in terms of certain features.. But overall, we feel the Shop Fox is easily the best hybrid table saw for the money.
It's got a powerful 3hp motor running on 220v, a choice of 30 or 50 inch ripping capacity, great dust collection (thanks to the fully closed cabinet), an amazing fence and miter fence, and more.
Our runner up was the Grizzly G0715P. This is also looks like a pretty good hybrid table saw, but it does have some notable issues and overall there's really no reason to choose this over the Shop Fox.
The first issue is the warranty. The Grizzly has a 1 year warranty whereas the Shop Fox has a 2 year warranty. These are complex machines – things can and do go wrong, and we feel the 2 year warranty is essential to cover any early faults.
The Grizzly also has less power that the Shop Fox. This is pretty unfortunate.. when choosing to buy a hybrid saw, there's an expectation of a certain amount of power which the Grizzly simple doesn't meet.
This is only one step down from a cabinet saw, after all.
The final issue with the Grizzly is the shipping process and customer service. There's several reports online of customers getting damaged parts shipped to them – sometimes repeatedly. The customer service is also not super.
In contrast, the Shop Fox W1819 really has no noteworthy issues. It's not a full on cabinet saw, and it's priced fairly high compared to cheaper hybrid saws – but, it ticks all the boxes and is a great choice.
Who It's For
The Shop Fox W181 is for any professional or serious hobbyist who wants many of the features of a cabinet saw, but at a much lower price point.
It's a very capable table saw – powerful enough to handle thick hardwoods and other types of materials. With a 50 inch ripping capacity there's plenty of space to work with, and the whole machine is a pleasure to use with an amazing fence and miter fence, and overall great build quality.
The closed cabinet is also a great feature – it makes dust collection with this table saw very effective, and pretty much the same as you'd expect from a full on cabinet table saw.
If you're after a powerful and very capable hybrid table saw that ticks all the boxes and is a dream to run and own, you'll love the Shop Fox W1819.
---
Best Contractor Table Saw – Powermatic 1791230K 64B
Quick Stats:
​Arbor Speed – 3,800 rpm
Maximum Depth of Cut at 90 Degrees (In.) – 3-1/8
Motor Power (HP) – 1-3/4
Motor Current (Amps) – 15,/7.5
When researching these contractor table saw reviews one thing kept coming up time and time again – people confusing these saws the with jobsite versions…
These days online you'll see a lot of places that use the terms "contractor" and "jobsite" interchangeably – but, they're very different tools.
The jobsite is a portable table saw, whereas a contractor table saw is designed to be a stationary saw, and was traditionally what you'd find the workshops of contractors.
Since the relatively recent introduction of hybrid table saws, contractor table saws have gradually declined in popularity. Hybrid table saws fill a gap between contractor and full on cabinet table saws – and they are generally preferred over contractor saws as they offer more functionality for relatively little extra cost.
That being said, there's still a place for contractor table saws and many professionals still prefer them as their tool of choice.
Based on our analysis – The Powermatic 1791230K 64B comes out on top as our choice for best contractor table saw.
Pros
Reputable manufacturer
Stellar safety features
Whole table surface is precision ground cast iron
Smooth and sturdy fence
Cons
Dust collection could be better
Could use more power
If you want to know more about the Powermatic 1791230K 64B read our full review here:
Welcome to our Powermatic 1791230K 64B review – This is a contractor table saw, and winner of our "best contractor …
Why we Chose the Powermatic 1791230K 64B
The Powermatic 1791230K 64B easily claims the title of "best contractor table saw" in our analysis – there's another option or 2 that might be preferable for certain buyers, but overall we feel the Powermatic comes out on top.
Powermatic are legendary in the table saw space, and have been around for decades. With that in mind, you can expect their build quality and overall usability to be astounding, and it certainly is.
The 1791230K 64B ticks all the boxes. It gets the "basics" right: A 4hp motor combined with a thin kerf blade will make short work of even thick hardwoods, the table has a stable base, a cast iron surface, and great dust collection.
On top of all that, it also nails the "small" things. As regular users of table saws will know, it's the small things that really make a difference.
The fence is amazing – it'll glide smoothly along its rails and is always reliably accurate without having to double check for squareness. The same can be said for the miter gauge, it's well built and also has rock and pinion angle setting, positive stops, and an extension plate if needed.
The safety features are also up to the quality you'd expect – you get the standard loadout of riving knife, blade guard, and anti-kickback pawls. They all have quick release for tool-less mounting, adjustment, and removal.
Our runner up was the Sawstop contractor table saw – Sawstop initially found fame with their "flesh detection" device that stops a saw blade dead if it touches flesh. They've more recently made the transition into making full size table saws.
The Sawstop contractor table saw is actually pretty good – but it simply can't stand up to the Powermatic 1791230K 64B.
Powermatic has been building contractor table saws for decades, and that shines through in the quality of our winner… the Sawstop alternative does of course have their flesh detection tech which is a significant safety boost – but beyond that, the Powermatic is preferable in every way.
Who It's For
A contractor saw is designed for professionals and advanced hobbyists.
If you'll only need your table saw to cut basic pieces of softwood, then a contractor saw is probably overkill – a jobsite saw would be a much better choice in this case.
Likewise if you need a table saw that can be moved around or if you're tight on space, a jobsite or benchtop saw is the better choice.
If you're sure you need a stationary table saw, you might also consider upgrading to a hybrid… these fill a gap between contractor and cabinet table saws. They're a little more expensive, but have some nice features such as more power and superior dust collection.
If you're after a contractor table saw that can handle everything up to thick hardwoods, and also offers immense user-friendliness, safety, and overall functionality, then you'll love the Powermatic 1791230K 64B.
---
Best Cabinet Table Saw – Powermatic PM2000
Quick Stats:
​Arbor Speed – 4,300 rpm
Maximum Depth of Cut at 90 Degrees (In.) – 3-1/8
Motor Power – 3 hp
Motor Current (Amps) – 13
And last but certainly not least we come to cabinet table saws – the most powerful and capable table saws available today.
There's a lot to be expected from cabinet table saws – they're pretty pricey, and so they've got a lot to live up to in terms of features and performance.
In choosing our winner, we looked for a table saw that was not only stacked with features, but also which delivers them with reliability and quality.
There are some great choices in this category, but our winner is the classic Powermatic PM2000.
Pros
Very sturdy and minimal vibration
Powerful 230v motor
5 year warranty
Flat and smooth cast iron table surface
Silky smooth and laser accurate fence
Cons
Mobility could be improved
Pricey
Why we Chose the Powermatic PM2000
We're big fans of Powermatic here at BuildEazy – They've been around for a very long time, and really know what they're doing when it comes to producing high end power tools.
This timeless Powermatic build quality is only part of the reason we chose the PM2000.
When it comes to features, the PM2000 is totally stacked.
There's a monstrous motor which draws 230v – Needless to say, this is powerful enough to make short work of almost anything you could ever want to cut.
On top of that there's the reliably flat and smooth cast iron table surface, the silky smooth and laser accurate fence, and robust steel blade height and bevel adjustment handles.
The PM2000 is heavy, weighing 600lb with its cast iron cabinet. You'll feel the quality of this beast every time it's fired up and used. Very sturdy, and minimal vibration.
The Powermatic PM2000 has been around for a long time, and we specifically recommend the latest model – the 17920007K. It's also notable for the immense 5 year warranty.
Our runner up was the SawStop PCS31230-TGP236.
The first reason it's our runner up is how difficult the model is to remember.
I'm kidding – but it sure is a mouthful.
When it comes to choosing the best cabinet table saw, the SawStop is quite a popular choice. It's best known for the flesh-detection safety stop mechanism that'll kill the blade if it touches flesh, before it does any serious damage.
Aside from this, it simply isn't as good as the Powermatic.
There's some cheap parts in the SawStop (such as the plastic motor cover) which is pretty unaccpetable in a cabinet table saw of this price.
The general build quality also doesn't inspire confidence. The parts often don't fit together nicely, which causes things like the fence being sometimes unreliable or annoying.. not square, or not smooth.
There are many fans of the SawStop, but most seem to be fanscinated by the safety stop feature, rather than the overall quality of the table saw itself.
If safety is important to you and you really want the flesh detection protection – definitely consider the SawStop.
Just keep in mind that although it beats the Powermatic on safety, it loses in all other regards.
Lower build quality, some cheap parts, only a 1 year warranty, much less power, and reports of poor customer service but the SawStop squarely (or not!) in position 2, behind the Powermatic PM2000.
The Powermatic is a "for life" cabinet table saw. Not only is it monstrouly powerful yet laser precise, easy to use, and sturdy – but it comes with that legendary Powermatic build quality that'll servce you for decades to come.
Who It's For
The Powermatic PM2000 cabinet table saw is for any professional or hobbyist who wants one of the best table saws that money can buy.
It's the perfect combination of power, finesse, and Powermatic build quality.
It'll make sure work of any job you through at it, and make your life easy along the way.
If you want or need a table saw that'll do just what it says on the tin, for decades to come, then you'll love the Powermatic PM2000.
---
Table Saws Buying Guide
There's a bunch of different categories to choose from – some are designed for small workshops or a job site, and others are full on professional-grade monsters.
Choosing the the right one for you is going to depend on your situation and needs, and how they match up to what's available.
With that said, it's important that you take the time to educate yourself before making a buying decision.
This section has a breakdown of the different types of table saws, as well as important features.
Types to choose from
The very first thing you should know is that table saws can be broken into two broad categories – portable and stationary.
Stationary saws are what you might think of what you hear the words "table saw" – they're large, bulky, heavy machines that are designed to be setup in a workshop and live there for the foreseeable future.
Portable saws on the other hand are designed to move frequently, whether that's being easily stored and setup in your garage or home workshop, or hopping from workshop to jobsite, and back again.
Within these two categories, there's a few different sub-types. Let's take a closer look.
Portable Options
In the portable saw category we have benchtop saws and jobsite saws.
Both of these are designed to be fairly lightweight (yet still as functional as possible), but there are some differences.
Benchtop
With a benchtop version, you'll need some sort of surface to use it on. They're generally really small and easy to move around, so they'll sit neatly on a small workshop bench or any other sort of makeshift platform.
They'd be right at home on a makeshift bench made out of sawhorses and a sheet of wood, or on an outdoor table, or any place like that.
Some benchtop saws will include a stand, but most won't – the option to pay a little extra for one to be included is more common.
This is a big difference between benchtop and jobsite saws.. jobsite saws almost always feature a stand.
Jobsite
These are very similar to benchtop saws in many ways – they're compact and lightweight, while still offering as much functionality as possible.
One of the key differences is that there'll usually be a stand included – this is obviously a necessity for most contractors who'll be traveling to different job sites regularly. Some of the stands are actually quite ingenius – unlike any stands you might get with benchtop saws, which are very basic.
Jobsite saws are also generally a bit more robust and heavier – designed to take a beating on job sites.
Something to be noted about portable options in general is that they're not going to be on par with full size stationary versions.
They're quite capable and an make quality cuts on standard pieces of lumber. But the fences, power, ripping capacity, and other secondardy features can sometimes leave something to be desired.
As a general rule you should keep in mind that you have to trade functionality for portability, and vice versa.
Whatever the case, you can be sure that when it comes to the battle between miter saw vs table saw, the latter wins.
Stationary Options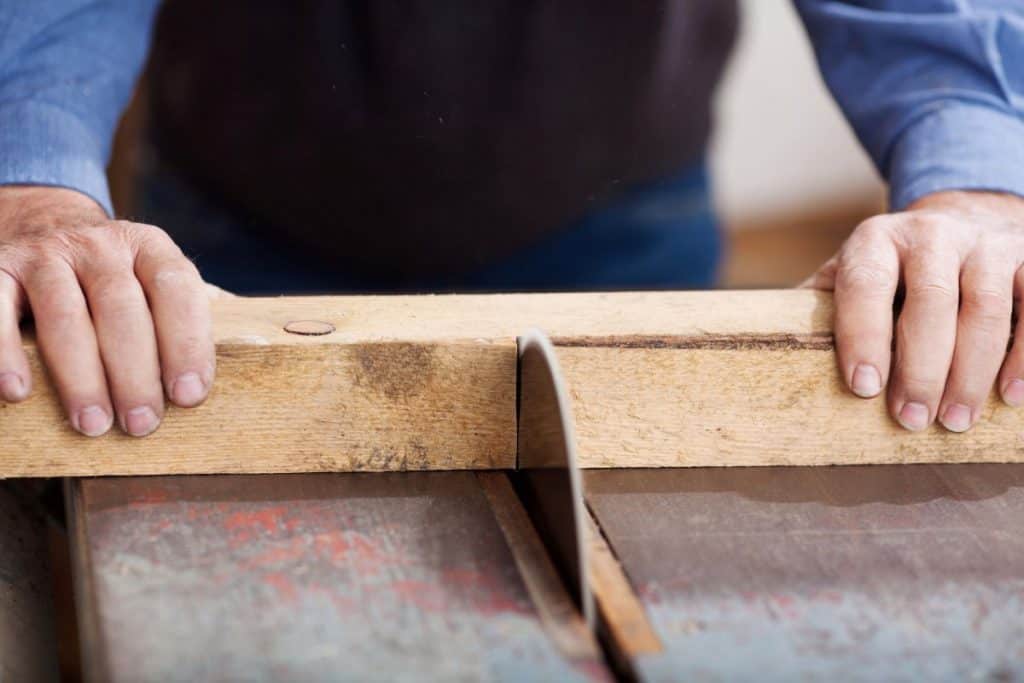 As mentioned and as the name suggests, these are designed to sit in a workshop and do some seriously professional-grade work.
They generally have more power making them capable of dealing with thicker hardwoods, and basically any material you can think to throw at them (with the right blade, of course).
Again, there's a few different sub-types in this category. Contractor, hybrid, and cabinet table saws.
All of this is covered in our main article, so we'll keep it pretty short here.
Contractor
These are often confused with jobsite saws, but they're entirely different.
These are powerful stationary saws that have traditionally been found in the workshops of contractors. They're much larger than any portable saw – featuring larger ripping capacity, more power, and generally more usability and function overall.
In recent years, these have grown less popular thanks to the introduction of hybrid saws.
Hybrid
Hybrid table saws fill in the gap between contractor saws and full size monstrous cabinet saws.
They're generally a definite step up from contractor saws – more powerful and capable, alongside other attractive improvements like better dust collection.
Nowadays you'll find a hybrid saw in most contractors workshops.
It's second only to the mac daddy of them all, the cabinet saw.
Cabinet saws
If you're reading this guide, chances are you don't need a cabinet saw.
These can weigh several hundred pounds, take up a lot of space, usually need their own wiring (rather than plugged into an outlet), and are simply the most powerful and capable table saws available today.
It wouldn't be surprising for a cabinet saw to outlive it's owner (and maybe the next generation, too), and they're mostly used by specialised schools, factories, and professionals who demand the most capable of saws.
Needless to say, they're better than every other version, in basically every way. They're designed to be the best of the best – for professionals, home woodworkers, and other hobbyists, a cabinet saw would be part of any "dream" workshop.
Important Features
Once again, this is covered in more detail in our other articles, so I'll keep this really short and recommend that you check those out for more complete information.
The basics
You'll want to make sure there's a good power button – being easy to turn off in an emergency is important, and they often have the ability to add a padlock to prevent unintended use.
Beyond that in terms of basic features, you need to be concerned with dust removal, table inserts, ripping capacity, and extensions.
Dust removal is always tricky and many table saws struggle to do it effectively. Generally there'll be a port where you can either attach a bag or shop vac. There'll always be at least some cleanup after cutting, though.
The inserts are simple to understand – they fit into a slot in the table around the blade. Zero clearance inserts are important and you should look for them.
The ripping capacity basically tells the size of the surface – and so, the size of material you'll be able to work with. Obviously this is much smaller on portable saws than stationary.
You'll mostly see extensions on portable table saws. They're designed to attach to the end of the saw, to hold larger pieces and ultimately increase the ripping capacity.
Blades
You should always buy a great blade. The "stock" blades they come with just aren't as good as a proper blade – and, it'll hold your saw back if you don't upgrade.
There's several different types – blades specifically for ripping or crosscutting, general use blades, and dado blades to name a few.
Which you choose is dependent on your needs. Having a selection of a few high quality blades for different uses isn't a bad idea at all!
This last bit is more of a saw function than the blade itself – but it's worth noting that blades can be adjusted up or down to set the cut depth, and also can be beveled between 0 and 45 degrees.
Fence and miter gauge
The fence sits on top of the table surface, and holds your piece straight for ripping cuts.
It's important that a fence can be easily set to the right distance from the blade, and that it's reliably accurate.
The fences on many portable saws will need to be double checked with a tape measure to ensure squareness for every single cut, whereas the fences on stationary saws are generally much easier to use and far more reliable.
The miter gauge is for crosscutting – it's the moon-shaped device you see on these saws. It basically let's you set a miter angle, and then maintain that angle as you push the gauge and your piece together along the table – with the piece passing through the blade to make a cut at the angle you set.
Motor
There's really not that much to say here. Most products from well-known brands feature very capable motors, and you don't need to worry about it that much. As you'll find in our table saw reviews section of this article, the motors in most of these saws tend to be very similar both in terms of specs and performance.
There's direct driven and belt driven motors, and the differences between those are discussed in our main table saw features article.
Portable saws will mostly have direct drive motors, and many stationary saws will have belt drive motors which are powerful and produce more torque.
The main specs for one of these motors are horsepower, amperage, and no-load RPM.
Safety features
The most powerful safety feature on one of these saws is you – you should always know what you're doing and take great care when working with one of these tools. They're very powerful and dangerous, and have the potential to do serious harm to you or those around you.
Most table saws these days come with a guard around the blade, and also what's known as a splitter or riving knife.
The guard is metal or plastic that covers the blade and lifts up as you pass a piece through it – probably the most important safety feature as it literally puts a barrier between you and the blade.
Splitters and riving knives sit behind the blade and are designed to stop your workpiece from getting caught on the backside of the blade (as you pass it through for a cut) and being thrown back at you – known as the dreaded "kickback" which you've probably heard of before now.
So, there you have it, some useful information about using a table saw. Happy home-making! 
Conclusion
We have published tons of information about table saws to aid your buying decision – below are links to all of our articles.
Now that you're equipped with detailed information about the types and features available, you should be in a much better position to know which is the right one for you.
Over the past 6 thousand or so words (not including all of our table saw reviews and guides linked to throughout) we've tried to teach pretty much everything you need to make a great choice when buying a table saw.
We'll keep this article up to date every few months, so you can always rely on it as a resource for finding a great saw when the time is right for you.
Good luck with your choice, and happy sawing!