Shape the arms and back rails
Cut and shape the arms and back rails according to the drawing below.
The back rails will need to be ripped (cut lengthwise) to achieve the required width.
Ensure the pieces are clamped to a work bench or otherwise held secure while cutting.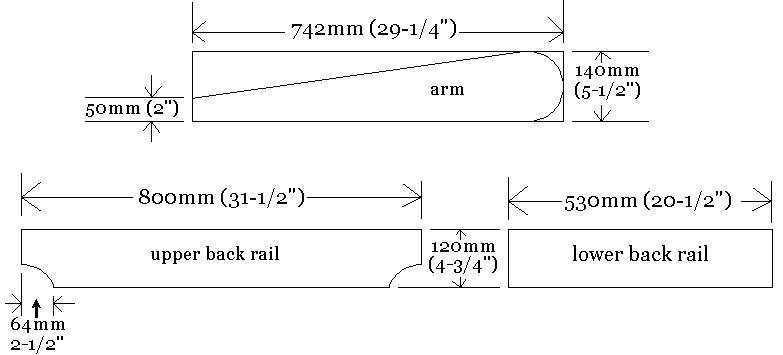 Add the arms, top back rail, and the 'infill' cleats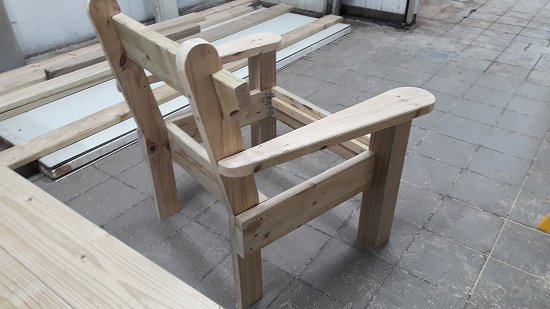 Refer to the plan drawings and fit the arms, and top railThe top and bottom frame member of a door or window (not the jamb). Cross member of panel doors or of a sash. Also the upper and lower member of a balustrade or staircase extending from one vertical support, such as a post, to another. The horizontal member of a fence.. FixTo secure with nails or screws. them with screws and glue.
NailA short nail with a large flat head used for securing roofing felt, plasterboard, sheet metal to wood etc. the 'infill' cleats to the bottom edge of the upper rail, and the top edge of the bottom rail.
Off-set them back from the front, 12mm (1/2″), or whatever the thickness of the infill is.
The purpose of the 'infill' cleats are to support the infill.
We used 12mm (1/2″) slats for the infill, so therefore the 'infill' cleats were setHow much the teeth are angled out on a circular saw blade. back from the front
12mm (1/2″).