The final touches
Step 15. Secure the legs/seat sides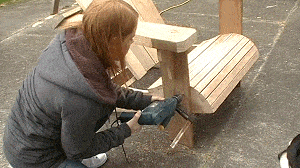 Now you can permanently fix the legs to the seat sides.
Drill two 3/8″ (10mm) diameter bolt holes through each leg and seat side.
Refer to the 'side elevation plan' on page 3 for positioning.
Insert 3/8″ x 2″ (10mm x 50mm) galvanized carriage bolts with washers into the holes and tighten them.
Step 16. The remaining seat slats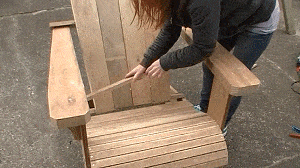 You can now add the rest of the seat slats.
Don't forget to use ample glue first, and pre-drill the screw holes in the seat slats.
The edge of the last seat slat may need a bit of shaping to fit it neatly against the back slats.
Each seat slat only requires one screw at each end. That along with the glue is sufficient.
Step 17. Final touch-up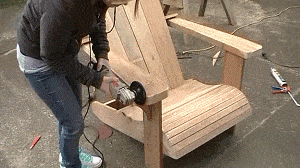 Just the final touch-up now.
A bit of a sand here and there.
Paint?
Whatever you like. Limited only by your imagination. A white chair would pretty much fit anywhere, whereas a specialist color might be just the trick to suit a particular surrounding.
Step 18. Done!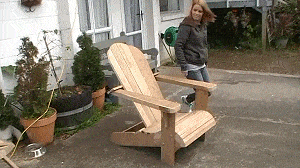 Well, that's about it: A big, strong, and comfortable, 'Cape Cod', aka 'Adirondack', aka 'Muskoka' chair.
Happy relaxing!