The final touches
Step 15. Secure the legs/seat sides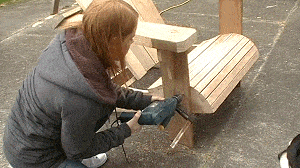 Now you can permanently fixTo secure with nails or screws. the legs to the seat sides.
Drill two 3/8″ (10mm) diameter boltA metal rod that has a head on one end and threads on the other and is used to fasten together lumber. The most common bolts used or referred to in projects within this website are coach/carriage bolts and hex bolts. holes through each leg and seat side.
Refer to the 'side elevationSide view of a building. plan' on page 3 for positioning.
Insert 3/8″ x 2″ (10mm x 50mm) galvanizedCovered with a protective coating of zinc. carriage boltsAre round headed bolts with square shoulders that resist rotation when located or driven into place. They can be called coach bolts or carriage bolts depending on which part of the world you live in. The head end of the bolt does not need a washer, but the other end of the bolt (the nut end) usually does. with washers into the holes and tighten them.
Step 16. The remaining seat slats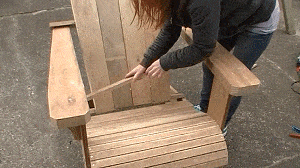 You can now add the rest of the seat slats.
Don't forget to use ample glue first, and pre-drill the screw holes in the seat slats.
The edge of the last seat slat may need a bit of shaping to fit it neatly against the back slats.
Each seat slat only requires one screw at each end. That along with the glue is sufficient.
Step 17. Final touch-up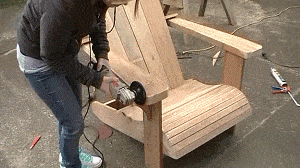 Just the final touch-up now.
A bit of a sand here and there.
Paint?
Whatever you like. Limited only by your imagination. A white chair would pretty much fit anywhere, whereas a specialist color might be just the trick to suit a particular surrounding.
Step 18. Done!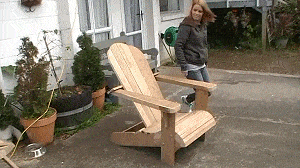 Well, that's about it: A big, strong, and comfortable, 'Cape Cod', aka 'Adirondack', aka 'Muskoka' chair.
Happy relaxing!