Assembling the seat unit
Step 4. Fix the lower back support to the seat sides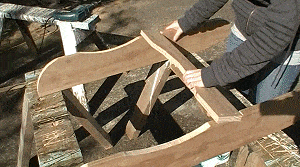 Place the two seat sides (a) on an even work surface (saw-horses, etc.) and fix the lower back support in place with glue and wood screws.
Note: For every joining, ensure that there is ample glue and pre-drill all screw holes in the covering piece of wood.
Step 5. Fix the rear spacer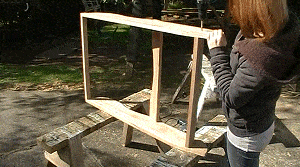 Fix the first seat slat (g) in place (just to keep the seat sides parallel) and then turn the unit on its side and fix the rear spacer (b) in place.
Pre-drill the screw holes in the seat-slat (one each end) and also through the seat-sides (two each side, where the rear spacer lines up) and allow ample glue.
Step 6. Fix some of the seat slats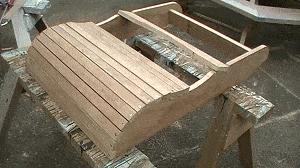 Turn the unit upright.
The first seat slat (g) is already fixed in place.
Add another 10 seat slats, one next to the other, in the same manner i.e., pre-drill, glue and screw.
Note: Do not fix the rest (the last 5) just yet, we will do that at a later stage.
Step 7. Join together a leg, brace and arm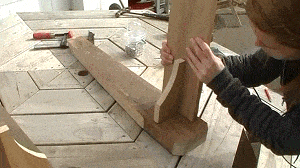 Join together the legs (c), braces (f) and arms (h) in the following order.
1.) Glue and screw the braces to the arms. Refer to the 'side elevation plan' on page 3 for placement. Screw through the arm (pre-drill first) into the brace.
2.) Lay the arms upside down and centralize the leg and brace combinations (also upside down) on the arms, 2″ (50mm) in from the front.