Assembling the arm and leg unit
Step 8. Toe-nail the legs to the arms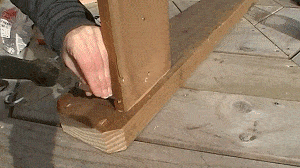 Once the legs and braces are positioned correctly on the arms (currently in upside-down mode, see step 7.), they can then be secured.
Do this by gluing and toe-nailing (skew, angle nailing) through the sides of the braces and legs into the arms.
Pre-drill the nailA short nail with a large flat head used for securing roofing felt, plasterboard, sheet metal to wood etc. holes in the braces and legs to avoid splitting.
Step 9. Align the two arms with one-another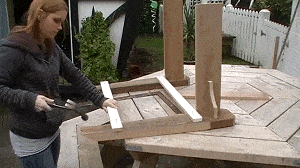 Lay the two leg, braceTo make rigid. and arm combinations upside-down on a flat surface.
Space them apart, parallelBeing of equal distance from each other at all points.. The distance between the legs (currently in upright position) should be 24 3/4″ (620mm), which is the length of the front spacer (j).
Lay and fixTo secure with nails or screws. (temporarily) a couple of strips of woodTimber, lumber. The hard fibrous lignified substance under the bark of trees across the arms to hold them (the arms) parallel in position, just until the upper back support (i) and the front spacer (j) have been added.
Step 10. Add the upper back support and the front spacer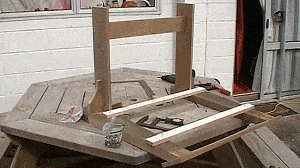 Add the upper back support (i) and the front spacer (j).
Refer to the 'side elevationSide view of a building. plan' on page 3 for positioning.
You will probably need a hand to hold them in place while fixing.
Step 11. Prepare the seat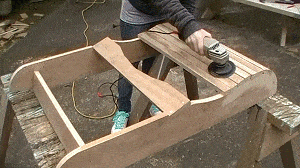 Now is probably a good time to give the seat slats a good sanding to make sure the seat profile is nice and rounded.
Not all the seat slats are fixed in place at this stage.
This is to allow room for the back slats to be fixed without too much problem.