Step 2. Making the ladder (beams and bars)
The brachiation ladder (monkey bars).
That is the top part consisting of 2 parallel beams [a] with 7 bars at right angles spaced evenly along the beams. Like a ladder.
2.1. Mark where the bars go. Temporary nail or clamp together the two beams [a] and place them on a couple of saw stools for marking the bar [b] positions.
The two end bars begin 4 3/4″ (120mm) in from each end and the other five (the intermediate bars) are evenly spaced.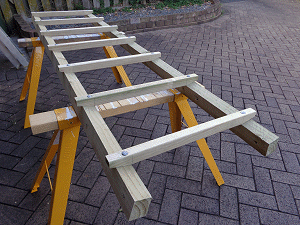 2.2. Once marked, space the two beams [a] apart 18 3/8″ (460mm) and drill and bolt the bars [b] to the beams [a] on the marks.
Use galvanized 5/16″ (8mm) galvanized coach (carriage) bolts with nuts and washers approximately 5″ (125mm) long. Use one bolt at each meeting.
Because the underneath of the bars [b] angle up 15 degrees at each end, the beams will also angle (off plumb) 15 degrees.