Step 2. Making the ladder (beams and bars)
The brachiation ladder (monkey bars).
That is the top part consisting of 2 parallelBeing of equal distance from each other at all points. beams [a] with 7 bars at right angles spaced evenly along the beams. Like a ladder.
2.1. Mark where the bars go. Temporary nailA short nail with a large flat head used for securing roofing felt, plasterboard, sheet metal to wood etc. or clamp together the two beams [a] and place them on a couple of saw stools for marking the bar [b] positions.
The two end bars begin 4 3/4″ (120mm) in from each end and the other five (the intermediate bars) are evenly spaced.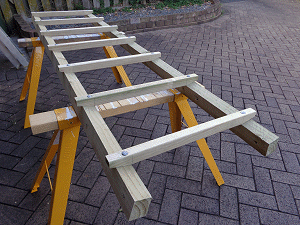 2.2. Once marked, space the two beams [a] apart 18 3/8″ (460mm) and drill and boltA metal rod that has a head on one end and threads on the other and is used to fasten together lumber. The most common bolts used or referred to in projects within this website are coach/carriage bolts and hex bolts. the bars [b] to the beams [a] on the marks.
Use galvanizedCovered with a protective coating of zinc. 5/16″ (8mm) galvanized coachAre round headed bolts with square shoulders that resist rotation when located or driven into place. They can be called coach bolts or carriage bolts depending on which part of the world you live in. The head end of the bolt does not need a washer, but the other end of the bolt (the nut end) usually does. (carriage) bolts with nuts and washers approximately 5″ (125mm) long. Use one bolt at each meeting.
Because the underneath of the bars [b] angle up 15 degrees at each end, the beams will also angle (off plumbVertical; Upright.) 15 degrees.