Making the formwork and the steel cage
Formwork
Formwork is the structure of boards which make up a form for holding wet concrete in shape until such time as the concrete hardens.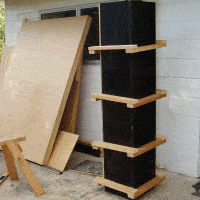 A formwork box was made out of 18mm (3/4″) plywood. The inside measurement was 350mm (14″) square and the length was 1800mm (6ft).
The plywood panels were screwed together with 50mm (2″) screws every 150mm (6″) along the edges and further held together with 75×50 (2×3) cleats surrounding the formwork box in four places.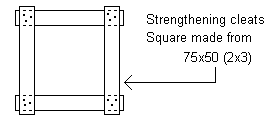 The cleats were made into squares, nailed together and then slipped over the box.
Note: The form needs to be strong as wet concrete exerts a lot of pressure when poured, especially towards the bottom.
This particular plywood, called 'concrete form plywood' had a black resin type non-stick film cover. If you are unable to obtain such a similar type board and prefer a smooth concrete finish, then just use standard board and use a release agent obtainable from some hardware stores or make you own release agent out of an even mixture of used car oil and diesel and apply with a paint brush or a rag.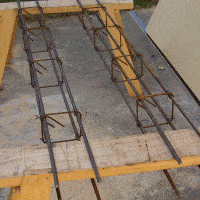 Making the steel reinforcing cage
A reinforcing cage was made for each post.


The 150mm (6″) square cage was made out of four 1700mm (68″) lengths of ribbed (deformed) #4 rebar, i.e. 12mm (1/2″) thick, held together by four 6mm (1/4″) thick square stirrups and tie wire.