Part 1. Making the form
The form is the mold or the boxing that holds the wet concreteA mixture of sand, gravel, water and cement which hardens to a stone like condition when dry. in place until it sets.
Step 1.1   Cutting and assembling the frame pieces of the seat form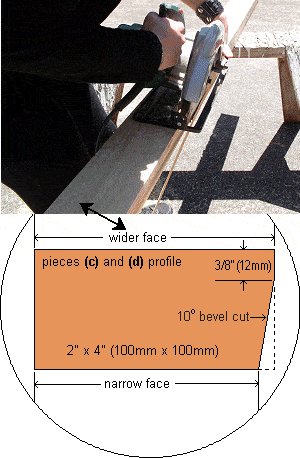 The two (c) pieces and the two (d) pieces are of 2″ x 4″ (100mm x 50mm) stock. They can all be cut from one 11ft (3.3m) length.
Before you cut the individual pieces to length, make a 10° angle cut (chamferA beveled cut along the edge of a piece of wood., bevel) along one edge of the woodTimber, lumber. The hard fibrous lignified substance under the bark of trees, as shown in the drawing.
This is best done on a bench saw with the blade tilted 10 degrees.
With a certain amount of skill, it can also be done with a circular power saw with its blade tilted 10 degrees.
Then cut the two (c) pieces and the two (d)pieces to the dimensionsAny of the three linear measurements, length, breadth and depth. given in the drawing below.
Note: The drawings below show the wider faceThe widest side of a piece of wood. of the wood. The beveled edge is the bottom (lower) edge of the pieces in the drawing.