The

Profiles

Batter boards; Horizontal boards attached level to stakes, used to mark out the boundary of a construction and establish the levels and building line.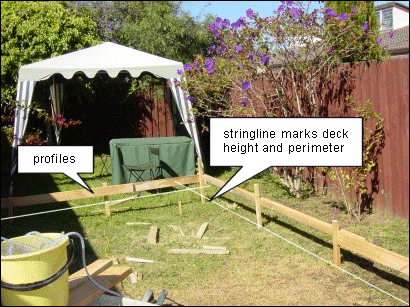 The Profiles.
Profiles were put in to determine the deck's finished height and perimeterboundary. and to give postsee PILE hole lines.
For a description on how to make profiles click here
The profiles in this case were continuous to encase the deckA flat floored roofless area adjoining a house. Timber deck: An outside floor structure comprising of posts, bearers, joists and decking boards. area.
This made it eazy to mark out the footingA base (in or on the ground) that will support the structure. lines and pergolaA structure with open wood-framed roofs, often latticed and supported by regularly spaced posts or columns, and covered by climbing plants such as vines or roses, shading a walk or passageway. Pergolas are distinguished from "arbors," which are less extensive in extent and structure. posts etc.