Step 14. Glazing time
When all the framework has been assembled and painted, measure up for the glass. Refer to the previous page for a size guide.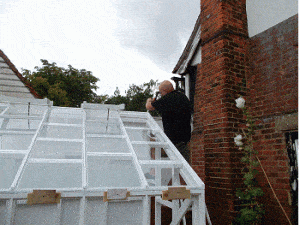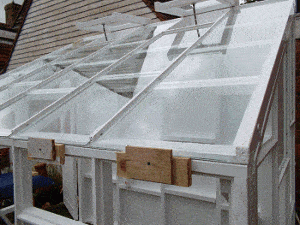 Apply a beadBeading. Thin line of sealant. of adhesive siliconA type of sealant. A pliable type material used for sealing cracks in window frames, and is used sometimes as a glazing compound. around the rebateAn L-shaped cutout with one side, that is always at an end or side of a member, unlike a notch that is a U-shaped cutout. and sit the glass on that. Hold it in place with little blocks of woodTimber, lumber. The hard fibrous lignified substance under the bark of trees tacked into the side of the rebate until the silicon has cured. Then remove the blocks.
Alternatively you can hold the glass in place with a wooden bead – the off-cut from cutting the rebate would be ideal for that.