Step 3. Make up the frame sections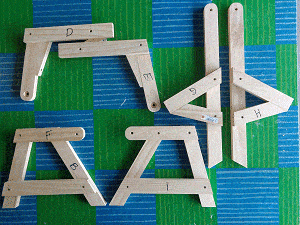 Make up the side frames, each side consisting of three separate sections:
• The top section – pieces [d], [e], & [e2].
• The front section – pieces [a], [g], & [h].
• The rear section – pieces [b], [c], [f], & [i].
Important!
Make up each pair of corresponding sections so that they are a mirror image of one another, as shown in the photo.
Refer to the plans on page 5 and the drawings on this page for the dimensionsAny of the three linear measurements, length, breadth and depth..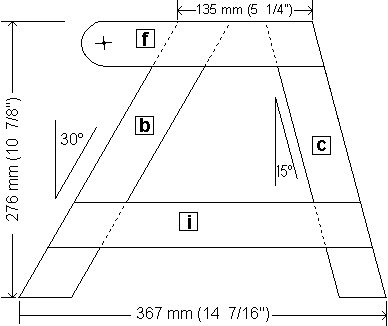 FixTo secure with nails or screws. the pieces at each meeting with glue and two screws.
Take note of the position of piece [g] (front seat railThe top and bottom frame member of a door or window (not the jamb). Cross member of panel doors or of a sash. Also the upper and lower member of a balustrade or staircase extending from one vertical support, such as a post, to another. The horizontal member of a fence.) along piece [a] (front leg) in the drawing below.