Instructions
Step 1. Cut the pieces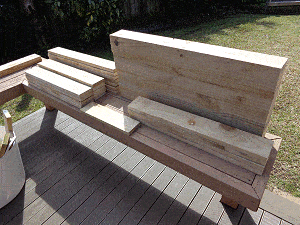 Cut all the pieces to the lengths given below. Always cut the longest pieces first to minimize waste.
4×4 (100mm x 100mm)
[a] leg: 4 @ 34″ (865mm)
1×4 (25mm x 100mm)
[b] side-rail: 6 @ 25″ (635mm)
[b2] side-rail: 2 @ 27″ (685mm)
[c] under-rail: 3 @ 25″(635mm)
[c2] under-rail: 1 @ 15″ (385mm)
[d] tabletop: 7 @ 29″ (735mm)
[e] shelf top: 4 @ 28″ (710mm)
PlaneA flat surface extending infinitely in all directions (e.g. horizontal or vertical plane). Any flat, two-dimensional surface. and sand the rough woodTimber, lumber. The hard fibrous lignified substance under the bark of trees to get the texture you want.
I gave the rough-sawn wood a slight plane and sand, making the finished product somewhere between rough and smooth – semi rustic type of look.