Step 6. Make the head (top section)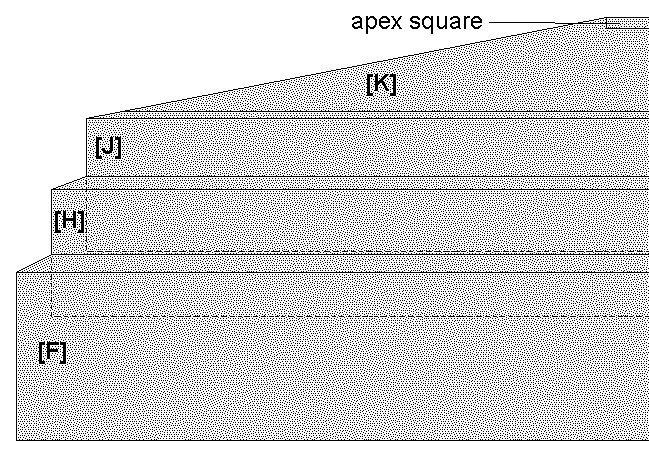 The head consists of the apex square (a small shaped block at the very top), the roof panels [K], and three square box frames ([F], [H], [J],) that can fit into one-another – [H] can fit into [F], and [J] can fit into [H].
How to make it: Angle-cut along the top of all the frame side pieces as per the angles given below, and also cut a 45° miter at the ends of each piece. The overall lengths are also given below.
Lower head side [F] 1280 mm (51¾") OA (check on job, measure where it's to go in the frame structure). Cut a 26.6° angle along the top.
Middle head side [H] 1210 OA (check, measure where it's to go in the lower head square). Cut a 20° angle along top
Upper head side [J] 1140mm OA (check, measure where it's to go in the middle head square). Cut an 11° angle on top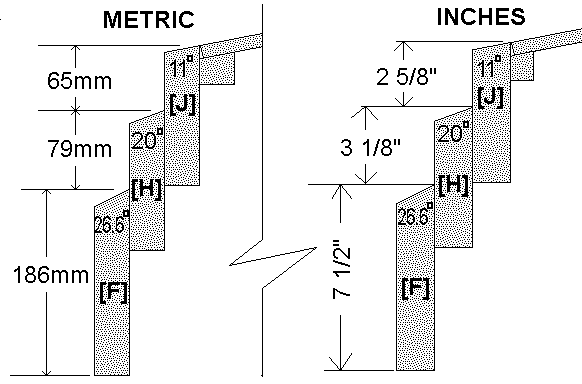 Make up the lower head square frame [F].
Make up the middle head square frame [H] and fit it in the lower head square [F].
Make up the upper head square frame [J] and fit it in the middle head square [H].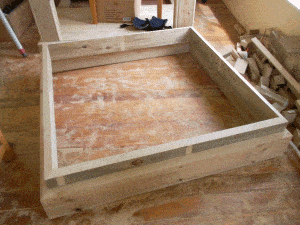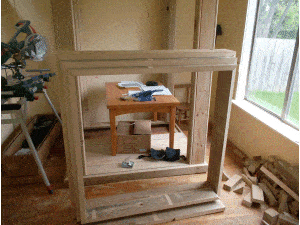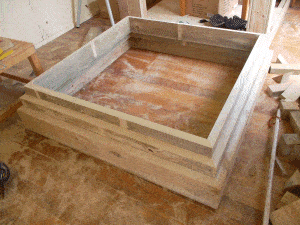 Cut and shape the apex square out of a block of wood approximately 150 mm (6″) square and 35 mm (1½") thick. Shape it as per drawing below.

Fix a wood strip around the inside of the upper head square to sit the roof panels on. Refer to the pictures below.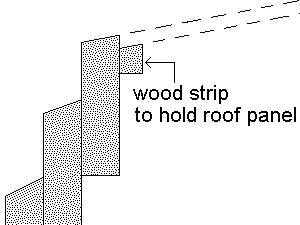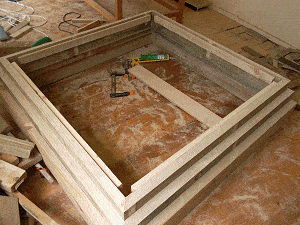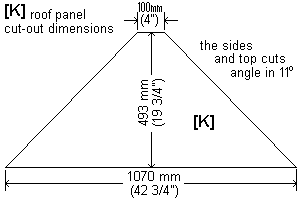 Cut two roof panels 1070 mm (42¾") long x 493 mm (19¾") high with the sides angling in as shown in the drawing. Cut the sides and top so that they angle inwards 11° – ie., have the blade on your saw tilted 11° while you make the cut. (Check on job. Measure the actual required length along the bottom where the panel is to go and if necessary make adjustments).
Assemble two roof panels opposing one another with the bottoms sitting on the wood strips and the tops resting against the apex square. They will be self-supporting. Glue and fix the panels to the apex square with a couple of screws at each meeting. Pre-drill the screw holes through the roof panels and screw down into the apex square.
Measure the other two panels on site, specifically the length along the bottom, up the sides, and along the top. Cut and fix in place.