Step 7. Make the walls
There are 4 walls. Three of them are identical, while the wall with the doorA horizontal framing member above the door/window opening. differs.
Each wall comprises of two sheets of plywoodA piece of wood made of three or more layers of wood veneer laminated together with glue. – one being the solid backing piece and the other being strips (stiles and rails) glued and screwed to the former.
'Stiles' are the strips that run vertically and 'rails' are the strips that run horizontally.
Refer to the 'fixed wall' and 'wall/door' plans for dimensionsAny of the three linear measurements, length, breadth and depth. and follow the instructions below.
Measure and mark on the backing piece panels where the stiles and rails are to go – and from there you can determine the windows.
Mark the window cut-out holes which will be 12 mmAbbreviation for millimeter which is a metric unit of length equal to one thousandth of a meter. 25.4 mm equals one inch. (1/2″) bigger (all around) than the window markings.
Cut out the windows with a circular power saw and a handsaw, or a jig-saw.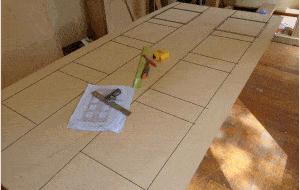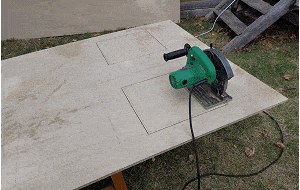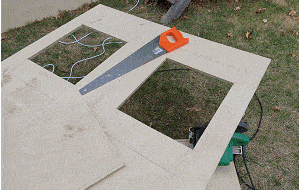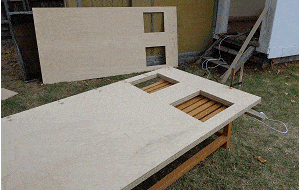 Cut the stiles, rails, and wall top trims
Cut all the panelA sheet that forms a distinct flat and rectangular section or component. A transparent panel used to fill a framed section of a window. stiles and rails including the angles (25°). Cut the stiles to length but cut the rails oversize lengthwise. They can be measured and cut to exact length once the stiles have been fixed in place.
Shape the top trimThe finish materials in a building, such as narrow boards applied around openings (window trim, door trim) and vertical corner battens. as per plan. Overall the trim will be 24 mm x 80 mm (1″ x 3¼") with steps cut in it. Refer to drawing.

Fix

To secure with nails or screws.

the stiles and rails to the backing panels
Note: The stiles are the strips that run vertically and the rails are the strips that run horizontally
Glue the stiles to the panels and hold them there with a coupe of tacks (small nails, pins) so the panels can be turned over without the stiles falling off or moving position during the 'flipping' process.
Then screw through the panels into the stiles, pulling all the components tightly together and letting the glue do it's work.
Flip the panels over again so the faceThe widest side of a piece of wood. is on top. Then cut rails to fit between the stiles and fix them in the same way as the stiles were fixed. Sand all the panels.
The layout of the panel with the door is different to that of the other three panels. Once this is sanded, cut out the door with a circular saw and a handsaw and sand the freshly cut edges.
These photos illustrate the explanations above.