Overview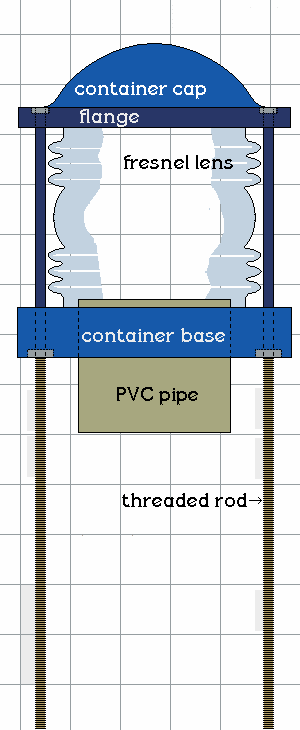 Note: The grid spacings in the drawing represent 1 inch (25mm).
The TARDIS lamp container consists of a fresnel lens sandwiched between a cap and a square base piece.
The base piece has a hole in the middle which accommodates a small piece of round PVC drain pipe.
It is all held together with four threaded rods.
The container cap is a flange (round ring) with a dome in the middle.
The flange is a ring, cut from a piece of plywood.
The dome in the cap is a piece of dome-shaped wire mesh cut out of a cheap kitchen strainer (sieve).
The 'dome-shaped' wire mesh fits in the hole in the middle of the flange. It is held in place with a bit of glue.
fibreglass covers the cap.
The threaded wire protrudes down past the container base.
The lamp container sits on top of the TARDIS roof and the threaded rod and the PVC pipe run through the roof.
The lamp container is fastened from the inside of the roof and the light and light platform is also fitted from the inside of the TARDIS.