Re-assembling the playhouse
Step 18. Put it all back together again
By now you have already assembled the playhouse once, so second time around shouldn't be a problem.

Most important is to ensure that the floor is made level. It may need digging in parts, or packing up in parts, but make sure it is level.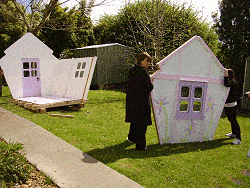 Secure it to the ground – perhaps with a couple of stakes hammered into the ground and nailed to the skids.
Also… once the playhouse is fully assembled, fasten the walls to the skids and end joists with a dozen or so pieces of 6″ (150mm) long galvanized metal strap, just to make sure a gust of wind can't pick the playhouse up and drop it in another part of the yard.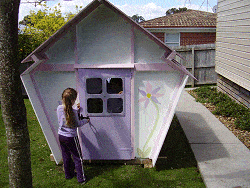 Finally, fix a length of 2″ x 2″ (50mm x 50mm) galvanized angle flashing along the roof ridge.