Standing and Fixing the Walls
Step 8. Fixing the walls in place
Clamp a couple of blocks to both end joists to prevent the front and rear walls from slipping off the joists while they are being worked on.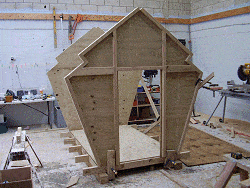 Stand up the rear frame and hold it in place with a temporary braceTo make rigid..


Do the same with the front wall.


Mark a couple of pencil lines across each of the two side walls 11 1/4″ (280mm) in from the front end and 8″ (200mm) in from the rear end (see drawing below).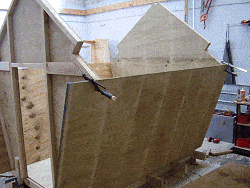 Also refer to the side elevationSide view of a building. plan (Page 3).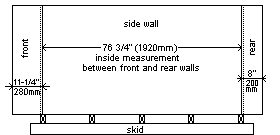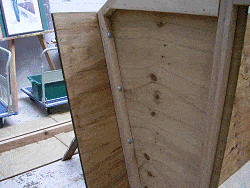 Clamp the side walls in place ensuring that the insides of the front and rear walls line up with the pencil lines on the side wall (as mentioned above).
Bolt
A metal rod that has a head on one end and threads on the other and is used to fasten together lumber. The most common bolts used or referred to in projects within this website are coach/carriage bolts and hex bolts.
the side walls to the 1 1/2″ x 1 1/2″ (45mm x 45mm)
battens
Narrow board used to cover claddingThe exterior surface of a building. joins or used for decorative purposes.
on the front and rear walls using 3/8″ (10mm)
galvanized
Covered with a protective coating of zinc.
bolts. Pre-drill the bolt holes first.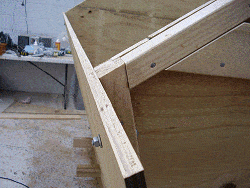 Allow for four bolts at each corner.
Shave or shape (with a planer or sander) the top of the side walls to be
flush
Being even with.
with the
rake
Angle of roof.
of the top of the front and rear walls (see drawing below).