Instructions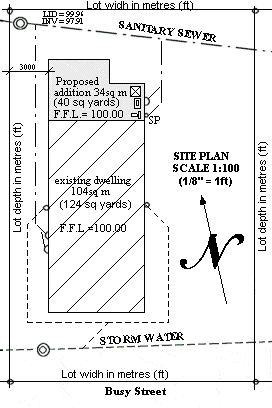 SO… You're ready to start that addition, you have received the plans from your architect or draughtsman but you can't make head nor tail of them.
Maybe this section can help to enlighten you just a little bit.
On the next page is a list of the plan drawings with explanations.
Working Plans are a set of plans from which the builders and other trades refer to and work off throughout the construction of the project.
The working plans are also the plans that are submitted to the local building authority (along with any other documentation that might be required) when applying for a building permit.
A few sets of plans are usually required, two or three for the building authority when applying for permit and a varying number of sets to send out to tradesmen and building supply stores when seeking quotations.
No work can commence until such time as the relevant authority has given approval.
An approved (stamped) copy of the plans must be kept on the job at all times throughout construction. The building inspector will sign the approved plans every time he does an inspection. All required inspections will be listed in the documentation accompanied with the approved plans.
Buildeazy has drawn up a simple set of working plans to explain the bits and pieces.
The plans are for an addition to a fictitious house.
Plan and permit requirements vary from place to place.
If contemplating drawing up your own plans or doing any building work inquire at your local building department to find out what specific needs are bound by local building code or by local authority in order to obtain a building permit.
The example plans in this article are for a 34sq metres (366 sq ft) addition to a fictitious house.
Construction is concrete slab floor, brick veneer, lumber frame and lightweight tile roof on lumber trusses.
Reader Interactions