Step 1.6. The head side-covers and the crown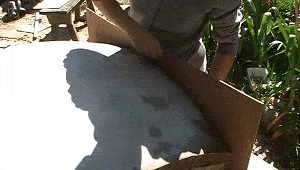 Using clean 3/16″ (4mm) thick plywood we cut four pieces 38″ (950mm) long x 10″ (250mm) high, one for each side of the head. Each piece was held against a side of the head, the curved line of the roof edge was scribed (marked) onto that piece of plywood, and then cut.
The trim around the side-covers
I managed to source some 1/4″ (6mm) and 3/8″ (10mm) thick bullnose (rounded one edge) cedar, from which I was able to rip the required widths for the trim that I used around the head side-covers. Mind you, even if I had only been able to get rectangular profiled wood (probably more common), I could've still sanded the edges round.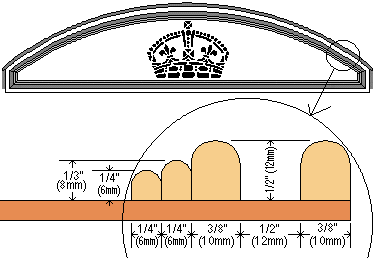 I bent the trim to the curve of the side-covers using clamps, and blocks of wood, and anything else needed to do the trick to hold them in place.
Would they stay bent the next day when I took the clamps off?
Case study
The following day – I released the clamps to find that the wood had only bent marginally.
I put the clamps back on and poured boiling water over the bent pieces, about 5 larger-sized pots. Then left the wood as it was (still clamped) out in the weather for a couple of days.
Then when the clamps came off? The curves were over 90% or the required shape. That was good enough.