The floor boards
Blocking – Commencing the floor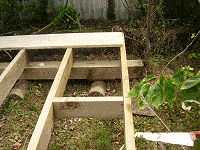 A block of wood was fixed between two joists at each end to prevent the joists from leaning or tipping. (See the plan for dimensions).
The first floor board was positioned: beginning halfway on the first joist and ending halfway on the joist at the other end.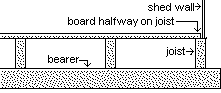 Finishing the floor boards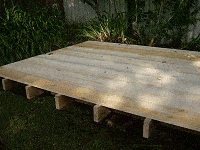 One by one, the rest of the floor boards were fixed in place.
The last floor board had to be ripped down to achieve the correct dimensions.

That was the floor finished – SO WE THOUGHT!

But just then…

Out came the dear lady of the house, bless her, armed with her mother, her two sisters and her karate teacher, to say she'd changed her mind: she wanted the shed on the other side of the fence.

Who was to argue? Not us – wouldn't dare!
Was it going to be a major? Not at all – luckily!
Preparing for the shift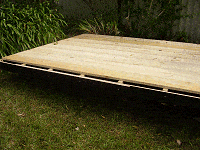 The floor was reasonably heavy and it had to be maneuvered through a narrow fence gate.

It would have to be tipped on edge, then pushed and pulled through the gate.

A board was nailed to the ends of the joists to act as a skid, so the floor (on edge) could slide along the ground.