Identifying the members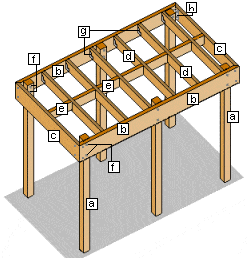 (a)   Posts 100mm x 100mm (4″ x 4″)
(b)   Beams 200mm x 50mm (2″ x 8″)
(c)   End rafters 200mm x 50mm (2″ x 8″)
(d)   Rafters 150mm x 50mm (2″ x 6″)
(e)   BlockingBlocks, see Block. 150mm x 50mm (2″ x 6″)
(f)   GalvanizedCovered with a protective coating of zinc. bolts
(g)   JoistOne of a series of parallel members used to support the floor. Part of the framing that provides the structure for a floor. Hangers
(h)   Galvanized Angle Bracket
The height
The height of a carportA roof that covers a driveway or other parking area, it does not have a door in the manner of a garage. A garage for one or two cars consisting of a flat roof supported on poles. is in most cases, common sense. A tall person should be able to walk comfortably under the lowest end of the carport. 2100mm (7ft) from the finished ground to the underside of the lowest end rafterRafter each end of the roof frame., is a good height.
The

slope

See fall.
The roof slope (fallOf roof; Pitch; The incline angle of a roof surface.) should be at least 100mm (4″).
If using a clear PVCPolyvinyl chloride. A common thermoplastic resin, used in a wide variety of manufactured products, including rainwear, pipes, garden hoses, phonograph records, and floor tiles. roof, then a steeper slope is advisable, as a steeper fall means faster water run-off, and therefore a cleaner roof.