Shopping list
Here is the total materials you will need.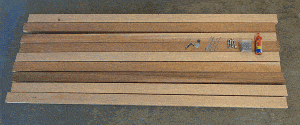 9 only 8ft (2.44m) lengths of 2×4 (50mm x 100mm) dressed (dimensional) lumber.
• 4 only 3/8″ (10mm) bolts 3″ (75mm) long with washers and self locking nuts.
• 80 only 3″ (75mm) exterior type wood screws.
• 2 only angle brackets (sliding door stopper type brackets).
• 6 only galvanized 6″ (150mm) nails.
• Exterior wood glue.
Note: There is no material allowance for the 'clip on' piece as that is optional and only and idea that you yourself might want to change to suit.
Tools you will need
• Circular power saw,   • Drop saw (chop saw) – able to cut accurate angles,   • Jigsaw,   • Electric drill,   • Hammer, Hand saw, Measuring tape, pencil, square, screw driver, level, clamps, adjustable angle bevel.   • 3/8″ (10mm) drill bit for the bolt holes,   • 1/8″ (3mm") drill bit for the screw holes,   • 1″ (25mm) drill bit to countersink (embed) the bolt head.