Shopping list
Here is the total materials you will need.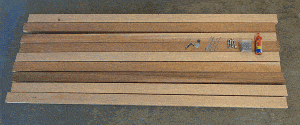 9 only 8ft (2.44m) lengths of 2×4 (50mm x 100mm) dressedSurfaced; planed; smooth; even surface; gauged. (dimensional) lumberAny of the framing wood..
• 4 only 3/8″ (10mm) bolts 3″ (75mm) long with washers and self locking nuts.
• 80 only 3″ (75mm) exterior type woodTimber, lumber. The hard fibrous lignified substance under the bark of trees screws.
• 2 only angle brackets (sliding doorA horizontal framing member above the door/window opening. stopper type brackets).
• 6 only galvanizedCovered with a protective coating of zinc. 6″ (150mm) nails.
• Exterior wood glue.
Note: There is no material allowance for the 'clip on' piece as that is optional and only and idea that you yourself might want to change to suit.
Tools you will need
• Circular power saw,   • Drop saw (chop saw) – able to cut accurate angles,   • Jigsaw,   • Electric drill,   • Hammer, Hand saw, Measuring tape, pencil, square, screw driver, level, clamps, adjustable angle bevel.   • 3/8″ (10mm) drill bit for the boltA metal rod that has a head on one end and threads on the other and is used to fasten together lumber. The most common bolts used or referred to in projects within this website are coach/carriage bolts and hex bolts. holes,   • 1/8″ (3mm") drill bit for the screw holes,   • 1″ (25mm) drill bit to countersink (embed) the bolt head.