Introduction & description
Folding picnic table made solely out of 2×4 lumber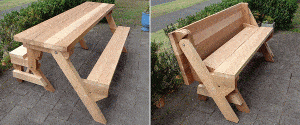 This model also has an optional 'clip-on' piece that adds to the height of the backrest when the unit is in bench mode.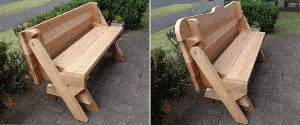 The 'clip-on' actually adds somewhat to back comfort and (depending on taste) gives the bench more appeal.
I have tried to make this project as easy as possible, taking feedback into consideration.
This is a more simplified version with better explanations and loads of photos and drawings.
The size of the thing
In picnic table mode the overall footprint (area it takes up on the ground) is 60″ (1524mm) long by 47-1/4″ (1200mm) wide.
In bench seat mode the overall footprint is 60″ (1524mm) long by 21-1/2″ (545mm) wide.
The height is 29″ (737mm)
It is built using one wood size only – 2×4, a very common stock size.
The bench arms that have adorned the other models have been done away with as it is excess work, excess materials, and when in picnic table mode it is better without them.
This complete unit is built solely out of standard 2x4s (which measure 1 1/2 x 3 1/2 inches, actual size).
All the pieces can be cut from 9 only 8ft lengths of 2×4. Pretty common stuff.
What's in this content
There are plan drawings, there's a shopping list, a cutting list, there is a diagram showing how to cut the pieces from 9 only 8ft lengths of 2×4 to minimize waist, there is a diagram of every single piece with the dimensions, and that is followed by step-by-step instructions with plenty of pictures.
The measurements
The measurements in this project are given in both inches and millimetre. The inches are given first followed by their metric equivalents in brackets – for example: 2×4 (50mm x 100mm).
Don't be confused by 'nominal' (in name only) dimensions when you buy the wood.
It is called 2×4 but it really measures 1 1/2 x 3 1/2 inches (thickness and width)
The metric equivalent of 2×4 is 50mm x 100mm, which really measures 1 1/2 x 3 1/2 inches (38mm x 89mm), actual size when dimensioned or dressed.
In short – The actual, real size of the wood (thickness and width) used in this project is 1 1/2 x 3 1/2 inches (38mm x 88mm).
If you want to use a different thickness wood or change the length of the table refer to 'Changing stock size and/or table length' in the appendix at the end.