Step 1.6. continued
The crown

So far we had cut the head side-covers to shape and bent the trimThe finish materials in a building, such as narrow boards applied around openings (window trim, door trim) and vertical corner battens., but we had yet to fixTo secure with nails or screws. the trim onto the side-covers.
First, the crown had to be etched into the side-covers.
I made a pretty good copy of the K2 crown and made a full-size pattern in a printable file so I could print out a copy anytime I liked and (using carbon paper) trace the pattern onto the plywoodA piece of wood made of three or more layers of wood veneer laminated together with glue. side covers.
By clicking on the crown image you will get a full-size image that can be saved to your computer.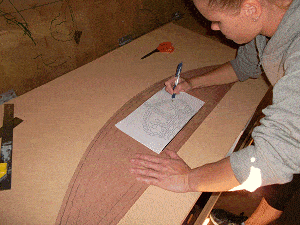 Angela marked where the trim pieces were to go on a side-cover.
This was to ensure that the crown would fit between the trim rather than overlapping it.
She then printed out a full-size drawing of the crown, and (using carbon paper) traced the pattern onto the plywood side-cover.
Ditto with the other three side-covers.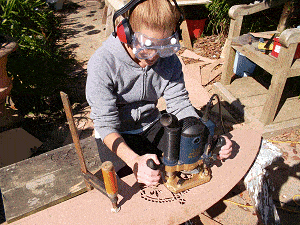 Once marked, the head side-covers were fixed securely on a work platform and using a router, the K2 crown pattern was cut out.
This was fairly slow work because of all the nooks and crannies in the pattern.