Introduction
The K2 telephone kiosk is arguably the most iconic British telephone box of all time.
K2 stands for Kiosk 2, and was the second booth to be deployed around London. That was in 1926. The K2 design was the result of a competition in 1924. A design submitted by Giles Gilbert Scott was selected but some of his specifications were changed, such as color, materials used, and a few other minor details.
The original K2 Telephone Box was made out of cast iron, was 3ft 6in wide and deep, stood 9ft 4in in height and weighed around 2756 lb (1250kgs). It took over from the K1 (Kiosk 1) which was a concrete structure.
Today, the remaining K2 Telephone Boxes in London are beautiful landmarks and are mostly protected Grade II Listed Buildings; the grade II category meaning "buildings that are of special interest, warranting every effort to preserve them".
I, along with many others think that the red British K2 Telephone Box is a marvelous structure – why wouldn't you want one in your property?
Many people sport a red telephone box in their home or garden as a sort of quirky accessory. They are used as tool sheds, decorative garden structures, shower boxes, even as fully functioning telephone boxes. They are also found in bars and restaurants around the world adding a little touch of Britain. Sometimes they can be found in somewhat deformed states, after having been transformed by artists who've given their unique spin on these iconic booths.
I had to have one.
I decided to make one – out of wood, plus whatever.
This was to be the most eagerly anticipated project I had ever undertaken.
View all downloadable plans here
Of all the projects that I have made over the years, my red English Phone Booth created the most interest.
It was a project I thoroughly enjoyed building. Originally I was going to place it in the garden as a feature, and maybe use it to house a few garden implements or something. But, throughout the course of construction (which took a while as I only worked on it casually) it spurned far more interest, curiosity and comments from friends, visitors and passersby than any other project I had undertaken. My wife Jenny said, why not place it in the front yard against the house for all to see?
In fact why not make it a fully functional working red telephone box?
So I decided to go the whole hog, and have a working light and working telephone inside it.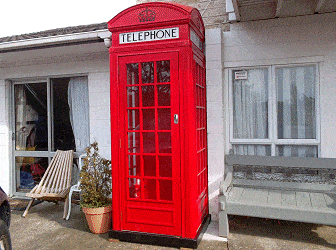 My take on the K2 red telephone box.
I didn't want my K2 red telephone box to be an exact replica of the real version.
I wanted some lines to be accentuated so that a trained eye could pick up the intended differences, while it still being unmistakably a take-off of the K2 telephone box.
For starters, the original K2 booth was made out of cast iron, while mine is mostly wood.
The original K2 booth was 9ft 4in tall; mine is 8ft 7in tall. However, that's not a lot of difference in size – it's still a pretty big box.
Then there will be the subtle line changes that put my mark on it, while still giving it the distinct K2 flavor.
Come with me as I take you through a step-by-step account of how I made my take-off of the red British K2 Telephone Box. I'll share my methods and techniques, and add the occasional expert contribution, along with a bit of helpful reader input.
To a certain degree this is a live document because of the ability to access ongoing reader input.