Tapering the rose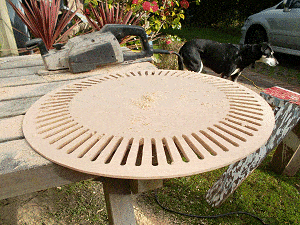 I wanted to make a tapered edge around the slotted circle piece so I made a makeshift set-up.
I pinned the piece (through the center) to the corner of a work table slightly overhanging.
My wife Jenny turned the circle around with her hands while I held the electric planner on the rim (not near her hands) until I achieved the desired result.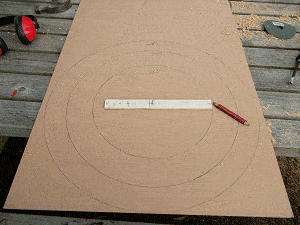 On another piece of board: using my compass (strip of wood with the holes in it) I marked two circle pieces 6 3/8″ (160mm) diameter and one ring piece 2 1/2″ (55mm) wide with a diameter of 22 3/8″ (570mm).
I then cut them out with a jig-saw.
Three circles in all – two solid circles and one ring circle.
Once all the circle pieces were cut I glued them together.