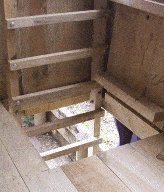 Detailed downloadable plans in either standard or metric dimensions.
Dimensions
Ground area: Approx 1800mm x 1800mm (6'x6′)
Floor area: 1500mm x 1600mm (5′ x 5′ 4″)
Overall height: 300mm (10ft)
Floor height: 1200mm (4ft)
The Plans
Detailed downloadable plans for the DIYer that likes to do the whole job. A choice of either standard or metric dimensions. These plans contain easy step by step instructions, where to drill every hole, photographs, drawings and detailed directions.
These plans are in downloadable pdf file and can be purchased with credit card and instantly downloaded to your computer.
Note: These plans are for a kid's fort. It does however, require an experienced adult DIYer to build the fort. A kid may help.


Specification:
Playfort with trapdoor