Look. Sometimes, time and the elements just take their effect on objects, especially ones that are exposed to them.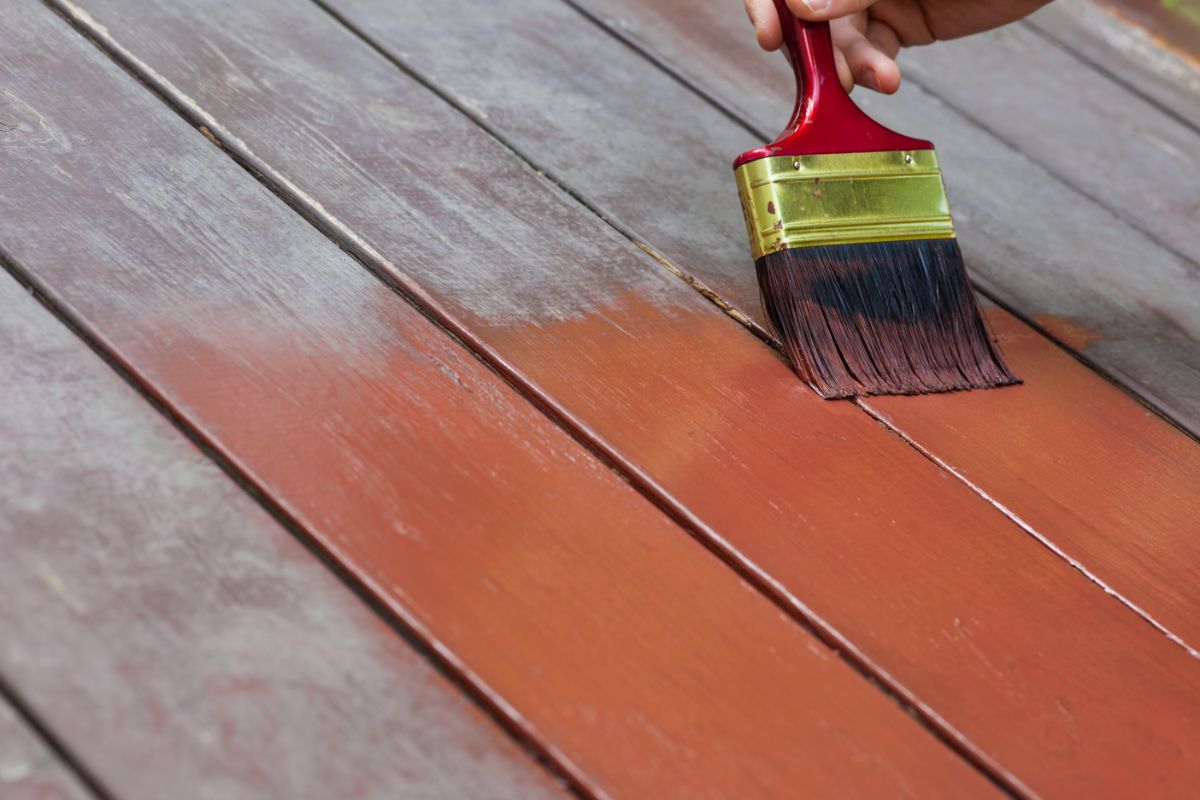 There's no way to beat them, only ways where you can roll with the punches that general wear and tear give to your furniture.
Anyone who has owned a deck as part of their home for any period can tell you what exactly we mean!
Damage to older wood accumulates over time.
However, that amount of time can seriously vary, depending on what type of paint a person is using on their older wood.
A bad type of deck paint can damage the wood over time, especially if it is full of harsh chemicals.
As such, when it comes to caring for your home's deck, and keeping it in good condition for longer, you need to consider what kind of paint you are treating it with.
With so many names in this particular market, that task only gets more and more difficult every day.
However, that doesn't mean that it's impossible.
Some of these brands can bolster your wooden deck's lifespan. And this buyer's guide is here to show you just which ones are the best.
Starting off this guide with one of the best products for aging wood on the market, KILZ latex paint is one of the best out there.
When it comes to an all-around great outdoor paint, you'll struggle to find a better one.
As with any of the best paints, this outdoor latex base will turn any decking from an old crumbling deck wood into a beautiful good-as-new porch, once it has been applied and dried.
KILZ paint is scuff and chip-proof, meaning that you also won't find holes or scratches in that pristine look anytime soon, either.
However, there are more ways than just scratches and dents that can ruin old wooden decking.
Thankfully, KILZ protects your porch from these threats too, being made from a compound that helps prevent fungal or mold infestations and adverse weather conditions from getting under this paint's layers too (although we recommend that you clean your wood before applying to make sure that it doesn't trap any mold either).
Don't think that this paint is reserved for just wooden surfaces, either.
This can be used on masonry another brickwork too as well as trellises and trims of your home.
Great for if you have completed your deck wood coats, and want to move on to other projects.
If you choose only one product in this guide, we would probably recommend that you consider KILZ Enamel porch paint.
Pros
This deck paint is a long-lasting variety that will give a new lease of life to pretty much any old porch wood.
The paint also contains a low-luster finish, to avoid glare from the sun.
It is both weather and mold-resistant.
It can be applied to your wooden deck with a brush, roller, or sprayer.
Cons
To get a consistent color across your whole porch, several coats may need to be applied.
Also Available From: Walmart
KILZ Low-Lustre Enamel Porch & Patio Latex Floor Paint, Interior/Exterior, Silver Gray, 1 Gallon
PORCH & PATIO PAINT: KILZ Porch and Patio Floor Paint is a 100% acrylic latex product providing a durable, long-lasting finish that is ideal for both interior and exterior applications.
ADVANCED FORMULA: This Acrylic paint offers a low-lustre enamel surface that is formulated to endure on deck, porch, and patio siding and floors through variable weather conditions. This product will create a moisture resistant finish that resists scuffing, fading, cracking and peeling.
MULTIPLE USES: Ideal for porches, floors, decks, basements, patios, siding, trim, furniture and trellises. May be applied over properly prepared, previously-painted or primed surfaces. Not for use on areas subject to automotive tires. For residential applications only. CAUTION! Sealed surfaces may become slippery when wet. Use caution when walking on surface when moisture is present.
SUPERIOR COVERAGE: This 1 Gallon can of KILZ Enamel Porch and Patio latex paint covers 300-400 square feet on smooth surfaces and 200-300 square feet on rough surfaces. Dries to touch in 1 hour and can be recoated in 4-6 hours.
KILZ has been making premium primers and paints for 40 years and leverage this experience in every gallon of KILZ Paint. Named Paint Brand of the Year in 2015 in the Harris Poll EquiTrend  Rankings. Lifetime Limited Warranty (see label for details).
One of the main issues that many people find with several wooden porch paints is that they often take more than a few coats before you can start t get the full benefit they provide.
Not only is this frustrating for buyers who have to keep reapplying the paint, but it also means that painting and drying your porch takes longer, meaning that it could be more susceptible to wear and tear in the meantime.
This is an issue that Rust-Oleum's RockSolid deck paint doesn't face.
Once the first coat is applied, that's all the work that you'll need to do to start seeing the benefits that this paint provides.
And it certainly provides plenty of positives. Being thicker than most standard deck paints means that it can cover many scratches and holes that a piece of porch wood may have, leaving you with a porch that looks just like new when the paint has finished drying.
Plus, with this paint coming in a variety of different colors for you to choose from, you have plenty of options when it comes to getting the porch color of your choice.
If you need something that you'll only want to paint once and be done with it, then this is the porch paint for you!
Pros
Needing to only apply one coat of paint with this product is a massive time saver.
Provides a finish that is non-slip underfoot.
It is also a surface that resists UV radiation, meaning that exposure to the sun will have little to no effect on it.
Cons
This paint mix is too thick to be applied with a paint sprayer.
It needs to be applied with a RockSolid Roller cover, which may hike up the price you need to spend.
Also Available From: Home Depot
As many of us become more environmentally conscious when it comes to our purchases, there has also been a new corner of the market for an environmentally sustainable version of older products, something that had previously been quite difficult to find for products such as porch paints.
Montage Signature has been the one to fill that niche, being made from components that do not pollute the environment, both in production, and when it is being applied.
Plus, being a 100% American-made product means that not only is it a home-grown brand, but it also cuts down on the time and energy needed to transport and sell, it, making it even more environmentally friendly.
Of course, the main worry with these types of products is that they sacrifice reliability and quality for making them sustainable items.
Fortunately, this is not the case with this porch paint.
Being able to brush this paint smoothly with any kind of brush, and delivers great protection against many forms of damage that can accumulate in old would, such as from UV rays, water, mildew, and mold.
Plus, with this product coming with a 10-year warranty, it is also a very reliable product with great service from the company that makes it.
If you're looking to try to make changes to your life for a better environment, this is an easy product for us to recommend.
Pros
Made with low VOCs, this is an environmentally friendly paint to use on your deck wood.
An all-American product!
It is resistant to UV damage and is waterproof, and even from mold damage!
Cons
Whilst resistant to water from rain, this may not be an ideal deck paint for areas where there is constant exposure to moisture.
Also Available From: Walmart
Montage Signature Interior/Exterior Eco-Friendly Paint, Navajo White, Semi Gloss, 5 Gallon
✅EXTREMELY VERSATILE - Montage Signature is the #1 choice for all of your professional painting needs - interior/exterior, small residential spaces, large commercial buildings & everything in between!
✅SUPERIOR COVERAGE & PROTECTION - All of our specialty finishes let you brush smoothly & evenly while delivering maximum coverage. Improved sealing technology allows for easy cleaning and protection from common water issues.
✅ - We're committed to the highest quality & pollutant-free materials, and a rigorous engineering and testing process for each of our leading professional paints.
✅10 YEAR - We can't wait to add you to our long list of loyal customers turning to Montage Signature for all of their painting needs. All paints are covered by our 10 Year Premium .
✅MADE IN USA - Montage Signature Paint believes in the power of a thriving American economy and the integrity of its people. 100% produced from Raw & Post Consumer latex paints right here in the USA.
One of the features that are often overlooked when purchasing deck paint is how much traction it provides.
This is something that TotalBoat considered when they created their TotalTread deck paint line of products.
The texture of this paint, once it has been properly applied and dried, is low-glare paint that is textured to provide your feet with the most traction possible.
This makes it a very safe option for walking over, even in wet conditions, and noticeably safer than many other options on the market.
Plus, you don't have to worry about those feet damaging the paint either, as this paint is resistant to not just high levels of foot traffic, but also UV rays and extreme weather too.
If you love how much traction this paint gives you, you can even apply it to non-wood surfaces too, such as stone or concrete.
Pros
The non-slip attributes of this paint make it a great paint to cover your porch with.
This paint dries very quickly once applied, saving you time.
The finish will last for a long time and is resistant to many kinds of damage that accumulate.
Great for many surface materials, from wood to plastic to concrete.
Cons
Whilst resistant to water and foot traffic, the product has been known to hold dirt and mildew, which can cause damage to porch deck wood over time.
Also Available From: Walmart
TotalBoat-520120 TotalTread Non-Skid Deck Paint, Marine-Grade Anti-Slip Traction Coating for Boats, Wood, Fiberglass, Aluminum, and Metals (Light Gray, Quart)
UNIQUE NON-SKID DECK PAINT: Durable, textured, low-glare high-traction surface for secure footing, with a comfortable rubberized texture that's less abrasive than traditional silica additives: One part polyurethane non-skid deck paint creates a durable, high-traction surface for comfortable, secure footing and a finish that's less abrasive than traditional silica additives
LONG-LASTING POLYURETHANE FINISH: Durable coating won't fade or peel; easy to clean - scrubbing won't wear away the finish; affordable way to bring your old boat flooring back to life
NON-SLIP PAINT WITH MANY APPLICATIONS: Boat decks, docks, cabin soles, hatches, stairs, steps, gunwales, swim platforms, concrete, patios, floors, and anywhere else you need sure footing
1-PART PAINT IS EASY TO APPLY by brush or roller on fiberglass, wood, properly primed aluminum, metals, and previously painted surfaces; add a second coat for greater traction. Coverage: 250-300 sq. ft. per gallon
COMES IN PAINT COLORS TO MATCH TOPSIDES OR EXISTING NON SKID PATTERNS: Sand Beige, Kingston Gray, Light Gray, White (tintable with TotalBoat Wet Edge Topside Paint). Available in Quarts and Gallons
Great traction is a feature that a number of the best deck paints try to provide their products, whilst mixed success in some cases.
However, Valspar's Porch and floor latex enamel paint is not one of them, providing you with plenty of grip on your feet or footwear to make sure that you don't feel precarious whilst walking over this paint, whether it is dry or wet, warm or cold.
Not only that, but this high-traction paint can also be applied to many material surfaces besides wood, including concrete and plastic.
If you want to make the space around a careful area, whether that's your porch or your pool deck, you can't go wrong with this option.
It also has many other features that quality porch pants have, including resistance to damage from scuffs, weather, and high foot traffic that your deck may experience.
Plus, there is very little odor when applying and drying this paint, meaning that you won't irritate your sinuses whilst applying it to your deck!
If you're looking for a high-traction, high versatility paint, Valspar is an excellent option to choose from.
Pros
Has a great amount of traction once it has dried.
Can be applied to many materials, such as wood and concrete.
Resistant to both foot traffic and water.
Cons
The color of the paint may not be accurate to the picture provided.
Also Available From: Lowe's
Of course, one of the most frustrating problems that can come with deck paint is that it never lasts quite as long as you'd hoped.
Eventually, the weather or some other element starts taking its effect, ruining your hard work.
This is something that SaverSystem was keenly aware of when they developed their deck paint and sealer product.
This is a paint that is great at resisting the little ways in which deck paint often fails you, such as resisting peeling and fading over time, better than many other products.
It even protects your deck from graying over time too, keeping that deep color for longer.
Not only that, but there is no need to worry about the stain of your current wood deck affecting how this paint looks and dries over time, as this wood paint can also be applied to decks that have been stained too!
Great for hiding that botched staining job that you tried earlier in the year!
Plus, with a variety of hues to choose from when buying this product, as well as containing a few VOCs, it is an environmentally conscious option that can be tailored to the color that you want out of your porch.
For a paint that you can rely on to last for years to come, we can't recommend SaverSystem enough!
Pros
Long-lasting paint that resists peeling.
Gives your deck a natural wood color.
It is resistant to damage from foot traffic and water.
Cons
You may not get the coverage that you are looking for when using this paint with a sprayer.
Also Available From: UBuy
#1 Deck Wood Deck Paint and Sealer - Advanced Solid Color Deck Stain for Decks, Fences, Siding - 1 Gallon (Classic Taupe)
Opaque Finish Completely Hides Wood Grain & Provides Maximum Protection Against Fading & Graying Caused by Damaging UV Rays
Acts as Both a Stain and Sealer for Your Wood - Use Over Top of Existing, Solid Color Wood Stains (that still have good adhesion)
Available in 6 Beautiful, Solid Color Finishes That Dry to a Flat, Natural Looking Finish
Low Odor Stain, Water-Based Cleanup - Low VOCs (<60 g/L)
For Use on all Horizontal and Vertical Wood Surfaces Including Pressure Treated Lumber, Pine, Cedar, Fir, Redwood, Mahogany, & More
Buyer's Guide
Durability
This is probably the most important issue that many people are concerned with when it comes to getting good deck paint for their old wood.
The paint needs to be able to handle a lot of punishment for being an outdoor paint, whilst also protecting the older wood underneath from being further damaged by the elements.
Most deck paints will sell themselves as benign and resistant to many effects, such as foot traffic, as well as against UV rays and water resistance.
With these last two factors, consider what exactly it may mean when it mentioned 'resistance'.
For example, does it resist peeling under UV rays, but fades and lose color still? Is it water-resistant to infrequent rainstorms, or is it resistant to high moisture and humidity levels as well?
If you live in an area where these factors apply, think carefully about what resistances you need the most for your porch.
Ease Of Application
This is another factor that will often convince people to purchase a specific brand
A deck paint that requires a few coats to be applied to a deck before it is finished will take less time to be ready than a product that requires more.
If you wish to avoid your deck being affected by outside elements (i.e. rain) before it is completed, having a single layer being applied can seem quite appetizing.
However, you should also consider what type of soft tools are recommended for applying deck paints.
Thicker varieties tend to not be ideal for most painting utensils, particularly non-tailored brushes, rollers, and sprayers.
If you don't already have a specific piece of equipment before purchasing the single-layer paint, this might only add more to the overall price tag, something you probably want to avoid.
Resistance To Infestation
It's not just traffic, weather, bumps, and bruises that can affect old wooden decks.
Over time, old wood can accumulate various types of bacteria and fungus itself.
Over time, these infections and infestations will slowly rot the wood away, making it weak and unsafe to walk on.
As such, having a deck paint that can seal and protect your wood from these kinds of mold infections is critical, especially if you live in an area where this is likely.
Traction/Slip
This is a factor that should not be overlooked when considering deck paint options.
If your deck of choice is used and walked on a lot, it also needs to not be slippy, to avoid serious injury or worse.
Whilst most paints provide enough traction for this to not be an issue, that can change if water is an issue in your area.
If this is the case, make sure that you purchase high-traction paint to avoid accidents.
Frequently Asked Questions
How Do I Apply Deck Paint To Old Wood?
First, before you even consider applying the paint, you need to repair or remove any damage the wood may have already sustained.
After that, the wooden deck also needs to be stripped of any old paint or stain that the wood may still have.
After that, it is a simple process of cleaning the deck, letting it dry, then applying the paint.
Can I Paint Over Old Deck Paint?
It is not recommended that you paint your new paint over any remaining old deck paint, as any cracks or bubbles that form in the lower layer will lift the new layer that you apply.
However, if the stain is still staying down, you can paint over it with the new paint.
Final Thoughts
All you have to do now is decide on just one of these options!