Anyone who is involved in any type of woodworking, carpentry, and construction needs reliable and smooth writing utensils to ensure their work is precise and technical.
Something as simple as a mechanical pencil can make or break a woodworker's job.
What Is A Woodworking Pencil?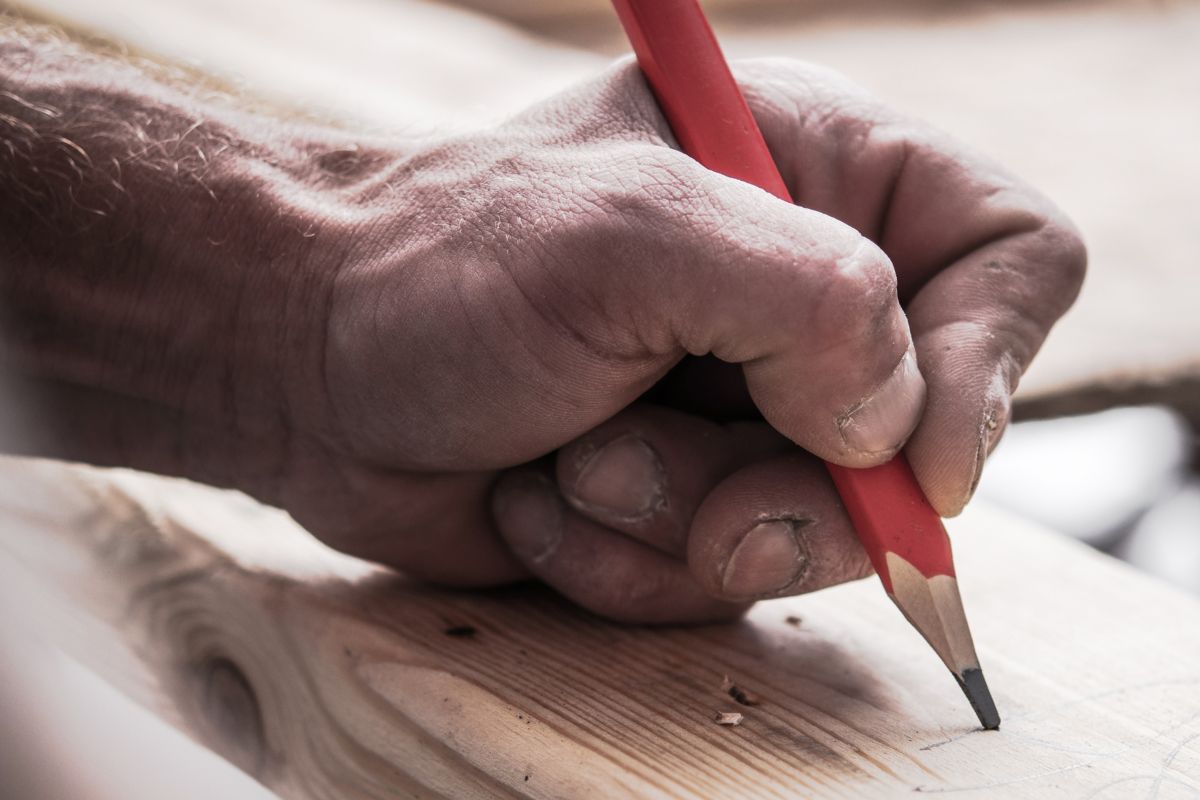 The large size allows the pencil to be handled with gloves and makes it extra sturdy. Why should it be tough?
This is significant because the pencil will be writing on very rough surfaces, such as a piece of plywood, and the lead must be tough.
Woodworkers' pencils are also typically sharpened with a knife so the pencil must be large enough to be quickly cut down.
Woodworkers' pencils are not usually round, so they do not roll away when placed down between tasks.
They don't have erasers because you're not working with paper, and graphite can't be erased from wood or stone surfaces.
Because there is no ferrule on the opposite end of the pencil, you can sharpen both sides and only stop working half as often.
Finally, woodworker's pencils use graphite with a chisel point. This is due to two factors. To begin with, chisel point pencils are easier to sharpen with a blade than round leads.
Second, the point at the end of a woodworker's pencil is frequently blunt (due to rough surfaces and infrequent sharpening), so using a rectangle lead gives you four relatively sharp corners instead of one round, blunted end.
With the rectangular lead, you get better line integrity and more accurate lines in the end.
Types Of Woodworking Pencil
Soft Lead
These pencils wear away more easily due to friction than harder lead pencils. They usually leave a darker, heavier mark on the material.
These woodworker's pencils are best suited for use on new or softwood.
Medium Lead
This lead pencil is less likely to wear away compared to other types of lead pencils.
They leave a mark that falls somewhere between the light lines of a hard lead pencil and the dark lines of a soft lead pencil. They are designed for writing and general purposes.
Hard Lead
These pencils are far and away from the most abrasion-resistant, with a finer mark on surfaces. They work best on hardwood, brick, and plastered walls.
Woodworker's pencils can be sharpened by hand with fine-grit sandpaper, a utility knife, or a good sharp whittling tool.
Solid Lead
Some woodworker's pencils contain no wood at all. This type of pencil is practically nothing more than a stick of non-toxic graphite.
They are both smudge and water resistant, as well as flexible, so you don't have to worry about them breaking in your pocket or tool box.
Because solid pencils are more durable, you won't have to sharpen them as frequently as you would with other woodworking pencils.
Mechanical
Mechanical pencils have harder leads that will not break when used on rough material. They have a button on top that allows the lead to be exposed gradually rather than all at once.
They are strong, with several lead hardness options to choose from. They perform best on brick, metal, wood, and paper.
Woodworking Pencil Uses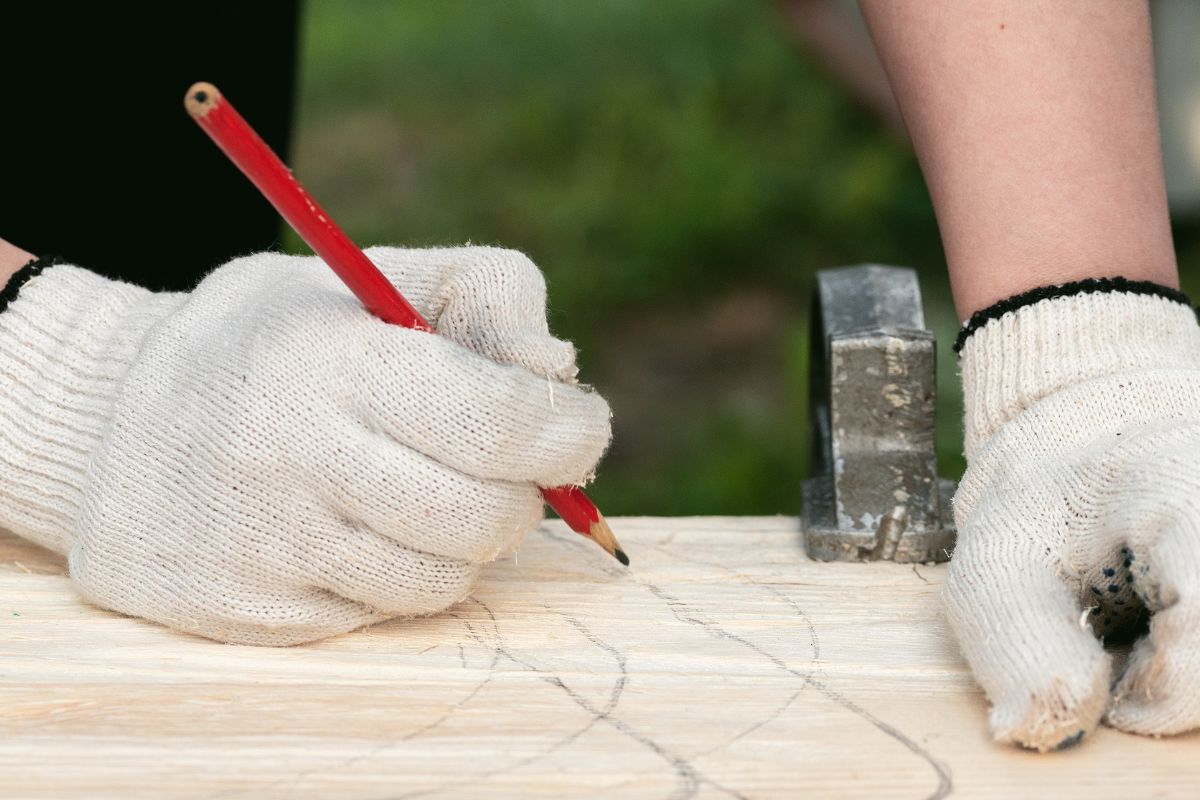 Woodworking pencils can also be used to make both thin and thick lines by twisting the pencil whilst using it.
The former is used for drawing precise lines on smooth surfaces, while the latter is used on rougher surfaces. 
Woodworker pencils are also made to last because they are used on construction sites. The core of a woodworker pencil is typically stronger and denser than that of a regular pencil.
Builders and the construction industry benefit from the stronger pencil lead because markings can be made on stone or concrete.
As well as this, these pencils are typically six to eight inches long, and you can use them to mark out common measurements but only from the top end of the pencil, as the bottom is sharpened.
The most common measurements under eight inches long are one, two, and four inches. Quickly measuring an object rather than getting out your tape measure can save time.
The straight sides of a woodworker's pencil allow for the use of an alignment tool. Butt up to objects with the woodworker pencil to ensure they are straight.
The only disadvantage is that the pencil isn't always long enough to perform accurate straight edge calculations.
This pencil has a metallic body but it feels nice to hold because it is chiseled and encrusted with latex-free soft pads. This feature, in turn, makes the mechanical pencil comfortable for writing or sketching.
The grip is yellow because it is 0.9 mm thick. Similarly, if you select a different size, the color will be different.
Furthermore, the pencil's tip length is four millimeters, making it ideal for use with measuring rods and rulers.
When this pencil is bought, it will have a Pentel super hi polymer HB lead and will never need to be sharpened.
It can also be refilled with a pentel super hi polymer lead and a Z2-1 eraser. The pen has an eraser and a cap to protect the eraser.
Pros
Multiple functions – there is an eraser, pocket clip, and cap all attached to this pencil.
Comfortable grip – the grip is ergonomic and fits well into your fingers.
Cons
Circular – is at risk of rolling down your workspace.
Also available at JetPens
Pentel Graphgear 500 is a stylish pen that produces error-free work. The metallic body, mesh grip, and slim beveled barrel are all visually appealing.
Such a design makes it both beautiful and comfortable. The tip of this blue pen measures 4 mm in length and measures 0.7 mm in size. It works best when combined with a ruler and a template.
Although the pen is available in other sizes, changing the size will also change the color. A comfortable weight allows for smooth sketches; this pencil was designed with this in mind.
If you buy this, it will be pre-filled with Pentel super hi polymer HB lead. Sharpening is not necessary in this case because the lead is fragile.
It also creates a clear, dark, smudge-free thin line. This pencil can also be refilled with extra mechanical pencil leads. This pen includes an eraser as well as a cap to keep the eraser clean.
Students, professionals, woodworkers, artists, and others can all benefit from these pencils. People adore it because of its commendable characteristics.
Pros
Clean lines – this pencil leaves lines that are thin, dark, and smudge-free.
Comfortable – the grip is very comfortable. 
Cons
Lacks an eraser – the eraser is not attached to the pencil.
Also available at Pentel
These two rectangular mechanical pencils are made of plastic with eight graphite tips are included in the set. An extra set of eight tips is included in the package in case you run out.
Replacement cartridges are available in red or black graphite and can be easily loaded into the back of the woodworker pencil, eliminating the need to waste graphite while sharpening.
These pencils also have a pocket clip on one broad surface, allowing you to attach it to your pants, tool belt, bag, or wherever else it will fit.
Each tip is shaped and sharpened like a traditional woodworker pencil, ensuring precise and dual marking edges.
Pros
Affordable – you can spend less than five dollars on this pencil.
Thin lines – the lead is designed to draw very thin lines, great for woodworking.
Cons
Not very comfortable – your hand may cramp up a bit if you use this pencil for long periods of time.
Many people have difficulty sharpening woodworker pencils without breaking the lead, cutting off too much of it, or putting themselves in danger by having to use a knife in the first place.
These pencils also include a unique pencil sharpener designed specifically for use with these pencils, allowing you to ditch the utility knife.
The set includes ten woodworker pencils with a green exterior that is broad enough to provide a comfortable grip while using the pencils and to keep them from rolling away when you put them down.
Pros
Comfortable – the pencils are quite broad which makes them comfortable to grip.
Added sharpener – a sharpener comes with the pencils. 
Cons
No eraser – there is no added eraser on the end of these pencils.
This pencil can be used for sketching, producing art, testing, crafting, and writing on wood.
You will receive two pencils in the package, one black and one blue. There are two extra refills included with the pencils.
One refill is HB, the other is 2B, and the size is 2.0 mm. There are a total of 20 extra refill leads.
Similarly, the retractable design of the pencil appears elegant despite the fact that it is made of plastic. The pencil is also light in weight and has a comfortable rubber grip.
Your hand will not slip due to the rubber grip.
The pencils have an advanced control system thanks to a metal clip on the pen and a push-button and they write smoothly, gracefully, and precisely when you use them.
Pros
Rubber grip – your fingers wont slip off of the pencil as you use it.
Works on multiple materials – you can draw on paper and wood. 
Cons
No eraser – you will have to get an eraser separately.
Also available at MylifeUNIT
Buyer's Guide
Shape
A standard woodworking pencil is round or hexagonal in shape. The shape is important in case the mechanical pencil rolls across the surface as you work.
So, if you're going to buy a woodworking pencil, try to get one with less rolling potential. In this case, the hexagonal shape is preferable.
However, if the round-shaped pencil has a clip, it will not roll very far.
Material
A woodworker pencil cannot be just any pencil; it must be strong and dependable. A good woodworker pencil is made of metallic components such as stainless steel, metal, aluminum, and so on.
Even though it is made of plastic, the plastic should be of high quality. The strong body helps to prevent damage, allowing it to last longer.
Grip
Another feature that ensures uninterrupted work is a comfortable grip. If you use a pencil that is difficult to hold, you will be unable to concentrate on your work.
The grip of a pencil is more comfortable if it is non-slip, rubber, metal mesh or silicone-based.
The grips will work even if your hands are sweaty. Choose a thick grip made of rubber or silicone if you have joint problems. People with small hands should use a narrow grip.
Lead
The lead size and grade of a woodworker pencil are critical. Woodworker pencils are used to make marks on wood as well as to sketch and draw.
If you intend to work on wood, use pencils with sizes such as 0.5 mm, 0.7 mm, and so on, with a soft and dark grade. 
If you need thin, sharp lines for both sketching and woodworking, small sizes such as 2.0 mm and 2.8 mm pencils with an HB grade are available.
Design
Choose a pencil with metallic components, a built-in sharpener and eraser, a pocket clip, the ability to work in difficult-to-reach areas, the perfect lead size, and a comfortable grip.
Lead gets stuck in mechanical pencils from time to time, but the design lets you remove the top of the pencil to unjam it.
You can easily repair it by following the simple steps outlined in our previous post on how to fix a mechanical pencil.
Purchase a pencil with a built-in sharpener because it will sharpen the lead the best.
Frequently Asked Questions
How Do You Sharpen A Woodworking Pencil?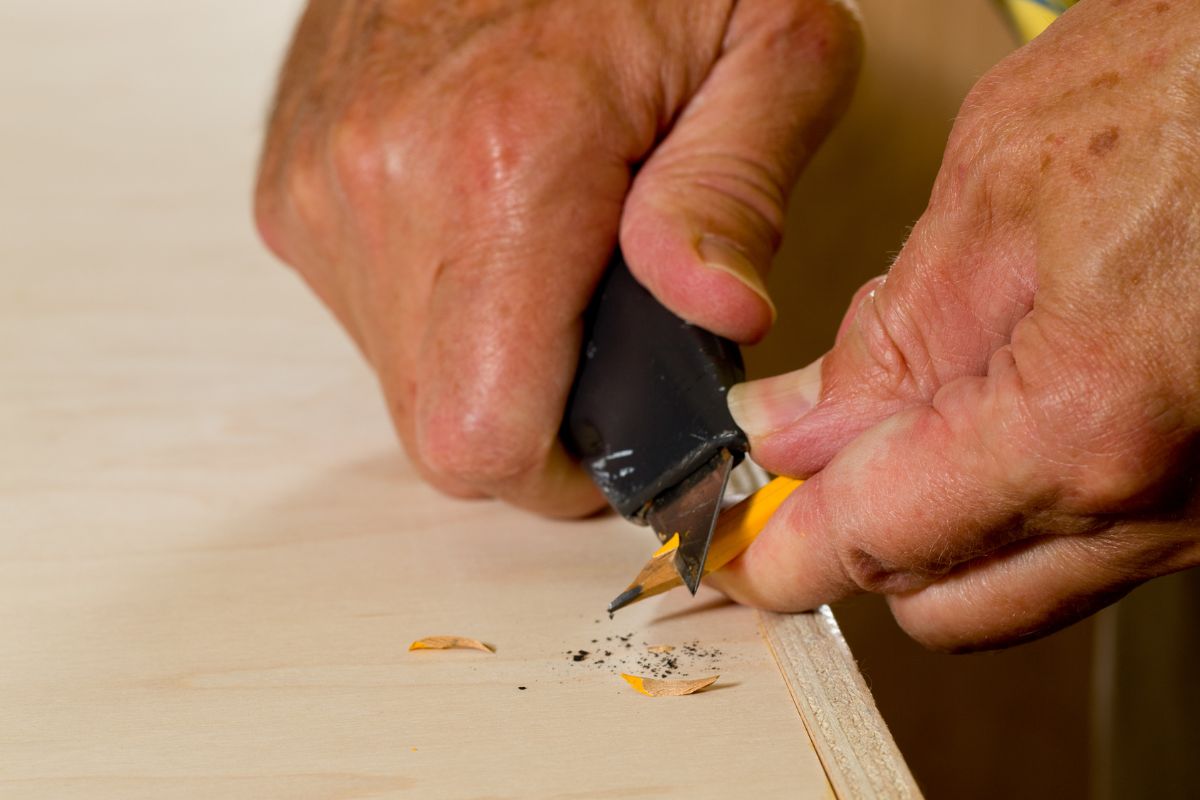 Because a lot of woodworking pencils do not fit in a round-shaped pencil sharpener, they are mostly sharpened by hand. A handy guide to sharpening a woodworking pencil is provided below.
Hold the woodworking pencil firmly, leaving a few inches of space between your hand and the end you'll be sharpening. A chisel or utility knife can be used to sharpen your tool.
With your other hand, hold your sharpening tool at a 45° angle to the pencil, about a half-inch from the end you want to sharpen. Keep the tool pointed away from you at all times.
Begin slicing the pencil's wood, beginning with the narrow sides and working your way to the wider sides. Place the pencil sharpening tool against it.
In a whittling motion, push the sharpening tool into the pencil in the opposite direction of your body. Continue to make small slices until the pencil lead is visible.
Take care not to cut into the lead itself. When about a quarter inch of lead is visible, stop sharpening.
Sandpaper can be used to adjust the sharpness of the lead. Place a piece of sandpaper on the flat side of the pencil's tip end.
Lean the body of the pencil upwards and drag the tip against the paper. Repeat with the other side of the woodworker pencil until the desired sharpness or thickness is achieved.
What Kind Of Lead Is In Woodworking Pencils?
Graphite is the most commonly used lead in pencils. The difference between an ordinary office pencil and a woodworker's pencil, however, is how tightly the graphite is compressed.
This is why, in comparison to a woodworker's pencil, an office-type pencil is much softer to write or mark with.
A woodworker's pencil must be made with durability in mind. Throughout its life, the pencil will be used for sketching on rough materials, in harsh environments, and juggled around in a tool bag.
Knowing that hammers, chisels, and other construction tools will be crushing on the pencil, it must be able to withstand the abuse.
How Do You Use A Woodworking Pencil?
To begin, ensure that your woodworker's pencil is sharp and free of lead flaws. Defects can result in illegible markings.
Make sure the surface you're going to mark isn't the same color as the lead such as stone, wood, masonry, brick, etc.
If the material matches the color of the lead, you can color it with lead, a paint pen, or scribe it.
The lead is flat, just like the pencil. As a result, the lead on the pencil will have two different shapes. There is a sharp narrow side and a flat wide side here.
When marking an object, it is best to use the sharp, narrow side of the pencil. This will ensure that your markings are more precise.
Finally, mark the object and always measure twice before marking to ensure you cut it correctly.
Summary
Woodworking pencils are very useful and without them, it would be much harder to make clear, precise marks which are the foundation of a successful project. 
Before going into this article, you may not have been aware of how much actually goes into finding the right woodworking pencil for you but after reading through this list, it has hopefully become much more straightforward.