What Is A Log Splitter?
As the name suggests, a log splitter is a piece of machinery which is used primarily used for splitting pre-cut sections of soft or hard wood logs into firewood.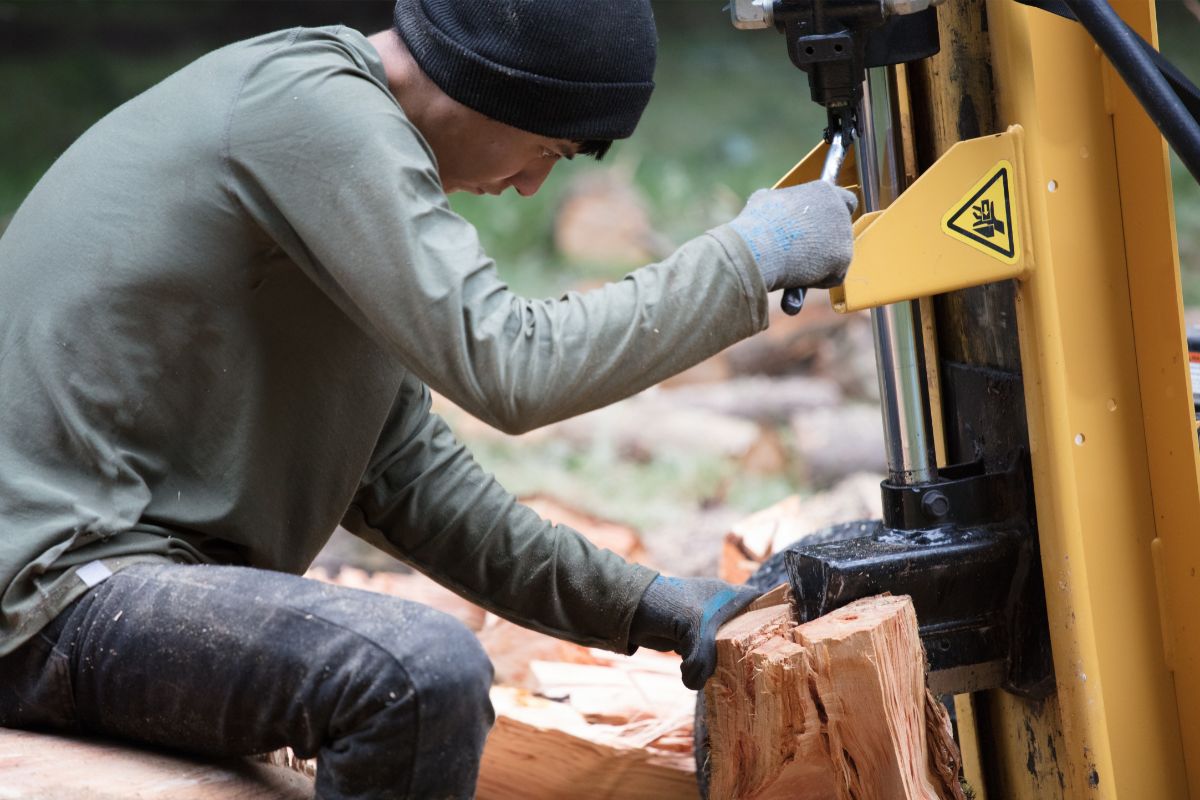 There are a variety of different factors which are worth considering when it comes to buying a log splitter and these can often be quite expensive so buying the right one is an important decision and if you buy the wrong type, this can end up being quite an expensive mistake!
This guide is going to go through some of the best log splitters in different categories and talk you through what is good and bad about each of them.
No log splitter is perfect and some will fit your needs much more closely than others, so make sure to not make any decisions in a rush and fully consider the advantages and disadvantages of each type of log splitter. 
We will also go through several factors which you will need to consider when buying a log splitter just to help you understand what you should be on the lookout for if you are not happy with any of the log splitters on this list.
If you want to buy a log splitter, but you have no idea where to start, this guide is the perfect starting point to help you make a good decision as well as feeling properly informed when it comes to log splitters.
What To Look For In A Log Splitter?
There is a buyer's guide after the list of products in this article, but it is worth getting a quick overview of what factors are important and what you should be looking out for when looking through this guide.
Firstly, you should keep an eye out for what kind of wood you want to split with your log splitter.
If you are using this log splitter for personal, instead of commercial use, it is likely that most of the wood you are splitting will be a certain similar type instead of a large variety.
This means that you have the freedom to choose a log splitter which is perfectly suited for the type of wood you will be frequently splitting.
For example, if you will usually be splitting many big rounds which you want to go into logs, then you will most likely want to use a hydraulic log splitter to save yourself both energy as well as time.
But if you know that you will spend more of your time splitting smaller logs and less frequently, getting a completely, or mostly manual log splitter will save you a lot of money in the long run.
You should also make sure to be fully aware of the size restrictions of the machine or tool which you are purchasing as this will limit what you can do and should be paid attention to. 
You also want to take into account the area in which you will be working.
Furthermore, you will want to make sure to get a more manual machine if you will not have access to power, and if you are living close to neighbors, you will want to make sure to prioritize a quieter machine instead of one which may be more efficient, but is likely to be much louder.
Also remember the reason which you will be buying your log splitter.
These devices are largely used to save the effort which goes into using an axe, so if you are perfectly happy using an axe, and confident with your ability to use one, you may not even need to purchase a log splitter.
However, if you are looking to minimize effort, and maximize efficiency, then you should make sure to lookout for a log splitter which will help you achieve this.
Keep all of these details in mind when reading through the products on this list, and if you feel like you need more details on specific aspects of a log splitter you want to consider before purchasing, then go past the products and have a look at the buyer's guide!
Best Log Splitters
As the name of the product suggests, this is a 27 ton splitter, and not everyone will necessarily need this much power, but it does its job very well-being one of the best overall log splitters available.
This splitter has an 11-second cycle time and is full beam. If you need to cut a lot of firewood quickly and efficiently this is the best log splitter available.
Pros
You are able to tow this from behind a car or truck
Can have both vertical and horizontal use
Very easy to both assemble and to use
Very powerful 27 ton driving force
Cons
Quite expensive compared to others
Champion Power Equipment 27 Ton 224cc Log Splitter
This refurbished product is tested and certified to look and work like new. The refurbishing process includes functionality testing, basic cleaning, inspection, and repackaging. The product ships with all relevant accessories, and may arrive in a generic box
This is one of the best budget log splitters which is refreshing compared to most of the other more expensive varieties.
This log splitter works on a 15 amp motor and is able to split logs which are up to 10 inches in diameter and up to 20.5 inches in length.
It is not as powerful as others, but for the price you are paying, you will struggle to find anything better!
Pros
Quiet to run and does not produce any fumes
Reasonably priced
Cons
Will struggle on more hard or knotted logs
Sale
This is one of the best log splitters for smaller logs, and it works off of an electric motor to do this.
It is designed for personal home use and has 7 tons of driving force meaning it is good for logs up to 10 inches and will manage to split them quietly and without producing any fumes.
Pros
Does not produce gas fumes or make too much noise
Can be operated with one hand
Cons
Limited log size
Works low to the ground
This is one of the best electric log splitters which is capable of working on larger logs, but it does this with a hefty price tag.
It has 22 tons of driving force which is incredibly impressive for an electric log splitter. It is also easy to be towed by a car and uses cradles to stay stable when it is in use.
Pros
Able to be towed
Capable of splitting larger logs
Can be used with just a normal standard electrical outlet
Cons
More expensive than most electric log splitters
This is one of the best log splitters which works with a stand eliminating the need to constantly bend and crouch when working with it. It has an impressive driving force for an electric log splitter as well.
Pros
Convenient stand makes using it easy
Simple operation
Good price for the product you are getting
Cons
Will struggle with knottier and hard wood
WEN 56207 6.5-Ton Electric Log Splitter,Black
Powerful 15A motor provides over 13,000 pounds of log cracking pressure
Use the log splitter with or without the 34-inch stand depending on user preferences
Included pull handle and 5.5-inch never-flat wheels make for easy transportation between jobs
Electric power means no gasoline, no carbon monoxide emissions, and limited maintenance
Split logs up to 10 inches in diameter and 20.5 inches in length
This is the best wedge for making manual wood splitting easier, this makes it a great choice for travelling with and is much cheaper than gas or electric models.
Pros
Great for camping trips
Very cheap to buy
Can be used on large logs after practice
Cons
Can be tiresome if using often
May bounce wood if it is still green
Sale
Estwing E-5 5 Lb Sure Split Wedge , Blue
WOOD SPLITTING MADE EASY – Weighted wedge design makes chopping logs and firewood a breeze
WEDGE VERSATILITY – The Sure Split fins permit extra wedge action and the sledge will continue throughout below the wood line for sure splitting
PERFECT FOR THE OUTDOORSMAN – Ideal for campers, hunters, hikers and other outdoor enthusiasts
HAND SHARPENED – Honed cutting edge for easy wood splitting
MADE IN THE USA – Our tools are proudly crafted in Rockford, IL using the finest American steel
If you want an axe which is good for wood splitting this is the best choice, and it has lots of features to make using it simple.
Pros
2 faces for splitting and driving
Great head shape for splitting
Handle reduces shock
Cons
Needs upper body strength and endurance to use
Sale
Fiskars IsoCore 8lb. Wood Splitting Maul - 36" Shock Control SoftGrip Handle - Wood Splitter Tool and Maul for Splitting Wedge - Black/Orange
MULTI-USE AXE: Sharp blade axe with inseparable riveted head is an ideal wood chopper designed for firewood, yard work, and lawn cleanup, with maximum efficiency for more one-strike splits; Perfect for medium to large size logs
EFFICIENT AND COMFORTABLE USE: IsoCore shock-absorbing handle with textured non-slip grip reduces hand strain, improves control, and prevents overstrike damage; 36" handle is ideal for taller users
LONG-LASTING AND RELIABLE: Steel blade stays sharper longer than traditional axes while advanced blade geometry splits tough logs efficiently and makes the blade easier to remove from wood; Provides excellent durability and lasting value
QUALITY OUTDOOR TOOLS: Designed to help you embrace the outdoors, Fiskars axes and hatchets are equipped with smart technologies and award-winning, ergonomic features that make it easier and more enjoyable to tackle outdoor tasks
INCLUDES: 1 Fiskars IsoCore Wood Splitting Maul with protective sheath; Backed by a lifetime warranty
This is a simple device which is perfect for making kindling only needing a hammer or mallet to work, however do not try using it for anything else.
Pros
Simple operation
Great on small logs
Cons
Buyer's Guide For Log Splitters
When you are looking for a log splitter, there are some factors which you will need to keep in mind to ensure that you are getting a log splitter that fits your needs, the most important ones are listed here!
Power Source
One of the most important factors to consider when buying a log splitter is how the power for the splitter is sourced as if you get one which is not possible for you, the log splitter will not be usable.
Gas Powered
If you are going for a high power log splitter, you should look for a gas powered log splitter as they are the most powerful!
Most gas powered log splitters will give you a choice between having both horizontal and vertical log splitting which is good to have if you are primarily working with large and heavy logs.
If you think you will be getting frequent use out of your log splitter and need efficiency, this is the type to look for!
Electric
Most electric log splitters are perfect for working on mid-sized to light logs, but this comes with having to be tethered to your source of power, so if you need to move your log splitter around frequently, this is not the best choice.
However, they are better in some categories than gas powered by not being as heavy and not emitting any fumes like gas powered do. They also tend to be significantly quieter.
If you occasionally need a well performing log splitter to use to make firewood, getting an electric log splitter is probably the best choice!
Manual
There are many different forms of manual log splitters and these will nearly always rely on your own strength and ability to get the work finished.
There are some which will just make you pump a lever to make it, so a splitter goes through a log, while this category also encapsulates axes which are merely a blade with you doing the majority of the work.
These are the least efficient choices, and are not a great choice if you do not have much time and need to split logs frequently.
However, if you do not need logs splitting often, and you are happy to rely upon your own strength, these are the most economical choices.
Driving Force
The primary job of a log splitter is to of course push its blade through a log to split it, this requires a lot of force and this is actually measured in tons to help you work out how capable your log splitter will be in terms of its force.
As gathered from the previous section, gas log splitters are usually significantly more powerful than electric and manual are as powerful as you are, but can depend on different factors depending on the type you are working with.
Gas powered log splitters can have well over 30 tons of driving force, but they usually tend to average around 25 tons meaning they will be able to easily split logs which are about 24 inches in diameter.
Electric log splitters on the other hand tend to have somewhere between 6 and 10 tons when it comes to their driving force.
This means they will be able to split logs that are around 12 inches in diameter.
A pump style log splitter which are powered manually, tend to be able to split logs which are close to 10 inches in diameter meaning they will usually be able to reach 10 tons of driving force.
However, these work slower than any other type of log splitter and of course rely on your own power.
Cycle Time
The cycle time of a log splitter will dictate how long it takes for the log splitter to split through your logs.
This amount of time depends on a wide variety of factors with the most common being how hard and how big the log you are splitting is.
As can be ascertained from the power source section, gas powered log splitters are the fastest having a cycle time of 10 to 20 seconds, but some can be even quicker with the most quick getting down to 3 seconds.
While this factor can be important, the only time it really matters is if you prioritize efficiency over other factors like price.
Takeaway
Hopefully this guide has helped you come to a decision when it comes to what kind of log splitter you want to buy, and which will suit your needs best! If you have any further questions about buying or using a log splitter, refer to the upcoming FAQ to see if any of your questions are answered there!
Frequently Asked Questions
How To Use A Log Splitter?
While each log splitter functions differently depending on type and brand, there is some general advice which is universal and should be followed when using log splitters.
Firstly you should ensure you are wearing proper protective equipment.
This includes enclosed toe shoes as well as long pants and sleeves, the less exposed skiing the better.
You should also be wearing ear and eye protection as these can be very sensitive to log splitters.
You will need to locate the log splitter somewhere on level ground which is far from any uncontrollable variables like children and pets.
When it comes to actually using the splitter, make sure to read the instructions of your model incredibly closely and follow all the safety procedures as they are there for your safety and nothing else!
How To Choose The Right Size Log Splitter?
To find the right size log splitter for you, you need to consider what size logs and what type of logs you will be splitting.
The type of log you are splitting will all need a different driving force, and different log splitters all have a different maximum driving force.
If you know what type of log you will be splitting look up what kind of driving force you will need.
For example, if you are only splitting smaller logs which are around 6 inches, you will only need 4 to 5 tons of driving force.
However, if you are planning to split bigger green logs which are more firm and up to sizes like 24 inches, you will need up to or maybe over 30 tons of driving pressure.
Make sure you are buying a log splitter which can reach the driving force you need it to get to, to be able to split the logs you want to.
Difference Between Full And Half Beam Log Splitter?
For the most part, both gas and electric log splitters tend to be full beam and this means that the bed they have will be long enough to support and hold the entirety of the log you are splitting, this is what mainly differentiates them from half beam splitters which have a shorter bed meaning that part of the hydraulic cylinder will be unsupported. While you may want the extra support of a full beam splitter, they are often more expensive and are not always necessarily stronger.