Now that you have built the decking outside, it is time to get it finished so it can look its best all year round – or, maybe you have a family BBQ coming up and need it to be looking tip-top?
Time is of the essence, especially considering you might want to get it prepped whilst the weather is nice. Nobody wants to have to wait days for it to be dry and clean, ready to finally have the stain applied, right?
Fear not, whilst it might give you a headache whilst looking at all the stain options out there, we have done the hard work for you and have 5 exterior stain wood suggestions below. Whether that is two-in-one stains and sealers, or just stains, we've got you covered.
So before you need to massage those temples, take a look at the list below. There is also a handy buyer's guide which focuses on key areas when it comes to choosing an exterior wood stain.
So, without further ado, let's get to it!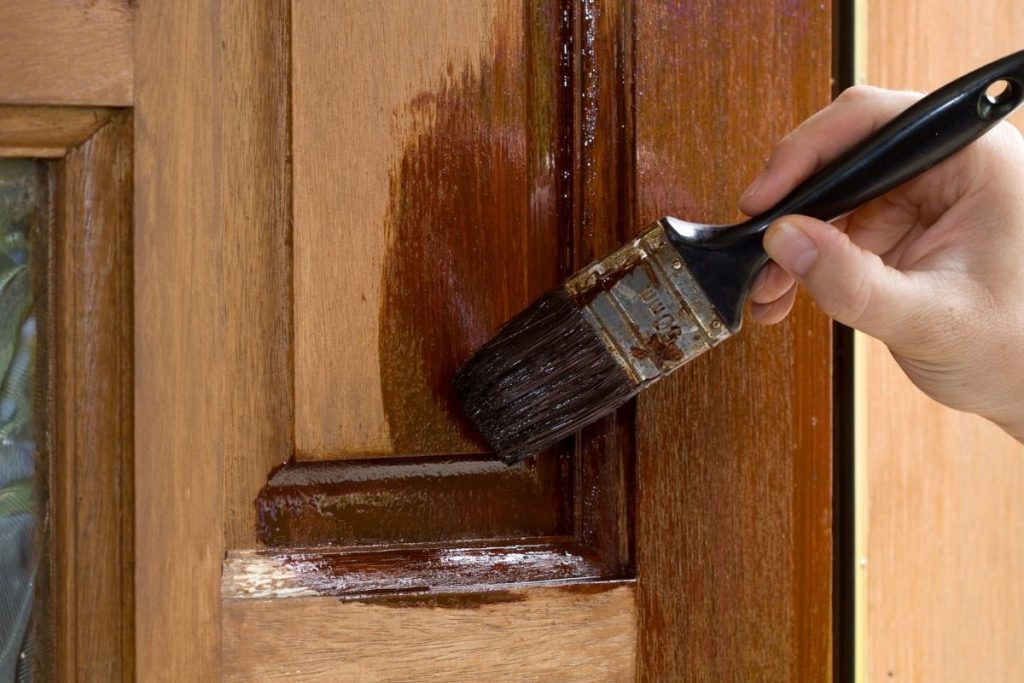 If you are the type of person who just wants to get things done quickly, then the Storm two-in-one stain and sealer is going to be a good option for you. Not only is it a tried and trusted brand, the one gallon tin is great for decking, fences and siding. 
The oil-based finish is semi-transparent but will give a lovely warm walnut coverage without losing the detail of the wood, making sure to highlight the wonderfulness of the natural wood.The color adds some UV protection too.
Because it has both a stain and sealant, you can feel rest assured that your outdoor wood will be protected from the elements without having to buy a separate sealer.
It can be applied both with a roller, brush, or even in a spray (that you can buy separately). However, it was easiest just to apply it with a good old fashioned paint brush. 
It can be used with the majority of wood types including cedar, mahogany, redwood, douglas fir, pine wood, etc. 
Do keep in mind that the bottom of the tin can turn into a sludgy mess, so stir it well every time you use it.
Pros
Two-in-one – acts as both a stain and sealer
Light color without disguising the natural details in the wood
Can be used on many wood types
UV protection
Cons
Contents separates when not used, but if you stir before using it is fine
General Finishes are a trusted brand when it comes to the wood market. Their 450 stains are second to none for producing wonderfully finished wood.
Designed for outdoor use, it can be used on vertical surfaces such as fences, garage doors and entrance doors without spilling or rolling down to make a mess. In fact, it soaks into the wood to create a quality finish.
The stain includes a UV absorber to help protect the wood in the long run. This means that the wood will stay at the color it has been stained with, with no unsightly patches created from the sun. 
The stain is water-based and not recommended for a horizontal base like a deck, so do keep that in mind. However, it is easily applied either with a roller, brush or spray.
Due to it being water-based, it can be cleaned away from the likes of the brushes and rollers really easily, however it will stay stuck onto whatever you have painted it onto outside when it rains. So don't worry about it being washed away by rain, because it won't!
Once used, wait for at least 24 hours before covering with a sealant so you know that it will be completely dry before adding something else. 
Pros
Great for vertical surfaces like garage doors, entrance doors and fencing
Water-based and easy to clean
Includes a UV absorber to protect the wood from sun damage
Can be applied using a roller, paint brush or spray
Cons
Not to be used on horizontal surfaces like decking
Sometimes all you might need is a spray can to do a smaller job. Krylon helps you to do just that. More suited towards outdoor chairs, small side tables, and perhaps even a mailbox – it can be used quickly and efficiently. 
The overall finish it gives is matte, and is semi-transparent to keep the natural look of the wood shining through. Whilst you don't need to use a sealant, it is always recommended to if you are using the items outside, which of course you are.
The trick is to spray it in longer strokes at around 12 to 16 inches away from the surface. If you find you have overlapped an area, quickly take a clean rag and wipe the excess away. It will dry quickly, but give it a full 24 hours before you begin using it again.
The good thing about a spray is that you are able to add stain into the crevices of a chair really quickly. Also, it doesn't take as long as using a paint brush.
However, it isn't suitable for bigger projects like decking or fencing. So perhaps stick to a big tin and paint brush for that. 
Pros
Can be used quickly
Perfect for smaller items like chairs and side tables
Lets the natural wood shine through
Includes UV protection
Gives a matte finish
Cons
Cannot be used on bigger projects like decking or fencing
The Ready Seal has so many wood color choices that you are going to feel spoiled for choice. Whether you are looking for mahogany or redwood, or perhaps even light oak or natural cedar, they have the option available fir you – get it? (Fir, for… Sorry, we shall stop it!)
Unlike the General Finishes which cannot be used on horizontal surfaces, this one can. In fact, it has so many uses from gazebos and decking, to fencing and log homes. 
Not only that, it is a two-in-one. This means you don't have to add extra time waiting for it to dry and adding a sealer over the top. This is especially useful when wanting to stain and seal outside wood, because it means less time having to keep it clean during unpredictable weather.
When first applied it might seem quite dark, but within 14 days it reaches the color it is meant to. Also, make sure the wood is completely raw. It will be affected by any other stains or varnishes. This means it won't be how it is supposed to look finished. 
The upside is that you can apply it in any temperature, and no sanding or priming is required. However, it can take a good 48 to 72 hours to dry completely. 
Pros
Can be used on all wood surfaces
No need for sanding or priming beforehand
Can be applied in any temperature
Easy to apply
Cons
Takes a long time to dry – 48 to 72 hours
Applies dark and takes up to 14 days to reach the desired color
Once again, we feature a double whammy of a stain. That's because a two-in-one is just so good when you're planning to treat exterior wood. The Defy wood stain includes both a stain and sealer to make sure the wood is always looking its best, even after a few years.
The water-based formula paints on semi-transparent to make sure you can still see the gorgeous naturalness of the wood. It also gives the wood a lovely matte finish that looks natural.
It can be used on fences, decking, playsets, siding, furniture and lots more. Basically, it's an allrounder. To maintain your wood, all you will need to do every so often is paint a coat of this stain to keep it looking in good shape.
The formula has been fortified with zinc nanoparticles to protect the wood from becoming damaged by the sun's UV rays. To put it simply, tiny particles have been spread throughout the mixture to deflect UV rays. This stops the sign of premature color loss and graying.
As with all sealers and stains, you will need to prep first, so keep that in mind.
Pros
A two-in-one stain and sealer
Has UV blocking ability to keep the wood in great condition
Easy to apply
Water-based so can be removed with soap and water
Cons
Will need to prep the wood before you can use it
Buyer's Guide
Now that you have taken a look at the top 5 products, here is a short buyer's guide to give you focused advice on the things to look for when buying exterior wood stain. 
Surfaces
Whilst it might sound obvious that a stain for wood is to be used on wood, always make sure you do your research. That is because not every stain is to be used on a horizontal surface.
Take the General Finishes Exterior Water-Based stain for example. Due to its formula, it can only be used on vertical surfaces like doors and fences, and is not suitable for decking or patios.
Whilst this might seem odd, it happens. So make sure you read clearly what the stain can be used for, otherwise you will be buying something you cannot use. 
UV Blocking
Most stains, if not all, have UV blocking abilities. This might sound a little odd but it's really important if you want to look after the wood.
We all know that the sun's UV rays can damage our skin, and quite badly too. Well did you know that it can also damage wood? If something is going to sit outside all day with the harsh sun beating down on it, then it is going to need protection.
Stain has a UV blocking effect to keep the wood in good shape. If the sun does attack the wood, then it will cause irreparable damage. For example, there will be discolored stains, and it will start to lose its natural color.
To avoid this, all you need to do is apply stain every so often when it needs it. That should do enough to keep the wood looking brand new. 
Two-In-One
If you are short on time, or if you just don't like waiting, then you will be happy to know that you can buy a stain and sealer as a two-in-one formula.
When you stain wood, you should also seal it. Whilst stain does hold some protection, a sealant will stop the environment from breaking the wood down. 
A two-in-one means you don't have to spend all that time waiting for coats to dry before you can apply. Even so, if you really don't care about applying coats, then opt for just a stain.
They're all just as good, except one method saves some time in the long run. 
No Prep
Most stains don't need any prep. The only thing that you are required to do is to make sure the wood is squeaky clean before you add the stain.
If it isn't, you risk debris becoming stuck with each brush stroke and this will be noticeable on the wood. It also doesn't look very nice. Also, it can cause air bubbles too, but that is more so when sealant is being used.
So, don't skip the step because you are trying to rush it (we're looking at you two-in-one fans) because cleaning it beforehand should be your top priority. It also makes sure that it paints on smoothly without any trouble. 
Spray Or Tin
You may have noticed that there are different applications to try: a tin or spray. The former is great for bigger projects, whilst the latter is much more convenient for smaller projects.
For example, if you have a whole fence to stain, then always choose the tin. You will have more product, and it will be faster to apply.
If you have something like a wooden chair to stain, then the spray will be your best friend. That's because it can be used quickly on a smaller area, and will be able to reach hard to get to crevices.
If you decide to use a small spray on a decking – well, you will be using it for a few hours. Though, you probably won't, because it will have already run out.
So, choose wisely!
Frequently Asked Questions
Here are few common questions asked about staining exterior wood:
Can Stain Protect Wood Outside?
Yes it can protect outside wood. If you were to leave it without anything used at all, then you're in trouble. A stain can act as a sealant to help keep the wood in tip-top shape for a number of years. 
You can actually buy a sealant and stain in one for double the protection. 
Is It Best To Stain Or Seal Outside Wood For Sun Protection?
Sealants are great to use to protect wood, however they actually lack any protection against UV. This is where stains come in because they usually include a bit of color. 
Unfortunately, wood can suffer with pigmentation and sun damage due to the sun's UV rays, so it is always best to take extra precautions and use a stain as well – or a two in one.
Does A Stain And Sealer In One Exist?
Yes, there are many products that include both a sealer and stain in one. This takes out the stress of using both, or just using the one. 
That means it can help to seal it and protect the wood from the environment, as well as give some color. 
Is There A Problem If You Don't Seal Wood That Has Been Stained?
Whilst using a stain is a great way to add color, you will want to seal the wood too. This is because over time the wood will lose all of its moisture content and end up drying out. This means the wood will begin to look lifeless and it may damage the wood overtime. 
So, with all this in mind, think about sealing the wood as well. 
What Do You Put On First, The Sealer Or Stain?
Because the sealer seals the wood, always remember that it goes on last. So in this case, the stain goes on first, and then the sealer.
Is It Possible To Stain Wood That Has Already Been Stained Without Sanding?
If the project is too big and you would rather not sand away the old stain, then using a gel-based stain will allow you to stain over old stain.
However, otherwise it is recommended to at least give the wood some light sanding. This will give you a great finish. 
How Long Should You Seal The Wood After Using A Stain?
Because most stains will take a good 24 hours to properly dry, always wait at least a day to seal the wood. Due to it being outside, you might also want to make sure it is good weather, otherwise you risk rain in between coats.