As good as wooden pencils are, their design can be limited in some aspects, so if you need more precise markings through small holes and gaps, you might need a sleek but tough pencil.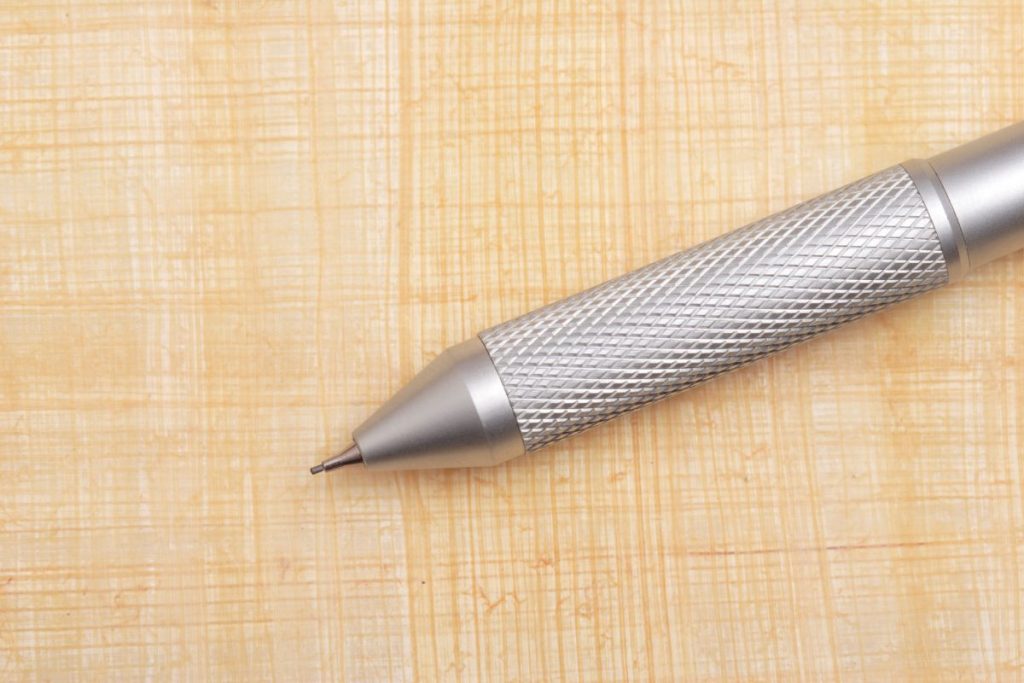 That's where the issue of finding the right one comes into play, as there are many out there that are more suited to marking on blueprints and paper so that these can get mixed into your search, but it doesn't have to be like this. 
Below we have provided a comprehensive list of the best mechanical pencils for your woodworking. We go over aspects that could influence your decision and answer those burning questions you may have. 
The 7 Best Mechanical Pencils You Can Find
This multi-functional pencil is designed to fit into small pockets and openings, as when you're on a site or starting a home project, you want a graphite pencil that can mark clean and precise lines and has been tested in real-world conditions. 
This is similar to the older version but has been given a refreshing re-work so the pencil can easily slip in and out of the sleeve. It is compatible with white refills to mark darker shades of wood, so with other colors available, you're never struggling for choice.  
What We Like
It has a tip sharpener on the end, so you can have a sharp point for a longer without having to replace the inserts each time the tip's edge gets dulled. 
The pencil holds together well, even if it's your second or third choice tool, and the textures mean you have a good grip. 
What We Don't Like
As the pencil is round, it can roll away if placed on a slope, which goes against the design of wooden pencils, so care should be taken. 
You have to put it back into the slot in a certain way. Otherwise, you risk advancing the lead, but this is slightly inconvenient when looking at the overall picture. 
Even though these pencils are suited for writing and drawing work, the feature of these being made to survive harsh conditions makes them ideal as woodworking pencils, and what's even better is that you get a pack of three.
You have an anti-skid knurled grip, so these don't falter under sweat or water, which can be expected on a build or project, and are made for all-day use, so you can expect to drop these without shattering the lead refill inside. 
What We Like
You get lead refills, eraser replacements, and three pieces of 4B erasers, so you have an overall package that keeps your marking going for longer.  
The lead is not easy to break, which is a common concern for mechanical pencils where the tip can break with too much pressure. 
What We Don't Like
These pencils have a 1.3mm thickness, but if you need a thick line to see where to cut, you may have to go over the line a few times to make it clear, as you only get one standard color. 
These pencils don't come with a sleeve, so you can't attach them to a pocket except for a clip on the top, which might be inconvenient for some. 
These pencils are seen as the complete set, as you get three woodworking drawing pencils, HB refills, a carbide scribe tool, a center punch, and an eraser for good measure, so you can now mark lines and create spots for drilling.
You can use these tools to mark wood, glass, concrete, steel, and vinyl, so you can carry these tools over to other jobs you need to do around the house, and they would make great additions to any carpenter's toolbox.  
What We Like
These are easy to use, and the punch works effectively where you can see where you need to drill.
The grease pencils included are made so they won't transfer on smooth material where it can be harder to erase lines, so with the different color inserts, you have more flexibility during your work process. 
What We Don't Like
The spring-loaded center punch has issues when attached to a belt or put inside a pocket, where it can develop faults and stop working, so placing it inside a toolbox is necessary. 
Some colors might not be as clear as you'd like, and some pencils in this set can come apart easily if used under heavy stress, so these aren't ideal for work sites. 
Here, you have clearly defined pencils designed for use in woodworking, as the tip and the shaft have been slimmed down so you can mark them in tight holes and gaps where a wooden pencil just can't reach.
They are made of a reliable ABS material, which equals a more practical tool, with 2B refills that make your lines sturdy and traceable if you suddenly need to change the direction of your marking to meet a new specification. 
What We Like
With six pencils in the set, you don't have to rely on one, and with a sharpener, you can ensure the tip keeps its point and is shaped to your requirements. 
The design means the pencil fits better in your hand, won't slip around during heavy use, and can mark various surfaces. 
What We Don't Like
With these pencils, you might find the lead strips out relatively easy, so being used to careful sharpening will come in useful to extend the life of your inserts and pencils.
Without the cap on the pencil, the lead might slide out, so if you lose this, it could make it harder to use, so this might put off those who only want to have one pencil to use for everything. 
If you need precise lines, this is the scribe to consider, as it's very versatile and can be set to different modes, which include contouring, compassing edge ruling, and scribing, to give you smooth rolling action with added precision. 
The tool itself is made from an aluminum alloy that is surfaced with anodic oxidation treatment, which makes it resistant to all the elements and is stable when you want to lock the pencil in place, so adjustment is easy to manage. 
What We Like
The pencil itself is very textured, so you can adjust the pencil when needed and can be adjusted to 180 degrees, so you have quite a far reach. 
It comes in a handy box with different colored refills and a measuring tape, which could optimize your process on shorter marking jobs. 
What We Don't Like
If you're using this to mark a circle, it may take a few tries to get it right, and using the screwed-in pin as the center point can be a hassle to use, so you may want to use other methods of scribing if you're struggling.  
It is excellent for gentle scribing, but you may have to repeat lines to get the finish you're looking for, so those who don't have good eyesight may want to think twice about this one.
This pencil has been designed specifically for tradespeople. You have the highest quality of materials, including ABS and PC stainless steel, that ensures the tool stays effective in any job site environment.
It also has a 1-click advance for the right amount of lead to appear, so your refills are used effectively, and none is going to waste, with a lead diameter of 2.8mm, giving you better quality markings in the process. 
What We Like
When used with other Ox Tuff carbon marking leads, you have the perfect marking set without worrying about the reliability of your other measuring tools. 
The other inserts it comes with make any marking possible on most surfaces, so you don't have to rely on one tone for all your marking. 
What We Don't Like
The clicker on this pencil is built-in, so dirt and debris can get inside, which may, over time, ruin the mechanism but can be avoided with proper care. 
If you're used to wooden pencils and are making the switch, getting used to this design may take some extra steps to prepare the tool for marking. 
Here is a design that gives you two pencils with eight black graphite tips that can be easily applied and stay consistently sharp, so never again do you have to worry about using a sharpener, as these are said to last 5-times longer than a traditional carpenter pencil.
It also borrows its designs from the classic octagonal wooden pencils, as it has a flat outlay so that it won't roll around.
This could be the perfect companion for jobs where you need to mark out several pieces of wood to a precise measurement. 
What We Like
You have the choice over a standard pack and a value pack, which comes with a tape measure, which is ideal for tradespeople or even if you happen to be looking for a tape measure for your next job.
With the lead inserts, you'll find they don't break off as quickly as a push tip, partly because they can last a lot longer than standard pencils of this type. 
What We Don't Like 
If you don't place the tips on properly, you could find they get a bit shaky, and you might have to give it a nudge or start over with another tip.
The casing of the pencil is made primarily out of plastic, so it might feel a bit flimsy to use, as there are many other heavy-duty mechanical pencils out there, but this might depend on how you intend to use it. 
Buyers Guide
You can get a lot of mileage from any of these mechanical pencils as long as you keep them stocked away correctly and you have a good stack of refills at hand, as using a knife to sharpen a pencil is something many users complain about. 
So you want to get one of these, but you can't make up your mind, and that's fine, so we have provided a guide on aspects of a mechanical pencil you may want to consider, and perhaps they could make the process much easier for you. 
Replacement Leads
When you get a pencil set, replacements are a must, as at some point, you are going to run down the inserts, and after some time, the edges might get worn and become less functional, which is what buying packs of pencils are great as you're getting started.
In terms of the best pencil for replacements, we recommend the Nabance mechanical pencil set, as you get 39 pieces of HB refills that come in different thicknesses, which is vital when deciding which sizes work best for your process.
Anything under 2mm might cause problems when you need to mark out different materials, so things like glass and PVC can be finicky to write on, so starting out with a strong lead insert that comes in various shades can give you the practicality you need. 
Practicality Over Convenience
We've briefly mentioned practicality, but it's an important aspect when talking about woodwork, as this tool is one you're going to be using quite often, so if you have a clip on the top that breaks easily, then that is no good.
You want to find ones that come with a sheath or a protector as any kind of job involves a degree of adjustment that can put your pencils under strain, and you don't want to use single-use pencils or more delicate applications as part of their purpose. 
That's why when you look at a potential pencil for your set, you should check that it can be used for specific purposes, so the OX Pro marking pencil and even the Ruinopar Multi-Function Scribing Pencil are good choices for woodworking in general. 
Accessories On The Pencil
When you see erasers and sharpeners that are part of the design, you can ask yourself whether you need these additions or not, as they have their uses, but some people have complained that losing these pieces has meant the quality of the pencil has suffered as a result.
That's why you can get something like the Pica-Dry automatic pencil that only has a sharpener at the end, which slides out easily.
For an eraser, you can use a simple grade or vinyl eraser that can cover a wider surface area to make quick corrections.  
What You Need To Mark
This is where mistakes like getting an architect's mechanical pencil can happen so that you could get some use from these, but in the end, they will fail, and you'll be wondering why you're going through so many pencils.
However, even though the pencil might have limited uses on the box, like the Nicpro mechanical pencils, you'll find people have many uses for them. The durability comes from the design, which has been made to function in fieldwork.
This means they can be used pretty much anywhere and include building sites, so if you're a hobbyist who does a bit of woodwork here and there, these pencils can work just as well for you, especially if you're prone to dropping them on occasion. 
Frequently Asked Questions
Are These Better Than Octagonal Carpenter Pencils?
It depends on who you ask, as many industries have turned to mechanical pencils as they can last longer and don't require any intense sharpening with a knife to get the desired edge. Still, wooden pencils can be more practical in some scenarios.
The way they have been shaped means they can't roll away and can be used to mark gaps or points between boards or flooring, so they have a use in measurement as well, but these pencils can get quite beaten up, and that's even before it gets to the end.
How Can I Prevent Scratching The Wood?
Ultimately, it depends on the surface you use and how careful you are with it, as some people use chalk or crayon to mark delicate surfaces as a rough line and then go in after with a light stroke of a pencil to get a fine line. 
If you find pencil marks that remain after you've cut a board, you can use alcohol with no oils to remove them, or you can put down tape and mark your line over this, and for harder-to-remove marks, you may have to sand these out.
A pencil with a thickness of less than 2mm should be fine for most materials, and if you struggle to see the mark, you can slightly wet the tip so you get a bolder and clearer line from which to work from. 
What Size Of Pencil Is Best For Marking?
When we look at standard pencils, we can see that they have letters and numbers to denote the color and thickness of the pencil, so you should aim for ones that have H or B in their description if they are described in this way.
It's also a good idea to stick to the 8 or 9 shade of pencil as this is where you can find a chunkier and hardened tip that goes beyond simple drawing on paper. Still, mechanical pencils are not uncommon to find ones measured in millimeters.
You want to aim for ones that are at least 2mm, with a 2.8 at the higher end, but be aware that when you sharpen the tip, you won't have all this to use. 
Final Thoughts
When considering what pencil is suitable for a specific job, many of us may overlook some of these features as nothing more than a gimmick, but in time you might find they have some use as long as you keep your pencils in a secure place and free of any debris.
This may be easier to say than put into practice. Still, your work is only as effective as the tools you have around.
 So if you want consistent results, you may have to invest some of your time in looking for a practical mechanical pencil for your woodwork, and in the end, the investment will be worth it for your growing tool collection.