After spending hours or days on a woodworking project, you'll want to obtain a professional and protective finish on the surface. Choosing the right finishing product can keep your piece looking new and naturally beautiful for longer.
Wood wax is a classic treatment that can highlight the gorgeous grain pattern and make your piece shine. I put together this list of reviews and a buyer's guide to help you choose the best wood wax for your project.
Best Wood Waxes – My Top Picks
BuildEazy.com may earn a commission if you purchase a product through one of our links.
Howard makes a wide range of protective finishes for various materials, including wood, leather, and metal.
This is a paste wax, which means it's thick and easy to apply. You can rub it into your project's surface with a rag, and it begins penetrating the wood immediately. I recommend buffing after about five minutes of dry time. It's not quite as easy to apply as a liquid formula, but I think the final appearance is worth the extra effort.
It contains carnauba wax, which offers a tough, protective layer. This will help keep your project safe from scratches and light surface damage. The oils dissolved in the wax create a natural water-resistant barrier, which will keep your work protected from moisture and spills.
Besides protecting water and physical damage, it keeps your wood safe from UV damage, so your project won't fade from sunlight and look newer for longer.
It does slightly change the wood's appearance, so it's not ideal if you want an invisible finish. It's available in different colors that you can match to your wood type, but my favorite is the neutral hue. It leaves a slightly lighter appearance that looks absolutely gorgeous: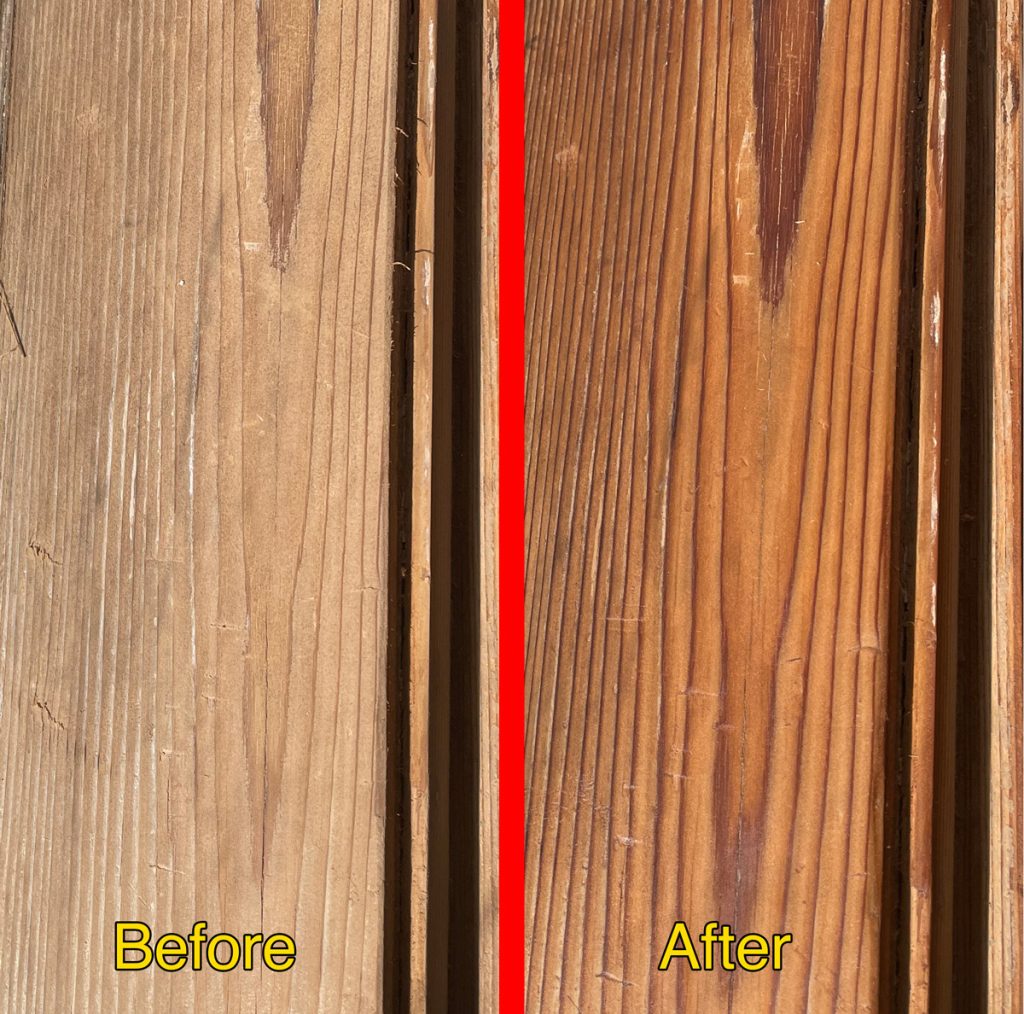 To get an idea of just how impressive the finished look is, check out this video:
The finish is waxy and shiny, and I found that it's excellent for making both new pieces and restoration projects look beautiful and fresh.
It contains orange oil, which adds a light citrusy scent to your workpiece. It's not overpowering, and I find it quite pleasant. The orange oil is thinner than the other constituents, and it helps the other protective oils and waxes penetrate deep into your wood's grain, offering protection on more than just the surface.
This wax comes in an 11-ounce can, which is rather small and relatively expensive. However, a little bit goes a long way if you're willing to put in the work to rub it into the grain. The small can could easily last through multiple projects.
Minwax is a highly trusted and respected name in the woodworking industry known for its wood stains, finishes, and application products.
This is a paste wax, so it's thick and straightforward to apply. I recommend using a rag and some elbow grease to rub this into your wood surfaces. It soaks deep into the grain and dries in about 15 minutes. I found that buffing the surface after the wax dried left a beautiful, professional-looking finish.
This wax adds a protective layer to your project that will keep it safe from minor scratches and scuffs. The oils in the wax naturally repel water, so your piece will also be protected from liquids and moisture. It won't keep your wood safe from sun or UV damage, so it's best for furniture and other projects that won't be in direct sunlight.
This wax is mostly clear once dried on your workpiece. It does darken the color just a little, but I found the end result was full of natural beauty. The slightly darker surface made the grain pop nicely. I'd recommend against using this on white paint, as I found it yellows it slightly.
The finish is shiny and bright. I got the most professional look when I really took the time to rub it into the grain. It penetrates somewhat slowly, so you'll get the best appearance if you help it along.

This finishing wax contains some harmful ingredients, so proper safety gear is required at all times. At the very least, you should wear a respirator, as you shouldn't inhale the vapors. The odor isn't too strong, so it's unlikely to make more than the immediate area smell.
It comes in 1-pound cans that are very affordable, and it offers excellent coverage. It's likely to last through many finishing projects.
H.F. STAPLES – not to be confused with the office supplies company – has been a trusted name in professional wood finishes for over 120 years.
This is a rather hard paste wax, so it's a bit more challenging to apply than some other thinner formulas. You can use a rag to rub some out of the can and then into the grain on your project, but it takes more time to get the wax onto the rag.
It's made predominantly of carnauba wax, which offers heavy protection from physical damage, including scratches. It's an excellent option for surfaces like tabletops that you expect to get a lot of wear. However, it doesn't provide any protection from UV, so it's not ideal for restoration projects or pieces that will be exposed to constant sunlight.
This wax is entirely transparent and won't change the color or tint of your wood at all. It's one of the few paste waxes that won't yellow white paint, so you can use this on bare or previously finished wood without worrying about changing the appearance.
The finish it provides is lustrous. I was really pleased with how professional and natural the wood looked after application and buffing.
As long as you put some force behind the rag yo u're using, it penetrates the wood rapidly and dries very quickly. It will be ready for buffing in about 5-10 minutes, which means your project will be finished and protected faster than with most other wood waxes.
It has some odor to it, and you shouldn't inhale the vapors while you're applying it. I recommend wearing a mask or respirator for adequate protection.
This wax comes in 1-pound cans that are about average in price. The formula goes a long way if you're willing to put in some work to apply it correctly. As such, each can will last quite a long time.
This is a liquid wood wax and polish, which means it's effortless to apply. You won't have to rub this into the grain with nearly as much force as you would with a paste wax.
The oils in this formula naturally repel water, so your projects will be protected from liquids. The waxes provide adequate protection from minor surface damage as well. However, it contains less wax than paste options, so the coating won't be as durable.
This formula contains wood conditioners, which make it ideal for restorative projects. It can bring back the visual appeal of older pieces and help protect the surface from future UV damage. It will make old and new projects shine and maintain their natural beauty for longer. It will also remove water stains and cover small scratches on older projects.
This wax will darken your wood quite a bit. It brings out the grain nicely, and I found that the final appearance is very desirable. However, it's not ideal if you don't want to darken your project by several shades.
The coating isn't as shiny as many other waxes, and it's what I would call semi-gloss. I'm not the biggest fan of high-gloss furniture, so I really loved the look of this wax for a more modern appearance.
It contains orange oil, which makes the wax penetrate rapidly into the wood. It has a delicate, citrusy smell, which is refreshing.
It comes in 16-ounce bottles, which are affordable. However, the coverage isn't as good as many harder waxes, so it may end up costing you more in the long run.
Daddy Van's produces all-natural wood finishes with simple, safe ingredients for use on just about any wood or metal surface.
This is a paste wax that is significantly thinner than most other pastes. It's effortless to get out of the can and rub into the grain of your project. You'll spend less time applying this wax and more time enjoying the beautiful finish it adds to your projects.
It contains carnauba oil, which is the hardest wax and provides excellent protection from physical damage. The olive oil mixed into the wax helps with penetration and will naturally resist water damage. It won't protect against sunlight or fading from UV radiation, so it's not ideal for restoring antique furniture. However, it will fill in and hide light scratches.
Check out this video to see how quickly it can mask physical damage:
This wax will darken your wood significantly, so I only recommend this if you're okay with changing the appearance of your project. It brings out the natural beauty of the grain, so I think the darkening is worth it.
It creates a nice finish that isn't too shiny. It doesn't offer as professional of an appearance as some other waxes, but it's great for those looking for more of a natural look than a luster.
It penetrates the wood and dries quickly, so you'll be ready to buff within 10-15 minutes of applying it.
My favorite thing about this wax is that it contains no volatile organic compounds (VOCs) and has no odor. The only ingredients are beeswax, carnauba oil, and olive oil, so it's food-safe, and you can apply it without any protective gear. You can use this around pets and children, on cutting boards and countertops, and anywhere else without worrying about how safe it is.
It comes in a 6-ounce can and is expensive. However, I think the price is worth it if you're looking for a safe wood wax.
Touch of Oranges has several product lines, all aimed at finishing, protecting, and restoring wood projects.
This is a liquid wood wax that is very viscous. It isn't as effortless to apply as thinner solutions, but it doesn't take as much force as thick pastes. You can use a soft cloth or even a dense brush to spread this over the surface, but rubbing it in is ideal for the best penetration.
It provides little protection against physical damage, but it penetrates deep into the wood and offers excellent water resistance to your projects. If you let this wax dry overnight, it will soak in ⅛" to ¼" below the surface. It's ideal for surfaces that may be exposed to water but won't take a lot of physical abuse.
It won't protect your projects from UV radiation from sunlight. However, it contains wood conditioners and can restore the original beauty of older projects. This can be an excellent option for bringing life back to antique furniture if you're willing to reapply more often than a thick paste wax.
This wax darkens your wood slightly, but the overall appearance will barely be changed. Your surfaces will look beautiful and polished once the product is dried and buffed.
I love the limited shine that this wax brings to wood. It's more of a matte finish than a glossy one, so it will make your pieces look naturally beautiful rather than polished.
This product is safe for use around pets and children. However, it contains petroleum distillate, which means it isn't food safe. As such, you shouldn't use this on cutting boards or other surfaces that may come in contact with food or beverages.
It comes in 16-ounce and 64-ounce bottles, both of which are affordable. The coverage isn't quite as good as many other waxes, so it may cost more over multiple projects.
Briwax is known for its furniture finishing products, which have been trusted by casual woodworkers and professionals for over 100 years.
This is a thick paste wax that maintains softness, making it a breeze to apply. It's easy to get out of the can and onto a cloth, and it rubs smoothly into wood surfaces. You will need to put some force behind it to help it penetrate your wood grain, but the end result is worth it, in my opinion.
It's an excellent option for restoring older pieces of furniture, as it totally covers or reduces scratches. It has wood conditioners in it, and it makes old wood look brand new.
It gives some water resistance to your projects, but it doesn't offer the best physical protection. It's not ideal for tabletops or other surfaces that will receive a lot of physical abuse. It won't protect your work from fading, but it can keep your wood looking new if you reapply every so often.
This wax is colored, which means it will dramatically change the appearance of your wood. It comes in a variety of colors, but you'll need to be careful to choose the right shade, or you'll risk altering your project's color too much.
To see how intense the coloration can be, check out this video:
It brings a satin finish to any surface. With the combination of the color, it creates a professional look that I find very desirable.
It penetrates and dries in just a few minutes, so you'll be ready to buff very shortly after you finishing rubbing this wax onto your work.
This wax comes in 16-ounce cans that are rather pricey. However, you can get excellent coverage with enough effort, so it's likely to last through many projects.
Renaissance Wax Polish is made by Picreator, which specializes in high-end waxes for metal and wood surfaces.
This is a reasonably thick wax that is straightforward to apply with a cloth. You will need to work this into the grain with some elbow grease, as it doesn't penetrate well otherwise. It requires more effort than many other waxes to use correctly.
It provides good protection against water, but it won't keep your projects safe from UV radiation from sun exposure. The best defense is from physical damage. The longer you leave it to cure, the harder it gets. Applying it and waiting for a day or two will offer a scratch-resistant finish to any surface.
It doesn't color your wood at all, so it's a great option if you're looking for a completely natural appearance. It makes the grain stand out and enriches the beauty of the wood.
It leaves a satin finish behind after buffing, which I find very desirable. I think this is perfect for more expensive and rare woods like teak or mahogany that don't call for an overly glossy finish.
It dries quickly, so you can choose to buff within 10-15 minutes. However, I recommend waiting longer for the best protection.
It has a slightly unpleasant odor, but it dissipates in about an hour. This formula isn't food-safe, and you should wear protective gear when using it to avoid inhaling the vapors.
This wax comes in a large, 200-ml tub. It's on the more expensive side of waxes, but a little goes a long way, so it will end up being cheaper than many others in the long run.
This wood wax is made by Feeke, which manufactures a variety of products, including all-natural wood finishes.
This is a thick wax that can be a bit challenging to rub into a wood surface. You'll end up putting more effort into getting this to penetrate your project than most other waxes. However, with enough force and time, it does soak in.
This waxy formula fills in scratches with ease and can bring life back to heavily damaged furniture. It provides decent protection against future scuffs and scratches, and the oils will help repel water away from your wood. It won't stop your work from fading in response to sun exposure, so it's not ideal for restorative work.
It barely lightens the appearance of wood and doesn't cause any discoloration. It brings a somewhat natural look to the surface and will accentuate the grain pattern slightly.
The finish is waxy but not overly shiny, so it's suitable for making projects look new without appearing overworked.
This wax is petroleum-based, so it's not food safe. The odor is relatively strong, and it takes several hours for it to dissipate. I recommend wearing a mask or a respirator while you apply it to avoid inhaling the vapors.
It's affordable, but it comes in a tiny container and will end up costing more than most other wood waxes in the long run. I'd expect this to last through a handful of medium-sized projects before needing to be replaced.
Feeke offers a 60-day money-back guarantee, so if you aren't pleased with the results, you can contact customer service for a refund. I didn't return the jar I purchased, but some reviews have suggested that customer service may not be easy to reach.
Trewax is a trusted brand name in the woodworking industry, and they create a wide array of products for finishing, conditioning, and protecting wood.
This is a thick paste wax that you can apply with a cloth. It doesn't penetrate wood as quickly as some other formulas, so you'll have to work more to rub in it properly. I found that it took longer to get a nice, even coat, but the end result looked great.
It contains carnauba wax, which is very hard and durable. As such, it will provide good protection from scratches and other physical wear once it hardens. The oils and waxes are hydrophobic, so it will repel water and moisture as well, making them suitable for tabletops, countertops, and other surfaces that are often exposed to wear and water.
This wax won't change the appearance of your wood much. It is entirely transparent and doesn't change the surface's shade, but it will fill in minor scratches and bring out the grain pattern. Your projects will look new and improved without discoloration or darkening.
It leaves a beautiful matte finish behind once it is dried and buffed, so it's an excellent option for making furniture look fresh without leaving too much of a glossy, manufactured appearance.
It doesn't penetrate the grain very far, so you'll only have surface protection. As such, you will have to reapply this more often than most other waxes to maintain a good appearance.
It will leave a bit of an odor behind, but it dissipates reasonably quickly. You should wear protective gear when using this wax to avoid inhaling the vapors.
It comes in a 12.35-ounce jar, is very affordable, and has excellent coverage. A single canister will likely last through many projects.
Katzco makes a variety of tools and finishes to make home repairs straightforward and approachable for beginners.
These markers are ideal for covering scratches and dings on your wood surface before applying the wax of your choice. They color in the wood to match its natural tint, so scratch marks and scuffs will be masked before being filled in with wax.
The kit comes in four sizes that range from six different color markers up to over 20 to help you match your wood color perfectly. You also get six wax sticks that are ideal for filling in gouges.
I recommend testing the markers in a small, inconspicuous area of your project to see how they interact with your wood and to ensure you've chosen the right color. The shades are intense and dry very quickly, so you'll need to get used to how light-handed you should be when applying color. Ensure you have a rag nearby to wipe away any excess and prevent your treated area from getting too dark.
You can use the markers to hide the exposed edge of veneers, but remember to be careful not to overapply, especially to thin end grain that can soak up color rapidly.
Buyer's Guide
There are countless wood waxes to choose from, and each one can produce wildly different results. Make sure to pay close attention to the below factors when deciding which product to purchase.
Benefits of Using Wood Wax
Many woodworkers, including myself, prefer to treat their projects with wood wax rather than other protective coatings. Polyurethane, shellac, and other varnishes offer better protection, but wood wax has several advantages.
Ease of Application
Wood wax is straightforward to apply, making it accessible for beginners and effortless for more experienced woodworkers. You can rub it in with a cloth, and the thick formula means the cleanup will be a breeze.
It dries quickly enough to finish your project without hours of waiting, as would be required with many varnishes that need to cure. However, you can quickly fix mistakes when applying or buffing.
Re-applying wood wax is more straightforward than varnishes because you don't need to sand the surface before use.
Safety
Many varnishes contain volatile organic compounds and require safety gear and adequate ventilation during the application. While some wood waxes have a low amount of VOCs and still demand you use a face mask, other options, like the Daddy Van's All Natural Unscented Beeswax Furniture Polish, are totally safe to use.
If you choose an all-natural wood wax, it can be safe for use around pets, kids, and on surfaces that will interact with food, like cutting boards.
Natural Finish
Most wood waxes leave a natural-looking finish on your wood, whereas some varnishes are overly glossy. I personally prefer a natural finish to let the beauty of the wood shine through, and most restorative projects look far better with the low-shine finish a wood wax provides.
Protection Against Water
Wood wax contains oils and waxes that are naturally hydrophobic. This means the project you sunk hours or days into will be protected from spills, water, and moisture. Water protection can help your project look newer for more extended periods, and it can reduce the chance of rot and mold growth.
Wax Coating of the Polish
Wood wax leaves a layer of wax and oil on the surface of your project. This provides the natural matte or satin appearance that many woodworkers look for in a finish, but it also protects your wood from physical damage.
When a wax hardens, the layer it leaves on the surface of your project can stand up to some physical abuse rather than allowing the wood to be damaged. It's far easier to reapply wood wax than it is to sand and then refinish a damaged piece.
Those that contain carnauba oil often offer the most physical protection because it is the hardest oil available.
The wax coating can also serve as a wood filler. As you rub a wood wax into your workpiece, it fills in small crevices, virtually repairing scratches immediately.
Ingredients Used
The ingredients used to make the wood wax you choose will determine its ease of application, protective ability, and the safety of using it.
Wax is thick, which makes it challenging to spread evenly and rub into your wood's grain. The most easily applied waxes also contain oils that make them less dense and more effortless to use. Waxes containing orange oil or olive oil will require less effort on your part and make your job easier.
Ingredients like beeswax and carnauba oil add a nice layer of physical protection to your wood, while hydrophobic oils can keep your piece safe from water and moisture.
Some wood waxes are petroleum-based or contain volatile organic compounds to give better protection to your wood. However, these are less safe to use and will require adequate protective gear to prevent the inhalation of vapors. Conversely, all-natural ingredients can make your product safe to use without a mask, around children and pets, and even on surfaces that contact food.
Price
The price of a wood wax can strongly influence your decision, but I recommend paying close attention to the quantity and coverage while considering the cost.
A wax may appear cheaper, but if it comes in smaller quantities, has significantly less coverage, or offers little protection and requires you to reapply more often, the total cost may be higher over time.
I recommend balancing upfront cost with the number of projects one container can cover and the time between reapplication.
Types of Wax
There are two primary types of wax used in wood wax: carnauba wax and beeswax.
Carnauba Wax
Carnauba wax is the hardest wax known to mankind. It offers extreme physical protection, and wood waxes containing high ratios can resist heavy wear and scratching.
However, it's very thick and challenging to apply, and it doesn't soak into wood readily. As such, it takes more effort to rub into your project, and manufacturers need to mix it appropriately with oils to make it soak into grain more readily.
Carnauba oil is natural and food-safe, but the constituents used to make it easier to apply often mean the wood wax isn't suitable for use around food surfaces.
Beeswax
Beeswax is significantly lighter than carnauba oil. It's much simpler to spread, and it soaks into wood more readily, requiring fewer additives.
It offers some surface protection but not nearly as much as carnauba wax.
Beeswax is easier to make usable in a finish and doesn't require non-edible additives. As such, it's the one used most often for cutting boards and other non-toxic, food-safe wood waxes.
Oil Vs. Wood Wax
The most significant difference between a finishing oil and a wood wax is the penetration. Oil quickly soaks deep into the wood, giving it color and helping to maintain healthy moisture levels. Wax sits on the surface and protects from physical damage.
Both oil and wax create a hydrophobic environment, so the wood they're applied to will be naturally water-resistant.
Many wood waxes include oils to help them penetrate the surface more efficiently and provide better protection from water as well as surface scratches.
Colors
Wood wax often changes the appearance of your wood. Some include natural ingredients that darken or lighten the shade, while others have stains or other pigments that change the hue.
I recommend being extremely careful when choosing a colored wood wax. If you don't choose a clear wax that will simply protect your project and give it a light luster, matching the color to your existing wood or selecting a color that you know you'll enjoy is very important.
If you're like most woodworkers, you appreciate the natural beauty of different wood species. The last thing you want to do is conceal that with a colored wax that doesn't maintain the wood's standard coloration.
Size and Coverage
The size of the container you purchase will play a factor in the price and the number of projects through which it will last. If you're an avid woodworker, I'd recommend investing in a larger container of your chosen wood wax, as it will save you money in the long run.
Considering the coverage is important because it also helps determine the overall cost and how often you'll need to repurchase.
An extensive coverage area can sometimes indicate that the wax is challenging to apply because it needs to be rubbed in extensively. This isn't always the case, but if you're looking for a quick application, choosing a wax with less coverage per unit will generally be better for your purposes. For example, liquid waxes are the fastest to apply and often treat the smallest areas because they soak in so quickly.
Food Safety
Food safety is important if you plan to use your wood wax on cutting boards, cups, plates, or other surfaces that come in contact with food.
Many waxes contain VOCs, petroleum, or inedible oils. You should strictly avoid these on any project that contacts food or beverages.
An all-natural wood wax with simple, innocuous ingredients, like the Daddy Van's All Natural Unscented Beeswax Furniture Polish, is best for food safety.
Finish
Most wood waxes have a satin or matte finish, but some provide a semi-gloss or even a glossy appearance once you polish the surface. You can sometimes control the finish a bit by altering how long you buff, but I recommend choosing a wax with a finish you desire so you don't have to focus too much on getting the right amount of luster on your projects.
Versatility
You can usually use wood waxes on other materials, including metal, marble, and concrete. They won't penetrate as readily into these harder surfaces, but they can restore beauty, fill in small scratches, and make your surfaces shine. Choosing a wax that is ideal for multiple mediums means you'll have the opportunity to use it on more projects or for touch-ups on surfaces around your home.
For some tips on other uses for wood wax, check out this video:
How to Apply Wood Wax Products
Wood wax is generally more straightforward to apply than other finishes, but you should still follow some guidelines for the best protection and appearance.
Cleaning & Repairing
Cleaning the surface you intend to treat before applying wood wax will always lead to a better-looking finish. Remove dirt, dust, and other debris with a microfiber cloth.
If the surface is scratched or has water stains, consider using a wood conditioner or wood touch-up kit like the Katzco Furniture Repair Kit Wood Markers. Repairing the surface beforehand will leave a more uniform, polished look afterward.
Rag Application
Most wood waxes are best applied with a rag or soft cloth. For thick pastes, rub the cloth around the wax several times, and then apply in a circular motion onto your wood surface. More viscous waxes will require more force, while soft waxes that contain beeswax rather than carnauba wax need very little.
Allow the wax to dry based on the manufacturer's recommendations. Once dry, buff the surface with a clean cloth to your desired finish.
For further instruction on applying wood wax effectively with a rag, refer to this video:
Mop Application
Refinishing floors is most easily done with liquid wax and a sponge mop. Moisten the sponge with water before use. Pour some of the liquid wax onto a section of your floor, and use the mop to rub it in. I recommend rubbing in the direction of the grain for the best penetration and protection.
Once the wax dries, you can buff with a cloth or a floor buffer for a clean, professional look.
How to Maintain Your Wood After Waxing
Wood wax won't last forever, so you will need to maintain the surface and reapply every so often. Follow the below steps to prolong the time between reapplications.
Regular Cleaning
Wax can trap dust and dirt, so I recommend cleaning your surfaces with a soft cloth about once a week. Exposure to water and spray-on furniture polishers and cleaners will deteriorate the wax more rapidly, so avoid cleaning too often with any kind of moisture.
Repeated Waxing
All wood wax inevitably gets worn away, so you should plan on reapplying regularly. For surfaces that receive little physical wear and no interaction with water, once or twice a year will likely suffice. Tabletops and other heavy-use surfaces should get a new application once a month or every other month to maintain protection.
Use Covers, Rugs, or Carpets
If you're finishing a wood floor with wood wax, using area rugs and carpets can help limit physical damage. Coverings in high-traffic areas, like in front of a sink, should be placed to protect the surface and maintain your wood's appearance.
Put Protectors on Your Furniture
Like doilies or tablecloths, furniture coverings can help protect non-floor surfaces that receive a lot of interaction. They can help maintain the health of your wood and reduce the time between reapplications.
Frequently Asked Questions
Conclusion: What is the Best Wood Wax?
As I'm sure you can see by now, every wood wax is different, and no single product will be best for every purpose. Your best bet is to purchase one that will suit your projects, make the application straightforward, and provide the necessary protection.
My favorite wood wax is the Howard CS0014 Citrus Shield Paste Wax. It's affordable, relatively easy to apply, and keeps wood safe from physical damage, water, and UV radiation.