Bandsaws are ideal for chopping up large pieces of wood, cutting curves in even the toughest types of wood, and can even be used to cut metal. If you enjoy working with wood, you're going to want a good-quality bandsaw.
But kitting out your workshop can be an expensive task, and you might end up spending more than you need to. This list of the best budget bandsaws will help you find a great quality bandsaw that won't break the bank. 
Here we'll take a look at 7 of the best bandsaws with budget-friendly price tags, covering the pros and cons of each. Not only that, but we've also included a handy buyer's guide to help you pick the right bandsaw for your needs, as well as a short FAQ section to help answer any questions you might have.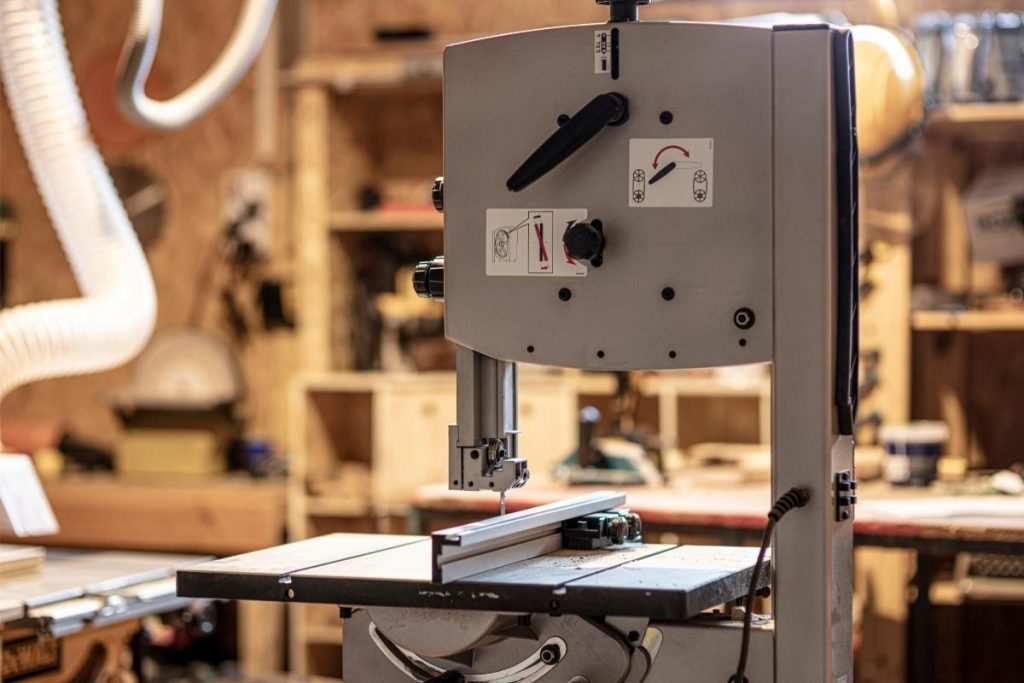 First, for those of you who are in a hurry, here is our Top 3:

And now without further ado, let's jump right into the best budget bandsaws on the market!
---
Starting out our list strong, the Rikon 10-305 is one of the best bandsaws out there and comes with a very reasonable price tag to boot. It features a 14" x 12.5" cast iron tabletop, which makes it perfect for all sorts of projects, from small woodworking tasks to building furniture.
The fence is removable, which lets you switch between guided and free-hand work at will, and you can adjust the height of the guide post easily with the turn of a handle.
The frame of this bandsaw is made out of solid steel, which makes it incredibly durable and steady. Add in a powerful motor and 10″ blade and you've got a quality bandsaw that won't hurt your wallet. You can find this bandsaw for less than $400 on Amazon.
This puts it on the higher end of our budget price range, but the Rikon 10-305's quality means that this price is more than justified.
Pros
This bandsaw's removable fence and adjustable guide post make it easy to work free-hand or with a guide.
Its solid steel frame and cast ironwork surface make this bandsaw strong and sturdy.
A 0.3hp motor and 10″ blade provide great cutting power for most woods.
Cons
The price is a bit high considering the lack of non-standard features.
Its motor isn't strong enough for some hardwoods and non-wooden materials.
You can also find it on eBay here, or find your nearest Rikon location here.
---
This beast of a bandsaw is the most expensive model on this list, but if you're willing to splash out a bit more then the Grizzly Industrial G0555LX Deluxe is definitely worth it.
It has a super-powerful 1hp motor that lets it's massive 14″ blade cut through any type of wood like butter. You can also cut through other materials such as plastic and even metal with ease! This model as a whole is a much larger unit than other models, standing over 5′ tall and weighing more than 240lbs.
If the price and size of this bandsaw are off-putting, the wide variety of features it includes might change your mind. In addition to its power, the Grizzly G0555LX also offers a 45° table tilt, quick-action blade tension release, and computer-balanced cast iron wheels, just to name a few!
If you have enough space and you're willing to splash out, then you won't go wrong with the Grizzly G0555LX.
Pros
Its strong motor and long 14″ blade can cut through practically anything with ease.
The sturdy T-shaped frame adds maximum stability and support.
The sturdy T-shaped frame adds maximum stability and support.With all sorts of added features, you'll get a lot of bang for your buck. 
Cons
Its high price puts it out of most people's budgets.
The large size and weight mean you need a lot of space for it.
You can also find it on eBay here, or get it directly from Grizzly here.
---
Cheapest Bandsaw for Beginners
From our most expensive bandsaw to our cheapest, we've come to the WEN 3959T. Don't let this bandsaw's low price tag fool you – it does its job, and it does it well.
This bandsaw offers incredible performance for its price. The 9″ blade is powered by a 2.5 amp motor, and the stand has a built-in dust port, rip fence, and miter gauge. Not only that, but you also get a 2-year warranty on top! Not bad for a bandsaw that costs less than $200.
That said, its low cost can be felt through a couple of sacrifices in design. The build quality isn't the best, and the motor is only really suitable for simple woodworking with softer woods. You also don't get any additional features, so you're limited to mostly basic techniques. 
However, if you're a beginner woodworker looking for somewhere to start, then this is the bandsaw for you!
Pros
It has an incredibly low price while still performing well.
The stand has several features including a dust port and a miter gauge.
You get a 2-year warranty, which is longer than other, more expensive models.
Cons
There aren't many additional features and you can only complete basic woodworking.
You can feel its low cost through a weak motor and less-than-perfect build quality
You can also find it on eBay here, or order through Lowes here.
---
The Ryobi BS904G is another incredibly cheap model in the $200 price range and one that also offers some great extra features in exchange for a minimal increase in price.
While it boasts the same 2.5 amp motor and 9″ blade as the WEN 3959T, the Ryobi BS904G includes a whole host of additional features and functions. These include a vibration-reduction system, safe pinion blade adjustment, and a built-in tool cabinet that comes with hex keys and washers.
Again, this bandsaw suffers in the power department, but you'll still be able to cut through most varieties of wood without any hassle. The Ryobi BS904G is the perfect bandsaw for beginner-to-intermediate woodworkers, offering plenty of functionality and all the features you need for simple woodworking.
Pros
This bandsaw comes with a wide array of handy features such as a blade tracking window and a tool cabinet.
In addition to keeping the work surface stable, the vibration reduction also makes this bandsaw much quieter.
It's incredibly low-priced considering its quality and functionality.
Cons
The short 9″ blade struggles with larger pieces of wood, and its motor isn't the strongest.
The instructions are hard to follow and aren't particularly helpful.
You can also get it directly through Ryobi Tools here.
---
Another great offering from WEN, the 3962T makes up for its increased price with a massive improvement in quality and functionality.
First, you can choose between 2 different speeds depending on the job you're doing. Equipped with a 3.5 amp motor, this bandsaw is a step up from the weaker options on this list. 
Additionally, the WEN 3962T features a 3-in-1 dust port, a 14″x13″ workspace, and a flexible light to help you see what you're doing. And if that wasn't enough, you also get a stand for the bandsaw that lets you place it wherever you want.
This bandsaw has a lot to offer, and its quality rivals other bandsaws two or three times its price. If you're looking for a good-quality bandsaw with plenty of features, then the WEN 3962T has everything you need in a budget-friendly package.
Pros
You can choose between two different speeds, 1520FPM and 2620FMP.
Its 3.5 amp motor is a great improvement over other bandsaws.
The included stand is easy to assemble and lets you place your bandsaw wherever you want.
Cons
The lower speed setting is less powerful than the weaker bandsaws on this list, and the stronger setting is only a small step up from the average.
The 10″ blade limits the size of jobs you can do.
---
The Grizzly Industrial G0803Z is much more affordable than the G0555LX, costing around $350. But while its price is dramatically lower, the quality of this bandsaw hasn't dropped a bit.
Although this model loses a few of the G0555LX's features, the G0803Z still has plenty going for it (including some new features of its own). Its smaller 9″ blade is powered by the same 0.3hp motor, which makes it capable of cutting through practically any wood and metal in no time at all.
And while it may not have the same features as its cousin, the G0803Z still boasts a built-in air-blower (to clear the workspace of debris), an adjustable work light, and a laser guide for maximum precision.
With its incredible quality and fantastic price, this bandsaw is the perfect choice for anyone looking to kit out their workshop on a budget.
Pros
In addition to some common features, this bandsaw also includes a light, air blower, and laser guide.
The powerful 0.3hp motor makes it more powerful than cheaper models.
The frame is smaller and made of aluminum, making it much lighter and easier to move.
Cons
The reduced cutting capacity means that it isn't suitable for larger jobs.
Its smaller size leads to reduced power compared to the G0555LX.
You can also find it on eBay here, or get it directly from Grizzly here.
---
Rounding out our list is the Milwaukee 2429-21XC. This bandsaw is different from the other models on this list in a major way – it's a handheld model. Unlike the larger varieties of bandsaw that are restricted to their stand, the Milwaukee 2429-21XC is completely cordless and gives you the freedom to take it wherever you want.
The small, 2″ blade greatly restricts what you're able to cut, but it is perfect for smaller projects and can cut through most woods easily with its 12-volt battery. It also comes with LED lighting built-in to help you be more precise while cutting.
This model comes with a charger, extra blade, and carry case included. Not only that, but you also receive a 5-year warranty. While the small size and lack of work surface limit this bandsaw a bit, it more than makes up for it with its convenience, freedom, and ease of use.
So if you're looking for a bandsaw but don't have the space (or the need) for a bulky unit, you might need the Milwaukee 2429-21XC.
Pros
Its light frame and handheld design makes it easy to use the bandsaw anywhere and even one-handed.
Features an LED light for extra precision, and comes with all you need for maintenance.
It is remarkably powerful for its small size, backed by a 12-volt battery.
Cons
Its small 2″ blade means that it's only suitable for small-scale projects.
It isn't powerful enough to handle harder woods or tougher materials.
You can also get it directly through Milwaukee Tools here. 
---
Budget Bandsaws Buyer's Guide 
So now you've taken a look at 7 of the best budget bandsaws on the market, it's time to start thinking about which model you want to get. But before you make your pick, there are a couple of factors you need to consider to make sure you get the best bandsaw for you. This buyer's guide will cover some things to look for when choosing your bandsaw.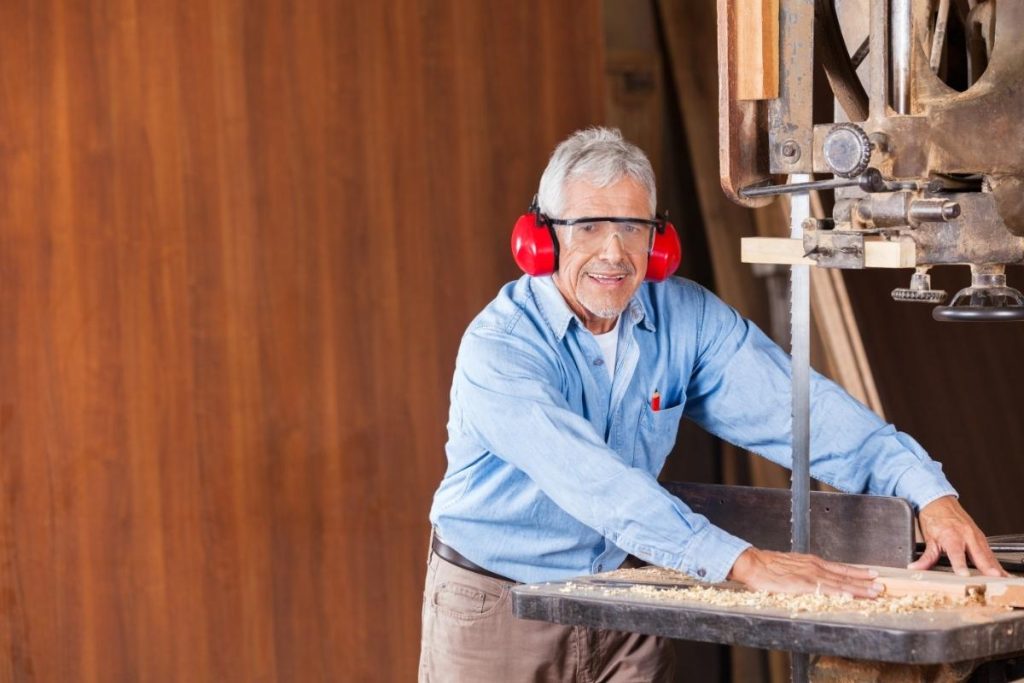 Power
Your bandsaw's power is one of its most important features. Essentially, it determines how well the bandsaw will function, and stronger motors will make it easier to cut through harder woods and even metal.
Larger, more expensive models will have a motor capable of around 1hp, but budget models tend to be weaker. Typically, you'll find a budget bandsaw that will have a maximum of 0.3-0.5hp, so try and aim for a motor in this range.
That's not to say a weaker motor is bad, however. While you might not be able to tackle harder materials, you'll still have no problem with smaller and softer pieces of wood, which is still useful for plenty of things.
Blade Size
The blade size of a bandsaw is important for several reasons. First, the size of the blade determines what you'll be able to work with; if you have a smaller blade, you won't be able to work with larger pieces of wood or bigger projects.
Smaller models of bandsaw have a 9″ blade, which is only really suitable for basic or small-scale projects. Larger blades, like the 14″ blade of the Grizzly G0555LX can accommodate much larger materials and are better suited for big pieces of material and more unwieldy objects.
Dimensions
In addition to the blade size, you also need to consider the size of the bandsaw as a whole. If you're lucky enough to have a dedicated workshop or large garage, you might not need to worry about space. However, if you're pressed for space you should look for a smaller model.
With that said, smaller bandsaws tend to be weaker. For instance, the Grizzly G0555LX houses its massive power in a 5′ tall frame, and the WEN 3962T's stand adds a lot of bulk and weight. Contrastingly, the Milwaukee 2429-21XC is much more compact but takes a hit in terms of power.
When choosing your bandsaw, look for a balance between the power you need and the space you have available.
Features
There are plenty of different features you can find on different models of bandsaws. These include simple quality of life improvements like a guide rail or work light but can also include more specific features that (while not strictly necessary) are a great addition to your bandsaw.
For instance, dust ports and air blowers keep your work surface free from sawdust and other debris. Meanwhile, a laser guide can improve your precision during more delicate projects. Additionally, a vibration-reduction system will keep your work surface steady while also dampening the noise of your bandsaw.
While they might not be your top priority, you'd be missing out if you didn't take advantage of some great features available for your bandsaw.
Ease Of Use
For the best experience, you'll want your bandsaw to be easy to use. This can come down to several things depending on what you're planning on using your bandsaw for. For large-scale woodworking projects, you'll need a larger blade. In this case, the 14″ blade of the Grizzly G0555LX would be a great fit. 
Meanwhile, smaller projects or precise jobs would benefit from the freedom and mobility of the Milwaukee 2429-21XC.
If you're looking for versatility, a mid-sized bandsaw with lots of features (such as the WEN 3962T or the Ryobi BS904G) offers plenty of functionality. You'll find some jobs easier with different models, so the best choice should suit the primary purpose you're intending for your bandsaw.
Frequently Asked Questions
What Are Bandsaws Used For?
A bandsaw is one of the most useful tools for woodworking. It is used to cut pieces of wood, using a long and flexible blade that loops around in a 'band' shape.

Bandsaws are primarily used to cut wood, but can also be used to cut tougher materials such as plastic and even pieces of metal!
What Features Do I Need For A Bandsaw?
Technically speaking, you don't really need any additional features or functions on a bandsaw. With that said, you'll definitely benefit from at least a few simple extras.

Some basic features that will greatly improve your experience include guide rails (to help you cut straight or in a curve), dust ports (to keep your workspace clear), and a miter gauge (which lets you secure your piece at an angle).

While there are plenty of other features out there, getting a bandsaw with at least some simple features will give you a much better experience overall.

You don't need to go overboard with tons of bells and whistles (although you can if you want!), but looking for a few life improvements is a good idea.

How Important Is Price?
A good bandsaw doesn't have to break the bank, as this list proves. While more expensive bandsaws can have more functions and greater power, you can still get great results from cheaper models.

If you're looking for a good-quality bandsaw on a budget, you can find the best results typically within the $300-$400 range. That said, there are plenty of great models out there for $200 or cheaper that still deliver great functionality and can provide you with everything you need from your bandsaw. 

If you're a beginner or only want to use your bandsaw for basic purposes, these cheaper bandsaws are a perfect choice. 
Final Thoughts
There you have it – 7 of the best bandsaws you can buy on a budget. There is something for everyone to like, with plenty of variety in terms of size, style, and function. No matter what you're looking for, there's something for everyone here.
Now you've looked at our list of bandsaws and know what to look for, all that's left for you to do is take your pick. So whether you're choosing one of the bandsaws on this list or another one you've found yourself, now you know how to find the best budget bandsaw out there!