If you don't like the paint of your wooden furniture, you may be tempted to add a few layers of another paint on top of it. And you're right; that would most likely work!
But if you want the original wood finish back, you must take the paint off completely. And the proper way to do this is using a paint stripper. It will do a much better job than sanding the item down and won't cause any damage.
We looked into the most popular products and compiled this list of the best paint strippers for wood. Using any of the products below will ensure that your wood item recovers its original texture.
The most important factors to look at are:
the time it takes for the paint stripper to take action,
the materials that it is made for–in this article, we just looked at the best paint strippers for wood,
the number of layers it can remove at a time.
Here are our top 3:
And here is our full Buyer's Guide:
This paint stripper can remove up to 15 layers at a time. This means that even if you've got a thick layer of paint, the Smart' n Easy can remove it.
It is also free of caustic chemicals and has a fresh citrus smell, making your job safer and more enjoyable than other products.
It also works on many different materials such as metal, plaster, fiberglass, porcelain, etc., so if you don't finish the bottle, you can use what's left for many kinds of projects. It will remove these types of paints, varnish, and coatings:
acrylic,
latex,
oil,
water-based.
Pros
💪Can remove up to 15 layers of paint
🪵 Works on many different materials
🖌 Can remove most kinds of coatings
🇺🇸 Made in the U.S.
Cons
😣 It takes quite a bit of effort to remove the paint
🫗 Hard to empty the bottle
The Smart Strip paint stripper might be the best option for those who want a paint stripper that doesn't smell. It is an odor-free water-based paint remover.
It is also one of the most potent products on this list, as it can remove 15+ layers of almost any coating, including:
oil-based,
water-based,
acrylics,
urethanes,
lead paints,
…
It will work on most materials, such as wood, brick, metal, plaster, and porcelain.
It is also available in various sizes: 1 quart, 1 gallon, or 5 gallons. The bigger the size you select, the higher the price.
Pros
👃 Odor-free 
🪵 Works on most materials.
🖌 Removes most coatings
☀️ Can be used outside
This particular paint stripper is even more potent than the previous ones: it can remove up to 20 layers of paint. 
 It will also work on various materials and isn't specific to wood.
It is also citrus Lime scented, so it will not produce any unwanted odors–unless you don't like the smell of Lime. 
It is also a non-drip formula. This means that the paint stripper will cling to the surface and not drip onto your floor, which depending on the material of your floor, could cause damage.
It is available in a range of sizes, 1 gallon, ½ gallon, and 32 oz, so that you can use it for small or big projects.
One nice touch is that if you are not completely satisfied with this paint stripper, you can get a full refund from the manufacturer.
Pros
💪 Potent – Can remove up to 20 layers of paint.
🍋 Smells good – Fresh lemon smell
☺️ Satisfaction Guaranteed – Full refund if you are not completely satisfied with the product.
Cons
⏳ Needs a long time to set
🫗 You need to use a lot of it
This wood stain is available in a vast range of colors and shades, and the cool thing about it is that you can combine the colors!
For example, you can mix two shades in different ratios to bring a lighter shade. This allows you to get the exact shade you want.
It comes in a bag-in-box system rather than a tin, and you prep the stain by shaking and agitating the bag before you pour it into your paint tray.
You can buy the stain in different sizes of cartons, namely a small sample size, a quart, or a gallon. I tried a sample of this wood stain because I didn't need a quart or a gallon.
The first thing I noticed when testing it out was that it didn't have the usual pungent smell you usually get when you open stain remover. It was pretty refreshing.
I also found that despite being a water-based wood stain, it penetrates the wood deeper than most water-based wood stains. The results were pretty good, with enriched wood grain and rich, striking color.
I managed to spill some of it on my workbench, but I could clean it up easily with soap and water.
This brand also claims to be environment-friendly.
Pros
💰 Price
🫙 Available in a range of different sizes, which can be very helpful depending on the size of the job
⛑ Non-toxic
Cons
Doesn't work well on lead-based paints–but those have been banned from household paints in the United States since 1978, so it shouldn't be an issue in most cases.
💪 Not as potent as it is claimed – They say it can remove up to 20 layers of paint, but that's an overstatement.
This particular paint stripper is available in two forms: gel and liquid. Depending on the item you plan on stripping, you may want to think about which formula you want to use. It is also available in a gallon or a quart, so depending on the task you're using it on, you may want to consider the size.
This is also a very fast-acting paint stripper, and you will notice that it has started to work just two minutes after applying it.
It is the weakest product on our list, so it may be a good choice if you are afraid of damaging your item. However, if you want something "heavy-duty," you should consider another product.
 It can also work on various materials, including masonry, wood, metal, and glass. The coverage of the paint stripper is 100 sq ft making it perfect for some bigger projects. It is also methylene chloride free making it a much safer paint stripper than others available today.
Pros
💰 Budget-friendly
💧 Available in gel or liquid
⌛️It starts to take action after only 2 minutes of being applied.
🪶 Gentle – will not damage your product
Cons
Not as powerful as the others on this list
Buyers Guide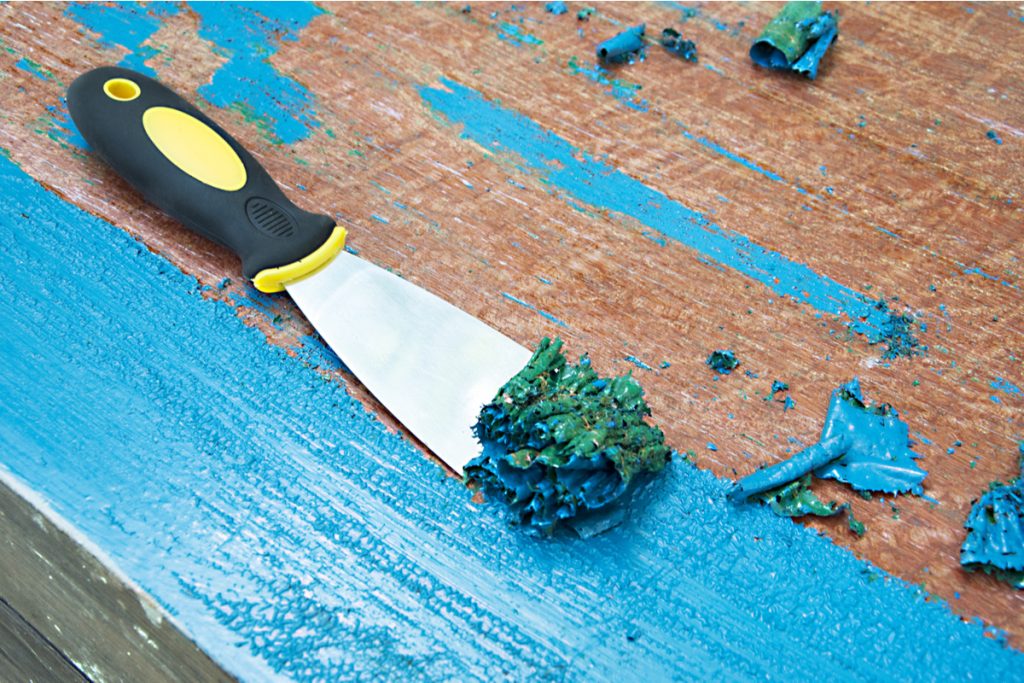 Time
The time it takes a paint stripper to start taking effect is an essential aspect to consider.
I am usually a bit impatient when I'm working on something, so I hate waiting.
So as long as that doesn't affect performance, I prefer a product that will reduce waiting time.
This is because you don't want to be standing around all day waiting for the paint stripper to begin to work.
The quicker that the paint stripper will work will mean that you have to spend less time waiting around before you can properly start the job. This will make it a more productive paint stripper if it is quick to action.
The quickest on the list today is the 2-minute Sunnyside Corporation Paint and Varnish remover. Though the job will not be finished in 2 minutes, it will begin to start the process, which will be much more effective at a quicker rate.
Strength
The strength of the paint stripper is again one of the essential aspects you need to consider when determining the best paint stripper for you to use. Luckily all of the above products are incredibly strong and can remove many layers of paint.
This means that no matter how often you have tried to find the perfect coat of paint for your item, you will be able to remove them and start over from the beginning. If a paint stripper is weak, it will struggle to remove any layers of paint, which can impact the overall quality of the product.
As stated, this is one of the most important factors you must consider. A weak paint stripper will often not be able to provide you with the job you need. So when it comes time to select the perfect paint stripper for you, you will want to ensure that it is a powerful one.
Indoor & Outdoor
Whether a paint stripper can work on inside and outside wood furniture is another important aspect for you to consider. Imagine you have just put a layer of paint stripper on an object outside, and you notice a massive rain cloud directly after you finish doing that.
This can wash away your paint stripper, rendering it wasted and unable to do its job. For that reason, if you know that the job you will be partaking in is based outside, you will need to ensure that it can work effectively outside and not be washed away by any rain that may be heading your way.
Again, it is one of the essential aspects you need to consider. With indoor paint strippers, you will not have to deal with that issue because the weather will not be able to hinder its performance in any way, shape, or form.
Materials
Again the materials that paint strippers work on are incredibly important; specifically speaking of wood today, all paint strippers can work well in that regard. They can also be used on a range of different materials; this can be very important in future uses of your paint stripper.
After all, the last thing you want is to use a paint stripper on a material that it simply will not work on. This will be counterproductive and incredibly annoying if you, unfortunately, end up in that situation. For that reason, this is an essential aspect.
Toxicity
You will want your paint stripper to be very safe, especially at home when you may have young children running around. Paint strippers can often produce toxic fumes that can be harmful to breathe.
The above-featured products are all incredibly safe to use and do not produce any toxic fumes that can be considered dangerous to you and your family. Nothing is more important than safety, so it is one of the essential aspects to consider when determining the best paint stripper for you to use.
Odor 
Again, Odor is another crucial aspect that you need to consider when using a paint stripper because they can often produce unwanted smells; this is usually due to the chemicals used when the paint strippers are being made.
Many of the above products are either odor-free or produce what can be considered a pleasant odor, such as Orange or Lime. This can come in handy as one of the worst things to deal with during DIY projects is the smell that some of the things you are using can create.
Frequently Asked Questions
Why Is It Important That Paint Stripper Is Non-Toxic?
The paint stripper needs to be non-toxic is simply about health and safety. As these are DIY paint strippers, you may have family around the house that if the fumes produced were toxic; this could cause danger to them and you. 
What Is A Good Strength For Home Use?
Anywhere above 15+ layers can be considered a powerful paint stripper. Something lower may not be able to remove the amount of paint required as there is no telling how many layers of paint have been applied to something before removing them altogether.
Is Paint Stripper A Better Alternative Than Sanding Something Down?
In many cases, yes, because it will not be able to affect the quality finish.