If I had to take a guess, since you're reading an article on the best epoxy resin for wood, I'd say you're either working on a wooden countertop or a river table. Am I right? In any case, you should know that epoxy resins are used to stick, paint, coat, seal, and repair in all kinds of projects, from craft jewelry to boat hulls.
No matter what you're working on, the most important things to consider when it comes to choosing an epoxy resin are:
How long it takes to cure: It shouldn't cure too slowly, or your project will take ages to finish. But it also shouldn't cure too quickly; it needs to give you time to apply it everywhere (especially on big projects) and make adjustments if needed.
Product quality: Is the resin crystal clear? Do the bubbles go away easily? Does it create a lot of amine blush? How hard is it once cured?
Environmental endurance: Depending on your project, you may need your epoxy resin to be UV-resistant, heat-resistant, food-safe, VOC-free, etc.
With that in mind, let's have a look at the products worth buying. First, if you're in a rush and need a quick answer, here are my 3 favorites:
Now, if you've got some time, you'll find my detailed reviews of the best epoxy resins on the market below:
---
Pro Marine makes some of the best epoxy resin currently available on the market, and their products are great for anybody who's new to working with this medium. Because it requires an equal measure of resin and hardener, you don't have to work out any tricky ratios, and it's incredibly easy to mix together.. In addition to being great for coating wooden surfaces, this product can also be used for casting objects, provided they aren't too large. 
Like many wood-working resins, Pro Marine is self-leveling, which means you won't have much trouble getting a consistently smooth surface when using it. This is another feature that makes this epoxy resin an excellent choice for beginners, along with the fact that the product behaves very consistently. For the artistically minded, this resin works well with dyes or other pigments to make beautiful, vibrant coatings over wooden objects like skateboards, tables, or coasters. 
It can take up to 24 hours to cure, and as such is not the best choice for casting very large objects, as the middle may not cure as fast as the outer layers. However, this product is great for tables and countertops since it's completely food-safe once cured. 
I initially bought the ProMarine Epoxy to repair a boat, but now I use it whenever I want seals or coatings to withstand challenging environments.
Specs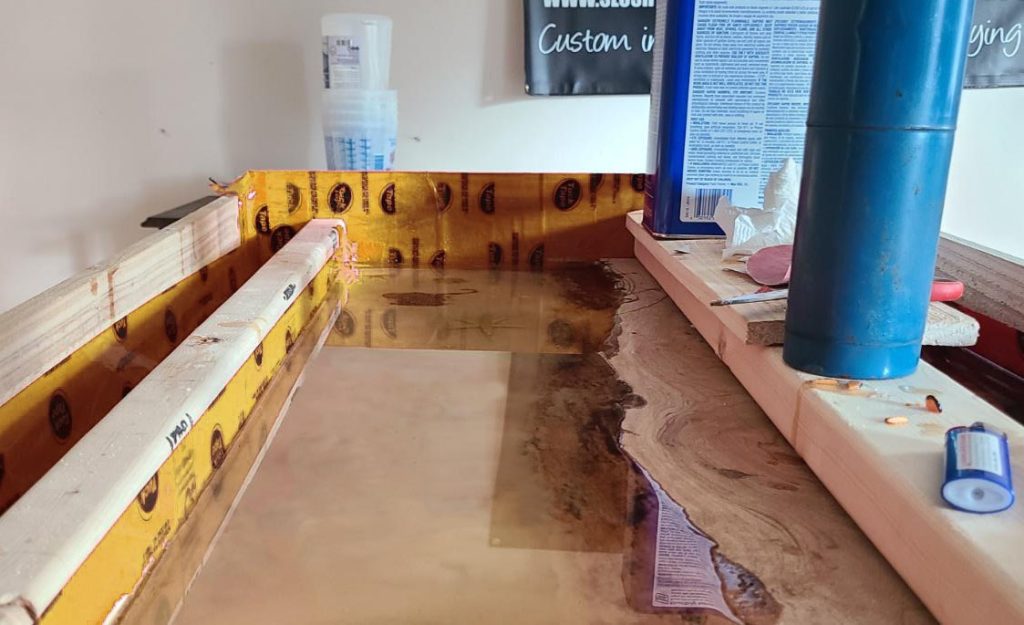 Also available at ProMarineSupplies
---
Superclear is advertised as an art resin; as such, you can use it for projects that require a deeper pour, such as river tables. This means that it works well with pigments and other coloring agents to create vibrant and intricate patterns. Its self-leveling properties and fast hardening time make it highly suitable for sealing tables, countertops, and other wooden surfaces. 
As its name suggests, this resin is crystal clear and can be used for casting objects and preserving them in translucent blocks. It also prevents any colors you add from becoming distorted or lost as the resin cures. Once it has fully cured, the product has high UV resistance, which means it won't gradually turn yellow in sunlight. 
Superclear is a mass-dependent product, which means you shouldn't mix up more than half a gallon at any one time. If you do, the reaction between the resin and the hardener will generate heat, causing it to cure faster and giving you less time to manipulate and work with it. 
Remember to always wear a respirator when working with this product, as it does produce volatile organic compounds (VOCs) once the reaction between the two components begins.
Specs
Also available at SuperEpoxySystems
---
This Resin has a fast curing time which means you can apply it in multiple layers to get a thick seal over your wooden surface. As such, you can slowly build up the layers of RTG to create items that are thicker than the maximum pour depth of 1/8 in. One trick you can do is to place a small object between the layers so that once the resin cures it will appear as though they are floating. 
One thing worth knowing about this resin is that it has a relatively fast drying time, which means you will need to be quick when manipulating it. This makes it a difficult product to use for beginners who may want a resin that gives them a bit more time for leveling and removing air bubbles. However, this may not be too much of an issue since this resin is self-leveling and won't require much effort to get a perfectly smooth surface. 
Due to its fast hardening time, it is not recommended to use RTG for casting large objects. If you do want to do this, you will have to increase the size of your cast incrementally, which can be quite difficult to do. It is important to note that while this resin hardens fast, it is still worth waiting at least 24 hours to ensure it has been fully cured. 
Specs
Also available at DesertCart
---
The Stone Coat Epoxy is great for wooden kitchen counters because it is heat-resistant up to 470°F, but don't leave a very hot plate on it, as it's only for "incidental contact".
This product takes a very long time to fully cure, and as such is not appropriate for deep casts that are more than 1/8 inches in thickness. As such, it isn't the best for more artistic projects and will work best for sealing surfaces. It forms a crystal clear gloss that will show up the grain of your hardwood floor beautifully. 
Specs
Also available at: StoneCoatCountertops
---
Unlike the last product we looked at, this one cures very fast, meaning you can easily apply it in layers to create wonderful 3D effects. If you wait longer than 12 hours to apply a second coat, then the first layer will have already hardened, however, this is easily overcome by lightly sanding the original coat. This isn't the best epoxy resin for making large or deep casts, since it only has a maximum pour depth of 1/8 in. 
While it will still take up to 7 days to completely cure, (which is standard for most epoxy resins), this product will be hard to touch after only 12 hours. It is blemish resistant, which means that you may not have to worry about removing Amine blush from this product. That said, you may still get a small amount of blush when working with this product at a low temperature below 77 °F. 
As well as being resistant to UV and water, this resin produces practically no odor or VOC which means it is very safe to work with. It also produces minimal bubbles while it is hardening, which means you won't have to spend as much time with a hairdryer getting air out of your coating. 
While this epoxy resin is food-safe once fully cured, it is not a high heat product, which means you should always use coasters or heatproof mats when placing hot cups or plates on it.
Specs
Also available at: IncredibleSolutionsOnline
---
MAS is a professional product that is still very easy to use for beginners since it only requires a 1:1 ratio to mix properly. It cures reasonably fast and at the right temperature will be hard to touch after 8 hours. However, it is recommended to wait at least a full day before sanding and adding subsequent coats, especially when working with deep pours. 
That said, this resin can be applied in layers as thick as 1/4 in, which makes it a good product for artistic projects like river tables. While it isn't a self-leveling resin like many of the others we have looked at, it comes with a plastic spreader and foam brush to help you get an even coating. This resin is compatible with most dyes or pigments and is therefore suitable for those who want to create artistic finishes for their tables or countertops. 
One issue with this product is that it is very heat sensitive, and therefore will go yellow and soft when exposed to objects above a certain temperature. As such, if you want to use it to seal a dining room table, you will need to use a heatproof mat for placing hot dishes or cups on this resin. Aside from this, though, you can rely on MAS to create a durable and long-lasting coating for any surface in your home. 
Specs
Also available at MasEpoxies
---
This epoxy resin is designed for sealing the hulls of a boat, so you know it is a high quality product that will create a long-lasting finish on any wooden surface. It is a very easy product to use since it is self leveling and has a flexible maximum pour depth between 1/8 and 1/4 of an inch. This gives you some leeway when pouring this resin and allows you to create slightly thicker coats if you need them. 
Another thing that makes this epoxy resin for wood simple to work with is the fact that it is BPA free and doesn't emit harsh fumes while it is curing. If you want to apply multiple layers, then you will find it very easy to do so thanks to the fast curing time. Provided you apply the second coat within 4-8 hours of putting down the first one, you won't even need to do any sanding before pouring on a new layer. 
Once it has fully cured, this resin is completely food safe and 100% waterproof. It still isn't great when it comes to handling heat, which is worth bearing in mind if you want to use it for a surface that is regularly subjected to high temperatures. TotalBoat is also specially formulated to reduce amine blush, which is another thing that will decrease the amount of work you have to do when using this resin. 
Specs
Also available at: TotalBoat
---
If you want a product for filling cracks or gaps, then this resin is definitely worth considering. This is a deep pour product that can be applied in layers as thick as 2in. It is a very low viscosity product, which means it flows great and can still be used for sealing wooden surfaces. 
This pourable plastic has been specially designed to not shrink as it cures, which is another feature that makes it great for filling cracks. Since the reaction between the two components doesn't produce as much heat as other resins, this product offers long working times. This allows you to make sure that your surface is perfectly smooth before you leave it to harden and cure. 
One of the great things about this epoxy resin for wood is how versatile it is and it can be used for lots of projects from sealing surfaces to encasing large items. While it is reasonably UV resistant, it may still turn yellow if left outside in direct sunlight for too long. As such, the one type of project that this resin won't work for is anything that will be staying outside for prolonged periods of time. 
Specs
Also available at: IncredibleSolutionsOnline
---
This is another deep pour resin made by stone coat, that is great for filling large gaps or cracks in wooden surfaces. It has a maximum pour of 2in, which makes it suitable for a variety of purposes, from sealing surfaces to embedding objects in solid blocks of resin. One thing that makes this product even better for art is its ability to take on color with the use of dyes or mica pigments. 
Its deep maximum pour and compatibility with pigments makes it a great resin for making river tables. Once fully cured, it is completely transparent and mostly resistant to UV, meaning your work won't discolor over time. Super cast also doesn't produce any harmful VOCs while it is curing, which makes it safer to work with for long periods of time. 
While it is mostly easy to use, you will need a measuring jug for the mixing stage since you need 2 parts resin to 1 part hardener. If you don't mix the two parts in the right ratio then your mixture will either harden too fast, or too slow. While this resin is very durable by itself, if you want to really protect your project from heat, UV and moisture it helps to use a layer of Stone Coat over the top as well.
Specs
Also available at: StoneCoatCountertops
---
Best Epoxy Resins For Art 
 As well as being a great alternative to varnish for sealing wooden surfaces, epoxy resin can also be used for a variety of artistic projects as well. One of the most popular things to do with this medium is creating river tables. These are normal tables that have been split in half and joined back together by a translucent band of epoxy resin, often colored blue. 
You can also cast items in epoxy resin using silicone molds. When combined with dyes and other pigments, this can be used to create vibrant and stunning 3D works of art. Here are some of the best resins for creative art projects.
Just like the last Superclear product we looked at, this liquid glass is flawlessly transparent when it sets. As such, any dyes or pigments that you use with this product will be especially vibrant and won't turn yellow in direct sunlight. It has a maximum pour depth of 4in, but you can create larger objects by using multiple layers. 
This is a premium product that becomes rock hard after fully curing, making it highly resistant to scratches, impacts or abrasions. It is also very good at dealing with high temperatures, and can support hot objects without softening or deforming. The special formula has been carefully crafted to minimize bubbles to make this resin exceptionally easy to work with. 
Since it is self-leveling, this product is very easy to work with, even if you are a complete beginner at using epoxy resins. As with most artistic resin, you will need a measuring jug to get the correct 2:1 ratio of resin to hardener. You will also need a fair amount of patients since this product will take a long time to harden and fully cure. 
Specs
Also available at: SuperEpoxySystems
---
Most artistic resins will take a long time to cure due to their high viscosity and greater maximum pour. The Craft Resin is a great choice for those who don't want to wait a few days to start polishing and sanding their creations. It only takes 24 hours for this product to cure, possibly a bit more if you are putting down a layer thicker than 4in. 
This is a self leveling resin that can be used for a variety of purposes, including sealing wooden surfaces, casting an object and filling cracks. If you do want to use it for coating a countertop or table, then it is advisable to pour in small amounts and apply multiple layers. You won't need to spend a long time with a hair dryer removing pockets of air from your resin, since this formula has been designed to produce fewer bubbles. 
One thing that makes this a good product for beginners is that it comes with a pair of nitrile gloves and a stirring stick. It is also easy to mix the resin with the hardener, since you only need equal parts of each to start the reaction. Craft Resin is resistant to UV, water and temperatures of up to 203 °F, and doesn't release any VOC it is curing. 
Specs
Also available at: CraftResin
---
If you are trying resin artwork for the first time, then this kit has everything you need to get started. As well as 72 fluid ounces of resin, you also get a pair of gloves, leveling tools, spatula and mica pigments for adding colors to your project. This product also claims to only take 8 hours to fully cure, although you may still want to leave it for a full day to make sure. 
Janchun's epoxy resin is a low fume product, but that doesn't mean it won't produce some VOCs while the two components are reacting. As such, it is still a good idea to have protective gear for working with this compound. It is also resistant to UV, but may still yellow if left outside for prolonged periods of time. 
This is a product that does most of the work for you, and its low viscosity allows it to perfectly self level. Furthermore, it is less likely to have bubbles trapped inside it, and isn't as prone to amine blush as some other brands. Janchun still makes a great resin for coating tables, since it is completely food safe once it has cured. 
Specs
---
Naked Fusion has made this product to offer perfectly clear epoxy resin that won't discolor at all even when left outside in the sun. The clarity makes it even better when you add colors, and you can create vivid and vibrant patterns with just a small amount of pigment or dye. This is a professional grade epoxy resin that can be used equally well for artistic projects and DIY. 
You only require a 1:1 ratio of resin to hardener, and once mixed, this resin will offer you 45 minutes of working time before it becomes tacky. This is a great window for pouring your mixture into an appropriate mold to create incredible artwork around a block of wood. You can only do a 2 in pour in one go, however, you can always build up multiple layers to create larger items. 
It is completely FDA compliant and food safe, provided you let it cure first and don't expose it to very high temperatures. Removing bubbles from this product is very easy with a simple heat gun or hair dryer. With zero VOCs produced while hardening, the air in your workroom will be as clear as your resin will be once it sets.
Specs
Also available at: ShopNakedFusionResins
---
This is another product that sets crystal clear and as hard as rock to ensure that any artwork you create with it will last for a long time. Sig Wong's resin will provide you with 40 minutes of working time before it starts to harden, which is more than enough for plastering it over your desired surface. After it has cured, this product has a natural gloss that is far from dull and won't need much polishing to look beautiful. 
This self leveling epoxy resin is completely impervious to UV and won't yellow even when left in direct sunlight all day. It works great with pigments and dyes, and any colors you use will be very vibrant. Sig Wong's resin is best used for small pours, as it is intended to be placed in molds rather. 
As such, if you want to make a very large object with this resin, then it helps to have a block of wood in the middle. The alternative is to put the resin down in layers to ensure each part cures properly. If you are doing this, you can apply each coating after 12-15 hours, as long as you lightly sand the first layer first.
Specs
---
Dr Crafty is a resin that can do it all, and performs equally well for deep pours, or putting a thin seal over a wooden surface. It comes with lots of helpful tools to get you started, including measuring cups, stirring sticks and spatulas. With these tools, you can easily mix up your first batch of resin and apply it over your chosen piece of wood. 
Another thing that makes this product great for beginners is that you only need to mix the resin and hardener together in equal amounts. This can save a lot of time when it comes to measuring out the correct portions of each component. Once you have mixed them together, you will have 45 minutes to apply the resin, which should be more than enough time for you to get an even coating. 
The end result is a beautifully clear and rock hard surface that takes color very well. Dr Crafty's resin is UV resistant and as such is a great choice for garden furniture. Although it takes up to 3 days to fully cure, this product will be hard within 24 hours, which is great if you want to build up multiple layers to create awesome 3D objects. 
Specs
---
This is a high quality resin that has been specifically formulated for artists. As such, it is completely compatible with a wide array of pigments and dyes. When used together, this resin sets rock hard and anything you create with it will be guaranteed to last a long time. 
Each bottle of art resin has been rigorously tested to make sure it is fully resistant to UV light. This means that you can leave your masterpieces out in the sun for as long as you want with no risk of them yellowing. This is a high gloss resin that will make any color combinations look amazing once it sets and cures. 
Since you only need to combine the resin and hardener in equal measures, it is very easy to mix up and use this resin. It is also capable of self-leveling, which makes it easier to get a perfectly flat surface for tables and countertops. As long as you use it correctly, this product is BPA free and won't produce any harmful VOCs while you are working.
Specs
Also available at: ArtResin
---
If you are completely new to working with epoxy resin, then we recommend starting with this product made by HXDZFX. You only get a small amount of resin to work with, but you will also receive all the tools you need to get started. This is a great kit for shallow pour molds and coating blocks or wood in vibrantly colored patterns. 
This is another high gloss resin that will show up any colors you mix into it very well. It is very easy to mix together, and doesn't give off any harmful VOCs while the two parts are relaxing. As such, this is a great choice if you have never worked with resin before and want a sample for trying out the medium. 
Another thing that makes this product easy to work with is the fact that it gives you 40 minutes of working time. This will give you plenty of leeway when it comes to pouring your resin into the correct mold. It is resistant to UV, but like most resins will gradually turn yellow over time and prolonged exposure to sunlight. 
Specs
---
Epox-It has the durability and resilience of a construction resin, with the crystal clear gloss of an art product. This is a highly versatile epoxy resin that can be used for sealing countertops and tables, as well as casting small items of jewelry. While it isn't the best for deep pours, it is great for adding a thin and basically indestructible coating over wooden objects. 
You can use any of your preferred pigments and dyes with this product. You won't need to worry about your art discoloring over time since Epox-It is resistant to both UV light and amine blush. This is just one of the things that makes this resin very easy to work with. 
Working with this resin is very simple, since all you need is a 1:1 ratio of hardener and resin to get started. There is a faint odor when working with this mixture, so make sure that you wear a respirator when using it. Once fully cured, this resin is entirely food safe, which makes it great for tables, countertops and cutting boards. 
Specs
Also available at: SpecialityResin
---
Our final resin is another one that can be used for practically any project you have in mind. As well as casting molds, this epoxy resin works well for sealing tables or countertops as well as filling gaps. You can use this product on wood, but also on stone, metal and plastic objects. 
This is a thin pour resin, so if you want to cast larger objects then you will need to do so in multiple layers. It has a high gloss finish that will bring out any colors you add to it without dimming or yellowing them. One issue with this epoxy resin is that it is not as UV resistant as some others, so you can't leave your creations out in the sun for long periods of time. 
It also isn't VOC free, which means you will need a respirator and other protective clothing when working with it. This resin cures very fast but still offers a decent working time of 35 minutes. One thing you will love about this product is how easy it is to use, since it is self leveling and won't require much work to get a perfectly flat surface.
Specs
Also available at: EastCoastResin
---
Best Resin Coloring Kits 
Having a high quality resin to work with is one thing, but if you want to create an artistic piece with this medium, then you will need a proper coloring kit as well. Coloring kits come in two main types, including liquid dyes and mica powders. Both can provide some incredibly vibrant colors and are equally easy to add to your mixture. 
In this section we will cover some of the best pigment kits for adding some color to your epoxy resin project. 
This is an excellent set of starting colors that will allow you to experiment with adding patterns and colors to your epoxy resin. The set includes 16 colors and two bags of glitter, so you can create vibrant sculptures and casts from your chosen epoxy resin. You also receive multiple sets of nitrile gloves for handling your resin safely. 
This set works for coloring any kind of project, whether it's small or large. A small drop of pigment will go a long way and can tint reasonably large mixtures of epoxy. You can also mix the dyes together to unlock new colors and hues that aren't in the set. 
These pigments are completely non-toxic and safe to touch. This is just one of their features that makes them incredibly easy to use. All the colors are naturally translucent, but you can add a small drop of the white if you want to make your resin opaque. 
---
In this ResinTint pigment set, you will receive 16 different colors for creating vibrant epoxy resin casts. You can also use it when sealing a table or countertop and use the colors to add a splash of color to your kitchen. You won't have to worry about it affecting your food since all of these pigments are non-flammable and non-toxic. 
All the colors in this set are very bright, and you only need a few drops of each to create some truly stunning effects. If you want to create a translucent coloring, then all you need to do is add less pigment, or add a larger amount to make your resin more opaque. This gives you excellent control over how strong you want certain colors to be and allows you to create some incredible effects when mixing them. 
As well as the standard pigments, you will also receive some special ones for making even more intricate epoxy art. You can use the metallic to give your resin a glittering sheen, or break out the neons for even more vibrant colors. With so much variety, this is a great set for anyone just starting out in making art projects with epoxy resin.
Also available at: ArtResin
---
Mica pigments come in powdered form, which can be a little daunting for first timers. That said, they can allow you to create vibrant colors while using even less coloring agent than you would with dyes. Once you get the hang of working with them, they are also easier to control, meaning you won't have to worry about using too much. 
One thing you will have to consider is that these pigments can be a little harder to add to your epoxy resin. This is because it can be difficult to get a consistent color while you are mixing them into the resin and hardener. To avoid this, you will have to stir very slowly, but thoroughly to ensure the pigment is evenly distributed. 
This set comes with 24 different colors, which gives you a lot of choice when it comes to how you want your resin to look. As well as all the standard colors, you will also receive an assortment of stone pigments and metallics. With these, you can easily make fake stone countertops for your kitchen, as well as a wide variety of other creative projects.
---
What Is Epoxy Resin?
Epoxy resin is a type of polymeric compound also known as polyepoxide. It is most commonly used as an adhesive due to its ability to form strong bonds between objects. It is made up of two parts: the resin itself and a hardening compound that allows it to cure. 
There are many different types of epoxy resin that differ in the types of hardener they use, the viscosity of the resin itself, and how resistant the cured product is to chemicals and UV radiation. 
Advantages Of Epoxy Resin
There are several benefits when it comes to working with epoxy resin on wooden surfaces. For one, it is completely waterproof, and provided you buy the right kind will protect your wood from damage caused by UV, temperature fluctuations and moisture. 
Once the resin has fully cured and hardened, it is very hard and stays very smooth unless you actively try to harm it. Hardened epoxy resin is difficult to scratch, resistant to abrasions and provides a surface with no bumps or imperfections. 
It also holds up very well against impacts and won't shatter or splinter provided you have applied it correctly. Some resins that are designed to be used with wood are free from toxic chemicals and BPA, which means that you can eat and prepare food on them once they have fully cured. 
Epoxy resin is so resilient that it works great for objects that are intended to be kept outdoors. It is impervious to heat, weathering, most acids, and basically anything you can throw at it. With the addition of dyes, you can even use it to create incredible, brightly colored works of art. 
Finally, epoxy resin will adhere to most materials except for wax, masking tape, silicone, and some polyethylene plastics. This means that as well as using it on wood it also works for projects involving metals, most plastics, and stone. 
Disadvantages Of Epoxy Resins
Despite all of the above benefits, there can be a few drawbacks to epoxy resin as well. Because of its resilient nature and excellent adhesion, it is very difficult to remove from any surface where you don't want it. 
The liquid can also cause serious allergies or harm if it gets on your skin, especially if you already have sensitive skin. Dermatitis, eczema, and inflammation can all be caused by prolonged exposure to epoxy resins. 
Some products will also give off fumes while they are in their liquid state. These volatile chemicals can be extremely harmful if inhaled over long periods of time. However, provided you take the proper safety precautions, you should be able to avoid most of these disadvantages. 
If your epoxy resin isn't resistant to UV, you may also notice that it will start to turn yellow with age and repeated exposure to sunlight. This isn't the biggest issue if you are only using it to seal a table or floor. However, for artistic projects, this will be a disaster and therefore if you want to get creative with your resin you will need to buy the right type for the job. 
Common Uses In Woodwork 
Carpenters will frequently use epoxy resins to seal wooden floors or surfaces and protect them against scratches, impacts and moisture damage. In these instances, the resin is being used as an alternative to varnish, but it can also be used to fill in gaps or cracks. Doing this can help to prevent any damage to a wooden surface from getting worse over time, and will keep it feeling smooth to touch. 
As well as being used to maintain and seal wooden surfaces, epoxy resin can also be used to create incredible pieces of art. River tables, fake marble countertops, and cutting boards are just a few of the remarkable things you can make with epoxy resin, wood and a few pigments to add color. 
How To Use Epoxy Resin 
Epoxy resin is easy to use in theory, but there are lots of things that can go wrong if you don't know what you are doing. If it isn't prepared correctly, your resin may end up with trapped bubbles, or a blistered surface that is far from smooth. 
This can lead to all sorts of problems further down the line, such as your surfaces cracking under pressure, or your artwork not looking the way you want it to. That's why we have included this section to take you through the basics of how to mix and use epoxy resin for different kinds of projects. 
Necessary Tools And Equipment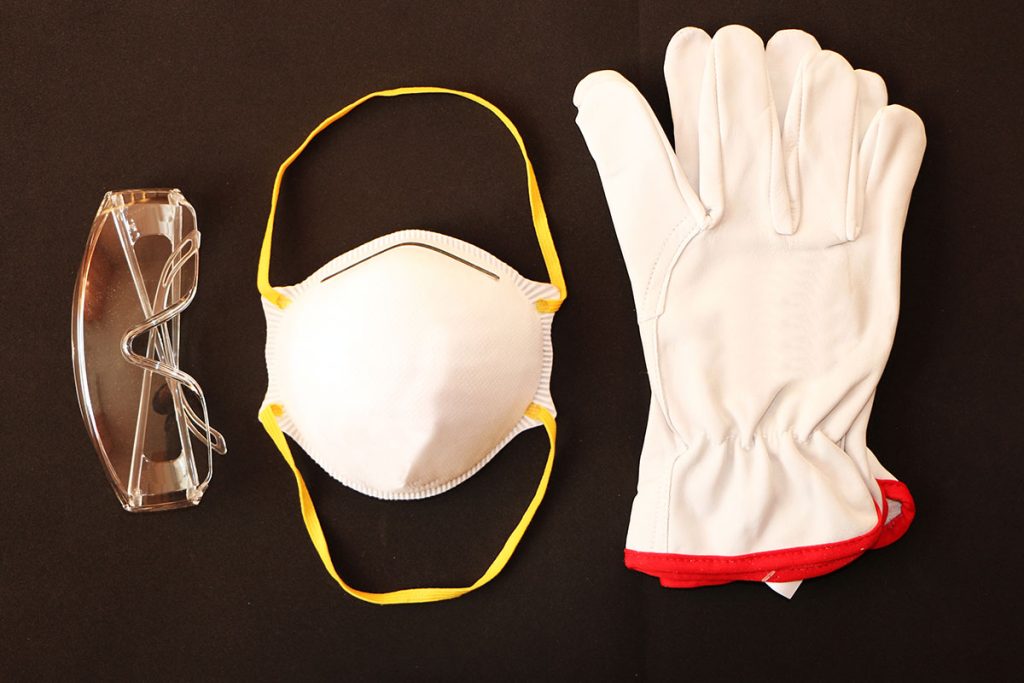 While some epoxy resins are perfectly safe to touch and work with without protective measures, this definitely isn't the case for all of them. As such, you will want to have the right equipment for working with this medium, so you can achieve the best results and be safe in the process.
Never work with epoxy resin without a pair of nitrile gloves, protective goggles, and a basic respirator. Some resins can be very harmful if they touch your skin, so it also helps to have a baby wipe nearby for removing any that do get on you.
Many products will also emit fumes, which can be very toxic if you breathe them in, hence the need for a respirator. It also helps to have an apron so that you won't ruin any of your clothes while you work. 
Other tools that will make using epoxy resin much easier include a spatula, mixing bowl or bucket, a measuring jug, a heat gun, and sanding paper. All of these items will be necessary at different stages to make sure that your resin is applied correctly. 
Preparing Your Surface 
The first thing you should do when preparing your surface is to clean it thoroughly. This means scrubbing away anything that might cause harm to the surface, such as dirt, grease, or previous sealants.
You can use soap or detergent here, but make sure you wipe it away with clean water afterward and leave it to dry. If your resin comes into contact with the soap, it may harden faster than you want it to, or not settle evenly.  
Once you've cleaned the surface, you'll want to apply a primer coat. Wood is very porous and will therefore need to be primed to prevent your resin surface from being uneven.
You don't actually need a separate product for this, and a very thin layer of the resin you have selected will do fine. Make sure to let this thin layer dry and cure first before applying subsequent layers. 
Mixing Epoxy Resin
The first thing you will need to do before working with epoxy resin is to mix the two components together. You will need to read the instruction on the bottle very carefully for this part, as most resins will need to be mixed in a precise ratio. 
For most products this will be equal measures of both parts, however, others may require a 2:1 ratio or other mixture of resin and hardener to work properly. 
You won't want to waste your resin, so measure the area of the surface you will be applying it to and try to calculate how much resin you will need for full coverage. It is okay to have a bit of resin left over since you definitely don't want to run short at the last minute. 
From the moment it is applied, your resin will start to cure and dry, meaning you won't want to mix up another batch at the last minute. The equation for figuring out how deep or thick you want your pour to be, as well as the total areas it will be covering. Multiplying these two together will give you a rough volume that you can convert to liters for knowing exactly how much mix you require.  
Once you have measured out the correct amount of each product, you will need to mix them together. Make sure that you mix very thoroughly, but with gentle movements, so you don't get too much air into your resin. Keep mixing until both of the components are completely combined, and your mixture is fully consistent. 
Pouring Your Epoxy Resin 
Now that both the resin and hardener have been mixed together, you can start to pour them over the surface you wish to coat. Start by pouring into the middle of the object and continue in a zigzagging pattern to get an even distribution. You may pour in intervals, making sure to fill untouched areas. 
Whatever you do, make sure not to pour too much resin in any one area, as this will lead to an uneven surface when you are done. To make sure your coating is smooth, you can then use your spatula, or another flat surface to level the resin. 
Remember, epoxy resin is very sensitive to heat, so putting your bucket of mix in a bath of warm water, or working in a hot room will both help immensely. Heat will help the resin to flow better and settle more evenly. It can also help to prevent your coating from hardening too quickly. 
Because of the above, it is not recommended to work with epoxy resin in a very cold environment. This will cause the mixture to behave very sluggishly, which makes leveling a lot more difficult. 
Removing Air Bubbles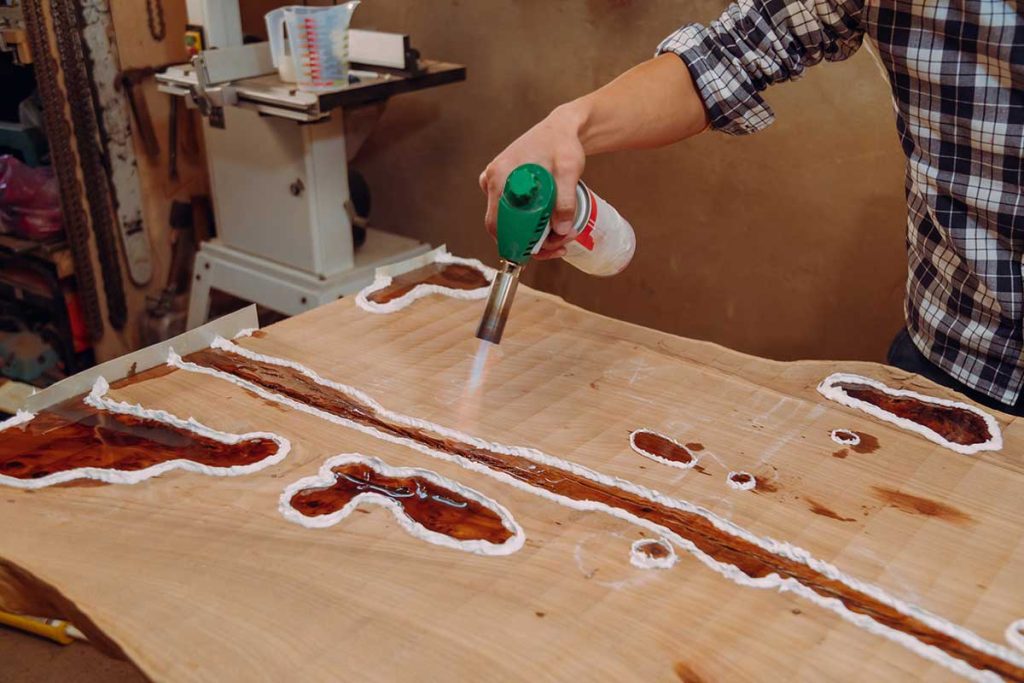 While you are applying and leveling your resin, you may find that certain areas have bubbles of trapped air present. This will affect the structural integrity of your seal and may cause the final product to crack. As such, getting rid of these air bubbles is absolutely essential. 
The easiest way to do this is with a low-powered blow torch, heat gun, or even a hairdryer. Applying heat to the resin will cause bubbles to rise to the surface and pop, effectively removing them from your mixture. 
Make sure you don't keep heating the same spot for too long, as this may cause it to become too runny and cure slower than the rest of your coating. 
Second Coatings
After you have primed your surface, put down the first coat, and leveled it off, you will need to wait for it to cure and harden. The amount of time this takes will vary from product to product, so you should always read the instructions carefully to have some indication of how long this process should take. 
If you want to apply a second coating of epoxy resin, then you will need to do so after the first has hardened, but before it has fully cured. This will allow the new layer to adhere to the first, and prevent your coating from being damaged or breaking apart into different layers. 
To apply a second coating to a layer that has already cured, you will need to sand the first layer in order to create a rough enough surface for the resin to adhere to. 
Sanding 
After your resin has fully hardened and cured, you can sand it down to make it smoother and remove any bumps or uneven areas. When sanding resin, always make sure to wear a respirator or cloth mask to prevent yourself from inhaling any fine particles. 
It is recommended to start with a sanding paper that has a grain size of 120 at first and slowly work your way up the grades until you have a perfectly smooth surface. Resin can clog up most grades of sandpaper very fast, but you can remove the particulates from your paper with a rubber stick.
You can use an orbital sander for working on resin that has fully hardened and cured. Some people also like to sand their project before it has fully cured, in which case you will need waterproof sandpaper for wet sanding your surface. Never use electrical tools for this, as you may risk giving yourself an electric shock, or short-circuiting your device.  
Amine Blush 
Sometimes you may notice a waxy film developing on the top of your resin during the curing process. This phenomenon is known as Amine blush and frequently occurs due to fluctuation in temperature while the resin is curing. 
Over time, this layer can start to form a yellow coloration, and it will make it much harder to add varnish or subsequent coats of resin to your surface. 
As such, Amine blush is something that you want to avoid, and the best way to combat it is by working in a warm environment. If it does develop on your project, it isn't the end of the world, as this film is water-soluble and therefore easy to remove. 
The quickest way to remove Amine blush is to wait for the surface to harden, but not fully cure, and scrub it with a wet cloth that has been soaked in warm water. You can add a bit of soap to the water as well. 
If the blush is not coming away quickly, you can try dipping your cloth in a mild solution of isopropyl alcohol, or another equivalent spirit. Do not use aggressive solvents like acetone, as these won't affect the blush but may harm your coating of epoxy resin. 
Finally, if you can't remove the Amine blush with either of the above methods, you can use waterproof sandpaper to scrub it away. Even if a product claims to not produce an Amine blush, it is good practice to always clean your epoxy resin surfaces with the above methods before adding a second coating or layer of varnish. 
Using Epoxy Resin To Fill Gaps In Wood 
If you want to use epoxy resin as a filler for gaps or cracks in a wooden table or floor, then it is easy to do so. You will need to follow most of the above steps, however, there are a few extra precautions to take before you can start working. 
Preparing The Wood 
Just like before, you will want to clean the wooden surface thoroughly, making sure to remove any loose pieces of dust or debris from the crack you want to fill. Once the crack is completely clean, you can start putting masking tape around the edges of it. 
It is essential to tape the whole area around the crack, or resin will likely get everywhere that you don't want it to. This means also taping the back of the surface so that resin won't leak out of the other side if the crack runs all the way through the wood. 
Add Color While Mixing
When using epoxy resin for wood as a gap filler, it is often a good idea to add a bit of color. This can help to make the end result look more natural, and part of the wood's grain. Simply mix together your resin and hardener as you would usually, but while doing so add a few drops of ink or a scoop of metal pigment. 
We will cover some excellent inks and dyes for epoxy resin later on in this article. Black is often the best choice for filling gaps, as it will blend in well with most types of wood and help to make it, so most people will never know there was a crack there in the first place. 
When it comes to quantity, you obviously won't want as much resin as we used for coating a whole surface. That said, this is another instance where too much is better than too little. Any excess resin can always be removed after it hardens, but it will be a nuisance to mix up more at the last minute while it is already curing. 
Pouring The Resin Into The Gaps
Carefully pour the resin into the gap until it is about level with the rest of the surface. Once you have done this, check on your work after five minutes to see if the resin has shrunk. This can frequently happen and means you will have to add a little more resin to make sure the entire thing is even. 
Timing is essential to consider here, and you want to apply any subsequent layers of resin at least ten minutes after the first has started to cure. 
Again, if you get too much resin on any particular area, then you can easily remove it with sanding paper.
---
Colorants
Liquid Pigment, Complete Bundle Set By ResinTint 
This is the ResinTint complete set and has all basic colors. It includes a metallic and neon set with 8 colors. These are high-quality coloring agents for epoxy resin for wood. 
RESINTINT Liquid Pigment, Complete Set Bundle
Metallic Airbrush Exciter Pack By Jacquard 
The airbrush colors from Jacquard are highly pigmented and lightfast. 
JACQUARD Metallic Airbrush Exciter Pack, 8 colors
Pigment Powder By Hemway
Hemway has one of the largest ranges of pigment powder dyes.
Colorfast and lightfast.
HEMWAY Pigment Powder in 14 colours
Pearl Ex Powdered Pigments By Jacquard
High-quality metallic color pigments.
They can be processed very well with resin and produce shimmering, deep shades.
Great for resin paintings.
Jacquard Pearl Ex Powdered Pigments 3g 32/Pkg
Molds 
6 Pack Resin Molds By LETs RESIN 
Includes cube, pyramid, sphere, diamond, and triangular molds.
High-quality silicone for a lot of castings. 
Resin Casting Molds by Jewelry 
Made of silicone.
Includes screw eye pins, stirrers, droppers, spoons, and a hand twist drill.
Many different shapes.
Jewelry Resin Casting Molds, 127 pcs
Epoxy resin is a two-component material that cures within a few hours of the components being mixed. After curing, it can be cut, ground, and polished. 
Other resins, such as polyester and polyurethane resins shrink during curing, which means they work loose from the wood in a matter of hours or days.
Epoxy resins do not shrink when they cure so their bond with the wood remains intact. This is one very good reason to use epoxy resins with wood projects. The good quality of flow that characterizes epoxy resins is another reason why they work well with wood.
There's just good compatibility between this type of resin and the porous structure of wood. There are resources online that offer guidance on the best epoxy resin for wood, but one thing all can agree on is that wood and epoxy resin work well together. 
When you want to turn a piece of wood into a durable piece of art, epoxy resin is the answer. Standard wood finishes like stains and varnishes just cannot get the same incredible results as epoxy resins.  
If you have a wooden item that you want to glow and sparkle so that it becomes a work of art, pleasing to the eye and to the touch, you might want to coat your wood with an epoxy resin.
Not only is the gloss and shine of the result aesthetically pleasing, but it's also functional. The epoxy resin protects the wood while it glamorizes it.
You can even make wooden and epoxy sculptures with epoxy resin for wood. 
There are a number of brands and products out there, so it can be daunting if you don't know much about epoxy resins and how they work.
Casting Resin Vs Epoxy Cover Resin 
Epoxy cover resins are sometimes called tabletop resins. 
Casting and tabletop epoxy resins for wood are popular in arts, crafts, and home improvement projects. Each type of resin is designed for different tasks in mind.
Tabletop resins have a higher viscosity, shorter curing time, and very limited working window. They are designed to produce thin, yet durable, films on tabletops and other high-traffic facades.
Casting resins tend to have a lower viscosity, longer curing time, and longer working window. Best suited for thick casts. Casting resins work best for live edges, river tables, and chunky casts that require thick pours.
Differences Between Cover Epoxy Resins And Casting Resins
Curing Times
Epoxy cover resins often have accelerated drying times, which can be an issue if you're trying to fill a deep mold. High-viscosity, reactive formulae tend to crack, warp, or discolor when poured into a deep mold. 
Casting resins cure slowly, which means dust and dirt have time to adhere to moist surfaces. On the plus side, the slow curing time means you can eliminate air bubbles and other workable imperfections. 
Durability
Tabletop epoxies tend to be more durable and can usually cope with light abrasions and punctures.
Casting epoxies are easily dented and scratched. 
Viscosity 
Like paint, epoxy cover resins are thick and viscous, so can be poured over a horizontal surface without running over the edges.
Casting resins tend to have thin, runny textures, so work best when poured into constricted areas, such as frames or molds.
Consistency 
High-viscosity epoxy cover resin has the kind of consistency and texture that performs well in coating layers. 
Low-viscosity casting resin has a different consistency to it; one that favors casting molds or Resin Art.
Depth 
Most tabletop resin pours are ¼ to ⅛" inch thick. 
A single casting resin pour will be between 2 to 4 inches thick.
Workability
Epoxy cover resins tend to offer only 20-30 minutes of working time because they cure faster.
The longer curing times of casting resins mean extended workability, wherein you have the opportunity to remove air bubbles and prevent the accumulation of dust and debris.
Performance
Tabletop resins coat and protect horizontal surfaces. Several shallow pours of tabletop epoxy fill an area only one pour of casting resin could fill and the result would not look consistent or clear. 
Casting resins are used for decorative embellishments, encapsulation projects, jewelry, and such. These formulae fill areas that are 2 or more inches deep. Casting epoxy cures slowly but a single pour can fill a deep recess. 
Aesthetics 
Both casting and tabletop epoxies give finishes like glass. You can use tinted, metallic, or glow-in-the-dark mica powder. Oil-based paints and dyes don't disperse evenly when mixed into epoxy finishes and normal acrylics contain water, so don't work either. 
Mixing
Most tabletop epoxies have a 1-to-1 ratio.
Casting epoxies have more dynamic mixing ratios; 2-to-1 or 3-to-2 ratios. Complicated ratios can be problematic when creating small casts, such as embedded casts and jewelry, causing cloudiness or curing issues if an error occurs. Casting resin is essential to make anything thicker than an inch.
Surface Hardness 
Epoxy cover resins tend to come out much harder after curing. This makes them resistant to scratching and dents. 
Casting resins may be softer, and thus less resistant to scratches and temperature.
For everyday objects such as cutting boards, tabletops, and other items that are exposed to high mechanical stress, it is worth buying a higher quality resin.
Types Of Epoxy Resin
The characteristics of epoxy types are cure time, load time, gel time, nozzle time, sag, and chemical resistance. Each of these affects the ideal choice of epoxy for an intended purpose.
There are three classes of epoxy: polyester resin, epoxy acrylates, and pure epoxy. Each of these has its own category of performance and properties.
Pure epoxy is a resin and hardener. These epoxies cure at a slower rate than the other two classes. Pure epoxy offers better adhesion, is very strong, and undergoes less shrinkage. The slow cure times mean pure epoxies aren't specified for temperatures less than 40 °F.
It shouldn't be loaded as fast as the other two classes and isn't recommended for overhead installations. Pure epoxy components are mixed in a ratio of 1:1, 2:1, or 3:1.
Polyester resins cure by means of polymerization which is relatively fast. They can be specified for lower temperatures and can be loaded much quicker. They work great for stone masonry.
Epoxy acrylates offer the best features of pure epoxy with the best features of polyester resins. They have high loads. They can work at relatively low temperatures and work on damp substrates. They tend to be stiffer epoxies. They mix in ratios such as 10:1.
The class of epoxy determines intended use and performance.
The bolt-up time of epoxy is the time between installing the wet epoxy and its being usable. 
Bond strength represents the amount of stress the bond can take.
Epoxies can be corroded by chemicals but each epoxy will be vulnerable to specific chemicals.
Load time is the time between when the resin is ejected until it can be loaded. The time is temperature-dependent.
Nozzle time is between 3-15 minutes, depending on the epoxy type. 
What Can Epoxy Resin Do With Wood?
Lots. Epoxy resin can seal the wood, fill wood, repair wood. For any task involving epoxy resin and wood, there are some steps entailed that are the same. Let's have a quick look at the process. It'll help you get a clearer idea of the product and how it works, which will put you in a more informed position as to what epoxy resin would best suit your needs.
Before we launch into the great and wonderful things that epoxy resin can do with wood, there are a few basics you must cater to so as to be able to do those wonderful things.
Ensure You Have The Necessary Equipment And Supplies 
You will know what kind of wood you want to work with. Try and select an epoxy resin for wood, although most epoxy resins will work with most woods.
Ensure that the wood is not pre-treated with oil and that there are no hairs, fibers, or loose pieces of bark on the wood. 
Other Things You May Need Are
The sander and buffer are for sanding and polishing the epoxy resin once it's fully cured. 
A caulking gun holds a cartridge of the silicone caulking firm so that the caulking can be directly and accurately applied.
Both a heat gun and a blow torch can be very useful to remove bubbles as they pop up to the surface of the epoxy resin.
Grinding and polishing paste for glossy surfaces
Resin Mixing Cups and Stir Sticks
A bubble level is necessary to ensure you keep the horizontal plane for tasks requiring a horizontal plane.
Prepare Your Wood 
The wood should be prepared before coating it with epoxy resin or using it for embedding epoxy resin. 
Sand and degrease the wood. Small pieces can be sanded by hand. For larger surface areas bring out the orbital sander to prevent stress marks. 
Use a bubble level to check if the wooden surface is absolutely level. Epoxy resin will always flow to the lowest part and not spread as desired if the surface isn't level. 
If you want to make a table out of epoxy resin, tape the edges of the table so the resin does not run over and drip onto the floor. 
Calculate The Required Quantity Of Epoxy Resin 
Acrylgiessen.com has an Epoxy Resin Calculator to calculate the required amount of resin for the desired area. 
Test With A Small Sample Piece Of The Wood You Want To Use 
Before you attempt large objects and surfaces, it is recommended that you begin by practicing with a test piece. This is how you get a feel for the process and how to handle the product. Timing should also not be neglected because you usually only have a maximum of half an hour to seal the entire surface.
Mix The Resin
Wear Nitrile gloves so that your skin does not come into direct contact with the fluids.
There are three different systems commonly found for epoxy cover systems: a 1:1 ratio, a 2:1 ratio, and a 4:1 ratio. Casting resin can come in more complicated ratios, like 3:2.
Manufacturers usually pre-package the resin and hardener in the right ratios for mixing. If this is not the case, then it is vital that you get the ratios of the two components right.
The label will tell you the ratios. Read the manufacturer's instructions to check whether you mix by volume or weight. The two components must be mixed together in a clean container. You can use a plastic or wooden spatula or stick to mix.
Make sure everything is clean. Stir carefully to minimize air bubbles and because the entire mixture must be mixed well over several minutes or the curing process will go awry.
The mixture needs to have a uniform fluidity without any streaks. Only then can any color be added if you are wanting to add color. 
You are now ready to pour, fill, or apply the resin mixture. 
Sealing The Wood
Epoxy resin seals and waterproofs wood tabletops, boards, and furniture. Some examples of this application include sealing a tabletop, wooden boards in the kitchen, kitchen surfaces, furniture, wooden flooring, and much more. 
The greatest challenge lies in the fluidity of the material. The mixture will pour quickly and flow to the lowest level as soon as you pour it. It will also start curing, so your workability window begins immediately.
For most epoxy cover resins this window is only 20-30 minutes so you need to get going. The workability window is longer for casting resins. 
Pour the epoxy over the wooden surface and spread it over the entire surface with a spatula or a squeegee. If you calculated the necessary amount correctly, a completely covered surface levels out automatically because of the flow property.
Remove air bubbles with a hot air gun or a blow torch
As soon as you notice that the viscosity is becoming thicker, you should stop working otherwise you will no longer be able to achieve a homogenous surface.  
See:
Can I Use Epoxy Resins As Wood Sealers?
Filling And Repairing Wood 
Old weathered pieces of wood, boards eaten by woodworms, or gnarled pieces of wood with knots are perfect for filling with resin.
If you have a board with holes or cracks that you would like to fill, check if the holes don't go right through the wood as the resin will drain through the bottom. Seal the holes with tape or use silicone sealant which can easily be removed later.
Fill the cavities, cracks and crevices with the resin mixture. You could color the resin so there is a contrast between the color of the resin and the color of the wood.
Dyes or paints that glow in the dark or under a black light are also exciting possibilities. There are a myriad of possibilities, such as transparent colors, metallic effects, or opaque liquid colors. Normal acrylic paint won't work as it contains water and oil paints aren't recommended. 
Resin Casting Of Wood 
Beautiful pieces of wood with burling or a distinctive grain can be completely cast in resin. You can make epoxy jewelry, use the piece of wood for turning, or create an embellished piece. 
There are special silicon molds for epoxy resin in all shapes and sizes. Place the piece of wood in the silicone mold and pour in the epoxy resin. You may need to cast several layers so the resin doesn't get too hot. After it has cured, carefully separate the mold and the cast piece. It can be used repeatedly. 
If you want to make a casting mold yourself, use resin-coated panels. Seal the panels with silicone caulking and then spray with silicone oil. The panels need to be coated or the resin will bond to the panels and you won't be able to release the mold. 
Multi-Layers 
If you find a mistake has been made or there are surface imperfections, pour multiple layers. You can also use multi-layers if you need to cover areas of high relief, if you're pouring into a mold or if you simply like the look of a thicker coat.
Make sure you have measured out the area you want your project to fit into and do not over-layer to the extent your piece no longer fits!  
The other thing to watch out for when pouring thicker is trapped bubbles in the cured resin that weren't able to escape to the top and so didn't get torched out.
Fixing Imperfections After First Coat 
After the first coating has completely cured, sand down the surface of your piece with coarse sandpaper, say 80 grit sandpaper. Sanding will erase the imperfection and provide some tooth between the first and second layers.
Wipe away any sanding debris.
Pour the second coat.
Cover with a dust cover. A dust cover is a way to keep hair, dust and other such things attaching themselves to the surface of your project. 
Further Coats For Artistic Reasons
Third, fourth or fifth coats with artwork in between each layer creates a 3D effect. You may want the aesthetic appeal of a thicker coat or want to embed objects into the resin.
Multiple layers may also be necessary if you're pouring into a silicone mold. 
Getting A Layered Look 
There are two ways to get a layered look.
You could wait for 24 hrs after your first pour, sand down the whole piece with coarse sandpaper to create some tooth and pour a second coat. Repeat this process until you reach the thickness you desire. 
Another way is to wait 3-5 hours after your first pour. The resin will be in a jelly-like state. Pour the second coat.
The stickiness of the resin will provide the tooth and curing will happen simultaneously between the two layers, bonding them. Repeat the process until you reach the thickness you desire. 
See https://www.artresin.com/blogs/artresin/can-i-do-a-second-coat-of-epoxy-resin-can-i-do-multiple-coats-of-epoxyresin#:~:text=Can%20I%20Apply%20Multiple%20Coats%20Of%20Epoxy%20Resin%3F&text=Yes%2C%20you%20can%20apply%20a,look%20of%20a%20thicker%20coat.
How you Can Small Imperfection in your Epoxy Resin.
scratch marks from sanding under a second coat of resin! 
Repairing Wood With Epoxy Resin 
Identify the underlying problem and the reason for it. 
If it's a problem that needs epoxy resin to solve it, you need to let the wood dry before you can do anything, as otherwise the epoxy resin won't be able to bond with it. 
Take out, or save, the damaged parts depending on the extent of the damage. Determine the extent of the damage using a screwdriver. 
If beyond saving, then take the damaged parts out with a screwdriver, chisel and paint scraper. Take appropriate precautions if the paint is toxic. 
If the part can be saved, let it dry out. Drill ¼ inch holes one inch apart. Have deeper holes for vertical surfaces. 
If you drill right through the wood in error, use putty or clay to stop the epoxy consolidant from leaking. Read the manufacturer's instructions for your consolidant. In a ventilated area, and wearing a respirator, prepare the consolidant mixture. 
Squeeze the mixture into the drilled holes. Use a small brush to smooth things over.
Ensure the consolidant has been thoroughly absorbed. Let the wood dry for at least for a week, protected under a plastic sheet. 
Once the wood has dried, scoop the two parts of the epoxy filler using a wooden stick so you have a golf ball sized portion of each. With a putty knife, mix them thoroughly.
At around 21°C, you have 30 minutes to work with it. At warmer temperatures, the epoxy hardens faster. At colder temperatures you'll have more working time. Try and work in the shade, so as to have more workability time. 
Using the putty knife, squeeze the filler into the areas needing repair. Use a bit of force so that the epoxy resin and the wood are bonded. 
To fill deeper areas, carve parts of another piece of wood and when the application is finished, fix the blocks. Put additional paste over them. 
Wearing gloves, use your fingers to get the desired shape.
Check the hardness of the epoxy, and if it doesn't dent, file using sandpaper and other tools. First sand with 80 grit sandpaper and then 120 grit sandpaper to refine your work.
To protect the wood, paint it. Start with a primer. Add two coats of acrylic paint to secure the epoxy resin and wood. Use a polyurethane caulk to finish the final layers.
Sanding After Curing
Wait at least a week to be sure that curing is complete before you consider the next stage of sanding and polishing the resin surface.
Use sandpaper with a fine grain for small objects. Sand from coarse to fine grain so that there are no visible traces of sanding.
For larger surfaces use an orbital sander for the best results. 
Polishing, Oiling, And Finishing 
Take a fine polishing paste on a rag and rub in a circular motion over the epoxy resin. This eliminates grind marks. Don't let the paste spread onto the wood. 
For larger surfaces, an orbital buffer/polisher is recommended. 
Wipe the polishing paste away carefully. 
Apply high-quality wood oil, or lacquer, generously. After a few minutes, wipe dry.
Problems With Epoxy Resins 
Bubbling
When plastic is melted and cast without pressure, it absorbs air from its surroundings and this results in bubbles. Air bubbles are likely when two resin components are thoroughly mixed.
Apply a torch or hot air gun over the surface in quick motions to get the bubbles to rise and disappear. A toothpick can break stubborn bubbles. Don't apply the heat to one spot for too long. 
Yellowing
Resin usually comes in a clear form but it can turn yellow. Once yellowing has occurred there's not a lot you can do about it.
Epoxy resin exposed to high temperatures, water or humidity may turn yellow. 
The most common cause for yellowing is the impact of UV light rays. UV rays excite the polymers' molecules, causing them to break down.
Yellowing poses no risk to health and is not harmful to the product. 
High-quality epoxy resin products and those with additives against UV rays may help.  
Hardeners can also suffer yellowing. 
Some epoxy resins contain UV blockers to prevent yellowing from long term outdoor exposure. Get these options if the resin is for anything on a patio, porch, or sunny window sill.
See:
Does all epoxy resin yellow over time?
Shrinkage 
Although epoxy resins are less prone to shrinking while curing than other resins, cheap resins may shrink during the curing process, leading to fractures or detachments.   
Test a sample piece of the wood to see if shrinkage is likely.
Sinking Into The Wood 
Seal the surface first to prevent the epoxy resin sinking into the wood. 
Work At Optimal Temperature
Around 20 degrees Celcius / 68 degrees Farenheit and with little humidity is best. Until the curing is complete, constant ambient temperatures prevent cracking or unevenness. Read the manufacturer's specifications. 
Extremely Hot Resin During Casting 
Resin can boil if you cast the layers too thick.
Rapid Curing
Generally, the greater the mixture quantity, the faster it cures. Split up mixture to prevent it from curing prematurely.  
Cloudiness After Curing 
If the epoxy resin has exceeded its shelf life, the mixing ratio was wrong or a low-grade epoxy resin is used, cloudiness is possible. 
Storing 
Epoxy resin has a relatively short shelf life of around 12 months from production. Use the material within this timeframe. Keep it between 50-86 degrees Fahrenheit (10-30 degrees Celcius). 
Food Safety   
Once fully cured epoxy resin is chemically neutral and fine regarding food touching it. FDA certification should be indicated but check. 
Health Issues  
Contact Dermatitis 
Affects around 10% of users. Avoid direct contact between skin and either the epoxy resin or the hardener. The skin inflammation usually dies down once contact with the irritant ceases.
Untreated for a prolonged time, contact dermatitis can develop into eczema. Partially cured epoxy sanding dust can also lead to contact dermatitis.
Allergic Dermatitis
This affects less than 2% of users. You have to develop sensitization issues for this type of dermatitis. It could be an issue with your immune system, or prolonged and regular exposure to epoxy resin that causes the body to overreact to an allergen.
Sensitization is the condition of being allergic to a substance. Some people may be innately sensitized or have an allergy to a component, been exposed to other sensitizing substances, have hay fever or be under stress, making them prone to allergic dermatitis. It seems to be more prevalent amongst people with fair skin. 
Wearing Nitrile gloves, a mask and respirator can prevent the development of the condition.
Irritated Skin 
Eyelids and other sensitive skin areas may swell or itch if they come into contact with highly concentrated epoxy vapors. 
Wearing Nitrile gloves and goggles can prevent this.
Severe Irritation And Chemical Burns
You can potentially suffer a chemical burn from the hardener but it's uncommon. If left in contact with the skin, hardeners can severely irritate it and cause moderate chemical burns. 
Wearing gloves and a mask can help.
Respiratory Irritation
At room temperature, epoxy vapors don't tend to get too concentrated but if it's humid or warm then epoxy resin vapors become concentrated.
If there's no ventilation when this happens, then you will inhale unhealthy quantities of the epoxy resin particles and these become trapped in the respiratory system's mucous lining.
It is absolutely essential that you let epoxy resins fully cure before you start doing things like sanding and polishing the surfaces because the sanding dust of partially cured epoxy can be hard on the respiratory system. The reactive material can cause severe respiratory irritation and/or respiratory allergies. 
Wear Nitrile gloves, goggles and a respirator to protect yourself.
Never spray epoxy resin because the amount of hazardous volatile components released from epoxy will mushroom. Use other application methods. 
See:
Can Epoxy Be Dangerous To The User?
Protective Clothing
Gloves
Nitrile Exam Gloves by Precision Disposables | Blue Medium 4 mil Thickness, Powder Free, Non Latex, Fingertip Textured, Medical Grade, Food Safe Examination Gloves (Pack of 100)
Respirator
Safety Works Multi-Purpose Respirator
Goggles Or Glasses
NO CRY Safety Glasses with clear scratch resistant Lenses
Conclusion 
Epoxy resins offer a great deal to the DIYer, the professional and the artist. Provided you are aware of the process and know how the components mix and bond, you can create a range of wonderful things with these epoxy resins in conjunction with wood-based projects.
There are a huge range of epoxy resins, so be clear about your purpose and do some research on the products available as options. It's a very good idea to try out some sample pieces of the wood you want to use with a variety of epoxy resins.
Once you have made your choice, focus on the wonderful wood creation you'll make or the problem you'll resolve.  
Of course, once you have completed all your wood and epoxy resin projects, you may want to use epoxy resins on other materials.
Epoxy resins can be used on a variety of materials. Becoming familiar with the mixing and application of epoxy resins will make you more comfortable with the use of these products but never lose your focus. 
Buyers' Guide: Choosing The Best Epoxy Resin For Wood
As a potential customer for the purchase of epoxy resin, you must always keep in mind that these products can be hazardous to your health if you don't take the necessary precautions of a pair of Nitrile gloves, safety goggles, and a respirator.
Environmental Friendliness
There are manufacturers of epoxy resins that are attempting to manufacture these epoxy resins in a way that has the least possible negative impact on the environment.
They are also aiming to increase the bio-content of the epoxy resin. It would definitely be a responsible thing to look into opting for epoxy resins that are more environmentally friendly.
Working Time
You need to be aware that there's limited time in which to work with the epoxy resin before it begins to gel and harden.
Appearance
Glass-like crystal-clear resin is favored and one that protects against yellowing. Not so important if you intend to amend your epoxy with dye or ink. 
Bubbling
Opt for a formula that encourages any bubbles to go up to the surface. Work at an appropriate temperature and humidity as this reduces bubbling. Use a heat gun or torch to get rid of bubbles. 
Materials And Durability
Rough handling must be taken into account when purchasing a finish for wooden tables and bars that'll get a lot of use. 
Water
100% waterproof coating resists watermarks.
Abrasion
Never use an epoxy resin-coated surface as a cutting board. Look for products that respond to the use of objects without getting cuts or gouges. 
UV
Non-yellowing formulae offering UV-resistance will cope better with direct UV rays but all epoxy resins are affected by extended exposure to UV light. 
Application
Epoxy resins start to cure and harden once the two components are mixed so you need to get working immediately on pouring. The hardeners alter with temperature and humidity.
Try to get a product with a working time long enough for your purposes, which also allows you to deal with bubbles or blushing.
Storage
Store at temperatures above 75 °F in areas lacking humidity. Poor storage conditions yield poor results. 
Self-Levelling
There's no need for a brush or roller when filling inlays, imperfections and cracks. This means less chance for streaking and similar imperfections.
Ratio
Resin and hardener are generally mixed in equal parts. High or complicated ratios can be difficult.
Cure Times
You must adhere to recommended cure times because working with partially cured epoxy resin is not safe.
Food Safe Applications
Check that the product complies with FDA requirements if you're going to use the product on any surfaces that'll come into contact with food. You want non-toxic formulae with no VOCs. Always work in well-ventilated areas. Have a safety mask, glasses, and gloves. 
Frequently Asked Questions