A plunge router is a versatile tool that can help make your woodworking projects look significantly more professional and refined. They can be used manually for detail work or with a router table for a high degree of precision.
Choosing the best plunge router for your purposes can be quite challenging because some have variable speeds for precise use on a wide array of materials, some have easy adjustments and on-board measurements for the most accurate cuts, and others are designed to be lightweight and easy to maneuver for extended use.
We put together this list of reviews and a comprehensive buyer's guide to help you figure out which plunge router will serve you and your workshop best.
Best Plunge Routers – Our Top Picks
BuildEazy.com may earn a commission if you purchase a product through one of our links.
---
Most woodworkers know Makita for its professional-grade tools that are built to last, and this router fits nicely into that category. It's made almost entirely of heavy-duty, metal components, and we're confident it will serve you through many projects.
Despite the fact that it's made of durable materials, this is one of the lightest routers we've used. It weighs just 3.9 pounds, so it's effortless to maneuver around your workpiece if you use it manually.
The plunger attachment has large handles that give you great control while you're working. The plunger attaches securely to provide you with confidence during operation, but it's also easily removable with a single clip. The plunger also includes a piece of clear plastic to protect you from sawdust or woodchips while still giving you an unimpeded line of sight to your workpiece for accuracy.
The router comes with a second attachment for one-handed use, which is fitted with heavy-duty rubber to provide ample grip for precision work.
It includes soft-start technology that reduces vibration when you turn the power on, giving you more control over the cutting process from beginning to end.
The motor is very well balanced and won't create much vibration while you're working. At 1¼ horsepower, it also provides plenty of power to get through just about any job you have.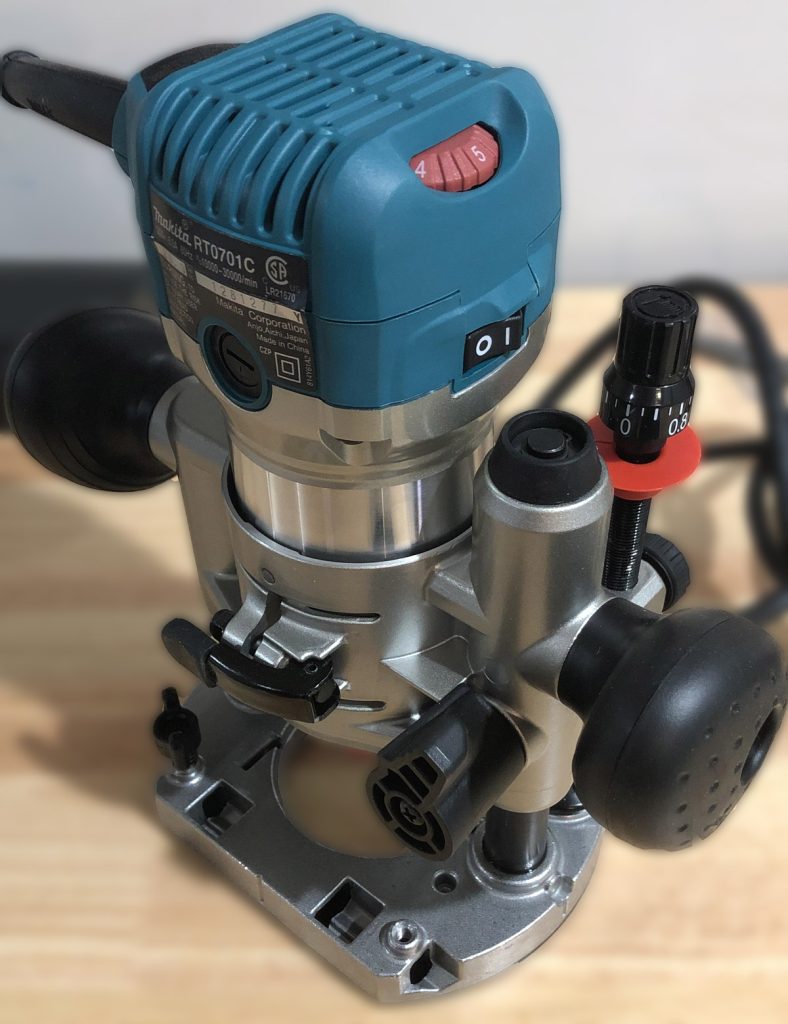 It gives you the ability to adjust the motor speed from 10,000 RPM to 30,000 RPM, allowing you to dial in the ideal speed based on your workpiece. This versatility lets you set lower speeds for harder woods to prevent burning and tear-out or higher speeds for clean, accurate cuts on softer materials.
The motor is capable but quiet and produces just 79.5 dB when it's running. We still recommend ear protection, but it's silent enough not to bother others in your home.
The router is easy to set up and adjust with rack and pinion adjustments for fine-tuning your tool to your specific project.
---
This router from Festool, a company known for some of the highest quality woodworking tools available, is a high-end tool built for performance. It features a hearty, 1¾-horsepower motor, 11.7-amp motor that will power through any woodworking project with ease.
You can set the motor speed between 10,000 and 22,500 RPM based on your workpiece, which helps optimize control and cutting efficiency.
It contains durable hard plastic, high-quality rubber, and metal components, so you can be confident it will stand up to years and years of abuse in your shop.
One of our favorite features about this router is the control it provides with its grips. There is a standard knob grip like you'd find on most routers, but it also has a full-sized handle with a trigger. It's exceptionally comfortable to hold and gives you confidence while you work.
It has a rack and pinion system and onboard measurements for a high degree of accuracy and easy adjustments. Setting up your cuts and adjusting in the middle of a project with this router is a breeze.
It doesn't have a plastic guard to protect against woodchips, but it has a built-in dust collection port to remove the majority of chips and make your clean-up process much faster.
It's significantly larger than our top pick and can't be used one-handed. It also weighs a hefty 17.9 pounds, so you'll have more difficulty moving it around your workpieces.
The top isn't flat, so it can be a bit challenging to change bits on this router, but the quick lock does make it more straightforward.
The plunger isn't removable on this router, so you won't be able to swap it out for other bases.
---
Bosch specializes in contractor-grade tools made to stand up to constant use, and this router is no exception. It has a very powerful, 2¼-horsepower, 12-amp motor that will make quick work of any wood species, from soft pine to hard maple and oak.
Given how powerful the motor is, this router is one of the loudest at 90 dB. Ear protection will be a requirement at all times, and it might be distracting for people in other rooms in your home.
You can adjust the motor between 8,000 RPM and 25,000 RPM, so you can set the ideal speed for your material to make cleaner cuts, reduce tear-out, and maximize cutting speed. It's adaptable to any project you're working on. It's also well balanced and produces little vibration even at higher speeds.
Bosch made this router with heavy-duty metal and hard plastic, so we're confident it will last you for many years.
It includes a fixed-depth base with beautiful wooden handles, which give you great control while you're cutting. It also comes with a plunger base with a rack and pinion system and onboard measurements, allowing you to make small, quick adjustments and dial in your tool for precision cuts with ease. Swapping out the bases is straightforward and requires minimal effort.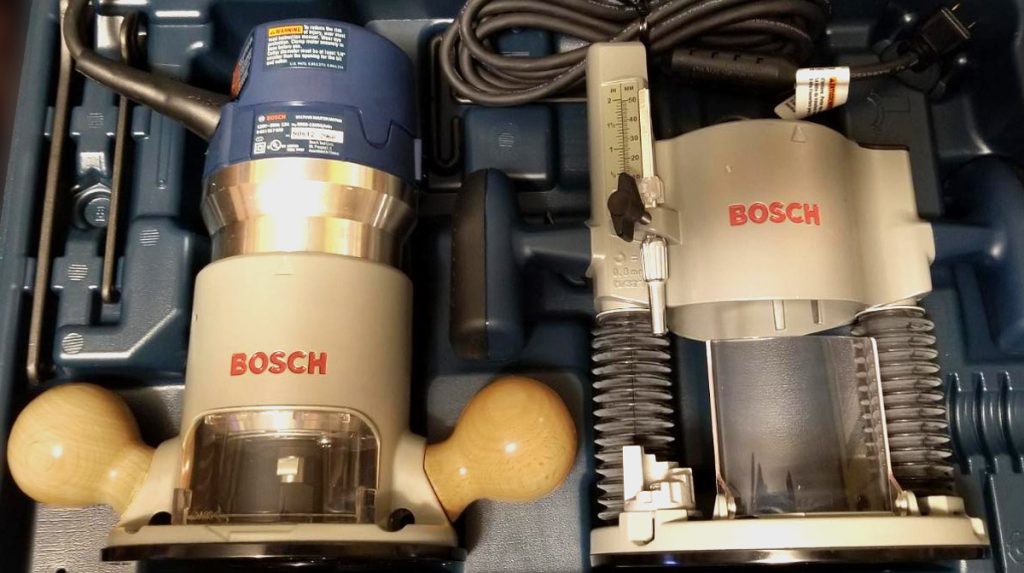 This router provides a clear guard to protect you from woodchips and sawdust while you cut while allowing a clear line of sight to your workpiece. It also features a port for dust collection, which can help keep your workpiece clear of debris and reduce cleanup time after you finish working.
The router weighs 18.2 pounds, so it's on the heavier side and can be a bit challenging to use for extended periods.
---
DEWALT makes power tools that are highly powerful and durable, and we were pleased to see that this router matched those expectations. It has a capable, 1¼-horsepower, 7-amp motor for continuous use and consistent performance.
The motor can be set between 16,000 and 27,000 RPM, offering you a wide range of speeds for use on different materials. It doesn't go quite as low as we'd like and can produce some minor burning on softer materials, but the range is suitable for most woodworking applications.
It features soft-start technology to reduce vibration when you turn the motor on, and the motor is well-balanced and gives you great control while you're cutting.
It weighs just 8 pounds, making it easy to maneuver around your workpiece and suitable for one-handed operation.
It comes with a plunger base as well as a fixed-depth base. The plunger base has a rack and pinion system to allow for quick, easy adjustments and excellent accuracy in your cuts. The handles on the plunger are large, comfortable to hold and provide security while you're cutting.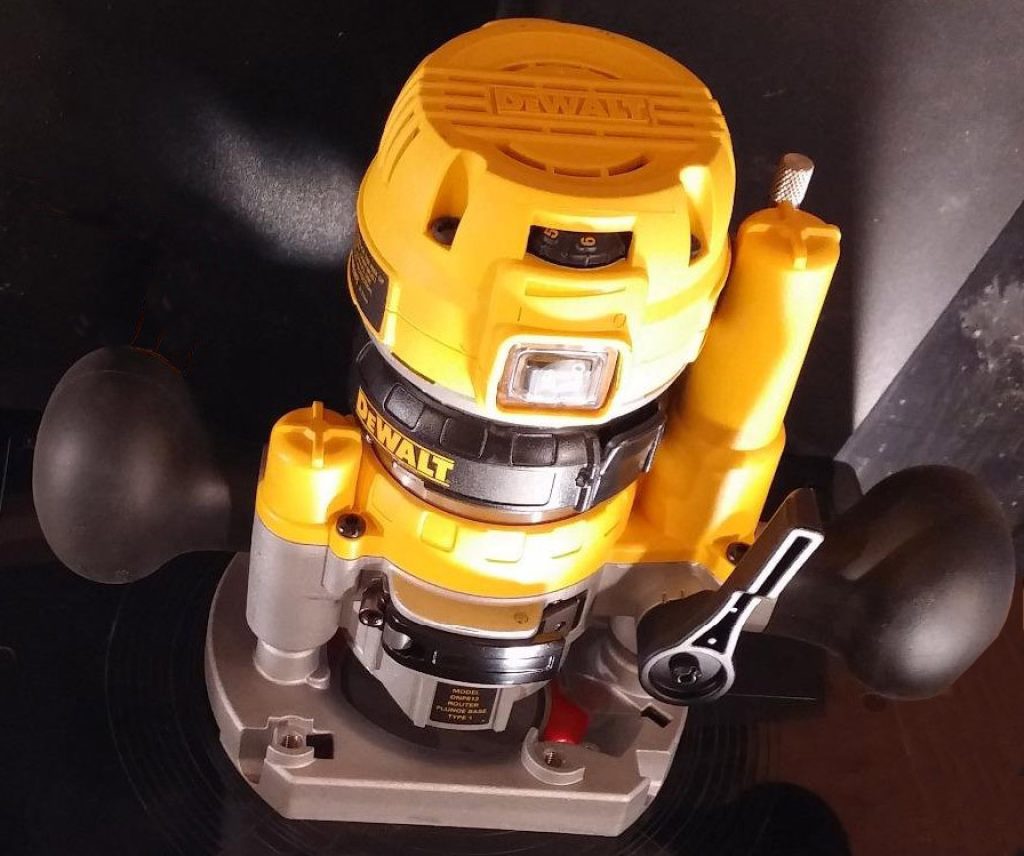 The fixed-depth base is slim enough for one-handed use, and it has our overall favorite bottom plate on any router we tested. The plate is entirely transparent and lit by an LED work light, which illuminates your cut and the area around it for a great deal of precision. The bases are straightforward to swap out.
This router produces 78.9 dB during operation, so it's about average in noise. It will require ear protection, but it's unlikely to bother others in your home while you use it.
Given this router's power, durability, and ease of adjustment, we think it offers excellent value for the price.
---
PORTER-CABLE makes tools with power and performance in mind, and this router provides both. It features a 1¼-horsepower, 7-amp motor for consistency and capability through just about any woodworking project you have in mind.
It has a fixed speed of 27,000 RPM, so you won't be able to adjust the motor speed based on your workpiece. It's plenty fast to cut smoothly through softwoods and hardwoods, but you may experience some burning on your material that you will need to sand off.
It weighs in at just 5.5 pounds, making it one of the lightest routers we tested. Its lightweight design makes it easy to maneuver around your workpiece and allows for comfortable extended use for more involved projects.
It includes a plunger base as well as a fixed-depth base. The plunger base has large rubber handles that provide ample grip and reasonable control while you're cutting. It also has a rack and pinion system to allow for accurate cuts and precise adjustments.
The fixed-depth base doesn't have a rubber grip, so it's not ideal for one-handed use. This base has adjustable depth as well with less precise adjustments, and you need to spin the base to raise and lower the bit. It's not our favorite adjustment method, but it's convenient to have some control over the depth, even on the fixed-depth base.
PORTER-CABLE made this router out of metal and hard plastic components, so it feels like it will stand up to some serious workshop abuse.
---
Hitachi recently rebranded to Metabo HPT but still produces tools designed for endurance and power for contractors. You can be confident that this router will last through years of use and countless projects.
It features a high-powered, 2¼-horsepower, 11-amp motor that can make quick work of most materials. It's adjustable from 8,000 RPM to 24,000 RPM, so you can fine-tune the motor to provide accurate, clean cuts for any type of wood.
The router weighs 9.9 pounds. It's relatively easy to move around your workpiece without too much of a struggle, and it also provides some useful feedback that gives you confidence while you work.
It produces 79.5 dB during operation, so you will need ear protection but are unlikely to disturb others in your home.
This router includes two bases: a plunger base and a fixed-depth base. The plunger base has two rubber handles that offer good grip, but they're relatively small and don't instill too much confidence while you're cutting. The plunger has a rack and pinion system with an easy adjustment knob for precise depth changes.
The fixed-depth base has the same small handles as the plunger base, which don't offer the best grip. There is a fine-tuning adjustment on the fixed-depth base as well, which offers convenient and precise cutting without having to swap bases frequently.
This router is very reasonably priced, especially given the features and power.
---
Ryobi produces budget tools that are still powerful but are better suited for casual woodworkers or hobbyists. This router is capable and affordable but does strip away some of the bells and whistles that other routers feature.
It functions solely like a plunge router, as the plunger base isn't detachable. You won't be able to use this as a fixed-depth router unless you lock the depth at its maximum height.
It has a powerful 2-horsepower, 10-amp motor to get you through just about any woodworking project, and it allows motor speed adjustments between 15,000 RPM and 25,000 RPM.
You can tune your speed to match your workpiece, but even its lowest setting is a bit too fast for some material and may lead to minor burning depending on your stock. The speed control knob has six settings and is very easy to set and adjust when the router isn't spinning.
It weighs 10.84 pounds, so it offers some good feedback while you're cutting but can be a bit heavy to keep extended use comfortable.
This is one of the most silent routers we tested, and it produces just 42 dB during operation despite the motor's power. As such, it's very unlikely to bother others in your home.
The base includes a clear guard to protect you from debris while you're cutting, and it allows for a clear line of sight for better accuracy while you work.
The handles on the side are relatively small and don't have any rubber on them to improve grip. We do wish there was some rubber or even textured plastic to provide a bit more confidence.
It includes a rack and pinion system for precise adjustments, and the onboard measurements help set accurate cuts and depths.
---
It features a powerful and durable design.
It features a heavy-duty design that is well suited for major projects.
It features a smooth starting feature.
Features an automatic spindle lock.
Safety switch shutter lock for safe usage.
Features a variable speed control that enables its users to switch speeds from 8,000 to 21,000 RPM.
One look at this router, you would find out that it looks big and heavy as it is. The Triton TRA001 Weighs about 13 pounds and this is a product of its durable design.  It is made from durable high-grade steel which is sturdy and performs heavy-duty operations.  It has a 3.5 HP motor that is capable of rotating the blades from a speed of 8,000 RPM to 21,000 RPM. With this much power, there is no woodworking job this router cannot handle.
Complex professional jobs require precisions. The Triton TRA001 comes with multi-functional fences that allow its users to have more control over accurate cuts. If you also have woodworking skills, you can make tiny cuts as well. Aside from the automatic spindle lock, this model of Triton also has a micro winder and a single button switch. This feature allows you to make depth adjustments. You can also change the speed depending on the cut you are going to make. For the reduction of dust ingestion, the side vents are also implemented on this device.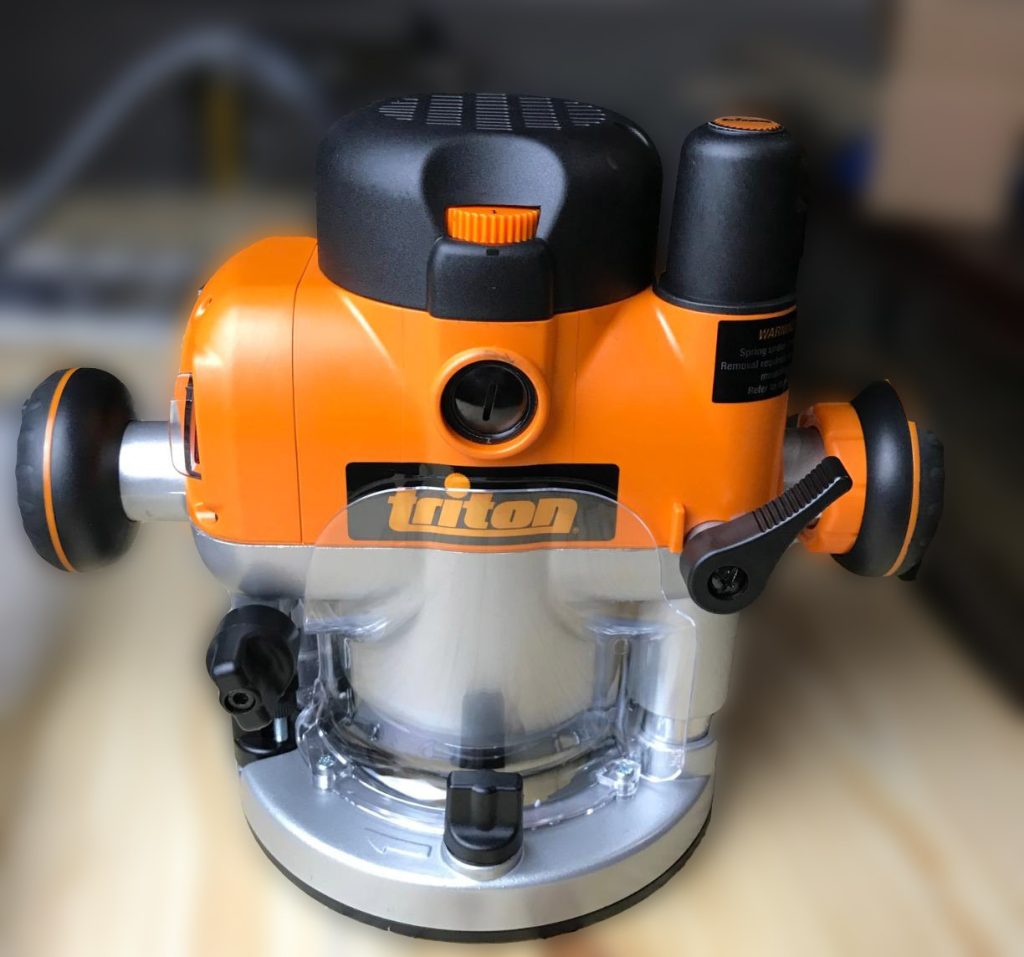 If you are careful about the safety of the project you are working on, you would be glad this router has a safety switch shutter lock. This design blocks the motor while users are changing the modes. For professionals, the Triton TRA001 proves to be profitable and recommended for use.
---
It features lockable power for safer use.
Its handle is designed to feature an ergonomic grip.
It has a 2.2HP motor producing about 8,000 – 25,000RPMs.
Features an easy plunge mechanism.
The aluminum structure makes it one of the most durable routers.
Weighing about 18 pounds out of the box, this tool is designed to support durability and performance. It also makes the tool a bit heavy for hand routing. The Bosch MRP23EVS comes with threaded holes for router table mounting. The controls are also well located and this also includes a lockable power switch on the handle.
The plunge mechanism is said to be very smooth and the handles are also ergonomic and comfortable making micro-adjustments easy to use and read. This functions well in spite of the weight of the router.  The Bosch MRP23EVS doesn't have a plastic shield on the operator side making it a strange omission since dust control is a problem making a plastic shield a must-have.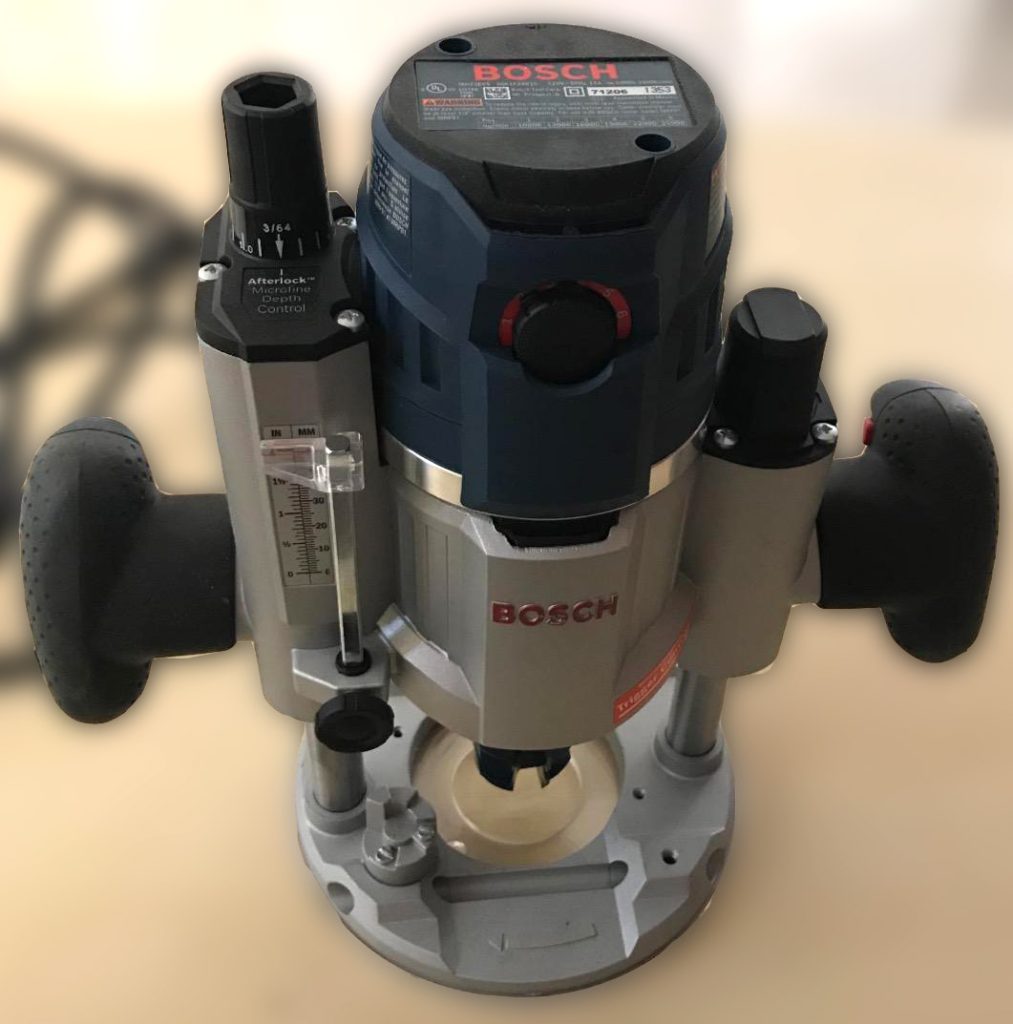 The Bosch MRP23EVS features a 2.25 HP motor that is capable of producing blade rotation speeds from 8,000 RPM to 25,000 RPM.
---
Features a 10 amp motor for superior power and maximum speed.
8,000 RPM to 27,000 RPM
Easy and gradual start function for precise results and more control.
Plunge router to give decorative designs to your project.
Features an adjustable parallel edge guide, ¼ inch collet, and a wrench.
The Black & Decker RP250 is designed with a 10 Amp that produces a variable speed from about 8,000 RPM to 27,000 RPM which gives this tool maximum power and superior performance.  It can achieve a plunge depth of about 2-¼" and can also give you the functionality of a fixed router. 
The Black & Decker RP250 is implemented with a soft start feature which gives you ultimate control over the tool's safety and results. This device has a trigger switch with a lock-on feature and a chip shield which makes it feel more comfortable and safer when you work with the product. Black & Decker added pretty much enough versatility into this router and it helps you do freehand routing, inlays, templates, and everything that a fixed base router can do.
---
Best Plunge Router Buyer
'

s Guide

As you can see, different plunge routers are designed for varying functionality, power, and versatility, so you'll need to choose one that fits your budget and is capable of handling the jobs for which you intend to use it.

Below are the features we believe are most important to focus on to ensure you get the tool that will be best suited for you and your workshop.
Size & Weight
Plunge routers come in various sizes and weights for different applications. Some routers are very large and bulky and can be challenging to maneuver around a workpiece. However, heavier routers tend to house more powerful motors that can make quick work of most materials.
In contrast, routers that are lightweight and compact are generally easy to use and allow you to control them with one hand. These can be ideal for precision cuts or smaller projects and are generally more comfortable to use.
Lighter plunge routers often have less powerful motors than heavier ones, but some mid-range options can give you the best combination of power and ease of use for a wide range of applications.
Speed
Motor speed determines how your bit will interact with the material you're cutting. A high-speed motor can make quick work of softwoods and hardwoods and save you time.
However, higher speeds can also increase the chance of burning your material, which isn't ideal for more expensive wood species or finishing pieces for your project.
A lower speed will reduce the chance of tear-out in your pieces, but it can also lead to your bit jumping along your workpiece, creating inaccurate cuts. Since accuracy is critical for plunge routers that you often maneuver manually, lower speeds can be problematic too.
Many plunge routers offer variable speed motors and an adjustment option to set your speed within the router's limits. Variable speed routers can be a bit more expensive. Still, they will give you the ability to set your speed to various workpieces, optimizing cutting time and reducing damage to your stock.
Style
There are three main styles of plunge router you'll need to choose from, each designed with a specific job in mind.
Standard Trimmer
A standard trimmer is usually heavier and more powerful, and it's optimized for removing larger portions of material in a shorter amount of time. They're the most capable routers designed for larger pieces.
Palm Trimmer
Palm trimmer plunge routers, like the DEWALT DWP611PK, are compact enough to use with just one hand. Plunge routing will need to be done two-handed, but having the option for more precise cuts with one hand operation can be very helpful for smaller projects that require accuracy.
Palm trimmers aren't ideal for heavy-duty use, but light- or medium-duty jobs can be made easier by a lightweight palm trimmer.
Laminate Trimmer
Laminate trimmers are made for cutting and trimming thinner pieces like ⅛" plywood, hardboard, and laminates. They're usually very lightweight and easy to use, but they can only handle light-duty jobs and aren't suitable for cutting most hardwoods.
Soft Start Technology
Many modern routers feature soft start technology, which begins running your motor at a low speed before ramping up to the pre-set cutting speed.
This technology reduces vibration when you first turn on your tool, often leading to better control. It also reduces strain on your electrical system by limiting power draw to get the motor up to speed, which can prevent damage to your router and other electronics that are drawing power.
Router Table Compatibility
Plunge routers are primarily made for manual use, but many can be mounted to the underside of a router table for added functionality. Router tables let you make very precise cuts, easily set up stop blocks, and provide better dust collection and protection during cutting, so the ability to attach your plunge router to your table opens the tool up to more possibilities.
Plunger bases usually can't be attached to a router table, but many plunge routers have detachable bases that can be swapped out with others that do allow mounting. Choosing a router with a mounting option may save you from spending money unnecessarily on a fixed-depth, mountable router down the road.
Electronic Feedback Circuitry
Routers go through a lot of stress and can degrade more quickly than other power tools because of the high speed of the motor and the stress we place on them. Many companies, like DEWALT, Bosch, and Festool, include electronic feedback circuitry (EFC) to prolong their tools' lifespan.
EFC reduces strain on the motor by providing only the power that is needed based on the resistance placed on the motor by your workpiece. Harder workpieces will cause an increase in power, while softwoods cause a drop in power to reduce motor strain. EFC often leads to more durable tools that will outlast other options, but tools with EFC usually come with a higher price tag.
Swappable Kits Vs. Dedicated Plunge Routers
A plunge router with a swappable base, like the Makita RT0701CX7 Compact Router, comes with a fixed-depth base as well as a plunger base. The bases are detachable, effectively giving you two different tools in one. They can be more expensive than dedicated plunge routers, given the added versatility, but they can be adapted to more job applications and can often be mounted to router tables.
Dedicated plunge routers, like the Festool 574692 Router, don't have a detachable base and are often a bit cheaper for the same quality tool. You'll only get the functionality of a plunge router, but they have fewer parts and attachments that could degrade or fail over time.
Spindle Lock
Many routers need about two wrenches to change the bits. One wrench loosens or tightens the collets while the other holds the motor shaft tight. With the spindle lock feature, users can push a spring-loaded pin or hold down the motor shaft in place so the only wrench you need is the one for the collet.
This feature is a little but very important detail found on some plunge routers where its users cannot remove the motor to get a clear view and access to the bit.  It is not an extreme must-have feature but it takes a little difficulty off when you are changing the bits.
Above the Table Adjustment
If you are a woodworking enthusiast, sooner or later the router you purchase will spend its days hanging under a router table. Two relative features can make table routing more continent and precise.
First, buy a router that gives you the ability to adjust the cutting height from above the table with a crank, handle, or knob. This is best compared to stopping over to adjust the depth settings from under the table. Secondly, look for a device that is designed to stretch the cover over the table so you can change the router's bits without completely removing the machine. Products with ATA make sure that these two features are successfully included in the device.
Work Strength
Finally, you should consider the work strength of your router, which is a combination of horsepower, motor speed, and amperage. A higher amp motor with more horsepower and a high motor speed will allow for stronger cuts and can make quick work of the hardest wood species. They're capable of powering through any project and often have the longest lifespan, given their ability to fight resistance from your workpiece.
However, motors with more strength are usually more expensive, can be a bit harder to control, and are typically heavier and more challenging to maneuver around your project.
Frequently Asked Questions
Wrapping Up: Which Plunge Router is the Best?
Choosing a plunge router will require you to optimize features like the size, weight, motor power, speed control, and base options to fit the projects for which you plan to use your tool.
Our top pick for the strength and adaptability to handle most woodworking projects is the Makita RT0701CX7 Compact Router Kit. It includes swappable bases for manual or table use, has precise measurement adjustments, is powerful enough to handle most materials with ease, and still remains lightweight and easy to use, even for beginners.