Buying the right portable table saw is critical to ensuring your safety, comfort, and efficiency when your work takes you on the road. To help you find the perfect match, I have researched the most popular models and evaluated the best portable table saws on the market.
While there are many good options, if I had to pick only one, I would say that the DEWALT DWE7491RS is the best table saw out there:
BuildEazy.com may earn a commission if you purchase a product through one of our links.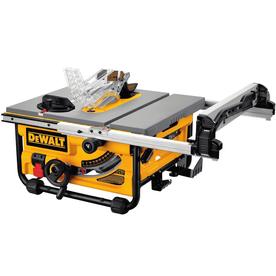 Now let's take an in-depth look at each of my picks for the best portable table saws. I'll go over each model's most critical features and talk about why each one stands out. I'll also list some pros and cons, and at the end of this review, I'll let you know why I chose the DEWALT DWE7491RS.
We're kicking things off with this outstanding model from DeWalt, the DW745. Being one of the most trusted names in the industry, you can't go wrong with any of DeWalt's products. Several units from this brand made my list. How does this one stack up against the others?
If you're looking for a super lightweight, portable table saw, the DW745 might be the answer. Despite not having all the bells and whistles that other bigger models have, this unit from DeWitt can handle quick or small cuts on the go. I like that it comes with built-in storage and a metal roll cage that helps it stand up to the demands of tough job sites.
With a 15-amp motor that delivers speeds of up to 3,850 RPM, you won't have to worry about powering your projects. It is worth mentioning, however, that the price of this table saw does not include a stand. So while it is technically portable, you will either have to find a place to set it up or purchase a stand to go with it. Not a huge deal, but something to keep in mind.
It's also not dado compatible, which means that this table saw will put off some buyers. But if dado capability is not a must-have for you, you may want to consider this model. I will say that because it lacks a bit of rip length, the DW745 may be better for non-professional applications. If what I've described sounds like you, this cheaper option offers excellent value.
Pros
Built-in storage
Lightweight and easy to transport
Includes three-year warranty
Fantastic value for money
Has a metal roll cage for added durability
Cons
Not dado compatible
Stand not included
Limited maximum rip length may not be suitable for all projects
Bosch Power Tools 4100-10 – Also great
Powerful, performant, and lightweight.
Second on my list, I've got a unit that comes from another industry leader: Bosch. Taking a look at this 4100 model makes it easy to see why Bosch has made such a name for itself in the power tool world. This unit, in particular, deserved a spot on my list because it offers the portability you need from a table saw without sacrificing power or versatility.
The 4.0-hp motor delivers outstanding professional-level power with 25" max rip capacity to the right. This portable table saw can handle whatever you throw at it, mainly thanks to its heavy-gauge steel construction. Despite being durable, it's still easy to transport and stow when not in use.
Woodworkers appreciate the constant response circuitry included in this model. This fantastic safety feature sustains the speed of the motor regardless of the load to offer overload protection. I can also talk about the robust design of this model, which means it will last for quite a long time, and its quiet motor, which is always a nice feature to have on a table saw.
The 4100 weighs in at 91 pounds. It's not the lightest model on the market, but Bosch makes up for the added weight by making it highly maneuverable. I especially like the one-handle release system that means that setting it up and packing it away is a breeze. It also features an adjustable stand to make the unit more ergonomic.
There are a few downsides to mention. Some people complained that the surface area isn't the largest. Another complaint was that while users enjoy being able to adjust the stand, the mechanism that regulates it takes some time to get used to. But overall, whatever your level—whether you're an advanced woodworker or a DIY novice—the Bosch 4100 has it all.
Pros
The adjustable stand offers a comfortable ergonomic design
Dado blade compatible
Quiet motor
Features onboard storage
High rip capacity
Robust design
Cons
Doesn't have the largest surface area to work on
Stand mechanism could be improved to make it more user-friendly
Rip fence may be challenging to adjust
If you want to know more about the Bosch 4100-10 read our full review here:
No posts for this criteria.
DEWALT DWE7491RS – Budget Pick
Great for hobbyists.
Next up, I've got my second offering from powerhouse DeWalt. With the DWE7491RS, you get a 120V 15-amp motor, 4800 RPM, and wide rip capacity. This unit is capable of cutting through a depth of three inches at 90 degrees and almost 2.25 inches at 45 degrees. All of these features create a powerhouse that allows you to complete your work quickly and efficiently.
This model sports advanced safety features (though it doesn't have flesh-sensing technology, which is always nice to have), as well as a rack and pinion telescoping rail system. Switching between wide rips and narrow cuts is a breeze thanks to the flip over rip fence, a feature that's quite handy. The DWE7491RS accepts a 13/16" dado (sold separately) and an 8" diameter blade.
In terms of portability, this unit weighs a rather hefty 100 pounds. Though this weight may not seem very moveable, DeWalt makes up for the added bulk with a built-in collapsible stand with wheels. This addition means that transporting it is simple. Plus, the stand is easy to set up and break down, so don't let the weight of the 7491RS deter you.
I like that it dusts above and below the blade, a feature that will help keep your work area cleaner. It also features an excellent three-year warranty. The only real downside is that the miter gauge moves slightly, but outstanding miter gauges don't characterize portable table saws, anyway. Overall, it's excellent for commercial applications, which is why many professional woodworkers back it up.
Pros
Price
Easy setup, break down, and transport
Comes with advanced safety features
Excellent rip capacity
Flip over fence design makes it easy to make narrow rip cuts
Includes dust collection to minimize worksite mess
Cons
Miter gauge could be improved
You must purchase the dado plate separately
This offering from DeWalt is one of the brand's smaller models. It features a ten-inch twenty-four-tooth blade and a powerful 15-amp motor that delivers speeds of up to 4800 RPM. All of these specs combine to deliver power that will stand up to even the toughest jobs. Let's take a closer look.
One feature that stands out is the Site-Pro Modular Guarding System. This system lets users tweak the saw's guarding elements without the need for tools, which allows you to work faster. The rack and pinion fence system provides high accuracy when cutting, as well as excellent locking ability for higher security.
In terms of rip capacity, the DWE7480's is 24.5 inches. Though the rip capacity is less than other comparable table saws, it's perfectly fine for most applications. Like most other DeWalt models, the unit includes onboard storage to keep everything you need at your fingertips. It also features a dust collection port that you can attach to a vacuum to keep your workspace clean.
I have to mention that this model comes without wheels; however, its small size is easy to transport. You can also purchase the scissor stand separately, which features a smart design that allows users to break it down or set up in a cinch. Overall, it's fantastic for a variety of uses, from the needs of hobbyists to homeowners and even beginners.
Pros
Includes a three-year warranty
Offers superior dust collection
The fence is very secure and simple to extend
Delivers precise and accurate cuts
Next up, I've got the SKIL 3410-02. This model made my lineup of the best portable table saws because it's an excellent starter option if you're getting your feet wet. If you just want to get the job done but don't need a lot of extra frills, you may want to consider the 3410-02.
This unit will give you a 3.5" deep cut, and it's got a self-aligning rip fence and decent rip capacity. It includes an EZ view measurement that will help you achieve precise cuts and a robust motor to power those rips. The onboard storage system puts your woodworking essentials at your fingertips, and it comes with a three-year warranty I expect from similar units.
One area the 3410-02 stands out in is its light design. It's among the lightest in the portable table saw class, but that does come with one caveat: the stand included with the model lacks wheels. If you frequent job sites with lots of rough terrain or stairs, this is probably not the table saw for you. Its design won't stand up to the demands of harsh job locations.
However, if you plan to use it primarily in your home workshop or take it to easily accessible places, you may want to consider this Skil table saw. It's an affordable, durable option that can suit the needs of both experienced contractors and the woodworking hobbyist. While it's not the best in its class, it's an excellent example that expensive doesn't always mean better. It'll get the job done and for a fantastic price.
Pros
Includes a three-year warranty
Excellent value for money
Has a mighty motor
It's lighter than other table saws in its class
Cons
The stand doesn't have wheels, so moving it around will be tricky
Lacks a dust collection port
Miter cuts aren't great
I tried to include models that would meet the needs of the most significant amount of woodworkers, but the Makita is somewhat of a particular pick. The 2705 will be what fewer people are looking for, but it does fit a specific niche that's worth mentioning.
On its face, it's quite similar to most other units I've mentioned. It's got a 120V 15-amp motor, 25" rip capacity, and it produces speeds of up to 4800 RPM. It has advanced safety features for added peace of mind while working, such as a riving knife and anti-kickback pawls. It also features three cutting positions, including through, no-through, and dado cuts.
Where it becomes a niche choice is in the fact that it's the least portable of all the table saws on this list. With no wheels and considerable bulk to carry, moving it from place to place is somewhat awkward. So why did I include it?
Like I mentioned in the buying guide, benchtop table saws like this one are technically considered portable. If you only plan to move it periodically, it's got some excellent features that might make it worth your while.
Most notably, it packs a lot of punch in the power department. Sure, the rip capacity isn't the greatest out there, but it should be enough to cover most of your needs. I also like the tool-less blade changes, which make for a faster workflow since the cam lock that holds the blade is easy to maneuver. You can also adjust the table height to be more comfortable.
All in all, despite the substantial profile and lack of wheels, this Makita model might be right at home in your workshop.
Pros
The powerful motor delivers incredibly high blade speeds
Excellent safety features
Tool-less adjustments help you do your work more efficiently
Cons
This table saw lacks wheels, which makes transporting it challenging
The rip capacity could be improved
Only includes a one-year warranty
The Hitachi C10RJ has earned itself the nickname of the "Hulk" among its users, which may have a little something to do with its green color. The nickname might also have to do with the fact that it's a formidable table saw that's built to last. Featuring a 15-amp motor and 4500 RPM, it'll deliver lots of power when you need it—and at a lower price tag than comparable models.
If your primary need is ripping lumber, the Hitachi C10RJ is well designed to deliver on that. It's got a 35" rip capacity, which will allow you to rip lumber to your heart's content. But when it comes to detailed cuts, however, this model falls a bit short. If your job entails making a ton of precision cuts, you probably want to consider something else.
Hitachi stacked this unit with outstanding features. It includes a miter gauge and a rack and pinion fence adjustment. They also included a soft start system on this unit, which requires less electricity to start. The advantage here is that you probably won't trip a breaker when powering up the table saw.
Advanced safety features also come standard on the C10RJ, the most notable of which is the electronic braking. This safety mechanism halts the brake immediately if necessary, which is great to have anywhere you work, but especially if you work at home where pets and children may be close by.
This model comes with a stand, and you can adjust the legs if you're working on an uneven surface. It's overall quite similar to units from DeWalt and Bosch on this list, but with a lower price tag. I recommend it for commercial applications, but it will also work just as well in your home workshop.
Pros
Includes a two-year warranty
Comes with a stand
Ergonomic design
Excellent portability
Features onboard storage
Cons
The fence may need to be adjusted on some units
Now it's time for a closer look at the Ridgid R4513, which is an upgrade on the popular R4510 model. How does this improvement on the previous unit stand up against the other competitors on this list?
It's got a 15-amp motor with the capacity to reach speeds of up to 5000 RPM. The 10-inch blade cuts up to 3.5 inches at ninety degrees, and the blade adjustment knob allows you full control of the blade's height and angle with just one hand. It's ready to go straight out of the box, with no adjusting necessary before using it—only a quick assembly, and you're good to go.
The R4513 has all the standard safety features one would expect from a table saw: a riving knife, blade guard, and anti-kickback pawls. All of these features require no tools to add or remove, so they're straightforward to use. Ridgid designed the unit to accept dado blades, though the price does not include them—pretty standard for portable table saws.
In terms of portability, this model weighs in at a somewhat hefty 90 pounds. It does include a portable folding stand, however, and the folding stand's got eight-inch wheels that are permanently attached to the saw. Ridgid included a handy foot lever on the side of the stand that makes it a breeze to change from transport mode to assembled mode.
There's also a two-inch dust port so that you can control dust at your worksite, storage for accessories, and an ample work surface area. You'll probably want to install a better blade than the one that comes with the unit, but that's a common issue with portable table saws. Some users mention that sometimes the rip fence gets crooked, but that's an easy fix, too.
Our overall impression is that Ridgid made some significant upgrades to this model that puts it in serious contention against its competitors. This table saw is well worth it, in my opinion.
Pros
Accepts dado blades
Features telescopic fence
Dust port connection helps ensure a clean workspace
Cons
The blade could be better, so you'll need to upgrade to a more robust one after purchase
Issues with lopsided rip fences
Dado not included
We've finally made it to the last challenger on the list. Skil took their already popular first-generation model, the Skil SPT70, and made some serious upgrades to bring us the SPT99-12. So who's this one for? I recommend the SPT99-12 if your work takes you to sites with challenging terrain, but more on that later.
The SPT99-12's standout feature is that is has a worm drive. Worm drive provides higher torque than traditional direct drive, and it also allows for greater depth of cut. Here we get a 3 5/8 inch cut at ninety degrees. It also operates much more quietly, which, when you're working with power tools all day, is a welcome feature.
Users get ample rip capacity of up to 30.5", as well as a 15-amp motor at 110V. It's got the popular rack and pinion fence that clamps down tightly with just the flick of a lever. The fence is smooth, and you can line it up with precise measurements quickly. It's got all the safety features you'd expect to see from a portable table saw, including a riving knife, anti-kickback pawls, and blade guard.
Skil sells the model with a stand that can fold down for storage, but you should know that the stand is attached to the unit. The SPT99-12 is a heavier saw, but thanks to its enormous 16-inch wheels, it handles incredibly well. While the large wheels are fantastic for portability, they do create a rather large profile. If you're short on space, this may not be the saw for you.
Thanks to its wheels, I'd give this Skil table saw my highest recommendation if you frequently work at inhospitable sites or if you need to go up and down stairs often.
Pros
Relatively quiet operation
Large wheels handle rough terrain easily
Includes standard safety features
Has rack and pinion fence
Cons
The quality of the dust tube could be improved
Its large profile makes storing this saw in small areas challenging
My Pick
Although this review includes quite a few outstanding table saws, unfortunately, there can only be one winner. After careful consideration, I felt that the DeWalt DWE7491RS deserved my pick for the best portable table saw. It clinched the title for many reasons.
First, DeWalt is well-known in the portable table saw world, and their products inspire a lot of trust in consumers. They're typically a little pricey, but DeWalt delivers high-end power tools that have everything you need to get the job done.
I mentioned already that in terms of performance, most portable table saws provide similar results. While the DWE7491RS doesn't significantly outshine its competitors, it does offer users outstanding, high-efficiency cuts. Whether you plan to do mostly ripping or will need it for some small and narrow cutting, it delivers a fantastic performance.
Given that this a review of portable table saws, the portability aspect of each unit was vital in my considerations. Though it's a bit heavy, the built-in stand allows you to get from place to place with no hassle. Plus, it collapses when not in use, which I find to be an excellent feature.
Overall, the DeWalt DWE7491RS performs exactly as you would want your portable table saw to perform, and for that, I have to give it my top nod.
Buying Guide
Portable Table Saw Types
There are three main kinds of portable table saws. In the review section of this article, I will highlight models from these three categories.
Benchtop table saws
Benchtop table saws come with no stand. You have to set them up on a table or a workbench to provide yourself a stable work surface.
They are still portable, because they're lightweight, and you can move them around.
Compact table saws
Compact table saws are the next step up in the class of portable saws. They have the same features that benchtop saws do, but they include stands. Some even include table surface areas to work on. Compact table saws may look like full-size table saws, but they generally don't have the same rip capacity.
Jobsite saws
Jobsite saws are portable, but have a robust design for the increased demands of worksites. You can move them  from place to place, and they allow you to achieve very accurate results. Jobsite saws include stands with wheels, and feature a high rip capacity.
Performance
The limit to the power of portable table saws is the power draw. This means that they have to distinguish themselves in other ways. Performance is actually not as important as you may think, but that's not to say that there's nothing to talk about here. Here are some performance metrics to keep in mind as you shop.
Blade Speed (RPM)
A high blade speed, means more efficient cutting capabilities, and the ability to deliver a smooth cut without uneven edges. A higher revolutions per minute (RPM) also means that you can adjust the thickness easily.
Any RPM above 4500 is ideal. Some portable table saws even reach speeds of up to 5000 RPM.
Power
In terms of power, the idea is to find a portable table saw that's as powerful as possible. The caveat here is that it shouldn't suck so much energy that you need to rewire an outlet. In general, a 1-2 hp motor cuts through 2-inch thick wood, and a 3-5 hp motor cuts through 3-inch thick wood.
What you'll find as you do your research is that most portable table saws have a 1 to 1.5 hp motor. It's difficult to find a ton of variation in power, as most of the options that you'll look at will stack up pretty evenly. As I've hinted already, brands distinguish themselves in other ways.
You should  pay attention to a table saw's power rating, but there are other more critical aspects to look at. I'll cover these  throughout this buying guide.
Cutting
It's essential to consider your cutting needs before deciding on a portable table saw. They all will be able to make rip cuts, which means cutting lengthwise along a piece of wood, usually with the grain. Portable table saws are best known for their ability to make rip cuts; that's what they do best.
While the portable table saw is king of rip cuts, you can actually use them to make other types of cuts. Woodworkers find this tool useful for making crosscuts, miter cuts, beveled cuts, rabbet cuts, and dado cuts. To make rabbet cuts and dado cuts, the table saw requires specialty blades that you can to buy separately. I'll talk more about dado blades later in this review.
Precision & Accuracy
Accuracy is arguably the most crucial feature of a table saw. Inaccurate cuts on high-quality wood can be costly, so you want to look for a model that is accurate right out of the box. The time you spend fine-tuning the screws that adjust the blade and dial should be minimal. Accuracy out of the box is the hallmark of a top-notch table saw.
Your unit should also be able to withstand the bumping of your work truck, which can knock loose the settings on the blade. The better your saw can maintain these settings for daily travels to job sites, the more positive of an experience you'll have using it.
When it comes to portable table saws, you'll have to sacrifice some precision in the name of portability. This fact is widely accepted when talking about this class of tools. However, sacrificing a bit of precision doesn't mean that the table saw shouldn't be able to cut through any wood easily within about .1 of an inch.
Let's take a look at some ways to gauge the accuracy and precision of a portable table saw right out of the box. Plus, here's a helpful video with some pointers on how to check accuracy yourself.
Table Flatness
The flatter the model, the more pleased you will be with your results. While you can't attribute an excellent cut entirely to a completely flat table, it's a good start. Better quality table saws will typically perform better in this aspect. It's challenging to appreciate table flatness with the naked eye, so pay attention to what reviewers say about this characteristic.
Accuracy of Accessories
Many saws come with a miter gauge, which allows you to cut angles. Miter gauges are known to have difficulty holding the angle you want. Many woodworkers choose to invest in sturdier versions right from the start. If you don't want to go this route, you should check to make sure this accessory is accurate and has excellent reviews.
Blade Parallel to Miter Slot
If you need to make precise and safe cross cuts, the table saw's blade has to be precisely parallel to the miter slot. The saw fence also has to be perfectly parallel to the blade. The miter slot should be the reference point for the blade and the fence.
Saw Fence Parallel to Miter Slot
After checking that the blade is parallel to the miter slot, it's vital to verify that the saw fence is parallel to the miter slot, too. If it's not, you'll have to check the owner's manual for indications on how to get it there.
Blade Runout
In a perfect world, your table saw's blade would spin in a perfect circle, with no upward, downward, or side to side deviation. The reality of a blade's performance is different, however. When I talk about "blade runout," the term refers to the amount the edge of a saw blade wobbles as the motor shaft holds it.
Drive Types
Drive type plays a significant role in determining how smooth, efficient, and accurate a portable table saw is. There are two types of drive you'll encounter when researching saws. The one you choose depends on the kind of job you'll primarily be doing. Jobs that require more power almost certainly require a belt drive.
Direct drive
A direct drive table saw utilizes a blade that is directly connected to the motor. This setup allows the motor to put all its power directly on the blade, which has several benefits. Direct drives produce very little power loss, vibrate less, and makes less noise than a belt drive. They are also more compact, lightweight, and safer than a belt drive. Plus, they tend to be cheaper.
Belt drive
A belt drive, on the other hand, uses a V-belt and pulley system that transfers power to the motor. This kind of drive is well-suited for heavy-duty jobs where you're cutting thicker woods.
Rip Capacity
Our guide to table saws wouldn't be complete without a discussion of rip capacity. Rip capacity, which is the amount of space between the table saw's blade and the fence, determines the maximum width to which the material you're cutting can be cut.
You must pay attention to rip capacity when buying a portable table saw. The amount of rip capacity you need is dependent upon what kind of work you'll be doing. Make sure you have a general idea of what you'll be using your table saw for.
If you purchase one that has less rip capacity than you need, you may have just invested in a tool that you won't be able to use. It's often possible to extend rip capacity, but in general, you'll want to have as much as possible.
Fence
A great deal of your work with a portable table saw will probably be rips. Since you'll want to make them as accurately as possible, the fence is one of the most crucial components of your table saw. It's the guide that aids the woodworker in making precise cuts.
The fence plays another critical role in that it ensures your security. It keeps you safe by lining up the wood in such a way that the blade cuts along the grain. Cutting across the grain can cause the dangerous and undesirable kickbacks I'll talk about in the safety section of this buying guide.
The most popular type of fence is called a T-square fence. It's easy to identify; it's the metal bar that sits parallel to the saw blade. You can adjust the fence to the width of the cut you want. While their design tends to be simple, the role they play in woodworking is vital.
What qualities characterize a superior fence? First, adjusting it both horizontally and vertically should be trouble-free. It should move smoothly, and you should be able to secure it tightly in a parallel lock every time. You don't want the fence to wiggle, and it should also have a precise, easy-to-read scale.
Miter Gauge
We already mentioned that you can use a table saw to make cross cuts. Cutting at an angle requires a handy little guiding device called a miter gauge. With the miter gauge, you can adjust the blade to make 90 degree or 45-degree cuts. For the most accurate results, this device needs to be parallel to the blade.
Performance of the miter gauge (if your model includes one) can run the gamut. If making cross cuts is important to you, you should read the reviews to make sure that it's well made. Faulty miter gauges are so typical that lots of woodworkers choose to buy a better, high-quality model right from the start.
Dust Collection
Anyone who's ever used a portable table saw knows that they can create quite a bit of dust. If you're outside, the accumulation of dust is slightly less problematic. However, if you know that many of your worksites will be indoors, looking into a table saw with dust collection is an excellent idea.
Dust collection differs across the models, but brands lean toward one of two solutions for this problem. Some units have ports that you can attach a shop vacuum hose to, while others have dust bags that attach under the saw.
This feature is quite handy, and I recommend it, especially if you work inside often. There will typically be some leftover dust, but this feature can make quite a difference in keeping your workspace clean.
Ease of Use/Ergonomics
Much the same way an office worker should set up their chair and computer to optimize comfort, you should consider ease of use and ergonomics when purchasing a portable table saw.
What does this mean on a practical level? First and foremost, the table saw should be highly portable (we'll talk more about what that entails below). It should also be easy to set up, start, and pack away when you're done with your work. And it should help you carry out all the tasks you need it to carry out.
Comfort while carrying out those tasks is paramount. Look for a portable table saw that is ergonomic, which means that its design helps workers be more comfortable, avoid injury, and reduce fatigue while working.
Some features that make portable table saws more ergonomic are the ability to regulate the stand to your height, non-slip coatings, safety switches, and angled handles. Anything that makes your job easier, prevents you from straining in ways that lead to injury, and improves your safety contributes to the ergonomics of your table saw.
Onboard Storage
Onboard storage may seem like a secondary consideration, but many woodworkers find it useful to have somewhere to keep their essentials close at hand. Most of the models I've reviewed include onboard storage, and this is one area that is worth paying attention to as you consider which unit to buy.
Portability
Portability allows you to work at the job site instead of towing the things you're cutting back to a workshop. Given that this whole review is about finding the best portable table saw, I would consider this feature to be the most critical. As such, I'm going to dedicate some time to discuss it in-depth. Here's what you need to know.
Weight
Weight is a clear starting point in determining portability. For any table saw to be considered portable, you need to be able to move it. The weight range can vary considerably, with some of the lighter models weighing around 50 or 60 pounds and some heavier options weighing up to 100 (or sometimes even more).
In general, the lighter the saw, the easier it will be to transport. I discourage you from merely going out and buying the lightest table saw on the market, however. Some of the lighter models may sacrifice weight for stability, which can be problematic in its own right. If the table saw lacks stability, the table will wobble and may compromise the quality of your work.
Benchtop table saws usually weigh less than compact table saws or jobsite table saws, since they don't include any device to prop them up. But the added weight that occurs with the stands is generally compensated by the fact that they come with wheels.
Stands
Many portable table saws either come with stands or are designed for use with a stand. This device is what makes a table saw truly portable. More often than not, the stand includes wheels and handles, which makes maneuvering the unit to and from job sites simple. Some collapse when not in use, while other stands must remain in place after they're set up and can't be used to wheel the unit around.
If your portable table saw does not come with a stand, you should consider purchasing one. And whether you buy it separately or the table saw includes one, the stand should have certain features that make your life easier. It should be easy to set up and break down, sturdy (to maintain stability), and ideally not take up a lot of room when in storage.
Safety
Let's keep in mind that operating a table saw is an inherently dangerous activity. Even for advanced woodworkers and professionals, certain safety features are vital. Nowadays, pretty much every table saw includes standard safety features, but some go above and beyond in this aspect. Here are some safety features that I recommend.
Anti-kickback Pawls
Experiencing a kickback when operating a saw is scary stuff and can be incredibly dangerous. The scariest part is that it's impossible to predict when a kickback might occur.
Given the unpredictability of kickbacks, anti-kickback pawls are critical. This safety feature reduces jerking when the saw hits a knot, and they may save you from losing a finger or from a trip to the emergency room. I wouldn't recommend operating a table saw without them.
Left Blade Tilt
Another anti-kickback feature I'd recommend is left blade tilt. Left blade tilt produces less kickback than right blade tilt, so it's something to look out for when buying a table saw.
Magnetic Switch
This safety feature ensures that your table saw won't start on its own after a power failure. A magnetic switch is something you may not think about, but when it keeps your unit from having a mind of its own, you'll be glad you have it.
Easy Power Cut
In case something goes wrong, it's critical to be able to cut the power quickly. Pay attention to the location of the on/off switch. Can you reach it easily while operating the table saw? Is it a simple push button, or does shutting the unit down require a more involved movement? If you can't reach the power button quickly, you may want to consider buying a different model.
Flesh Sensor
Table saws with flesh sensors automatically cease operation of the blade when it detects a finger close by. Flesh sensors are not a standard safety feature. Table saws that have them are way more expensive, but they're worth it in my eyes. If the option is there, there's no reason not to get it. Flesh sensors could very well save you from missing fingers and let you walk away from what could have been a severe accident with just a few cuts.
Blades
Here are some table saw blade basics you should know.
Size
The size of the blades that your portable table saw includes can vary. Typically, they are 8, 10, or 12 inches in diameter. The ten-inch size is useful for switching out from a table saw to a miter saw.
The number of teeth on a table saw blade ranges anywhere from 24 to 80. A blade with fewer teeth cuts faster than one with more teeth, but it also gives you a rougher cut. A blade with more teeth, on the other hand, produces a smoother cut, though it will take longer to do so.
It's pretty typical for the quality of the blades that come with the table saw to be just okay. Some people use the factory blade for a while, while many others decide to upgrade right away—either because they need a better blade or because they need one with slightly different characteristics.
When the moment to change the blade comes, you must ensure that the replacement fits the specifications of your portable table saw. The instruction manual is an excellent place to find out which blades fit your unit.
Dado Capacity
A specification you'll notice a lot when shopping for a portable table saw is whether that particular model has dado capacity. Some people find that the ability to cut grooves (for which you need a dado) is not essential, and not all table saw models are compatible with a dado blade.
Decide before purchasing whether this feature is something you might be interested in having. When in doubt, you may want to opt for a model that allows for dado blade use. If you do have to use it, generally, you'll need to purchase this part separately. Make sure to check what size blade will fit on your table saw before buying.
Warranty
An excellent portable table saw should include a decent warranty. Any company worth their salt will offer a standard warranty between two to three years, though I have recommended some models that only provide a one-year warranty.
We highly recommend researching the warranty before deciding on a portable saw. Check out the company, the terms of the warranty, and whether or not they provide customer service. All of these things should give you a better indication of the company's values and whether it's worth investing in their product.
Price
Finally, you'll have to consider how much you want to spend on a portable table saw. Keeping in mind what you're asking from them, it's no surprise that a good quality portable table saw can cost well into the hundreds. Before making a purchase, consider what your needs and budget look like. Keeping both of these variables at the forefront will ensure you make the right decision.
Though your budget will influence your choice, it's essential to be realistic about how much your needs will cost. Having more bells and whistles on your portable table saw is going to drive up the price.
One thing to note is that more expensive does not necessarily equal better quality. If the model is more expensive and has features you won't use, you're simply overspending. Don't be afraid to go for the cheaper option if you know that it will deliver exactly what you expect from it.
The takeaway? Having a clear idea of what you want to get out of your table saw will allow you to invest in something that will work for you for years to come.
---
And what do you think? Leave us a comment to tell us what is your favorite table saw!