Black furniture can give any room a sleek, modern look. But you don't have to buy new clothes to achieve a fashionable look. Repainting existing furniture or revamping a thrift store find is an excellent way to update an old piece.
And, even if you've never painted furniture before, updating it with a new color may be easier than you think.
Here are some of the best black paints that you can use to give your wood furniture a new lease of life.
Our Top 3
This Country Chic option is also available in two sizes: pint and quart. The Country Chic brand suggests a pint-sized can for a small dresser and a quart-sized can for a larger wardrobe.
Although this paint is clay-based, it is intended to have the same finish as chalk-based paint while providing long-lasting durability.
This brand is a top pick because of its excellent coverage, which requires only two coats to achieve the dark finish we desire, as well as the minimal prep work required. This paint does not require a primer. All you have to do is sand it, clean off the dust, then paint. 
One of the best aspects of this paint is its ability to dry quickly. Each layer takes only 30 minutes to dry! With Country Chic paint, you can complete your entire project in a single day.
This paint is another great option for achieving a distressed look. It's very easy to distress, but it's also very durable and can withstand scuffs and scrapes.
Also available at Country Chic Paint
In the tin, this paint has a blue tint but once applied, it transforms your furniture into a lovely, antique black.
You might recognize this paint due to the fact that it's a popular brand among many furniture painters. This is a good a sign as any that this paint is one of the best.
Because it does not require sanding or priming, this paint is of high quality and saves you time and money. It is also available in three sizes: 8 oz., 16 oz., and 32 oz.
While this brand may appear to be on the more expensive side, the finish quality is definitely worth it. Especially since, depending on the project, you only need one coat.
When using this paint, it is best to seal your furniture piece with wax.
The wax is best for use on table and chair legs, as well as other furniture items that don't get worn down as much. You can also use a topcoat that is a tougher and thicker designed for high-traffic tabletops like dining room tables or coffee tables.
This paint has a beautiful, silky finish and a smooth application.
Also available at River Chic Designs
Hemway Chalk Paint is a versatile and simple-to-apply paint that can be used on furniture, woodwork, walls, and accessories. It dries to a decorative matt finish and is available in 32 colors in 1 litre tins.
Hemway Chalk Paint has a coverage of up to 15m2/litre and a drying time of only two hours.
One coat is usually sufficient for good results, but two or more coats may be required if making significant color changes or painting on bare surfaces. The no-priming formulation is one of the best parts of this paint.
Another thing we like about this paint is that it is non-toxic and water-based. The product is safe to use in enclosed or poorly ventilated environments because it has almost no odor.
If you simply want to add creative decorations to an old cabinet or wardrobe, the paint is also suitable for use with stencils.
Also available at Hemway.
While other paints attempt to make a product appear brand new, this one purposefully makes it appear a little dated. Or, to put it another way, rustic.
As a result, this has become one of the most popular paint colors for distressed furniture. This black paint is suitable for use both indoors and outdoors. It is a water-based paint with excellent coverage.
Another benefit to this paint is that it is eco-friendly. This paint emits ultra-low VOCs, is non-toxic, and has a low odor.
It also does not contain phthalates, which are known carcinogens, as well as heavy metals, formaldehyde or solvents. Buyers should be aware that, while this paint has the similar rustic appearance as chalk paint, it is not chalk paint but instead chalk-based paint.
This can be used on plastic, metal, stone, and other surfaces in addition to wood. The final feature we'd like to highlight is that this is a two-in-one paint, so no primer is required. Two coats are all that is required to achieve a pleasing result.
Also available at Tykets.
Rust-Oleum is a household paint and finish brand that needs no introduction. As one of the world's oldest manufacturers, it's no surprise that their paint is the most popular option for wooden furniture.
While some will mistakenly attribute this to its low cost, the truth is that this is one paint you can't go wrong with.
This paint has a water-based acrylic formula that can be used on a variety of surfaces, including wood and unglazed ceramic, both indoors and outdoors.
A primer is also not required before application. All you have to do is sand the surface, then degrease and paint.
While a topcoat can be applied to this, it does an excellent job of resisting chips and protecting your furniture without it.
The small can has decent coverage of 30 square feet, which is enough to cover a couple of dressers. The surface will be dry to the touch after thirty minutes of application.
With the right conditions, you can finish your project faster than with most other paints.
One thing to keep in mind is that you must use a brush for the best results. Because this is latex paint, it must be thoroughly mixed before use.
Also available at Walmart.
Buyer's Guide
Here are some important factors that you should take into consideration when buying a black paint for your wooden furniture. 
Furniture Type
Different paints have varying levels of durability, so consider how you intend to use a piece of furniture before selecting a paint.
Chalk paint is quick and easy to apply because there isn't much prep work required.
However, because it is more prone to chipping and becoming dirty, it is usually best used for decorative items such as mirror or picture frames, rather than on surfaces that will see a lot of daily use, such as the top of a coffee table or a cabinet door.
If you like the appearance of chalk paint but are looking for a more durable option, you can seal it with polyurethane or wax or use a paint that is more durable with a matte finish.
Acrylic paints are more durable compared to chalk paint. This paint can be scrubbed and wiped until they harden to a scratch-resistant finish.
Finish
When getting for black furniture paint, the first thing you should consider is what you want your wooden furniture to look like.
A lot of people rather use a chalk-like finish when painting black furniture, particularly vanities and cabinets, to give the wooden furniture a modern feel.
Adhesion
Because of the lack of adhesion, painting furniture can be more difficult than painting walls. Paint with high adhesion eliminates the need for primer before painting. It also means that you won't have to sand as much between coats.
Fortunately, there are black paints that do not require primer. Of course, you can still use it if you want to reduce the number of coats you apply.
Toxicity
Most people paint their furniture indoors, which exposes their homes to a variety of toxic fumes, solvents, VOCs, and phthalates. These chemicals are carcinogens, causing respiratory problems, dizziness, and skin and eye irritation.
It is best to use the least toxic interior paint possible in homes with small children. All of the black chalk paint options on this list are non-toxic.
Application
Variety is said to be the spice of life, and this certainly applies when painting furniture black. Using a brush is usually the best way to apply makeup. This, however, only works with simple designs.
Nothing beats the speed of painting furniture with a paint sprayer for saving time. Furthermore, using a paint sprayer eliminates the possibility of brush strokes.
However, if you'd rather buy chalk paint to see some of the brush strokes, any of the options here will suffice.
Painters who are looking for a flawlessly smooth finish and will be working on a lot of projects may prefer something that can be easily sprayed, such as the Enduro Poly.
Price
When purchasing black paint, it is all too easy to let price be the primary consideration. The issue is that the price can be deceiving.
Perhaps a better comparison would be with the coverage area. For example, an 8 oz jar of Rust-Oleum paint covers 30 square feet, whereas Dixie Bell paint of the same size covers up to 38 square feet.
When calculating the cost, keep in mind the additional tools you'll require. Dixie Bell has more coverage in the example above, but you'll also need clear wax as a topcoat.
The Rust Oleum paint can be applied without a top coat. You can see why we consider pricing to be the least important factor.
As a result, my advice is to use the price only for two identical products, never for different types of paint.
Pros Of Painting Wooden Furniture
Here are some great reasons why you should paint your wooden furniture.
Creative Freedom
One of the primary advantages of painting wood is the variety of color and sheen options available.
An experienced painter can easily match the paint color for the wooden surfaces to other colors in your home, making a space that is more unified, and can also create a very intricate and beautiful finish for wood surfaces.
Easy To Maintain
While stains must be redone every few years to keep the wood protected from the elements, paint jobs that are high quality that do not chalk or peel can provide a good protective barrier for wood.
A reputable professional's paint job will also last for a long time with no need for repainting.
Hides Marks
If the wood surface you want to refinish is old and weathered, painting it can help mask some of the flaws and restore it to like-new condition.
Using paint also has fewer variables than staining natural wood, making it easier to visualize the finished product ahead of time.
Easy To Do
Paint, as opposed to some stains, can be much easier to apply to wooden surfaces. Painting your furniture also allows for easy recoating of surfaces over time without the need to strip the furniture back down to the wood.
Cons Of Painting Wooden Furniture
As great as a freshly painted piece of wooden furniture is, there are still some cons that you should think about before picking up that paintbrush.
Traps Moisture
Paint failure is only a matter of time because moisture becomes stuck in the wood and the area around it, causing the wood to naturally expand and contract.
This is especially important when painting decks because moisture can seep into the wood from beneath.
Hard To Change
Once a wood surface has been painted, removing the paint and restoring the wood's natural beauty can be extremely difficult, time-consuming, and expensive.\
Painting a wooden surface with a darker color can cause the paint to fade faster, requiring you to recoat the surface more frequently.
It's A Risk
You could end up wasting a lot of time and money researching different paints and how to use them only to have the finished product look nothing like you expected.
Then you must repeat the process, either sanding the paint off completely or painting over it with a high coverage paint.
Types Of Paint
To get a better understanding of what to look for in black paint for your wooden furntiure, it is important to know the different types of paint and the qualities that they have.
Chalky Paint
Chalky paint is becoming increasingly popular for repurposing vintage furniture and imparting old-world charm to newer pieces. This water-based paint has a latex base but has a thicker, more buildable texture.
Chalky paint is sold in specialty stores, but it is becoming more widely available. Some people have had success making their own chalky paint, but buying a commercial formula yields the best and most consistent results.
It is more expensive than traditional latex paint, but people adore it for its distinct appearance and silky smooth finish.
When compared to other types of furniture paint, chalky paint can have a bit of a learning curve.
It dries quickly, which is a plus, but it also means brush strokes are visible if you return to an area for a touch-up after the paint has begun to dry. Prepare to practice or be flexible in the overall appearance of the finished product.
To achieve a weathered appearance, sand or distress the chalky paint. As a result, the product is popular among those seeking a more vintage or shabby chic look.
Latex Paint
Using latex paint on wooden furniture is a common practice due to its ease of use. You can get a pint or gallon of latex paint from the local hardware store, and you can pick from a lot of different brands.
Low or no volatile organic compound formulas are also available and highly recommended for indoor painting projects.
While latex paint dries quickly, it takes a long time to cure and has a relatively soft finish that is prone to chipping and scratching. This is not recommended for heavy-use furniture. 
Latex paint, unlike oil-based paint, bonds to the surface layer of furniture rather than soaking into porous surfaces. As a result, this layer of paint is susceptible to damage. For the best results, prepare the surface with sanding and primer—and be prepared to do touch-ups later.
On the other hand, one of the major benefits of latex paint for furniture is the wide variety of colors available.
Choose from the color chips on hand, or have the paint counter create a custom shade to match your furniture and décor. With so many options, it's simple to find the paint color that matches your vision—and your room.
Acrylic Paint
Acrylic paint is a type of water-based paint for furniture that is similar to latex paint. Color particles suspended in acrylic polymer provide rich pigment with a smooth finish. 
It is a versatile type of paint for furniture because it can be applied to a variety of surfaces. It is, however, frequently sold in small containers, making it a better choice for small-scale projects like console tables, picture frames, and other accent pieces.
Acrylic paint is a type of water-based paint for furniture that is similar to latex paint. Color particles suspended in acrylic polymer provide rich pigment with a smooth finish. 
It is a versatile type of paint for furniture because it can be applied to a variety of surfaces. It is, however, frequently sold in small containers, making it a better choice for small-scale projects like console tables, picture frames, and other accent pieces.
You should keep in mind that acrylic paint has more elasticity and thus resists chipping and cracking better than some other types of water-based paint. However, it is still the better option for pieces that will see light to moderate use.
Oil Paint
Oil-based paint, also known as alkyd paint, is one of the most durable furniture paints. This durability, however, comes at a cost.
Oil-based paints are typically costly, take a long time to dry, and contain high levels of VOCs that necessitate ample ventilation. In fact, due to its components, oil-based paint is not widely available and is even prohibited in some areas.
Still, if you want a durable finish that won't chip or scratch easily, consider painting furniture with oil-based paint. You'll need a natural bristle brush and mineral spirits or turpentine to thin the paint and clean up. 
The benefit of using oil paint on furniture is that it adheres well to most surfaces. It saturates any porous surface and is self-leveling, making it simple to apply. The time it takes to dry between coats is long—up to 24 hours—but it cures faster than water-based paints.
If you don't know what type of finish is currently on a piece of furniture, you could also consider oil-based paint.
Water-based paints will have difficulty adhering to a surface that has previously been painted with oil-based paint. However, oil-based paint can be successfully applied over either water- or oil-based paint.
Milk Paint
If you want a natural paint for furniture that has a bit of a thinner texture compared to chalky paint but still has a lot of character, milk paint might be the way to go.
This nontoxic paint is made from milk protein and an activator, which is usually borax or lime. To change the color of the paint, color pigments are added.
Furthermore, milk paint's finish can be aged with light sanding or left intact for an appearance that is smooth and matte.
Milk paint is distinguished by the fact that it is typically sold in powder form. Mix in enough water to make the amount of paint you need, and save the rest for another time or for touch-ups.
It is typically more affordable than chalky paint but produces comparable results. To protect the finish, a top coat of wax or oil may be required.
How To Paint Wood Furniture
Use A Suitable Area
Because paints have chemicals that evaporate in the air, they can irritate the eyes, throat, and lungs, as well as cause headaches, dizziness, and sight problems, so proper ventilation is essential.
However, because chemicals vary depending on the type of paint used, those that contain no volatile organic compounds (VOCs) may not have these effects.
When painting indoors, the Consumer Product Safety Commission recommends leaving windows open as much as possible to avoid vapor exposure.
Also, while painting, use window-mounted box fans to get rid of vapors produced in the work area and have frequent fresh air breaks. An air purifier can also help keep fumes at bay.
A paint respirator mask or a N95 mask, both of which are available at hardware and big box stores, can also help prevent fumes from entering the lungs.
Close the paint can and leave the painting area if you experience watering eyes, headaches, dizziness, or difficulty breathing.
Prepare For Mess
Because painting can be messy, cover your work area with something that can get dirty or be thrown away, such as newspaper.
If you don't have any newspaper on hand, you can substitute newsprint, towels, old bed sheets, or old tablecloths.
You can also use plastic tablecloths purchased from a party supply store or an arts and crafts store as they are usually pretty cheap.
Take The Furniture Apart
Remove any removable parts from your furniture, such as drawers and doors, and set them aside.
Remove any pieces of furniture that you do not want painted, such as hinges, pulls, and knobs, and set them aside; if you are not able to take them off, cover them with painters tape.
Imperfections are more visible on black surfaces, especially if the surface is glossy. Fill in any dents or holes in your furniture with wood filler or putty.
Sand
You must sand your furniture before you can begin priming and painting it. This provides a rough surface for the primer to adhere to.
Buff the entire surface of your piece with fine grit sandpaper (between 180 and 220 grit). You do not need to completely remove the previous paint job; simply create a rough texture.
You must clean up any dust that was created while sanding your furniture. Wipe the entire surface of your furniture with a tack cloth to accomplish this.
Prime
The primer and paint you use on your furniture will be determined by the material. Select an indoor primer and paint designed for the surface, whether it's wood, metal, or plastic.
Consider using a primer designed for pre-painted surfaces if your furniture has already been painted. The label will indicate whether the primer and paint will work on the material of your furniture.
Grey primer helps to make shadows more visible, allowing you to spot and correct any flaws. The primer can be applied by painting or spraying.
Apply several light coats of primer (while allowing the primer to dry between coats) rather than one thick coat to avoid drips and puddles.
Once the primer has completely dried, sand any imperfections in the primer with 220 grit sandpaper, such as paint bubbles, drips, and globs. Then, using a tack cloth, wipe the piece down again.
Allow your primer to dry for at least 24 hours before beginning to paint. Check the instructions on the can, as some primers may require more time.
Begin Painting
Brushing or spraying the paint on in many thin layers rather than one thick layer will result in a smoother finish with fewer brush strokes. Wait at least 24 hours after applying one thick layer of paint before applying another.
When painting large, flat areas, use long strokes. If your furniture is made of wood, paint with the grain rather than against it. Last, paint the corners and details.
No matter how careful you are, the paint will occasionally puddle or drip. Other times, dust will fall onto your piece and adhere to the paint. If this occurs, buff the surface with a fine grit sandpaper, such as 220 grit. Then, using a clean tack cloth, wipe down the piece and apply one or two more coats of paint.
It should be noted that painting your wood furniture in extreme temperatures such as in the middle of summer or winter is not a good idea.
This is because if you are using a brush to apply the paint in the heat, you will see brush strokes being left behind.
High temperatures can also make the paint clump within the brush strokes which will leave you with a messy, bumpy finish.
If you have no other option but to paint on a hot day though, you can use a paint sprayer instead as this will not have the same issues as a brush. It will also help the paint dry much faster which is an added benefit.
Seal And Reassemble
Some stains and paints already contain a sealer. Others will need to be sealed for added security. Look for a polyurethane or polyacrylic sealer that can be applied with a brush or sprayed on.
Reassemble your furniture after the sealer and paint have dried. Remove any taped-off areas, then screw on the knobs, pulls, and hinges before reinstalling the drawers and doors.
Now you can take a few steps back and admire the beautiful, black piece of furniture that will add an elegant touch to any room.
Making Black Painted Wooden Furniture Distressed
A glossy, smooth, dark paint can make a piece of furniture appear modern and sleek. But if your décor theme is more rustic, don't worry, you can still blacken that old end table. Here are some pointers on how to distress painted furniture.
You'll still begin by cleaning and sanding, followed by your optional primer coat. Then, put on two or three layers of black paint.
Bring back your 180-220 grit sandpaper before you get the sealer. Sand lightly along the edges of your furniture's corners and ends, where you want the distressed accents to appear. This will remove the paint layers and reveal the wood underneath.
However, be aware that sanding over black paint can result in a chalky appearance, removing the paint's dark sheen. You can try wetting the sandpaper to make it less visible, but it will still happen.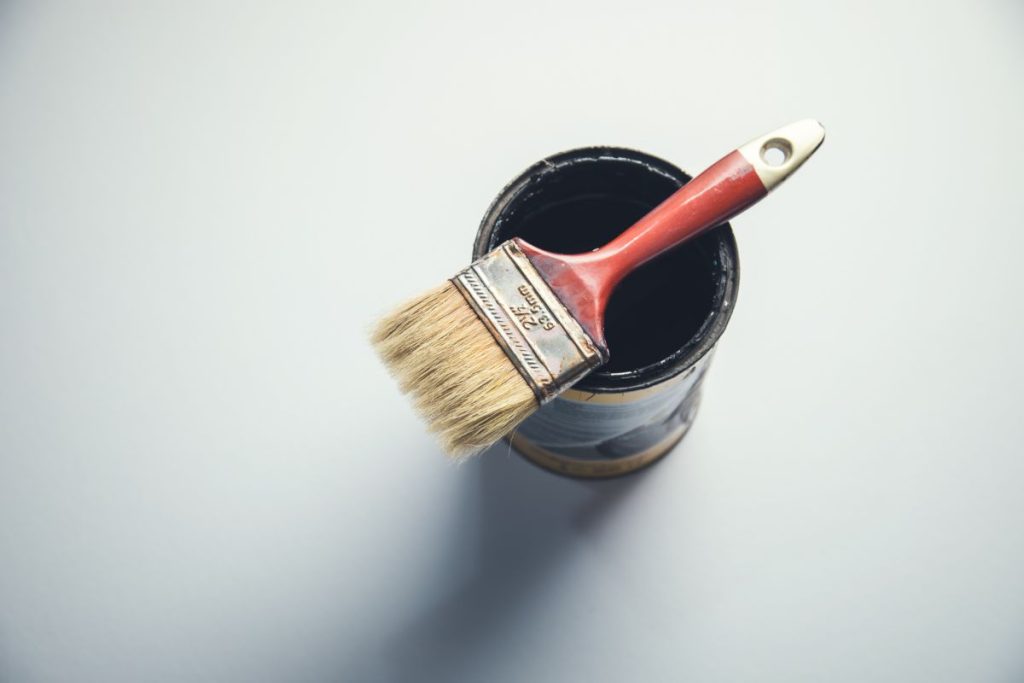 Luckily, the topcoat or sealer will help to conceal that flaw. After rubbing away the paint in the desired distressed areas, put on the sealer or topcoat according to the instructions above.
Black Paint Vs Black Stain
The main distinction between stain and paint that any woodworker should understand is how they are applied to wood. The stain penetrates deeply into the pores of the wood.
Paint, on the other hand, only coats the top of the wood. In the case of paint, it means a layer of pigments on the wood. Stain pigments, on the other hand, penetrate deep into the wood pores while providing true color.
Furthermore, there is a significant difference in their wood results. Stain gives, protects, and preserves the beauty of the wood, whereas paint only covers and hides it.
All of the other distinctions are based on these major differences. Let's go over each distinction in greater detail so you can decide whether to stain or paint the woods.
Both look great on furniture, but the finish can vary greatly. Paint has a wide range of colors, whereas stain has a limited palette. Because the stain has a natural appearance, the colors do not deviate too much from the original look.
Another big difference to notice in furniture is the covering of flaws. If it is mild, sanding and staining can make it appear brand new. To make the piece look new again, you may need to paint single or double layers to cover the severe flaws.
Paint, in general, lasts a lot longer than stain because of its thin layer on the wood, which protects the wood and itself from external weather conditions such as rain, storms, UV radiations, and moisture. Its thin layer completely covers the wood and leaves no cracks or holes.
Furthermore, the paint is sealed and primed, allowing it to last for 10 years if premium quality paint is used. And the longevity increases when you paint multiple coats.
Just one coat can easily last for around two years, and a double coat is required if you want it to last for 10 years or even more.
Frequently Asked Questions
Summary
Painting furniture black almost never goes wrong, as long as you master the technique. It gives your old furniture an elegant, timeless look that will make you fall in love with it all over again.
There is a variety of different finishes, coverage, and price tags on this list and now that you have seen some of the best black paints to use on your wooden furniture, there is nothing left to stop you from taking that leap and getting creative with your home!