If you are looking for a low-cost woodworking hobby then scrolling may be for you.
This is where you make small figures or decorations by cutting patterns into wood using a scroll saw.
While you may be worried about using machinery in your hobbies, a scroll saw is very easy to get the hang of, and as long as you follow some very basic and easy safety rules, you will be able to scroll wood for hours with no problems.
With the weather cooling down and the seasons changing, you have probably seen a lot of Halloween decorations in stores.
But have you ever thought about asking on your own?
Scrollwork is an excellent time to flex your creative muscles and make some spooky Halloween decorations out of wood!
In this complete guide on scrollwork patterns, we will tell you everything that you need to know about scrolling, including what wood to use and how to stay safe.
We have also found some spooky Halloween scroll working patterns for you to try out for free!
Keep reading to start your scroll working journey!
Where Can I Find Halloween Patterns?
Patterns for Halloween scroll saws can be found almost anywhere.
Some are completely free, others can be found in published books, and still, others may be purchased for a couple of dollars from various online retailers or other sellers.
If you use your scroll saw for a hobby or to make some extra cash during the holidays, having access to free patterns is always a benefit.
Free Halloween Scrollwork Patterns
Loads of free Halloween scrollwork patterns can be found online.
Even if many different websites sell the same designs, there are still plenty of patterns to try out this Halloween.
You can find all of the classic designs that you see at this time of year, including pumpkins, ghosts, witches, and candy corn.
These patterns were created by artists or by other scrollers, so if you are posting your decorations online then be sure to credit the artist.
Don't be afraid to brag about your skills as a woodworker, but don't forget to give credit where credit is due to the person who designed the pattern.
There are a variety of free scrollwork patterns available for download, whether they are small or large or anything in between.
Here are some of the best free Halloween scroll working patterns that we found online.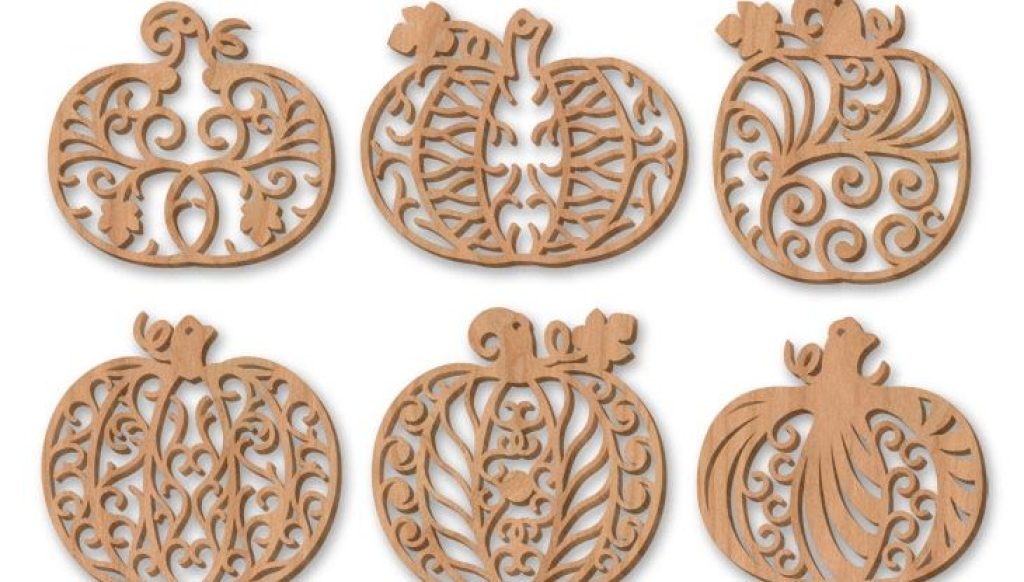 These intricate filigree ornaments are a lot of fun to make, and they'll make wonderful decorations for your Halloween party.
If you don't feel comfortable cutting them to the size of ornaments, you can construct window hangings or wall plaques by enlarging the patterns to the desired size.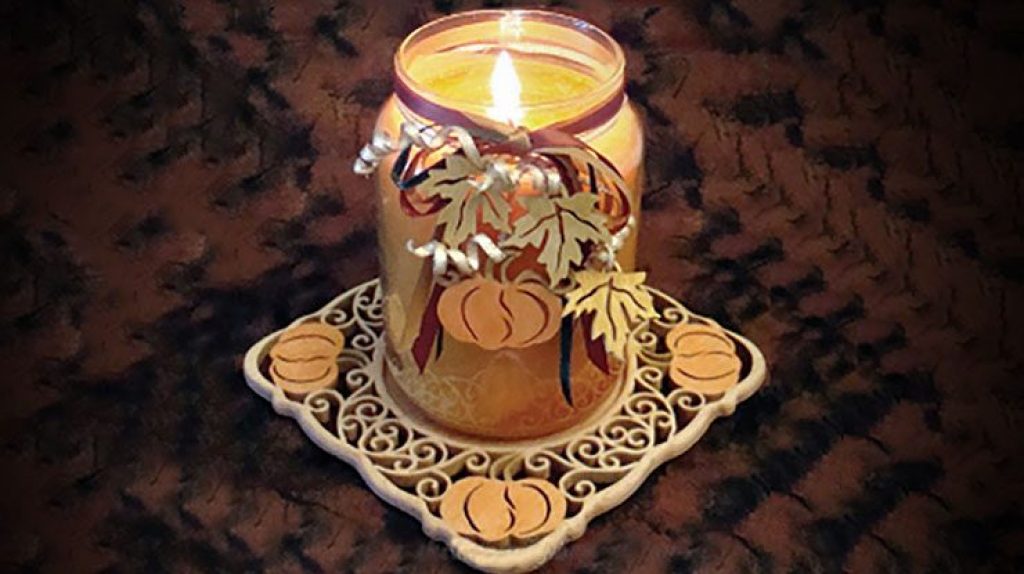 With this tray set, you can transform any candle into a festive decoration for the holiday.
This lovely tray not only safeguards your table but also contributes to the spooky ambiance thanks to the pumpkin design.
If you don't want to make this tray Halloween-themed, you could instead paint this design in fall colors to match the cozy season outside.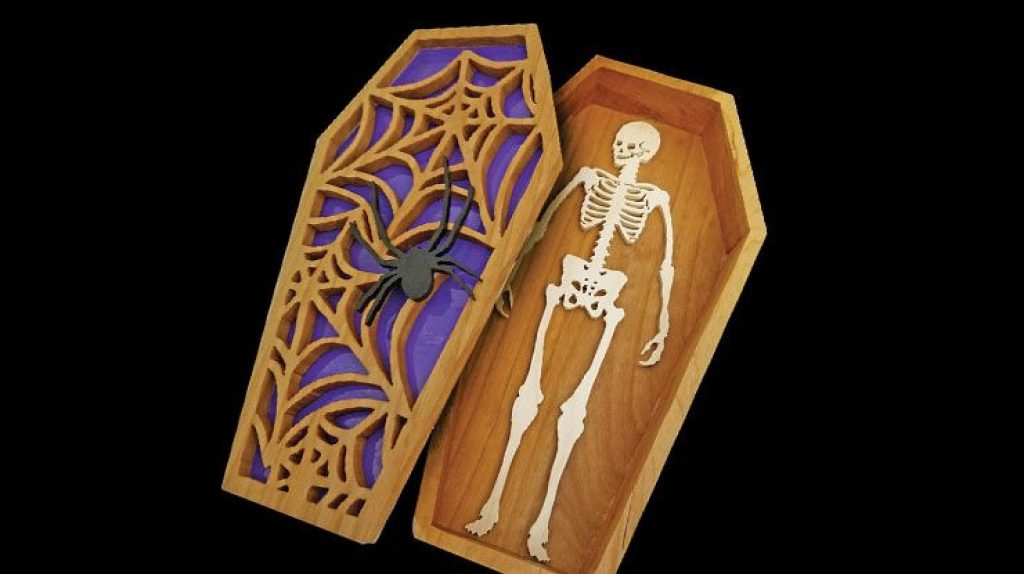 Create a one-of-a-kind present for Halloween by stuffing this spooky coffin with candies.
If you have the guts, crack open this spooky candy box, but be careful of the skeleton hiding under all the candy!
You may make this ornamental box any size you want.
If you do make this box bigger than the plans for this design though, you will need to construct the sides out of many thin pieces of wood, affix them together, and then sand them down until they are flush.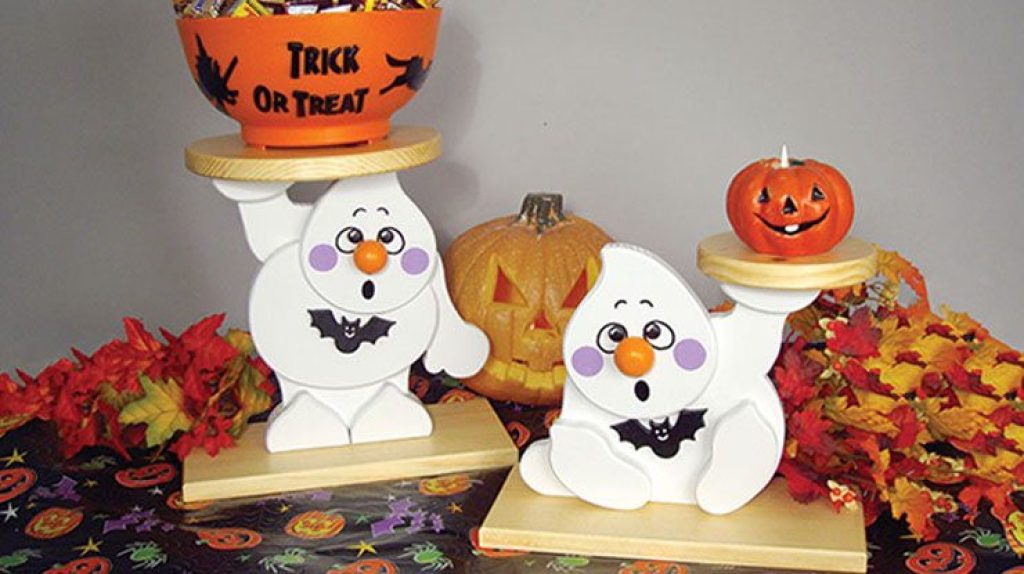 The addition of these speedy and simple pedestals gives any dessert an eerie air.
On top of one of these friendly ghost pedestals, you can place Halloween candies, biscuits, a dish of other Halloween treats, or even a candle.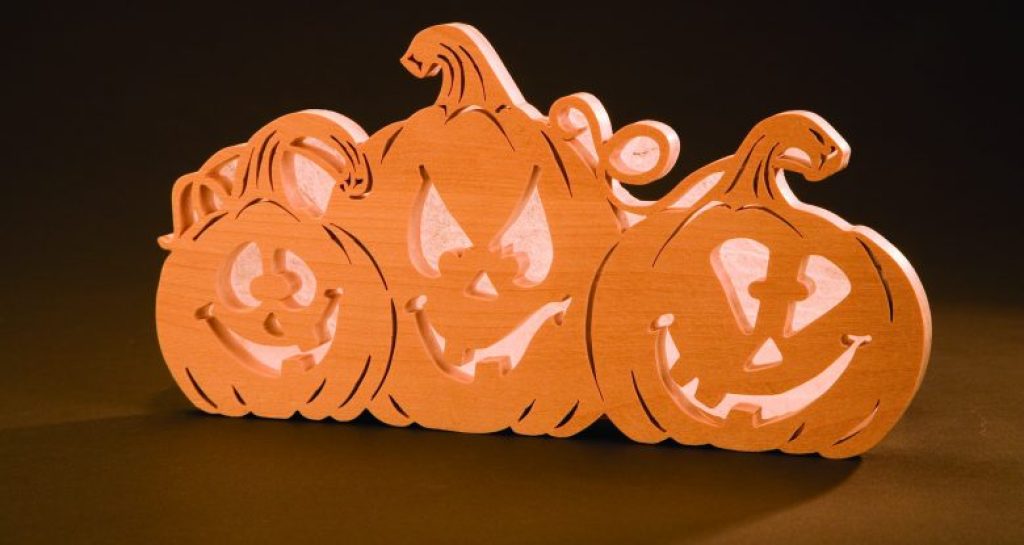 Create a simple and quick decoration for Halloween with the help of this ingenious candle holder.
This lovely pumpkin trio can be arranged in a variety of different ways.
You can cut individual pumpkins out of paper, scroll them out of Baltic birch, and add some fall colors to create a one-of-a-kind decoration.
You could also cut individual pumpkins and add hardware to create a one-of-a-kind pin.
Or how about you add a base and a tea light to create an instant shadow-caster?
To begin, adjust the sizes of your patterns so that they match your requirements.
The template that was provided can be used to make a candle holder of the appropriate size.
What Is The Best Wood To Use?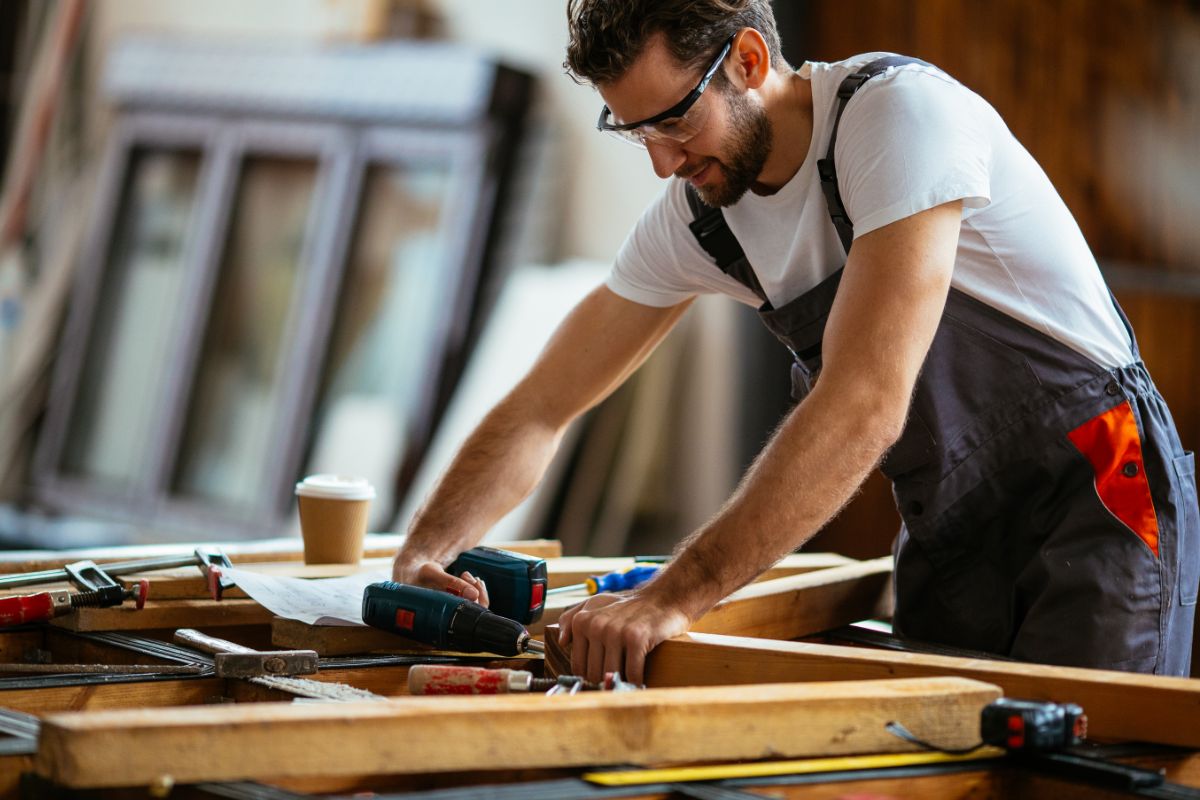 If you are looking for a cheap woodworking hobby, then scrollwork is it.
Saws typically start at around $100, and scrap wood may be used for virtually any project imaginable.
Many scrollers begin their careers by practicing on scraps of plywood before moving on to working with more expensive plywood panels and hardwoods.
Pine is an excellent and cost-effective choice for a variety of scroll projects, including the creation of painted plaques and other yard decorations.
In many cases, the kind of timber that works best with the construction of the decoration is specified in the pattern itself.
In the construction of many ornaments and wall plaques, finish-grade plywood of varying thicknesses is recommended.
While some projects may tell you what kind of wood works best with the pattern, if you are going to paint the design then it doesn't matter.
You are going to paint over it, so no one will be able to see the knotty pine board underneath.
Use more expensive and attractive types of wood if you plan to stain your project, leave it unpainted, or put a clear coat finish to it.
When learning a new skill, it is best to practice on inexpensive or even free wood.
Pine is an excellent wood to choose from when you are just starting out using a scroll blade.
Once you have built up your skills, you can move on to oak wood
Before you waste expensive wood, get used to the sensation of how the saw slices by practicing on scrap wood first.
There is no such thing as a "bad" type of wood for any project.
You are the artist who will be using the scroll saw, and it is up to you to decide what would you like to work with best.
Kerfs, Blades, And Saw Dust
When it comes to scrollsaws, the blades come in a wide range of sizes and designs to work with any cutting task.
As the wood is sliced, a portion of it is removed from the board by each edge. The region that was cut away is referred to as the kerf.
The bigger the blades the bigger the kerf will be made, and vice versa.
Because the width of the kerf is a part of the design of some patterns, you should be sure to use the exact blade that the Halloween patterns instructions tell you to use.
Either plain ends or pin ends are found on blades.
Many older saws have blades with a pin end, although adapters are available to make them compatible with plain end blades.
The teeth of the blade depend on the type of blade that it is, and there are many different saw designs like:
Crown-tooth blades
Standard/Regular tooth blades
Spiral blades
Skip-tooth blades
Precision ground blades
Reverse tooth blades
Double skip tooth blades
Each blade and cutting technique has its distinctive qualities that are tailored to certain cutting applications.
Because the standard blades only cut in one direction, you will need to rotate the piece on the saw deck to cut out the whole design.
This is not an issue when using spiral blades though.
A spiral blade may cut in any direction, so the piece of wood being cut does not need to be rotated when you are cutting it.
When making curved cuts, a spiral blade offers a lot of benefits to make cutting easier.
However, the cutting method that it uses creates a large Kurf in the wood. This creates a lot of sawdust that could be a hassle to clean up.
You should never try to force the wood through the blade. The cutting should be left to the blade itself.
If you need to push the wood to produce a cut, it might be time to buy a new one.
If you apply too much pressure to the blade, it will bow, which will result in uneven cuts, particularly when you are stack-cutting.
How To Stack Cut Wood?
Because Halloween scrollwork styles typically call for thin wood, it is possible to cut many of the same designs at once by stack-cutting a project.
Stack cutting a project is a technique that requires no additional tools and is very easy to do.
To stack cut, start by finding or cutting base pieces of wood to the same size.
Place them on top of one another and secure the stack by taping the edges with painter's tape.
On the top piece of wood, place the pattern ready to be cut. Then all you have to do is drill the pilot holes and cut out your design!
Using this method of scroll working, you will be able to cut out many of the same patterns at once, which will save you a lot of time if you need to make a lot of these decorations.
If you are making gifts for everyone in the family or stocking up for a craft show, stack-cutting is a terrific way to save time and reduce stress.
When working with base stock that is an eighth of an inch thick, you can stack cut up to five or six items in a single pass.
You can stack three or four foundation pieces if the stock is a quarter of an inch thick.
You should only stack two pieces at a time if the foundation stock is half an inch thick.
Clean Up, Ventilation, And Safety
When you are in a workshop, safety should always be your number one priority.
Even if you are experienced with woodworking, you never know when something could go wrong or when an accident will happen.
There are a few basic and easy safety procedures that you should do when scroll working.
These are to keep you safe but also to keep you comfortable as you work with machinery.
Put on safety glasses
Don't wear baggy clothes or this could be caught in the machine
If you have long hair then put it up or put a hat on
If you plan on doing a lot of cutting in one day you have to put on a face mask
Put on hearing protection as the machines can get very loud
You might want to think about installing dust collection or ventilation if you will be cutting a lot
Make sure that the saw is always off when you are not using it
In addition to this, you should make use of the hold-down component that is attached to your saw.
Be aware of where your fingers are at all times and make sure they are always kept to the side of the blade.
Last but not least, make sure the shop space is always tidy. Place waste in a container, and sweep the floor regularly.
Summary
Scroll sawing is a hobby that has the potential to be both fulfilling and calming.
The cost of wood and supplies can be justified as it is relatively cheap compared to other woodworking crafts.
You could also make some of this money back by selling your designs.
You create your own business and sell these designs online or in a local shop or market.