A drum sander is a unique choice of woodworking equipment that uses a large, fixed base machine to easily smooth out sections of wood.
It consists of a single or dual drum attached sideways over a moving belt. You may have heard that this is a great addition to your woodworking tools that will help you in many ways, but because they're so expensive, you might feel tentative.
So let's say your mind is set. You're going to get a drum sander – but then a new problem arises! One look online or in stores, and you're finding many different options. With so many drum sanders out there, how can you know what the right one is for you? Are some drum sanders better than others?
If you find yourself asking these questions, then you've come to the right place! In this article, we'll take you a look at the 8 best drum sanders for your workshop!
We've broken each one down into a simplistic list of pros and cons so that you can quickly skim over some of their most important features. We've also added an extensive buyers guide to explain our choices and a short Frequently Asked Questions section to answer anything you may have left over by the end of our article. 
Let's get right into it!
What Is A Drum Sander?
In short, a drum sander is a versatile and streamlined tool that will help massively in any woodwork project you're looking to take part in. A drum sander will help you sand planks of wood to make them either flatter, smoother, or thinner.
They're most commonly used to sand panel boards, entire frames, lengths of plywood, floorboards, fence boards, and any other large planks of wood you'll need perfect to complete your project. 
A drum sander differs from other pieces of sanding equipment because of its distinctive, round sanding 'dum' that allows for more precise control over the section of wood that you're finishing.
The drum will automatically rotate, powered by a motor, and also features a revolving conveyer belt that helps feed your plank through the machine. 
You might be wondering why you should invest in such a large, powerful machine when there are alternatives out there.
Most people choose to go for drum sanders because they massively improve workflow and give pieces of wood an easy finish that you'd otherwise have to work quite hard to achieve. 
Other drum sanders, such as a planer, can cause blemishes on your finish, including burnt sandpaper and heat marks on your wood.
Drum sanders, in contrast, have been created to create a consistent finish, and many offer smart features that allow you to manually control feed rates. They're a great investment if you work with wood a lot and want a more optimized way of finishing your projects.
Best Overall Drum Sanders
First on our list, we have a sturdy and well-constructed drum sander that might be your best choice because of its smart features and reliability.
Let's talk aesthetics first of all – it has a fairly understated design, coming in dark yellow with a black control panel that will fit nicely within your workshop.
The control panel includes a few simple buttons, including a large emergency stop button for safety, a simplistic on/off switch, a few different feed control options as well as an mm/inch selection button.
The best thing about the technical aspects of this sander is the LED display which allows gives you automatic insight into the speed of the conveyor feed, the load monitor capacity, and the height of the drum as you're working. 
You're probably wondering what types of sanding jobs this is most suited to. The sanding unit is a cylinder of 127mm that can easily handle large project items such as big planks of wood or even entire doorframes. It includes a series of easy-to-use fixing clips that will let you change the abrasives without any issues.
One of the most important features of this drum sander is its unique Feed Logic System, which helps to automatically monitor the feed speed of the machine.
If your drum sander gets close to the risk of shutting off, the logic system will automatically reduce the feed speed without you having to do anything. This can do wonders for peace of mind and is especially important considering the investment you'll be putting in to buy this machine.
JET is known to create industry-standard drum sanders for a reason, and if you want to see an example of this look no further than the JWDS-1632 Drum Sander.
Compared to the last product on our list, it's a lot less heavy, weighing around 156 pounds in total. It takes up a lot less room, and you'll be able to put it somewhere in your workshop without having to make a massive amount of space.
One of the best things about JET products is that they prioritize ease of use. With a series of smart controls, you'll find that the drum will automatically monitor the load that is being placed onto it.
This allows you to get instant regulation of the belt feed, and therefore a much smoother sanding job once it's done. The JET JWDS swaps a lot of the more difficult work you'd have to do yourself in terms of feed control, so this makes it the perfect drum sander for beginners. 
Another important feature that is worth noting is its well-designed dust hood that collects dust while the drum sander is in use.
If you've ever used a drum sander without a dust hood or some kind of collection system, you'll know that clearing this up can be a nightmare. Thankfully, with the JWDS all you have to do is detach the dust hood and dispose of it once you're done working. 
Best Small Drum Sanders
Next in our list, we're going to go over a few different options you'll have for smaller-sized and mini drum sanders.
This first product is another from JET, a reliable company that creates simplistic machinery for everyday use. The JWDS-1020 is a great choice if you're looking for something that will fit on a benchtop and sand smaller objects. 
With dimensions of 29.5L x 20.5W x 17.1H in inches, it's a very small machine that you can easily add to your workshop without having to make too much space.
This is a great thing if you're looking for something small that you won't have to clear an entire corner for. It's made from heavy-duty die-cast aluminum and steel that creates a robust body that is both sturdy and easy to clean. 
Another reason why aluminum is a great choice of material for the drum is that it has been designed to dissipate heat and stop any needless heat-damage imprinting onto the wood you're sanding. 
Its control panel is more simplistic than the product we mentioned above, but it has all the buttons you need including an emergency stop button and infinitely-variable speed control options.
Other important features include a 4" dust collection port to stop the machine from overloading, a circuit breaker to protect the motor and a parallel adjustment dial that allows you to adjust levels without much trouble.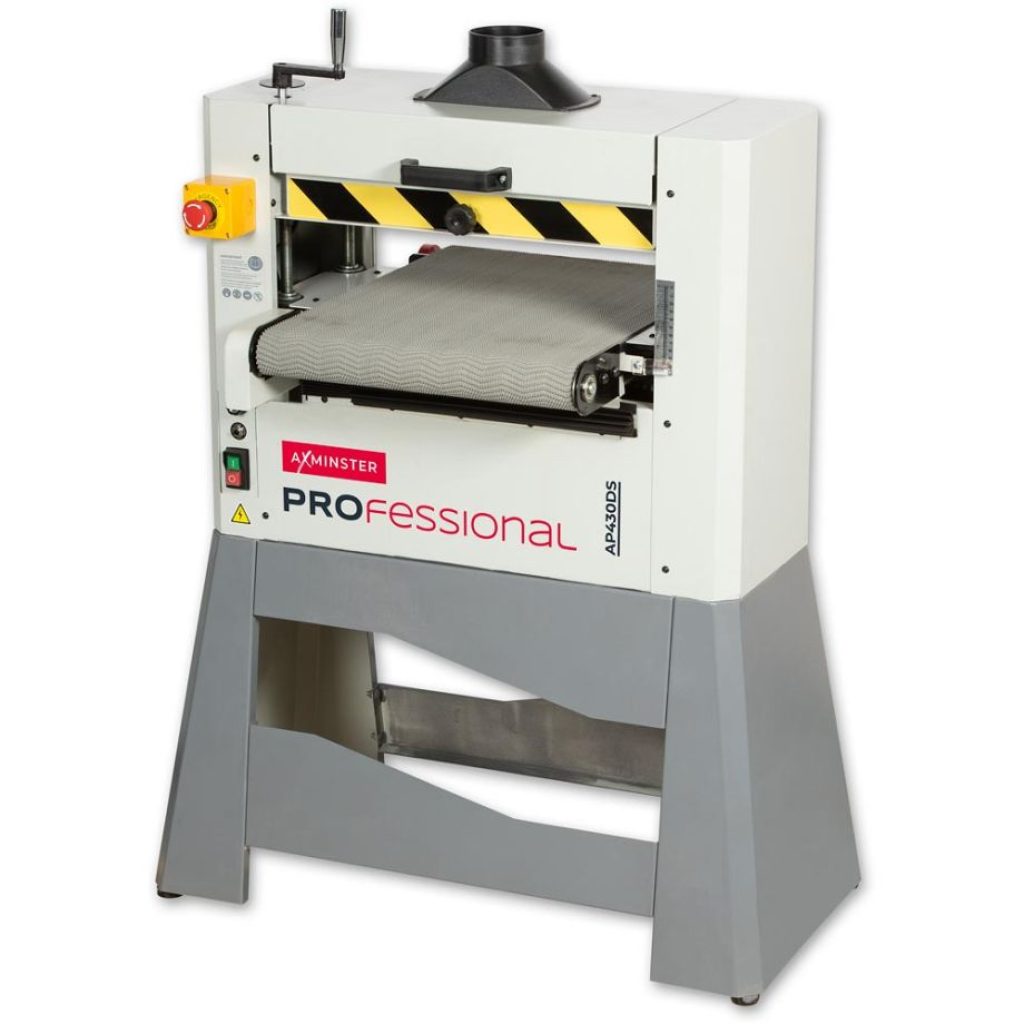 Another option you can buy if you're looking for something small is this compact little machine from Axminster. It comes with a lot less power than our previous JET product, but its simplicity is what will make it a  good purchase for you.
This is a single drum sander and is suitable for finishing many different types of timber. It's a compact model that you can easily fit on a benchtop but comes with a stand for added elevation.
It has been designed with a cast iron table alongside a rubber conveyer belt. The rubber chosen is soft enough so as not to mark any of your work, which is vital when getting a perfect, blemish-free finish.
We found the feed to be consistent and even, and there are a few different feed speeds to allow you to vary the quality of your finishes. 
This model comes with a simplistic pop-up top hood at the top of the machine that allows you to easily switch out sanding material and is most suited for 76mm wide abrasive strips.
You can choose between three different types of abrasive loadings including 80, 150, and 240 grit. You also get some handy quick-release clips (one being spring-loaded) that allow you to secure the abrasive without much difficulty. 
It comes with a single dust port that helps you to easily remove dust and allows you to connect it to an extractor. A big downside to this drum sander is its lack of a comprehensive control panel.
You'll get three simple controls – an on/off switch, a slow-to-fast tuning dial, and an emergency circuit breaker. This means you'll have to be a lot more careful when it comes to workload and making sure you don't overload your motor. 
If you're looking for something a little larger, but something that will still fit nicely in your smaller workshop, this model from Shop Fox might be a good choice for you.
It features a 1.2 horsepower sanding motor, which gives you all the power you'll need. It has a drum surface speed of 4000 FPM, which will give your planks a nice, consistent finish. 
It's important to note the maximum stock dimensions at 36" wide and 4-½" thick. There is also a minimum board length of 6", so you'll need to measure the work you're considering before making a purchase and committing to this drum sander. 
You'll be able to easily set the conveyer feed to different rates, from 0 all the way up to 12 FPM. This means that it can produce a lot of different finishes, whether you're working with hard or softwoods. This versatility is a great thing to have and means you'll be able to switch rates on the fly without much difficulty.
Another feature we think shines is the open-ended design, which allows you to see what's going on at either end of the machine. It also has an easy-access lid that you can pop open to quickly change sandpaper. 
Best Powerful Drum Sanders
Okay, so let's say you're looking for something more complicated, something really powerful that you can use in a lot of different projects.
If this is the case, then you might want to take a look at the Grizzly G1066Z, a large machine that offers several, professional standard features to help you succeed in your larger woodworking projects 
So let's consider for a moment some of its main features. First off we have the inclusion of 2,4" diameter dust ports that allow you to easily hook up your machine to a complex dust collection system.
This is vital when you consider the size of this machine and how much dust it can create when working through a long project. We also really like the rubberized feed belt, which gives you a lot of traction and is easy to clean should you need to after long sessions of use. 
One look at the control panel gives you a lot of information and options to fine-tune your drum sander to fit whatever you're trying to accomplish.
On the left, you have start/stop buttons for both the sanding drum motor and the conveyor motor, which allow you to easily stop or start them depending on what you need in the moment. It also has a conveyor speed control dial that lets you easily tune the speed of the conveyer on the go.
It also comes with the expected emergency stop button and a sanding load monitor that helps you keep an eye on it all the way through the sanding process. 
It handles wood up to 23-1/-Inch and 4-¼ inches thick, which gives you a lot of options, and its variable speed conveyor allows you to hone in on the perfect feed for whatever you're trying to smooth out.
If you're sold on the idea of buying a JET product, but want something with a lot more power, then this model from the company might be a good bet. It comes with 1.75 Horsepower, which allows you to easily sand anything you want.
Like the Grizzly product before, this additional power does come with some difficulties for beginners, but if you're somebody who is used to using a powerful drum sander or other kinds of machinery then this might be the one for you. 
It features a parallelism system that lets you adjust on the go, with a worktable that can be positioned differently depending on where you turn the parallelism dial.
This gives this drum sander a lot of flexibility depending on the angle and position you need. It also includes a variable speed rate, which allows you to select the perfect feed rate no matter what project you find yourself working on.
It also features the patented Sandsmart feature unique to JET machines, which will automatically monitor the load on your drum motor to stop any overheating or overloading.
As with all JET products, this offers you a lot of peace of mind and stops you from ending up with a broken machine that is difficult and expensive to fix. 
We also really like the mirrored design of the dust hood, which helps the machine collect dust and stops any stray fragments of wood or dust from marring the finish of your wood.
Finally, we'd like to point out the open-stand design of this product, which allows you to easily place different tools or objects below the drum – a handy little feature that gives you additional storage space. 
Next up we have what is going to be the most powerful and largest-capacity drum sander on our list. Let's say you're looking to undertake a large project where you'll need a lot of space and power – this is going to be one of the best choices you have available to you.
The Supermax 25-50 is a heavy machine, weighing in at 369 pounds, with a horsepower of 1.75, a speed of 1740 RPM, and a capacity of 50". 
The capacity is the crowning feature here, allowing you to work at a 25" capacity with a single pass-through of the drum sander.
If you find yourself having to sand down multiple, large pieces of wood in a short amount of time, this is going to let you do this easily. If you want to work at a 50" capacity, then all you'll have to do is do a second pass-through.
One thing anyone who has worked on a long project will know is that dust management can be difficult. Thankfully, the SuperMax 25-50 comes with a 4" dust port that lets you hook it up to a dust management system and work without fear. 
If you're worried about the size and weight of this machine, then you need to know that it has been designed with a few features to help you move and store it.
Its closed stand has a built-in set of wheels and a storage compartment which allows it to double up in your workshop as a place to store additional tools. Its base has also been designed to be mobile, which allows both the stand and machine to move without much issue. 
Buyers Guide
With so many different options out there when it comes to drum sanders, it can be difficult for a beginner to understand what makes one superior and another inferior.
A lot of the specifications you'll find in product guides feature specialized terminology that without hands-on experience, can be difficult to understand. 
Because of this, we've written this extensive buyers' guide that will take you through everything you'll need to know about features to look out for when shopping online or in stores for drum sanders.
Make sure to pay close attention to each section, so that when the time comes for you to make your purchase, you'll be able to select the drum sander that is best for you, your project, and your workshop. 
Weight/Size 
Okay so the first thing you need to consider is the weight/size of the machine you're considering versus the space you have available in your workshop.
Some of the more powerful dual drum sanders that you'll find are extremely large and take up a lot of space.
This could be a non-issue if you have a large workshop with a lot of room for additional pieces of equipment, but if you're struggling to find room for anything new then you're going to want to carefully consider the size of your new drum sander. 
Let's say you only have room to place something on your workbench. If this is the case, then you should go for something smaller that doesn't require an entire section of your room to fit.
That's why we had a sub-section to go over some of the smaller pieces of equipment available. Just know that any drum sander you consider is going to take up at least a fair amount of space, so keep this in mind before setting your mind on a specific model. 
We'll go into more detail about dust hoods and filtration systems, but if you have a more extensive filtration system then you're going to need to make sure you can position your drum sander close to it. 
Sizing (Width And Thickness)
You need to make sure that the drum sander you're looking at is suitable for your project. Every drum sander will have a specific capacity that will determine the size of the wood sections you'll be able to fit inside.
Check the specifications to make sure that the sander you're looking at will be the right fit for your project/the sizes of wood that you're normally working for. 
Open-end sanders are a great choice here because they offer a lot more space and versatility when it comes to the capacity of the machine.
Keeping this in mind when shopping online or in-store will allow you to avoid any disappointment after your purchase.
Motor Power
The motor you get with your drum sander will mean the difference between something that is reliable, and something that will cause you no end of difficulty.
The motor of a drum sander is one of the most important things that will determine how well your workflow. You should know that motor power is almost always measured in horsepower – a term we've used multiple times throughout our 'best of' list. 
You'll generally find that motors range from 1 to 5 horsepower. Trying to choose the right motor power for your workshop can be difficult, but a good rule of thumb to keep in mind is the higher the horsepower, the more power that will be consumed, but the more efficiently it will be able to work.
High-horsepower motors will often be able to finish planks of wood much faster than something lower. 
Control Panel
The control panel of your drum sander is going to determine the options you'll have available to you. Some will be extremely simple, perhaps just an on/off button and/or an emergency stop.
Others have more extensive controls including dials that will allow you to accurately fine-tune your feed speed and monitor how close your motor is to becoming overloaded. 
We would generally recommend getting a drum sander with as many manual controls as you can find. This will make everything easier for you, even if you're a beginner because you'll be able to better control your sander.
If you're a more experienced woodworker that has used a drum sander before, you might want to consider something a lot more complex, so that you can completely control your drum as you're working. 
Dust Ports
Dealing with dust is one of the most frustrating things when it comes to sanding wood, but thankfully any good sanding drum is going to have something to help you.
We would suggest that you make certain that the drum sander you're looking at has at least 1 dust port that you can hook up to your filtration system. This will stop dust from flying everywhere, getting on your clothes, hair, and around your workshop. 
More on this, we would heavily dissuade you from buying a drum sander that doesn't have some form of dust management system built into its design.
This is a quick trait you can look at to determine how well-designed a sander is before you even look at any of the finer details. 
Stand/Design
The stand and general design of your drum sander are going to do wonders for your workshop, depending on what they've included. Many come with a pre-made stand that can elevate your sander to eye level, and often come with a lot of additional features to help you store tools, or other pieces of wood.
Look out for additional shelves, cabinets, or any other storage space features at the base of your machine. 
Mobility
This is another thing you'll want to consider, particularly if you're looking at purchasing a big, heavy piece of machinery.
Many of the heavier models that you'll run into will be equipped with some form of design feature to help with mobility. For example, one of the larger drum sanders in our list above featured a set of wheels that help you move it around. 
If you're looking to place a drum sander in a static place for the entirety of its lifespan, this might not be so important to you, but just know that some of them are difficult to move and can require multiple people to do so. Mobility features are a good way to get around this. 
Dual VS. Single Drum Sanders 
The main two types of drum sanders you'll find on the market are single or double. In this section, we're going to give you a comprehensive breakdown of what both are, and which you should select for your personal project/workload.
Single: single drum is the classic version of the machine which comes with a singular sanding drum. These are more simplistic and are usually limited to a single sandpaper grit. This can be fine if you're looking to only create one type of finish, but if you need to use different types of grit then you'll have to swap it out as and when you need to. It's also worth noting that single drums are the more affordable option you'll have at your disposal.
Double: understanding the difference here is simple. A double drum sander has two drums rather than one, and you can equip it with different grits as you need. This will allow you to double-sand a piece of wood with just one pass through the conveyer and can do wonders for your overall workflow.  
Which one is best for you? Well, this really depends on the project you're working on. Let's say, for example, you know that you're going to want to double-sand each of the pieces you're working on.
Selecting a double drum sander will make this so much easier and cut a lot of time down for you. However, a double drum is often much more expensive so you'll want to keep this in mind before committing to a purchase. 
Aesthetic 
This is a small one, but something you might want to keep in mind if you care about how your workshop looks. Most drum sanders are seen as tools, so designers don't care all that much about how one looks.
However, if you're looking for something that looks slick we would suggest any of the jet models. They have a solid, modern look that we think looks better than a lot of their competitors. 
Final Thoughts
So there you have it! That was our list of the 8 best drum sanders on the market, as well as a comprehensive buyers guide to help you make your future purchase!
Buying a drum sander can be a great addition to your workshop, one that will drastically decrease your workload and create a beautiful finish on any piece you're working on.
Because they are such a big investment, you're going to need to carefully consider your own needs and how well this new machine will fit into your workshop.
We hope that this guide has given you some ideas for the kind of drum sander that is best for you, as well as helped you to understand the things to keep in mind when shopping.
If you still have some questions, make sure to check below for our Frequently Asked Questions section! We wish you the best of luck in your future projects and hope that your drum sander helps you achieve perfection! 
Frequently Asked Questions