Are you hoping to try your hand at woodworking, but you're not sure which tools you'll need to get you off the ground? Honestly, figuring out what tools you need to get started is the hardest part!
Everyone always says that a poor workman blames his tools, and while I'm sure there is some truth to this, I'm a big believer that tools are essential!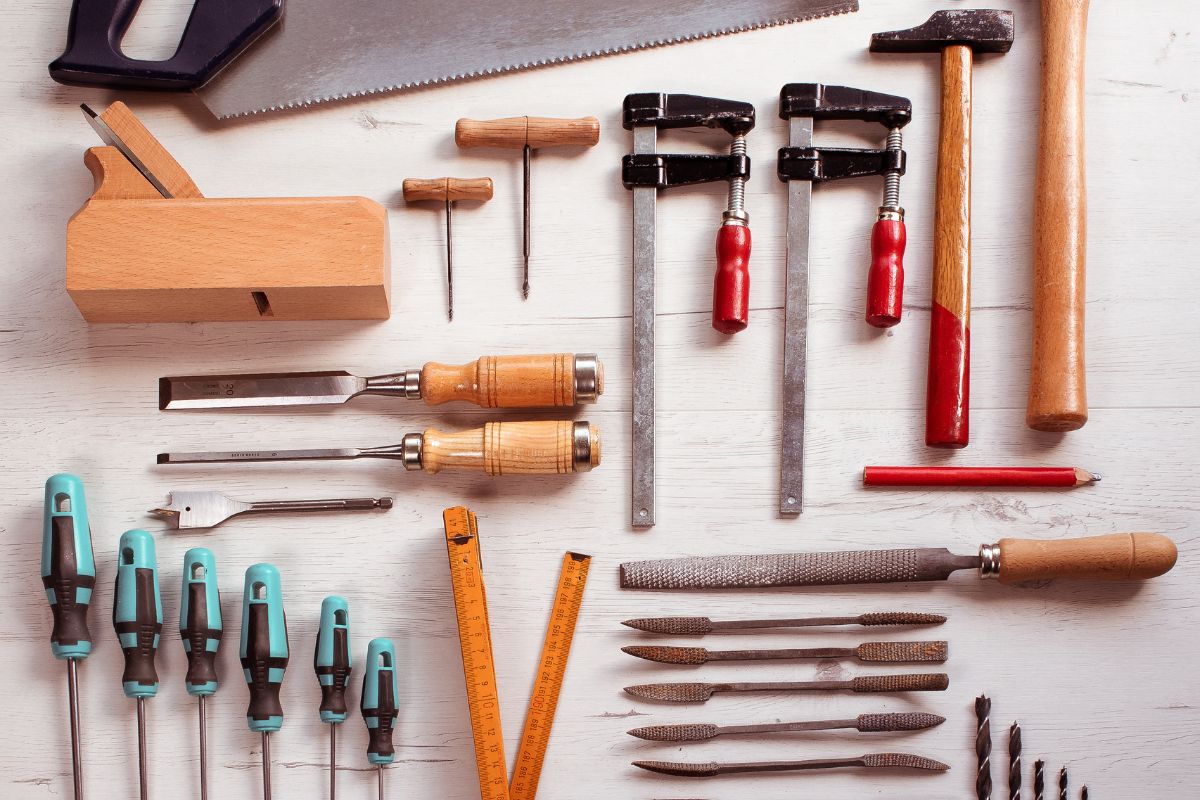 You can't easily begin a woodworking career without a drill now, can you?
And the internet doesn't help. The crazy number of different drills available online is overwhelming and confusing.
How on earth are you expected to decide with all this crippling information available?! Well, that's what I'm here for.
This article will walk you through all the best woodworking tools for beginners, and you will have everything you need to get started before you know it!
So, let's get started! The list I have compiled below provides you with the tools you need for basic woodworking projects to get you started.
A Workbench
A workbench is essential when it comes to a woodworker's workshop. With the workbench, you can get away with a homemade one if you feel like you can make yourself a safe bench.
Safety is also essential, so if you're not confident that you can make yourself a bench that will do everything a workbench should do, then you should consider purchasing one.
This workbench is a great all-rounder. It holds a lot of weight – supporting up to 300 lbs when used as a worktable.
You can also use this table as a sawhorse, and if you use it this way, it has two clamps that will stay attached, making it easy to transition from one to the other. 
The bench is very sturdy while also remaining light and foldable. It is easy to move around if you don't have a permanent workspace.
It is also easy to store if you need to put it away after you are done with it. Its design is fantastic, and it also includes a storage shelf underneath the counter which is great for storing your tools!
This bench is made of durable material, which means you will be using it for a long time!
If you want to, you can link 3 of these tables together, creating a whole work counter for you! This means that you can have it in whatever size you want at the time to fit in with your requirements. 
Pros
Great design. Light and foldable, with a great shelf underneath for storage!
Durable. Made out of sturdy and reliable material, you can keep this storage bench for years to come.
Can be linked to others. You can extend this product to a full-sized workbench by linking up to 3 of these benches together.
Cons
Clamps aren't very strong. The clamps on this bench break over time, so you may need to replace them.
A Saw
One of the most important parts of woodworking is the cutting of wood.
When it comes to cutting, you can either choose to work solely with hand tools, or opt for power tools that will improve your speed and ability very quickly.
When it comes to cutting, we'll take a look at a couple of products you might want to consider purchasing as a beginner. 
Hand Saw 
A hand saw is an essential tool for woodworking beginners. For years, handsaws have been essential for woodworking, and that is not about to change.
Just because there are electronic alternatives doesn't mean we should ditch our old friend, the handsaw.
Especially when it comes to those who are just starting out: sometimes, hand saws are a great way to learn. 
This hand saw is very sharp and will successfully cut through any boards, PVC, tree branches,… and human bones! (so be careful).
The saw has very sharp teeth. And they will stay sharp for a long time, thanks to the precision polish treatment and low-friction coating of the blade. The blade is also very rigid, which means that it makes straight cuts and can cut all types of wood. 
The design of this hand saw is second to none, as it has a fantastic grip that will ensure your hand will not slip while you are using it.
It is a fantastic addition to the toolbox, and you really WOOD 🪵🙈 be lost without this in your toolbox.
Pros
Sharp blades. This is a very sharp tool, and it will cut through everything that you require it to.
Ergonomically designed. It is designed to fit your hand well and cut in straight lines.
Essential for your toolbox. This item is the main event in every woodworker's toolbox; you can't live without it.
Cons
Short blade. Compared to some handsaws, this one has a relatively short blade, so cutting large parts will take more effort.
See also: our review of the best handsaws for woodworking
Miter Saw 
A miter saw is also great for starting basic woodworking projects. With this tool, you can make cross cuts and angled cuts.
This is a handy tool if you're hoping to use your woodworking skills for general DIY as well as trimming wood and making furniture. 
The miter saw listed above is a great beginner's miter saw. It is adjustable and, therefore, can ensure that you are cutting accurately. It allows for great angle cutting due to its enlarged bevel scale. 
The design of this product is compact and lightweight, weighing only 30lbs. This means that it is easy to store and transport if you don't have available space to keep your products out. 
Pros
Great Design. It is compact and lightweight, making it easy to store and transport.
Battery powered. This means that you can use the saw anywhere. It has enough battery to last for anything you would need.
Powerful. Considering it is battery-powered, this is a very powerful saw. 
Cons
Not as powerful as corded saws. This saw does not have the same power as you could expect from a plug-in saw.
See also: our reviews of the best miter saws for woodworking
Sanding Equipment 
Sandpaper
Good old-fashioned sandpaper is an essential component of a beginner's toolbox.
While you will use an orbital sander (explored below) for most of your sanding needs, you may need regular sandpaper for the edges that you can't reach with the orbital.
Any sandpaper will do! Try the one linked above.
Random Orbital Sander 
The orbital sander is a saving grace when it comes to sanding down your wood. It will save you so much time! It is best to have a corded sander as you may need it for longer than a battery can handle.
Don't buy a detailed sander if you are a beginner, as a random orbital sander will be enough to get you started.
This is a great orbital sander, and an excellent opportunity to own a Dewalt-branded tool–which many woodworkers aspire to.
It spins between 8000 and 1200 OPM, which is quite fast, but it is designed to reduce the vibration for the user, meaning you have improved comfort while using it.
It is also quite short, so you can get close to the item while using it, allowing for precise work. This item also has a fantastic grip due to the rubber mold placed outside the product.
The product includes a dust bag with a good dust collection system. 
Pros
Spins very quickly. This product spins at 8000-12,000 OPM. 
Great design. It is designed to absorb some vibration, so the user doesn't get too much of a shock. 
Affordable. This product is excellent value for money.
Cons
Some dust escapes the dust bag. Sometimes, the dust can escape the dust bag, meaning it may be in the air.
See also: Our reviews of the best palm sanders for woodworking
Drill 
When it comes to assembling your wood, you will need a drill. You will be drilling plenty of holes during your woodworking project, so buying the perfect drill is essential!
This product comes with a battery and a charger, so it has everything you need to start drilling those holes!
It is designed to provide excellent control and has an 11-position clutch to adjust the torque, which means you won't overdrive certain screws into your wood.
It also has a speed setting that allows you to have it at two different speeds and helps control the product. 
This product has an inbuilt LED light to ensure you have enough light to work with. It is lightweight and easy to use. 
Pros
Long battery life. This product lasts for up to 18 months on one charge. 
LED light. So that it is easy to use in low-light conditions.
2-speed setting. For increased control. 
Cons
Power. It is not as powerful as some other drills on the market.
See also: our reviews of the best cordless drills for woodworking
Screws
Wood screws are, quite obviously, an essential part of woodworking. What is the point in having a drill if you don't have the screws?
This is a slightly difficult choice due to the sheer amount of different screws available to buy, but don't worry too much!
The best ones to go for when it comes to woodworking are flat-headed screws. Usually, you are better off getting screws that are 1 inch. 
When it comes to screws, it is always helpful to purchase one of these sets. If you have one of these, you have every screw you will ever need! These are specifically useful for wood products.
Pros
Loads of screws! You won't be short of screws if you opt for this product. 
Wide range of uses. These are great on wood but can also be used on other materials.
Cons
You will probably not use all screw sizes, so some will be wasted.
Other Items 
There are a few other bits that you will need if you're looking to start a woodworking project. These are listed below:
Mallet 
The definition of a mallet is a hammer that is made out of rubber–or sometimes wood. It is very useful when you want to knock wood without bending or deforming it.
The design of a mallet is such that when you bash the wood, the head of the mallet absorbs some of the force. 
See also: our reviews of the best mallets for woodworking
Glue 
There is a common misconception amongst woodworkers that you should only attach wood using screws. This is not always the case.
While nails are usually a stronger way to keep two pieces of wood together, glue can sometimes be just as helpful, if not more! You should look for a carpenter's glue as these are powerful, all-around glue.
Clamps 
Clamps are essential for holding your wood in place when screwing, gluing, or sanding your work. Clamps are strong and should last a long time!
See also: our reviews of the best woodworking clamps
Measuring Equipment 
You may already have these lying around the house or in an old pencil case, so you'll need to dig them out.
You need plenty of pencils to mark your measurements! You will also need a measuring tape and a square. 
Safety Equipment 
This is arguably the most important product in this guide! Safety is essential, especially when you are working with such dangerous equipment.
You should always ensure that you have safety goggles for when you are using your power tools.
Anything can chip off and head straight for your eye, so you want to make sure that they are fully protected at all times! Safety goggles are also very useful for keeping dust out of your eyes.
You may also want to invest in some hearing protection for when you are using your louder tools. This will help you to avoid hearing problems. All you will need is a simple pair of earplugs!
A dust mask is also a great thing to add to your equipment. When working with dust, you can suffer from symptoms like bronchitis and asthma.
MDF is especially harmful to your health, so wearing a dust mask is a great idea when working with these items. 
Frequently Asked Questions 
What Skills Should You Have To Work With Wood?
If you are just starting out, you really don't need to have any particular skills to work with wood! All you need is the desire to make things, some confidence, and the tools listed above.

You can learn so much while working with wood. Just ensure that you are being safe when using the more dangerous tools, and have fun!
What Is The Best Wood To Work With As A Beginner?
There are many different types of wood that are great for beginners:

– Soft maple is an easy-to-use wood as it can be easily sanded and carved into shape. It also is easy to stain, so it is easy to apply a finish!
– Poplar is a great wood that is very affordable. It is very lightweight and easy to get your hands on. You can even choose from a range of different colors!
– Pinewood has a nice texture, and the color is very common in DIY projects. It is very cheap and a great one to test your beginner's skills on!
– Beech is a great wood to work with when you are a slightly more advanced beginner. It is pretty dense but still easy to work with. It makes great furniture!
What Is A Good Woodworking Project For Beginners?
Making a simple workbench is always a great place to start. It is quite a simple construction, so it is a good way to get used to using all your new tools!

You will also end up with a workbench at the end, which is a fantastic addition to your woodworking tool kit!
Is Woodworking Difficult?
It can be difficult to get started when it comes to woodwork projects, as it is not similar to any other skills that you might have already picked up along the way.

However, it is a lot of fun and a very rewarding thing to be able to do! Just make sure that you have fun, and that you put your safety first!
Final Thoughts 
So, now you should thoroughly understand the tools you need as a beginner starting a woodwork project!
You will want and need many other tools along the way, but these should be enough for any simple beginner's project. So, what are you waiting for? Get woodworking!