Nothing quite says summer like spending time with friends and family while chilling by the side of a roaring campfire. 
But, when it comes to starting the fire, it can sometimes be difficult to get the flames going, especially if the wood you have at home is dampened. If this is the case, then you might not be storing your firewood correctly. In this instance, a firewood shed might be just what you need to alleviate this issue!
Thankfully, there are many free firewood shed plans, designs, and ideas out there that will guide and help you to construct your ideal firewood storage shed. Here are some of our top picks, ranging in design from miniature structured sheds to 6 cord storage capacities. 
More About Storage Sheds
Storage sheds are an efficient way of storing tools, materials, and yard equipment without the financial burden. They can be bought pre-built, or you can opt to create your own as part of a DIY passion project. Essentially, you can tailor the storage shed so that it fits your exact needs! 
Plus, this type of storage shed is highly convenient and can be placed anywhere you want, making them an excellent choice. 
Most storage sheds are made from either strong wood, metal, or plastic (resin or vinyl). All of these materials have their own unique properties that make them a great choice for your outdoor storage shed.
In terms of the roof, DIY projects typically require a metal sheet on the roof to keep the interior contents safe from exposure to the elements. However, there aren't any limitations to the type of materials you can use (within reason, of course). 
Why Do You Need a Storage Shed for Your Firewood?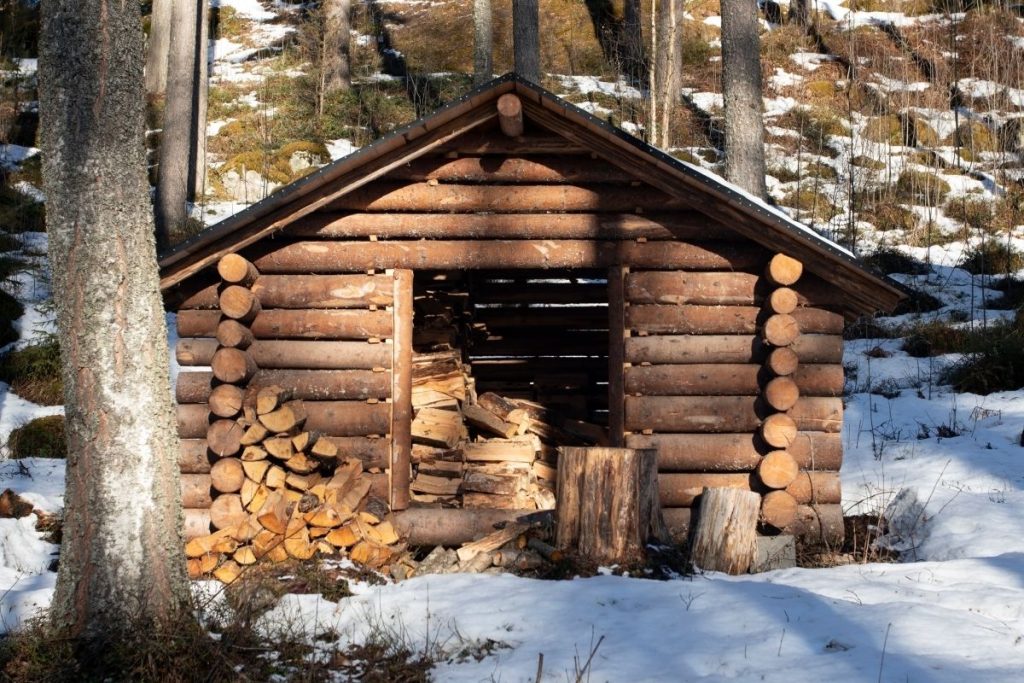 Firewood storage sheds are specifically designed to keep your firewood dry during the long winter period. Firewood must first be seasoned and then remain dry in order to burn properly. Ideally, you should allow the wood to dry out before you begin to stack it.
But if that is not an option, you can make your own firewood shed to allow the wood to dry while stacked and to make your life that little bit easier. 
What to Look Out For
There are some important factors that you need to look out for when researching firewood storage shed plans to keep your wood safe and secure. We've outlined these below.
Airflow
A critical aspect you must consider when looking for plans to build a secure firewood shed is the space for airflow. Properly stacked wood allows for adequate airflow, and this must be prioritized as it keeps the wood dry, and prevents decay before it can be actively used. 
Location Convenience 
A firewood storage shed should ideally be located by your home for easy access, situated near to the door. Think about it: you will be far less likely to build a fire if you have to tramp through sludge and snow to the bottom of your land in order to retrieve the firewood.
Overall, adding a firewood shed to your yard is not only convenient, but keeps the wood clean, dry, and ready for when you need to burn it.
Appearance
Firewood sheds generally have a convenient building consisting of three closed sides and one open side, so you can access the wood when you need to. It also encourages airflow and keeps the wood dry between uses.
When you are placing a firewood shed in your garden, it is really important that you ensure the open section of the shed is facing away from the bad weather. Additionally, you might want to look for plans that feature a shed with a roof that slopes toward the closed end of the firewood storage shed (the back). 
16 Free Firewood Storage Shed Plans
Here are our top picks for the best free firewood storage shed plans currently out there.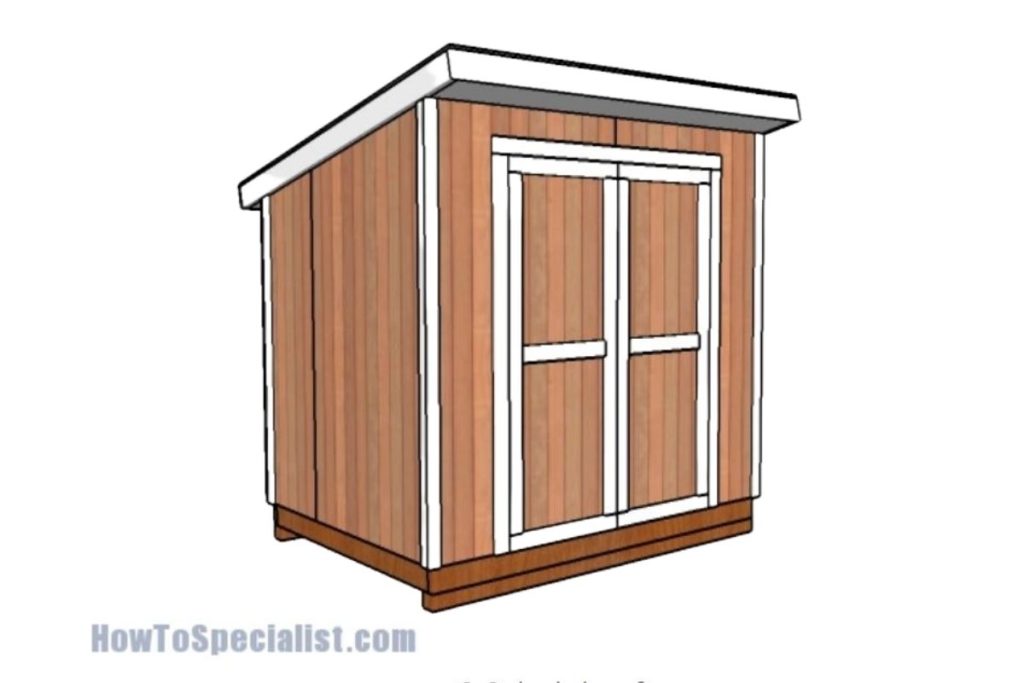 Source: BuildEazy
If you have a small backyard or don't plan to store large amounts of firewood, then these plans from us might help you to make your ideal firewood storage shed.
Though it's small, it has enough storage for a good amount of firewood and may also be able to hold some of your small garden tools, too, if you so desire.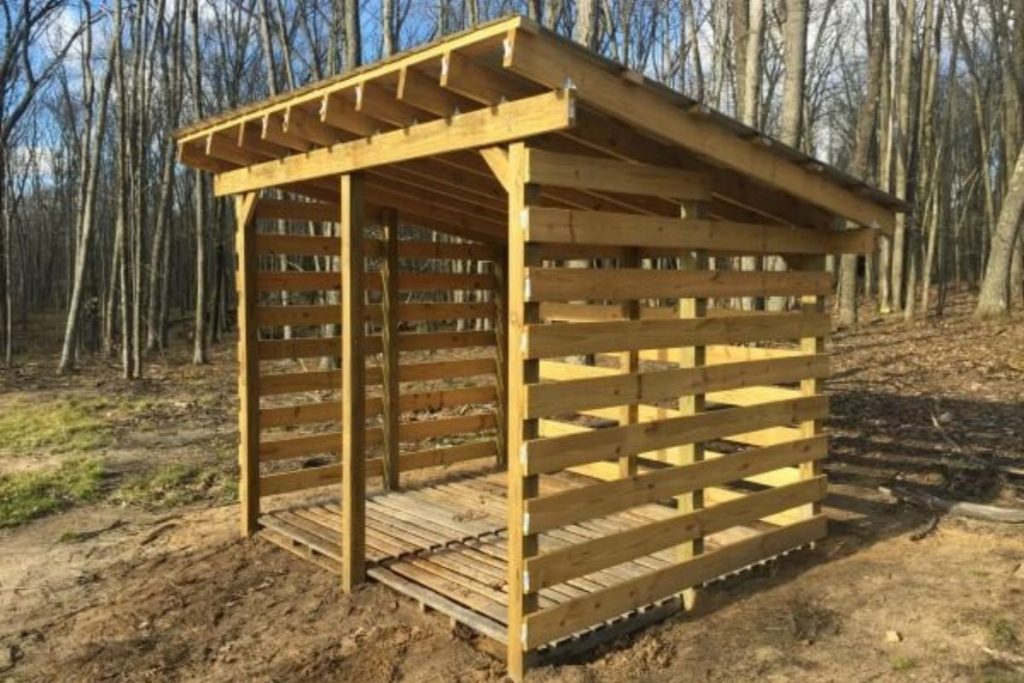 Source: Firewood-For-Life.com
This super simple build with a pallet floor is one of the easiest firewood sheds to put together on this list. It features a slanted roof so that snow and rain run right off the structure, and has three slatted walls on each side to keep the wood safe.
The best part is that it has adequate protection without the hassle of being fully enclosed, allowing you easy access to the firewood whenever you want to build a fire.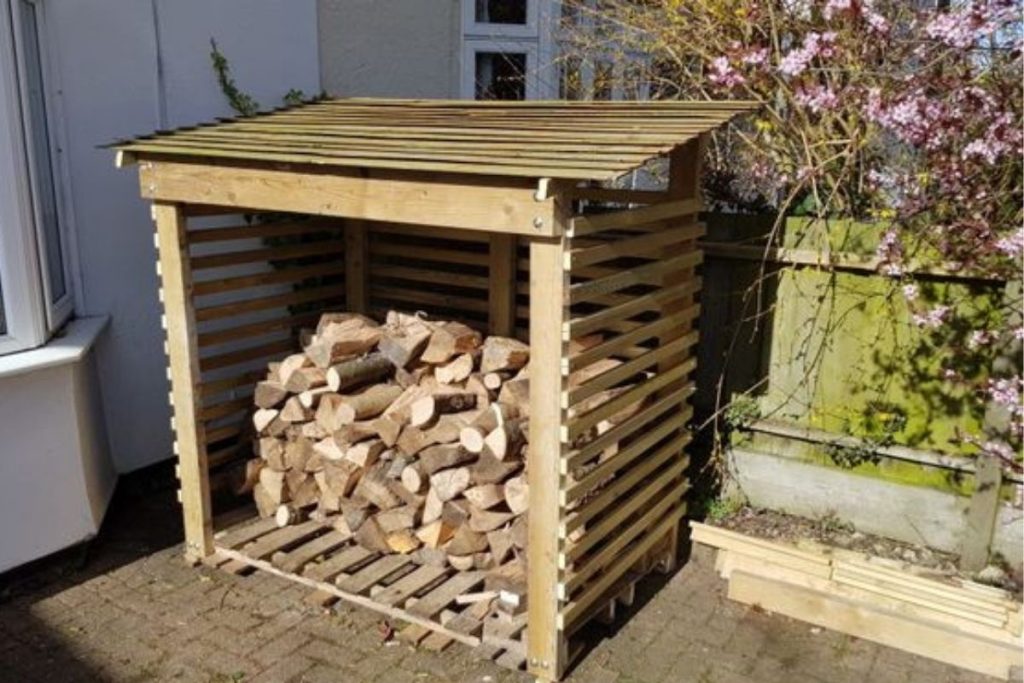 Source: Pinterest
If you're trying to be space conscious, then these plans may be exactly what you need. This project refers to a small log shed that features a slanted roof to protect the roof and the wood inside from water.
You don't need to be a DIY expert to build this mini shed which makes it highly convenient. Not only is it easy to put together but the design itself is pretty solid.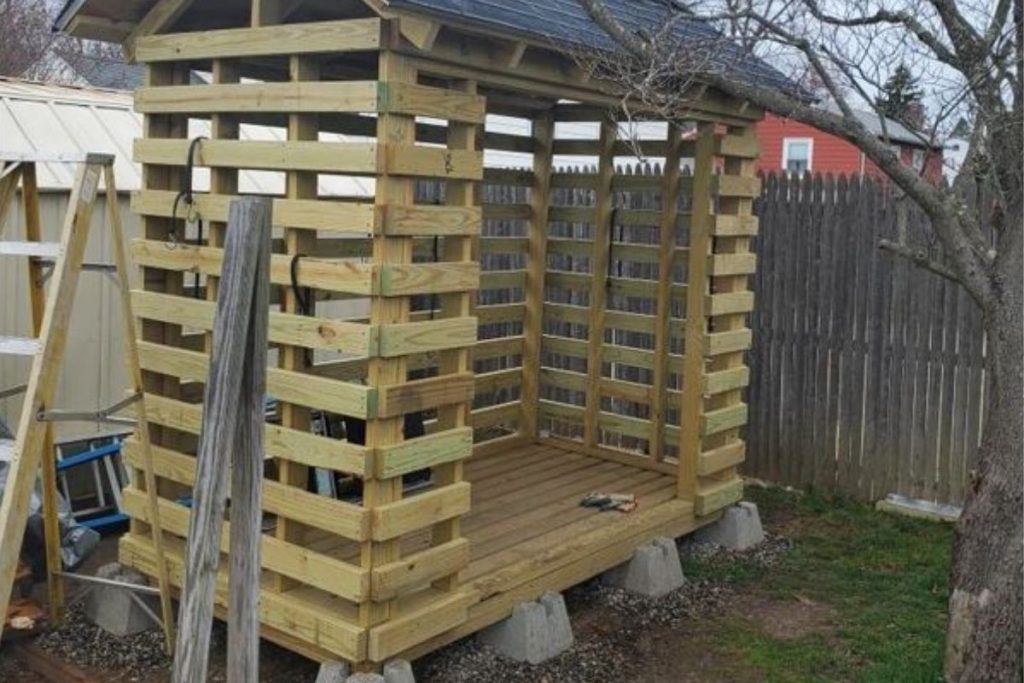 Source: Pinterest
This shed is easy to build, sturdy, and only requires 2×4s for the front, back, and sides of this particular shed. It also features a metal sheet roof. This means it is not only space-saving but also highly cost-effective and convenient.
Sheds constructed in this way are also really great for firewood storage for several reasons. Notably, the gaps in the wood allow a constant breeze to travel through, which keeps excess moisture away in turn.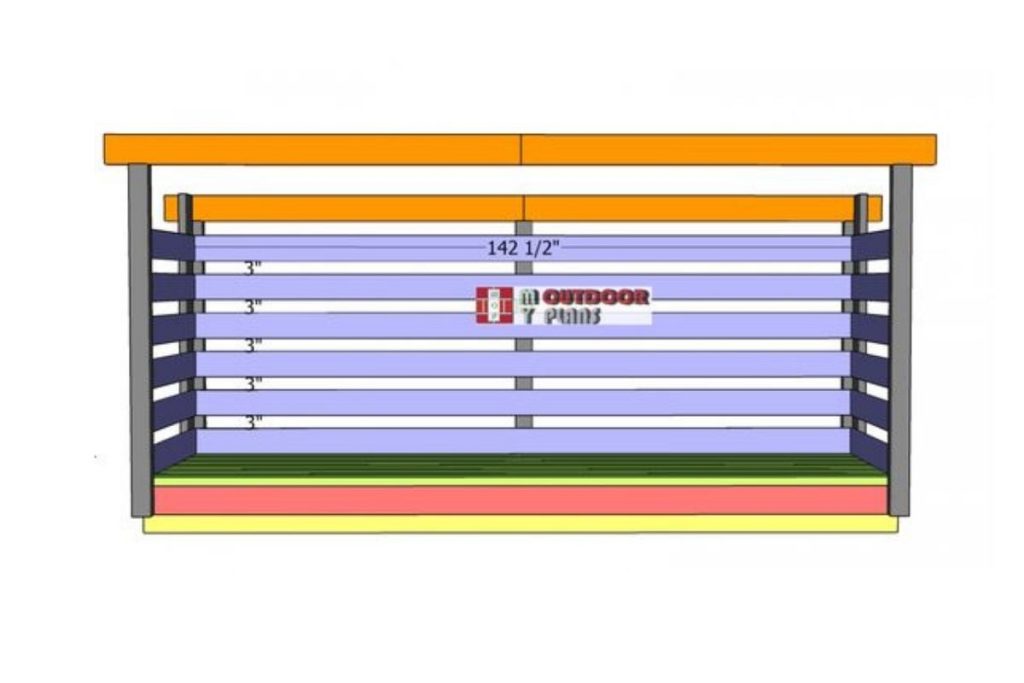 Source: Pinterest
These step-by-step DIY project plans are taken from MyOutdoorPlans and showcase how to make one cord 2×12 firewood shed. It has a sturdy structure with walls on three sides, meaning you'll have easy access to your firewood whenever you need it.
Plus it is optimized to keep all costs down which is great news for your wallet. With all the right tools and materials, you could build this shed in about a day.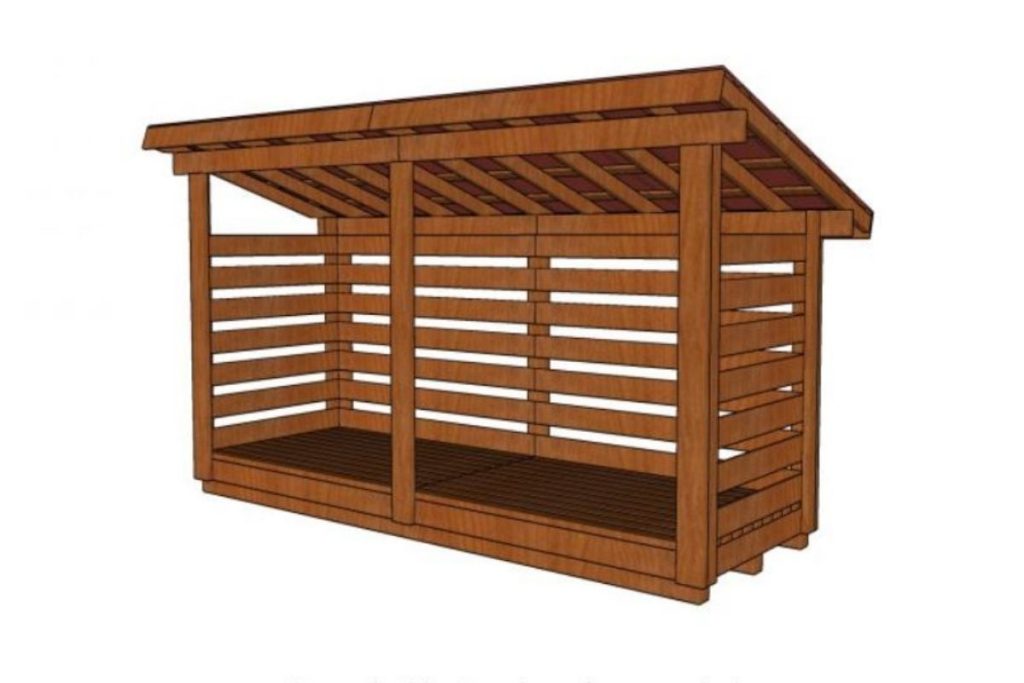 Source: Pinterest
This sturdy shed features a lean-to roof with a large opening at the front, and 3 walls covered with 1×6 boards. It's easily accessible, so you can fill it up with firewood and retrieve it with ease. Its structure also helps to speed up the drying process as there is a nearly constant flow of air hitting the wood.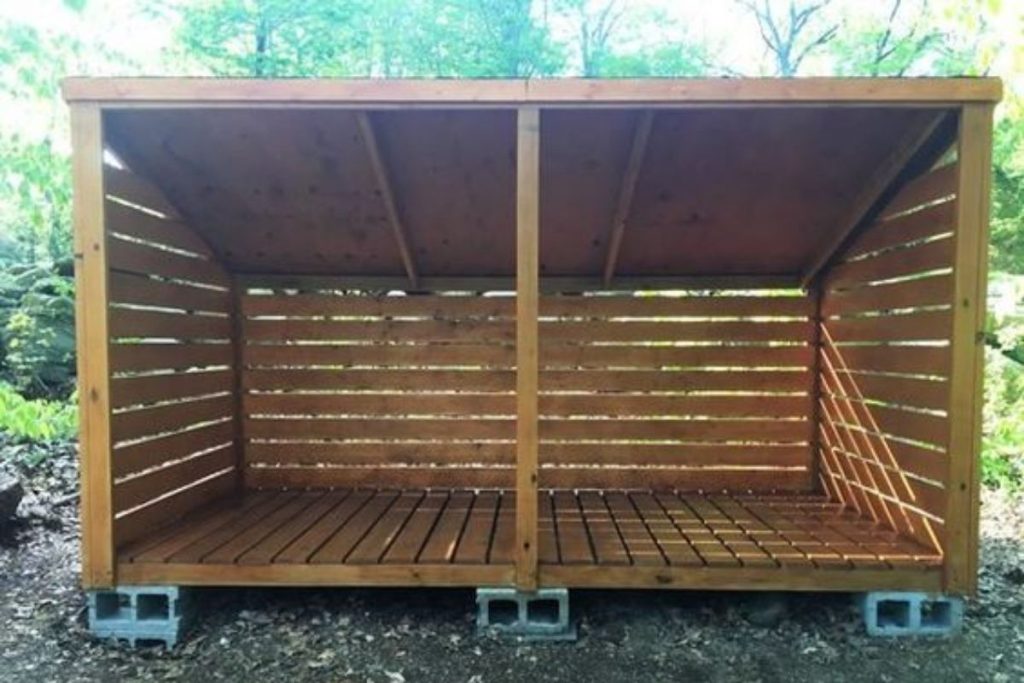 Source: Pinterest 
These firewood sheds are very spacious and can store up to 3 cords of wood. The roof is made using asphalt shingles and plywood sheets, but you can opt to use metal sheets if you prefer.
This shed has a wooden floor that is elevated slightly above the ground, which protects the logs from being exposed to excess moisture. It also has a large opening at the front for easy access to the firewood. What's not to love?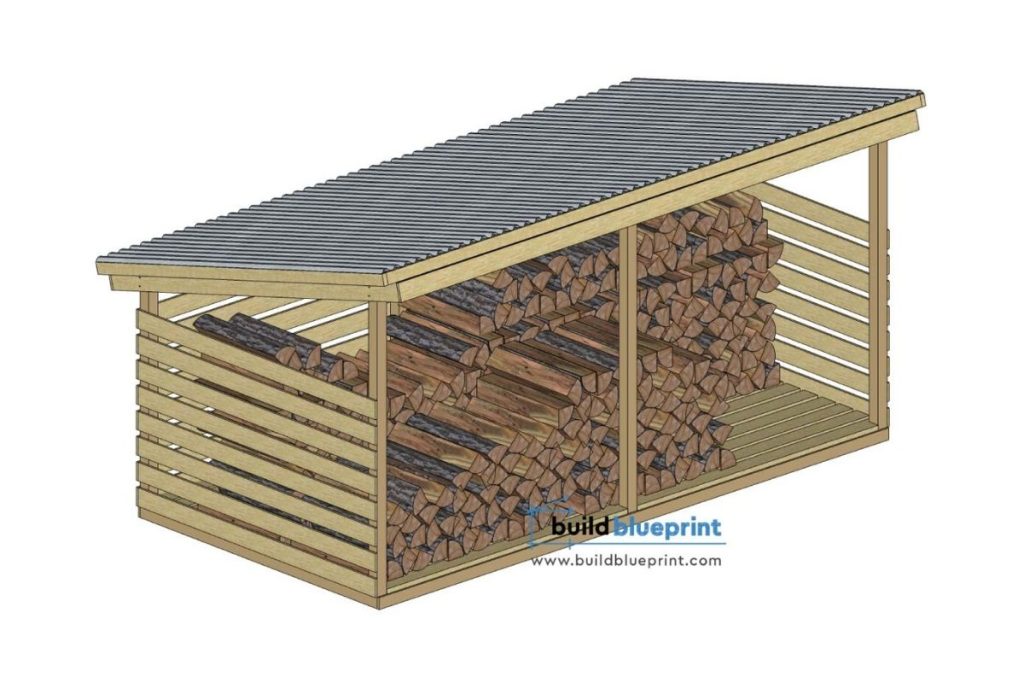 Source: buildblueprints.com 
Sheds of this size can usually hold anywhere up to 6 cords. This addition from buildblueprint features a simple structure with a lean-to roof and an open front, with three sturdy walls encasing the firewood.
Select an appropriate foundation site for this shed that shelters it against wind and strong wind. In addition, if you're looking to keep costs down and get the job done yourself, then these are the perfect plans for you.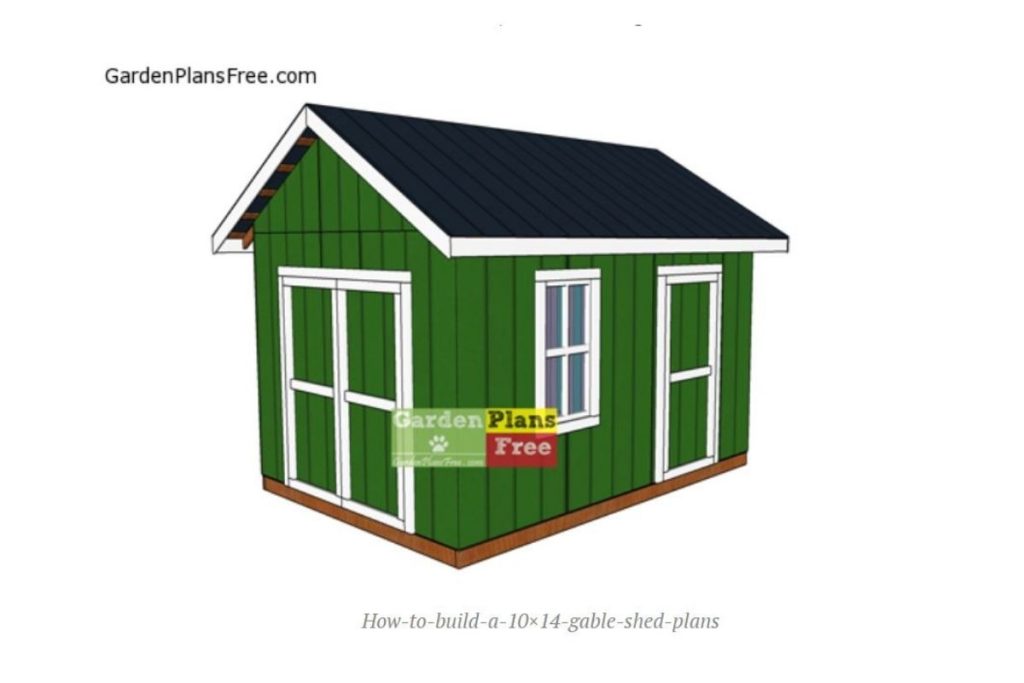 Source: GardenPlansFree.com
In terms of size and design, this shed from GardenPlansFree is quite large which makes it ideal for storing firewood. It features double doors, a side door, and a side window that allows vast amounts of natural light into the shed, making it easy to locate your items.
It also has a gable-shaped roof and a modern design. The shed is also attached to 6×6 skids and built onto a sturdy 2×6 floor frame.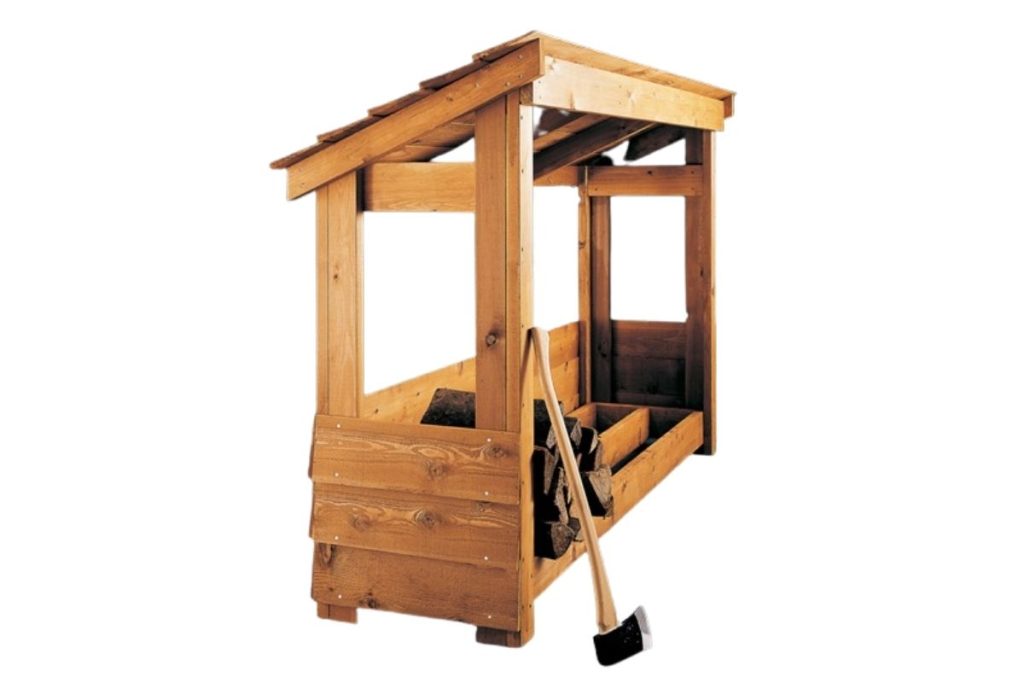 Source: Pinterest
This addition from Black and Decker emphasizes the fact that you don't need to compromise your style preferences when building a shed! It features open sides all around and a tapered roof that both protects the firewood from exposure to the elements while also providing full air access so that the wood does not retain moisture. You can use this structure to comfortably store an outdoor pizza oven or a load of firewood.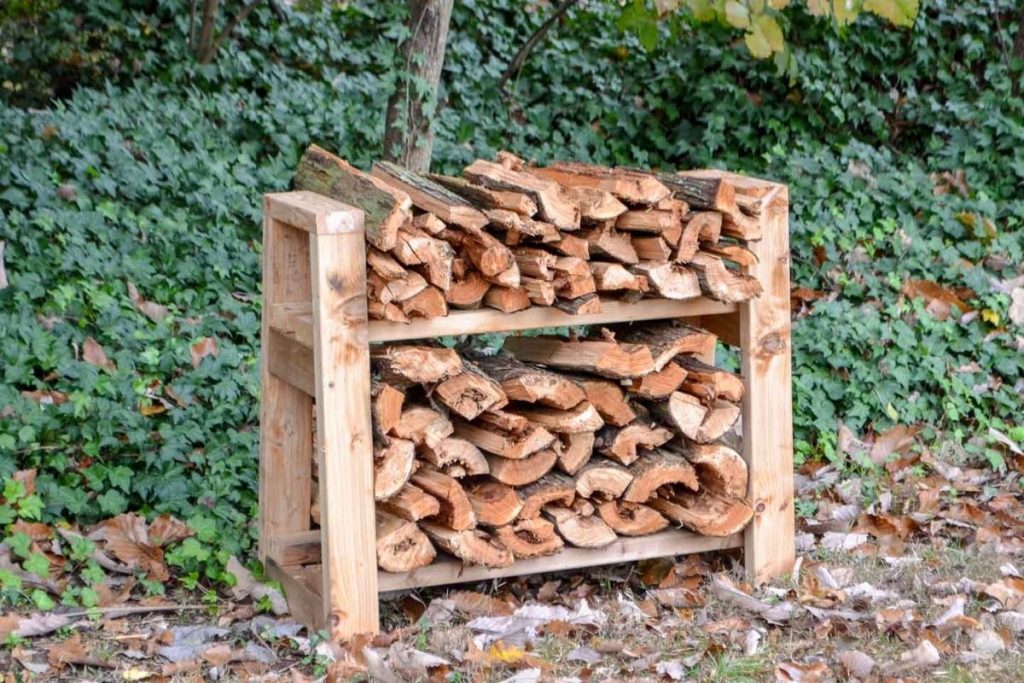 Source: Pinterest
This woodworking project is ideal if you're looking for a shed with a smaller storage capacity. Before beginning the construction process, you need to examine your exact needs. This is essential to the process as you don't want to end up with a shed that doesn't have the amount of storage required for your firewood.
Considering your needs for this kind of storage shed will also make it easier to identify the necessary tools and materials that you'll need, whether that is pallets and screws, or 2×4 pressure-treated slats.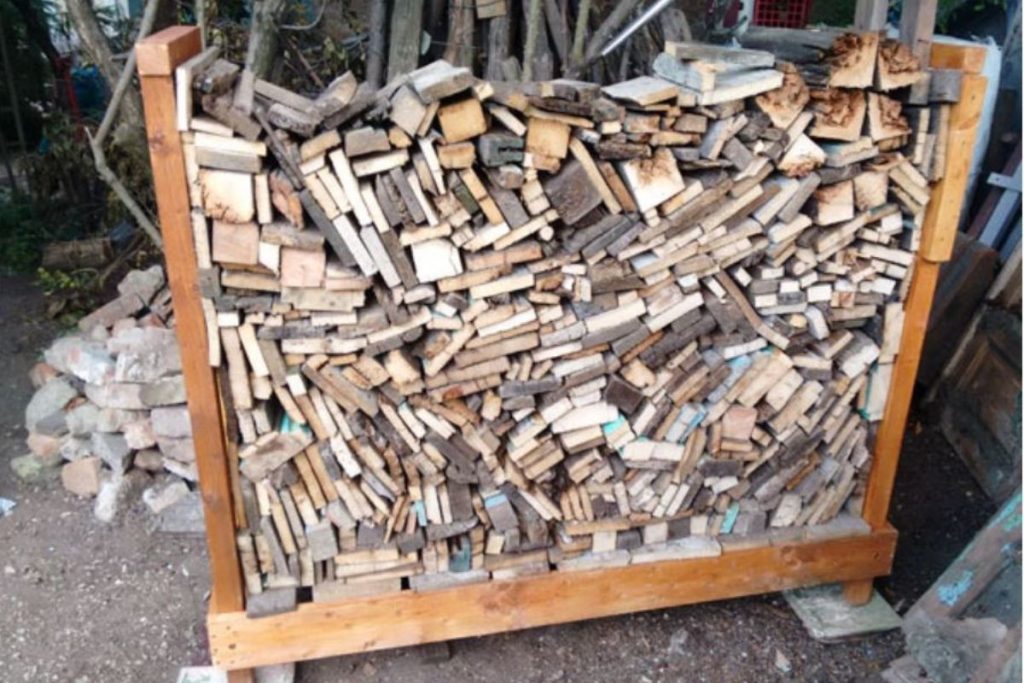 Though this isn't a shed, we felt that these plans for a large firewood rack needed to be added to this list. This firewood rack from HowToSpecialist is quite large and provides optimum space to store a significant amount of firewood.
It doesn't have a roof, but it's a great way of storing firewood, especially if you have limited space in your home. Plus, it makes for a far more affordable project than other firewood storage units.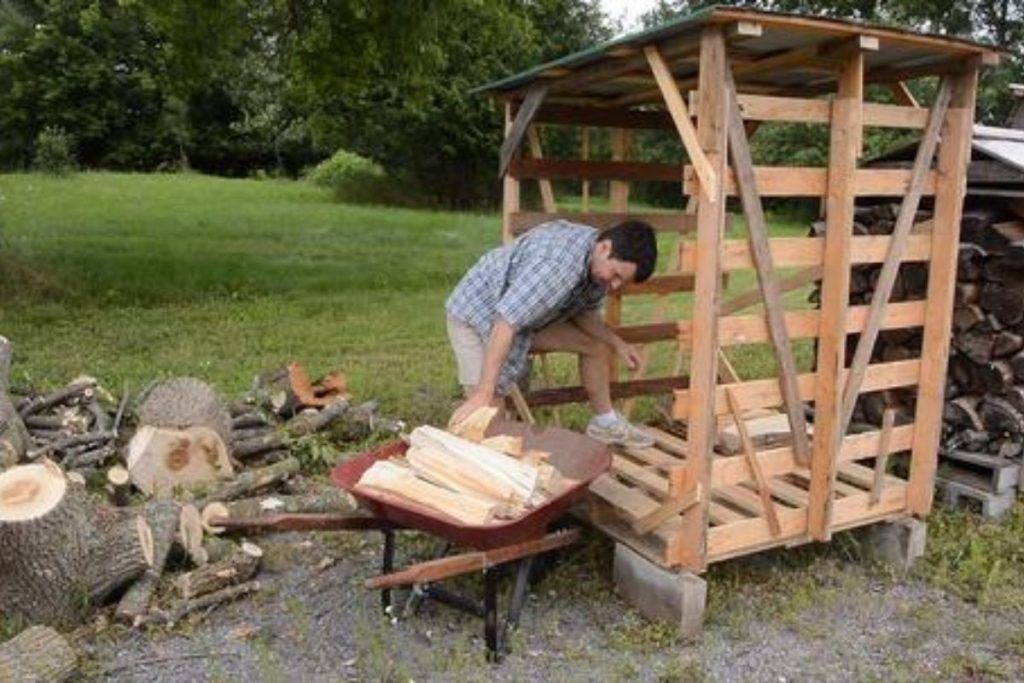 Source: Pinterest
You will love the process of building this great firewood shed from wood gears. Thanks to a sturdy set of wheels this DIY shed is portable and can be moved between outdoor locations with just a little bit of effort. Plus, it's pretty sustainable, too.
Simply upcycle wood pallets to properly build this firewood shed! We'd also suggest installing a metallic tilted roof that will not retain any rainwater or snow. Overall, this is one of the best firewood shed plans to follow if you're looking for a quick build!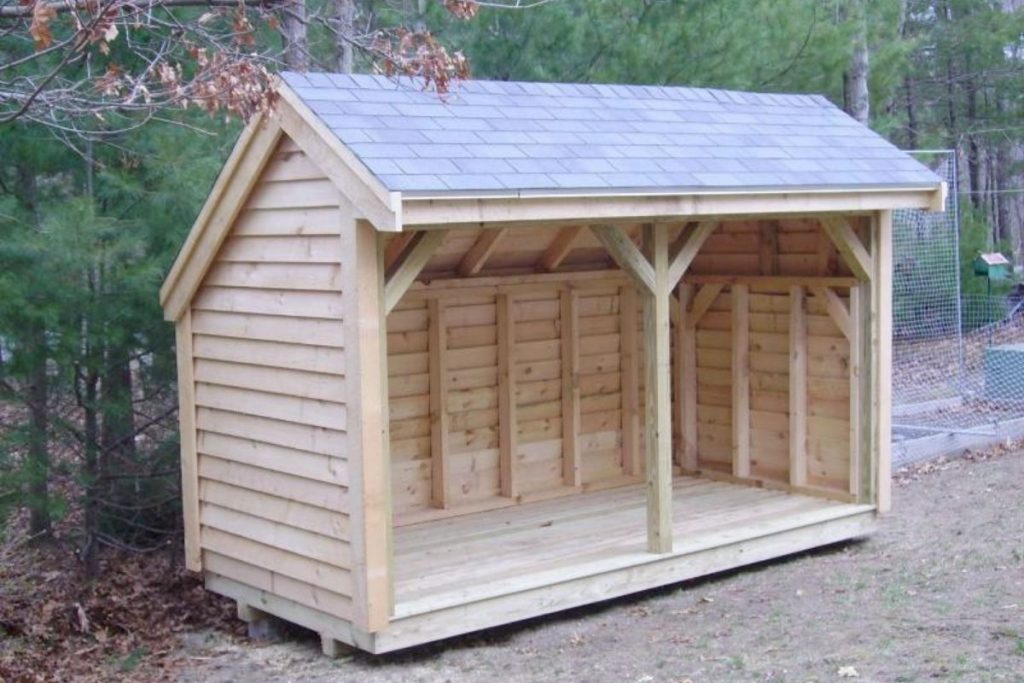 Source: Pinterest
If you want to protect your firewood from moisture build-up then this DIY storage shed will be great for you. It will store your firewood at a decent height, and has three encasing walls, and an open front to provide access to the wood from the front.
This firewood storage shed resembles a wooden bungalow thanks to its convenient design and its strong roof that keeps the elements out. Use concrete blocks to build the base and then create the rest of the shed using the plywood, 2×4s, and the 2×6s.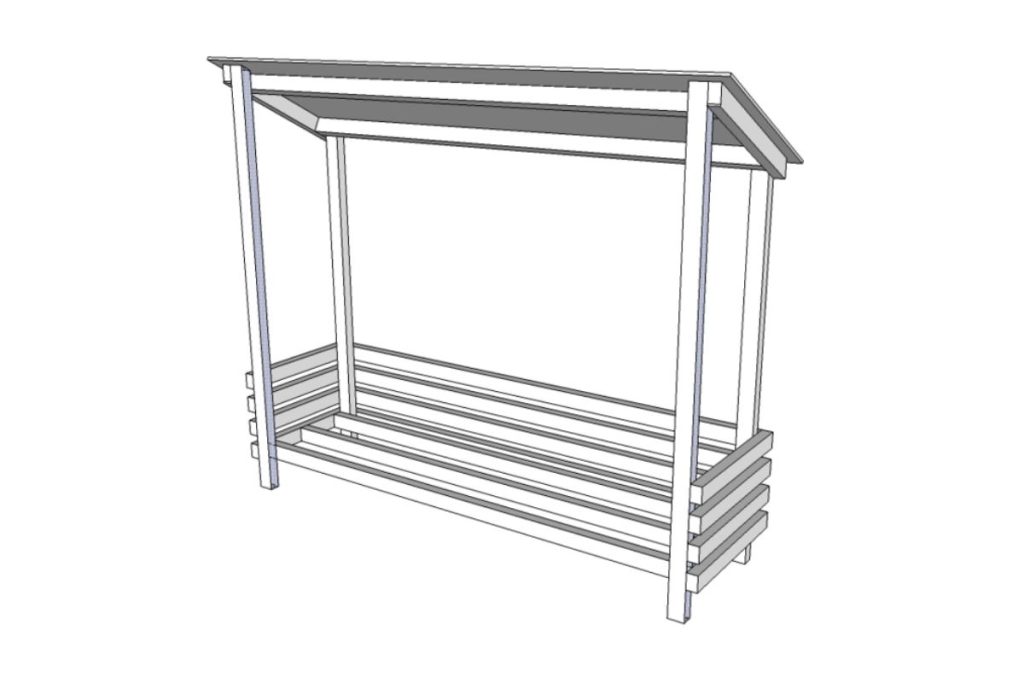 Source: Pinterest
This firewood shed design comes with open sides that will work well to hold the stacks of firewood that you need.
This shed needs to be situated a couple of inches off the ground on a cinder block which will not only increase its sturdiness but also its ability to keep the firewood dry. Use 2×3s and 5×4 roofing ply to build the outline of this wooden shed, and then use tar paper, and shingles to build the roof.
Finish this wooden shed with deck stain. Because of its shape, you could actually use this shed as a bench if you wanted to. As long as it is empty, of course!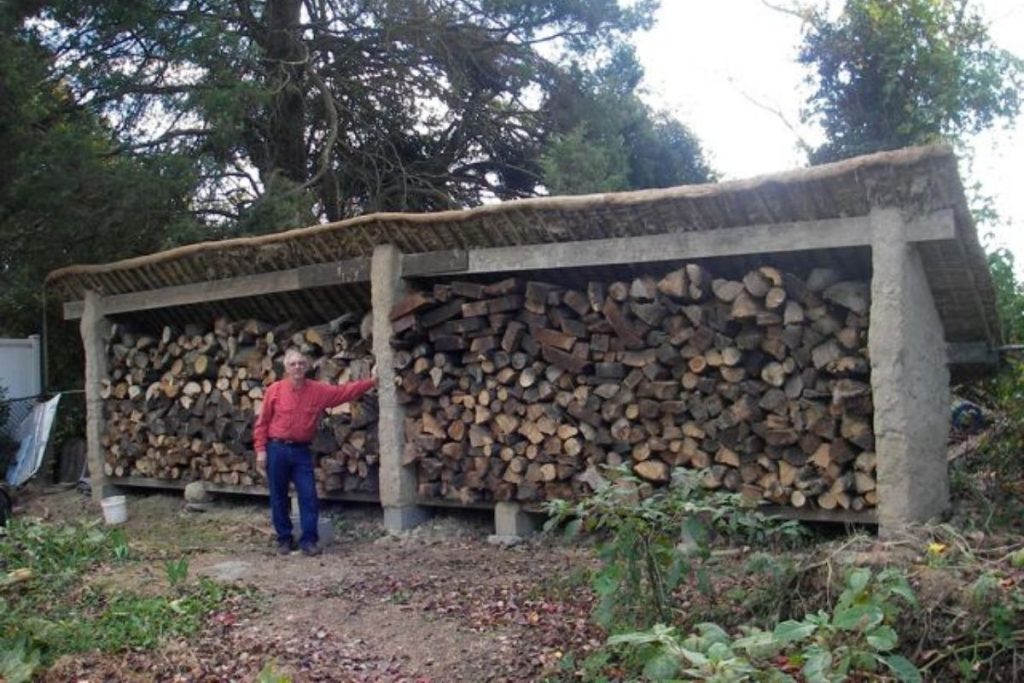 Source: Pinterest
You will need to follow exact step-by-step instructions to build a shed of this size. This cob woodshed comes in a rich clay appeal, has optimum protection from excess moisture, and will definitely be useful if you intend to store an extortionate amount of firewood.
If the reliable structure of this design wasn't enough, it is also very flexible in terms of its design. This means you can tailor the exact shape of the shed to match your requirements. 
Conclusion
And there you have it! These are some of the best free firewood storage plans currently out there. We hope that you have been able to find plans that best suit your yard, and your overall firewood storage needs.