Ah, the sanding process — the part all woodworkers look forward to and lament simultaneously.
On the one hand, it signals that you're making good progress and that your project or component is near completion.
And on the other, it often takes some serious elbow grease.
It's the difference between a rough and ready piece and a refined, attractive, and usable piece, but much like any aspect of woodworking, it can go wrong. As sanding tends to happen towards the end of a workload, it's all the more devastating when it does.
Not to worry, though — I will take you through a comprehensive sanding guide to ensure that your finishing touches go according to plan. Let's get to it!
How To Sand Wood: A Step-By-Step Guide
Step 1. Choosing Sanding Equipment
You may not know much about sanding wood, but you're likely aware that you have a few options regarding the equipment you use to get the job done.
Hand sanding with sandpaper — If you're looking to save a few bucks or like to do things with your own two hands instead of machinery, you'll want to hand sand your wood. There is simply nothing you can't accomplish with sandpaper, a wooden block, and some good old-fashioned elbow grease; however, therein lies the issue.
Sanding by hand can be a long, arduous process, which means it's perhaps not the best choice for large jobs.
Orbital sanders — Orbital sanders such as this beauty from the folks over at DeWALT are perfect for sanding large open areas or corners and edges.
Random orbital sanders — A quality example of one of these machines is the Makita BO5041 5". They're even better for large, open areas than standard orbitals, as they don't leave as much of a swirl mark. They're a shoo-in for large curved surfaces, too!
Detail sanders — You'd use a detail sander such as this one from Black+Decker to tackle the corners and edges too small for an orbital sander.
Multi sanders — These are your Jack of all trades sanders. Something like this SKIL unit will have you covered for small and large projects and many awkward jobs.
Belt sanders — Belt sanders are considered the big guns; if you need some substantial muscle, something like this Makita sander will be just the ticket!
Step 2. Choosing A Suitable Work Environment
Sanding is a messy, messy job, so choosing an appropriate spot to work is crucial.
A workshop is best, but outdoors or an airy garage or shed will work just fine too. You should also consider what you'll be working on.
Larger, close-to-completion projects may be free-standing, which is great, but for smaller, more mobile jobs, you'll need a workbench, possibly even a vice.
If you're not willing to fork out for a full-blown workbench, you can just secure a plywood board on two sawhorses.
Step 3. Safety First
You're almost ready to get sanding, but before you begin, remember to wear appropriate safety equipment.
I'd recommend wearing at least a respirator when sanding by hand, but you'll need some goggles if you plan on working with machinery.
Some utility work gloves are another must when working with machinery, but you can wear them for hand sanding, too, if you're worried about splinters.
Step 4. Selecting Sanding Grit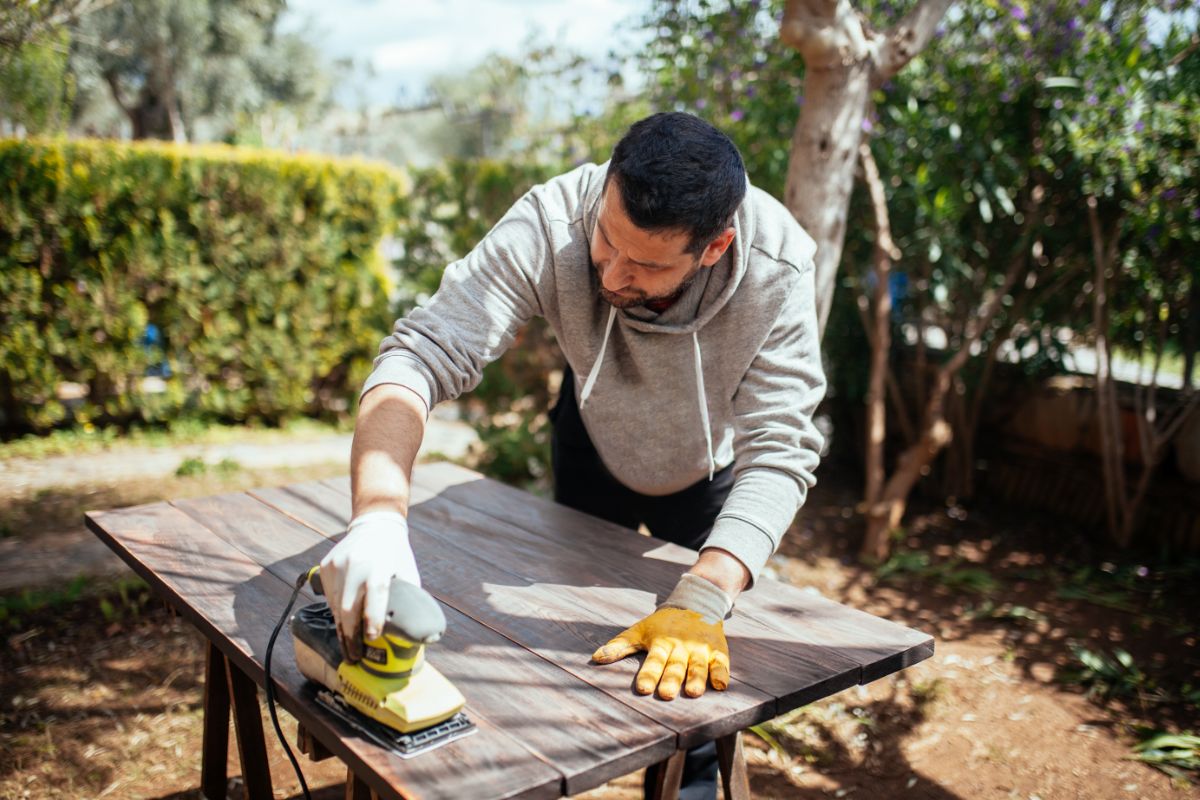 Regardless of the sanding method you choose, you'll likely need multiple grits of sandpaper to get the job done to a decent standard–unless you just need to give a piece of wood a quick once over to prep it for painting or staining.
Otherwise, I'd recommend using at least three grits. Before making your selection, remember that the lower the number, the coarser the paper.
Generally, I like to use 80 grit sandpaper to kick things off, although if your wood is particularly gnarly, I'd suggest 60 grit.
Then I'd move on to 120, and to really give the surface a smooth surface, a lengthy seeing too with some fine 220 to 320 grit sandpaper.
If, on the other hand, you're working with a fine bit of wood that doesn't need much work, go ahead and skip the 60 grit and jump straight to 120.
Step 5. Coarse Treatment
Take your 80 or 60-grit paper, and use it to work out the most significant blemishes in your wood.
This can take some time, but the benefit here is that, other than sanding with the grain rather than against it, you don't have to be too particular about your technique.
This stage is just about working the wood down to a fresh surface we can refine over the course of the steps.
Once you're done with this step, brush away the residual dust and move on to step 6.
Step 6. Medium Treatment
Your surface will look clean and flat at this stage, but it will be far from smooth, so now you need to get rid of that rough, splintery grain by giving it a good once over with your medium grit sandpaper.
This time around, as well as sanding with the grain, you'll want to make sure you're applying even pressure as you go, sanding your wood until you stop seeing and feeling improvements in surface quality.
Again, brush away any dust on the surface, and move on to the next step.
Step 7. Fine Treatment
With your 220–320 grit sandpaper, hone your surface until it's markedly smoother both to the touch and visibly.
This final stage may take some time, but the results will be amazing!
Step 8. Dust Removal
If you've got a shop-vac, you've got an easy job here, but I get along fine with a soft bristle brush, followed by a wipe down with some tack cloth.
Remember to wear latex gloves before working with a tack cloth, as it's pretty sticky.
Final Thoughts
Voilà — You've just sanded your wood to perfection!
This may be a general guide on sanding wood, but this is the core foundation you'll use for any sanding, no matter how intricate the job is.