This project explains how to make a pebble path using 100×75 (3″x4″) treatedPressure treated. Refers to lumber that is treated in such a way that the sealer is forced into the pores of the wood. Refers to lumber pressure sprayed with chemicals to lengthen its life expectancy for outside use or inground applications. lumberAny of the framing wood. for the edgings, 20mm (3/4″) graded base course metal and a choice of a number of topings (pebbles, bark, shell, chip etc.).
A pebble path is easier and cheaper to construct than a paving stone path although regular rakingRunning parallel with the slope of the roof at the gable. can sometimes be necessary.
For this project we are assuming the ground is moderate to firm, if not, soft ground will need to be excavated deeper and replaced by base course metal.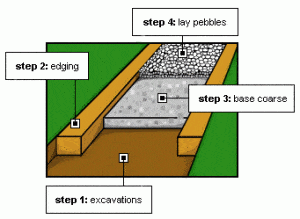 Step 1: Excavations: Dig out the proposed pathway to a depth of 75mm (3″) below finished path height (usually existing ground level) and the required path width.
Step 2: Putting down the edging: Lay the 100×75 (3×4) treated lumber edge boards into place so the top of the edge boards are at the required path finished height. Retain them in place with stakes nailed to the outside and trimThe finish materials in a building, such as narrow boards applied around openings (window trim, door trim) and vertical corner battens. the stakes off 20mm (3/4″) below the top of the edging boardA piece of sawn, or dressed lumber of greater width than thickness. Usually 19mm (3/4") to 38mm (1 1/2") thick and 75mm (3") or more wide.. (see drawing below)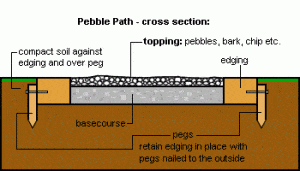 Step 3: Base course: Add a layer of 20mm (3/4″) graded base course metal in between the edging boards. 20mm (3/4″) graded means the metal is graded to 20mm (3/4″), and everything below this size is included in the product. Add and compact the base course with a mechanical plateThe top or bottom horizontal framing member of the wall. vibrator until the finished height is 30mm down from the top of the edge boards. At the same time compact the soil against the outside of the edge boards thus ensuring
Step 4: Lay pebbles: Lay pebbles on top of the base course and flushBeing even with. with the top of the edge boards. Other preferences to pebbles might be garden bark, gravel, shells, white chip etc.