Have you heard the term Ipe wood but have always wondered what it is?
Well, you're in luck because this article discusses all things Ipe wood-related.
We will discuss what this exotic wood is, what it's used for, its pros and cons, price value, and its origins.
What Is Ipe Wood?
Ipe wood is a gorgeous exotic wood that originates from South America. It is often known as Brazilian Walnut wood too.
This type of wood has a rigid and strong structure that is intrinsically rot-resistant, insect-resistant, abrasion-resistant, and weather resistant.
Compared to other types of wood, it can be up to double the density, and a massive five times as hard.
The wood's color is this beautiful deep brown, close to mahogany, so not only is it likely to withstand the test of time, but it is also a stunning choice for interior designs.
And when Ipe lumber can take patina, the color easily returns to its original color with cleaners and brighteners.
And because of this, it has become an ever-popular and relatively cheap alternative to teak lumber.
How Is Ipe Wood Used?
Ipe lumber is more commonly used for outdoor decking and applications such as furniture and fencing because it has such a long outdoor life.
Since this wood is pretty rot-resistant and weather-resistant, it is a popular outdoor choice.
Let's put it this way, Ipe can have a lifespan of upwards of 75 years, and in almost any outdoor application, it will survive for 40 years or so.
This is a massive 4-7 times longer than any of the pressure-treated wood types.
So if you're looking for durable and long-lasting, then Ipe lumber is a pretty good choice.
Pros & Cons
Pros
Very strong
Hard
Long-Lasting
Smooth
Ages well
Weather, rot, and insect resistant
Doesn't retain heat
Cons
Heavy Material
Requires pre-drilling or hidden installation hardware
Price Value Of Ipe Wood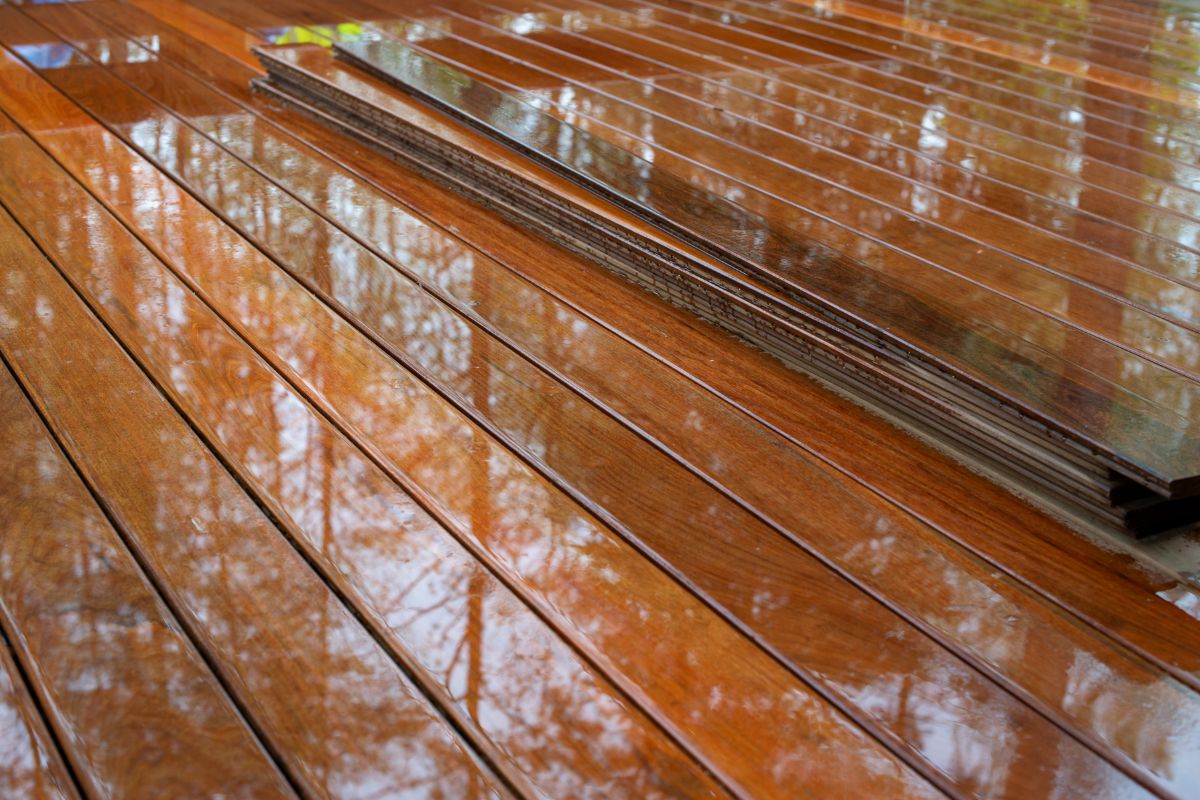 I can't give any specifics when it comes to the price, as much as with any other wood; it can all depend on many factors such as the quality of the wood, its availability, and the market in general.
But, in general, Ipe wood does tend to cost more than your more standard pressure-treated woods like cedar and pine but considering that it is a much more durable and reliable option, that is to be expected.
This is a very high-quality wood, so it is reasonable that it is marketed at a fairly high price too.
Where Does Ipe Come From?
Ipe is specific to the Tabebaui Tree, which can be found in American tropics and subtropics.
So you'll find Ipe can be derived from places such as the Caribbean, Mexico, and Argentina.
Typically Ipe will be sourced from incredibly extensive geographical areas.
The wood itself gets its toughness from the tropical conditions in which the tree grows.
Check For An FSC Certification
You may be surprised to learn that Ipe wood has a black market.
It's a very popular, high-quality wood that can cost a bit to obtain, so I suppose it shouldn't be surprising that people try to cheat the system.
But Ipe wood is often harvested illegally, which considering the wood is already over-harvested for construction, can be detrimental to the environment.
There's a good chance that this exotic wood will soon become extinct if over-harvesting continues.
To avoid becoming part of a process severely damaging the environment, check for the FSC certification.
This is when the Forest Stewardship Council deems how the forest is managed and harvested as responsible.
Always Wear Protective Clothing
The dust from Ipe wood is very small and fine; throughout construction, it will get everywhere.
If you don't have your protective clothing on, that will include your eyes, ears, nose, mouth, etc.
And while very strong and severe reactions remain uncommon, this dust is an irritant for many.
It can irritate the skin and eyes and can also cause respiratory irritation.
Not only that, but many have stated that it can cause headaches and asthma-like symptoms.
So it is imperative that when working with this wood, you ensure you do not breathe it in or let it come into contact with your eyes.
Frequently Asked Questions
Is Ipe Good Wood?
Ipe is considered one of the highest quality woods available on the market, especially for outdoor decking.
Does Ipe Need To Be Sealed?
No, not really; the wood is probably too dense to take any of the sealer.

The only product that tends to be needed for Ipe wood is UV protection.
Can You Pressure Wash Ipe?
I would not recommend it. The pressure from the washer is too high and is likely to damage and roughen the smooth surface.
Will Termites Eat Ipe?
Termites won't eat Ipe, but this isn't because they don't want to don't try.

The wood is just too tense for them to be able to do any damage. Because of this, most insects tend to steer clear of Ipe wood.
Final Thoughts
Ipe wood is a very tough and durable wood, as you have learned throughout this article.
It is dense, weatherproof, insectproof, and much more, making it the perfect option for outside furniture.
However, it is critical that you check for the FSC certification as irresponsible (and illegal) harvesting is rendering the wood potentially extinct.
It is also essential to ensure that you protect yourself while constructing with this wood, as the dust coming into contact with your lungs and eyes can cause some very uncomfortable and irritating symptoms.