It can feel like a huge decision when you are replacing the floorboards in your home – it can be wildly expensive, and there is such a wide range of choices on the market too. If you're looking at investing in some classic hardwood flooring, then you even have to consider what size of planks to buy, and what pattern to lay them in when you are installing the flooring (parquet, anyone?). 
But, things can get even more tricky if you only want to replace the flooring in one room at a time, or want to replace only a small section of floor, or even if you want to have totally different flooring in two different rooms. 
Or, you could be in the position where an accident to disaster has forced your hand when it comes to flooring, and you have to replace at least a part of your floor, but can't find one that exactly matches your old floorboards. 
If you are considering installing two types of hardwood flooring next to each other in your home, but are worried about how to blend the transition between the two, then this is the perfect informational article for you. We will take you through all of our top tips and techniques to help make it look like an intentional choice. 
Can You Put Two Different Types Of Wooden Flooring Next To Each Other? 
In short – yes you can, because it is your home, and you can do what you like. However, to make it look good, you do have to do it right by following a few rules of thumb. 
If you just installed two different types of hardwood flooring next to one another, with the planks running in the same direction, and little to no transition between the two, it will probably look pretty bad. Their mismatching can look a bit hap hazard, and is generally considered to be an interior design faux pas. 
Instead, if you are planning on purring one type of wood floorboards next to a different type, you will need to include some special design choices, so that the transition looks stylish and intentional, rather than accidental and poorly planned.
As an example, transitions should happen in a doorway, rather than in the center of the room, and if this is impossible to achieve, there should be some kind of border to differentiate the end of one wood and the start of another. 
How To Transition From One Kind Of Wood Floor Another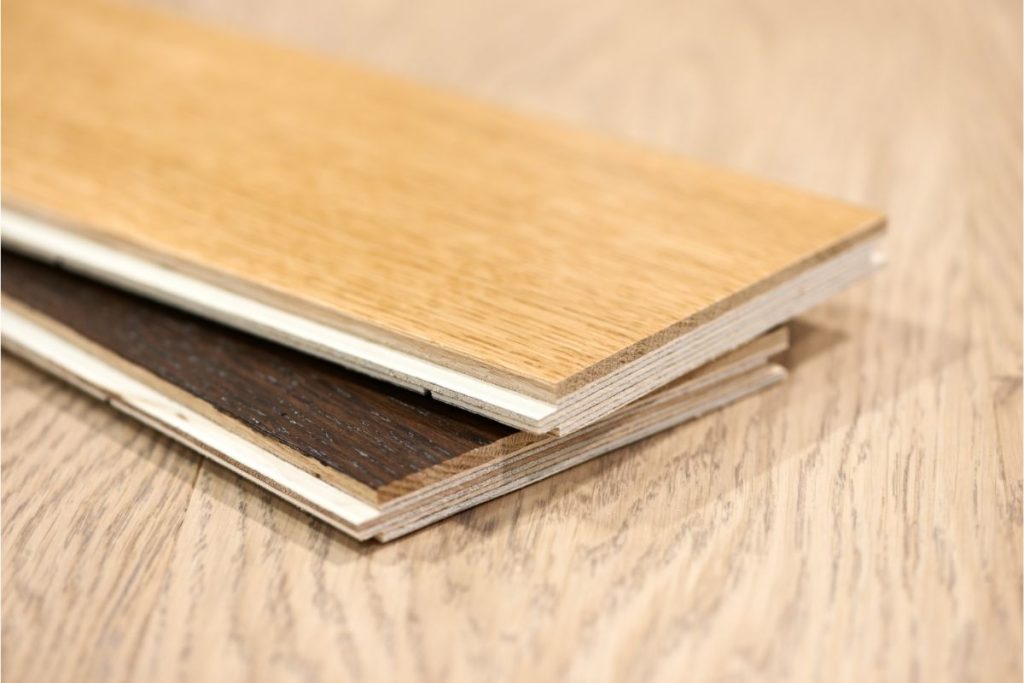 There are a few useful wood design techniques that you can utilize in your home when switching from one kind of wood to another to make the transition look a little more natural.
Do just bear in mind that you might have to adjust these techniques depending on whether you are installing both wood floors at the same time, or are just placing a new flooring section next to an existing section.
You may also get the best results when you combine two or more of the methods that we have listed below. 
Check out these interior design methods to see which might work the best for you. 
Use T-Molding = this kind of molding is a great way to blend different kinds of wooden flooring, and is pretty widely used, as it is the easiest and cheapest method of them all. That being said, it does not always look the best, especially when compared to some of the other techniques. It will do the trick though, especially when there is a natural feeling transition between flooring types, like a doorway.
T-molding, as the name suggests, is shaped like a T, with a thicker stem piece attached to the subfloor, and a thinner, rounder top piece that covers the transition between the two different types of floors. They work the best when used on floors that are the same, aiding in creating a very gentle visual transitions, that also feels nice underfoot. 
To use T-moulding, you will need to leave a small gap (around an inch in width) between the two kinds of flooring, cut your molding to the rights size, and then attaching it to the floor. When you are buying your new flooring, you can also pick up matching T-molding at the same time. 
Use a seam binder/transition strip = this kind of join is quite like the T-molding options, but only the top part. It is a rounded piece of wood, which van be nailed down across the join between your two kinds of flooring, which will bind the two areas together. It is a really simple option, that is quick, essay and cheap – but, it can look a little 'tacked on', and last minute. 
Use a thin metal transition = these are an Alternative to the wooden strips that we have listed above.  In recent years, metal transition to become quite popular,  as they are a lot narrower than their wooden counterparts, and their straight lines and shiny appearances can make for an attractive and modern looking joint between two different types of flooring. 
If you are going for a contemporary look or want an incredibly smooth floor, then this is the option for you.  Just make sure that you find a metal color that complements both of the grain colors of your hardwood flooring.
Install a threshold piece =  You also have the option to install a threshold piece which looks like a flat rectangular block a few inches wide, which can come in hardwood, or other materials, like stone and marble.
They have been designed for the smooth doorway transition between two different types of flooring, and are particularly attractive because of their large surface area –  rather than looking like you're hiding a transition, you are making it a feature.
You can choose a threshold piece but perfectly complements both woods, while still being different, helping everything to really shine. In addition to their aesthetic attractiveness, they  are pretty easy to install –  you just need to order a precut length, cut it to size, and then install it between the different floor materials
Lay one floor with a border =  to create an intentional looking transition between different flooring. This can look classic and elegant in any room. To do this, lay a square of hardwood that is one or two planks wide around the outside of one floor area (i.e., around the edges of your room),  and then lay your flooring inside the square, so that it appears more offset and unique from the other flooring that you already have. 
One thing to note with this technique,  there will need to be a nice smooth edge on both floors because they will be going right up against one another. If you are laying new floor next to old floor that has a rough edge hidden underneath a kind of transition piece, you might have to cut the old floor off by about one inch to make a new border.
Lay the two floors in different patterns =  this will create contrast. If your first floor installed vertically or horizontally parallel to the walls, try a different pattern on the second floor you're installing, like parquet, herringbone, or diagonal arrangement of planks. 
This can make it looks like a totally different flooring material, even though you've just changed your layout technique.  This technique looks particularly good with the borders that we have already mentioned above.  
Tips For Picking Out Two Different Hardwood Floors
There are a few tips that you should bear in mind when you are picking out floors,  so that the transition between the floors come out looking as planned.  We think the most important ones are:
Choosing contrasting colors,  as colors that are too close together can suggest that you weren't able to put all the flooring in at the same time, weren't able to match it, or might even just look like a bit of a mistake.  Instead, contrasting light and dark tones that are complementary to each other can create a feature of the transition. 
Carefully consider the size of your room,  as some sizes and shapes are better suited to certain colors and sizes of hardwood planks. For example, if you have a small room, choosing floorboards that are too dark can make it seem small and dingy. 
Consider other flooring types if you thought about all of these methods and none of them stand out or appeal to you. You can select from a wide range of vinyls and tiles,  or even carpet if you don't live somewhere too hot. You'll still have to use methods to transition between the two flooring types, but you won't have to worry about the layout quite as much. 
Final Thoughts
When transitioning between two different types of hardwood floor, it can be difficult to strike just the right balance. However, there are a wide range of transition pieces that can help you when attempting to install two floors seamlessly, and when you put the right floors together with the correct transition, it can become one of your favorite features in your household.