Floor plan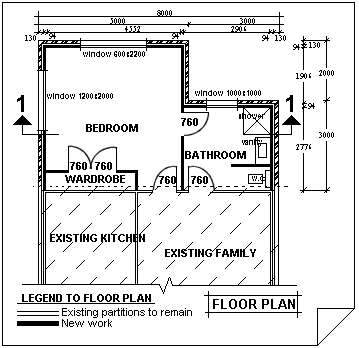 Floor plan:
The floor plan (footprint) shows the layout of the walls, also where the doors and windows are along with the sizes of the doors and windows, units such as vanities, baths etc and the designated uses of the rooms.
The floor plan is to scale and walls etc are dimensioned.
Dimensions:
The dimensions given are overall external walls (building line), internal room measurements from wall to wall, thickness of walls external and internal.
Flags:
The pointed things in the above plan with number 1 on top of them. This marks the point of the cross section plan.
Doors:
The door widths marked on the floor plan are the actual width of the door and does not take into account the door jambs or any play. For a door with standard jambs add another 50mm (2″) to the plan size for the opening.
Windows:
The window (aluminum) measurement on a floor plan is the box size. That is the exact size of the outside of the timber reveals or jambs surrounding the window, so therefore the frame opening needs to be 10mm (3/8″) bigger than the window size on the plan.
For example, one of the window measurements in the above plan is 600×2200. (24″x 88″) This means the window is 600mm (24″) high and 2200mm (88″) wide so the opening built into the frame (trim size) needs to be 610mm (24 3/8″) high x 2210mm (88 3/8″) wide.
Reader Interactions