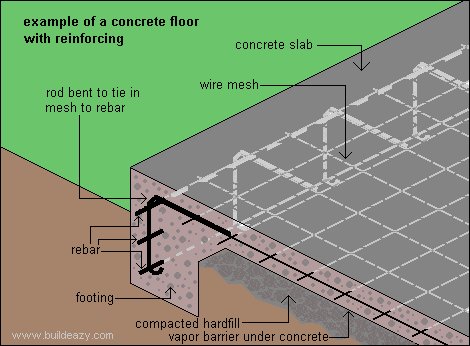 Related topics: [What is cement] [What is concrete] [Making a concrete slab]
About steel reinforcing in concrete
Sometimes steel reinforcing in concrete is put there to strengthen it, help hold the concrete together and limit cracking.
In many cases, bigger concrete jobs that require reinforcing steel usually also require a building permit of some kind, in which case the reinforcing steel requirements will be documented on the plans. Concrete that carries heavy loads (such as footings, foundation walls and columns) almost always requires reinforcing steel.
Not all concrete work requires reinforcing though. Concrete projects such as pathways, some driveways and small shed or playhouse floors, generally do not require any steel reinforcing at all.
It's worth noting however, that although some bigger jobs (such as driveways which take heavy traffic, carport floors and larger shed floors) might not require a permit, it could well be a good idea to include steel reinforcing. And sometimes smaller jobs also benefit from reinforcing steel, especially if the sub-ground is less firm than it should be or there are pockets of spongy sub-ground. In fact even for a smaller shed floor, it does not hurt to throw in a steel rod (rebar) around the perimeter of the floor to give great added strength.
The average reinforced floor usually comprises a continuous footing (trench filled with concrete) around the perimeter, with the rest of the concrete slab being 100mm (4″) thick. Rebar steel rods go around the footing and welded wire mesh goes into the main slab. The mesh should be positioned in the top half of the thickness (slightly above the middle) of the concrete slab. Where rebar rods join, they must overlap and be tied together with tie wire.
Rebar (short for reinforcing bar) is mild steel rod that comes in various thickness. Rebar is usually manufactured with deformations i.e. ribbed. That means that it is not smooth and therefore will grip better. The most common thicknesses are #3 rebar which is 10mm (3/8″) and #4 rebar which is 12mm (1/2″) thick.
Welded wire mesh is steel wire welded together to form a flat sheet with a square grid pattern. A common grid size is 150mm x 150mm (6″x6″) and a common steel wire thickness is 4mm (1/8″).
Even though it is made of 'mild' steel, the reinforcing steel does not rust inside the concrete. This is because steel needs oxygen to rust and once the concrete has cured, the steel is starved of oxygen. That is why it is especially important to ensure there is ample concrete surrounding the reinforcing steel.